A rematch?  Why not.
The latest detail of the Indiana 2020-21 basketball schedule emerged on Thursday afternoon.
CBS Sports' Jon Rothstein reported on his Twitter page that IU will travel to Florida State in connection with the Big Ten / ACC Challenge.
(UPDATE:  Rothstein's report was confirmed by Indiana on Friday.  The game will take place on Wednesday, Dec. 9.)
Indiana defeated the Seminoles 80-64 in connection with the event last season in Bloomington.  Senior guard Devonte Green made five three-pointers and scored 30 points in the contest.  Indiana shot 55 percent from the field and outrebounded FSU 35-25 for the game.
IU is 8-11 all-time in Big Ten / ACC challenge games.
The game will mark the sixth meeting between FSU and IU and it will be the first trip to Tallahassee for the Hoosiers.  Indiana has never lost in the series.  Here are the five previous meetings:
Dec. 3 2019:  Indiana 80-64 (Bloomington)
Nov. 25 1992:  Indiana 81-78 (at New York)
Mar. 26 1992:  Indiana 85-74 (at Albuquerque)
Mar. 16 1991:  Indiana 82-60 (at Louisville)
Dec. 8 1975:    Indiana 83-59 (at Indianapolis)
This is how Rothstein reported the complete 2020 Big Ten / ACC Challenge schedule.
Illinois at Duke
North Carolina at Iowa
Michigan State at Virginia
Louisville at Wisconsin
Indiana at Florida State
Ohio State at Notre Dame
Syracuse at Rutgers
Boston College at Minnesota
Pitt at Northwestern
Penn State at Virginia Tech
Purdue at Miami
NC State at Michigan
Georgia Tech at Nebraska
Maryland at Clemson
Update:  Confirm by television partner ESPN: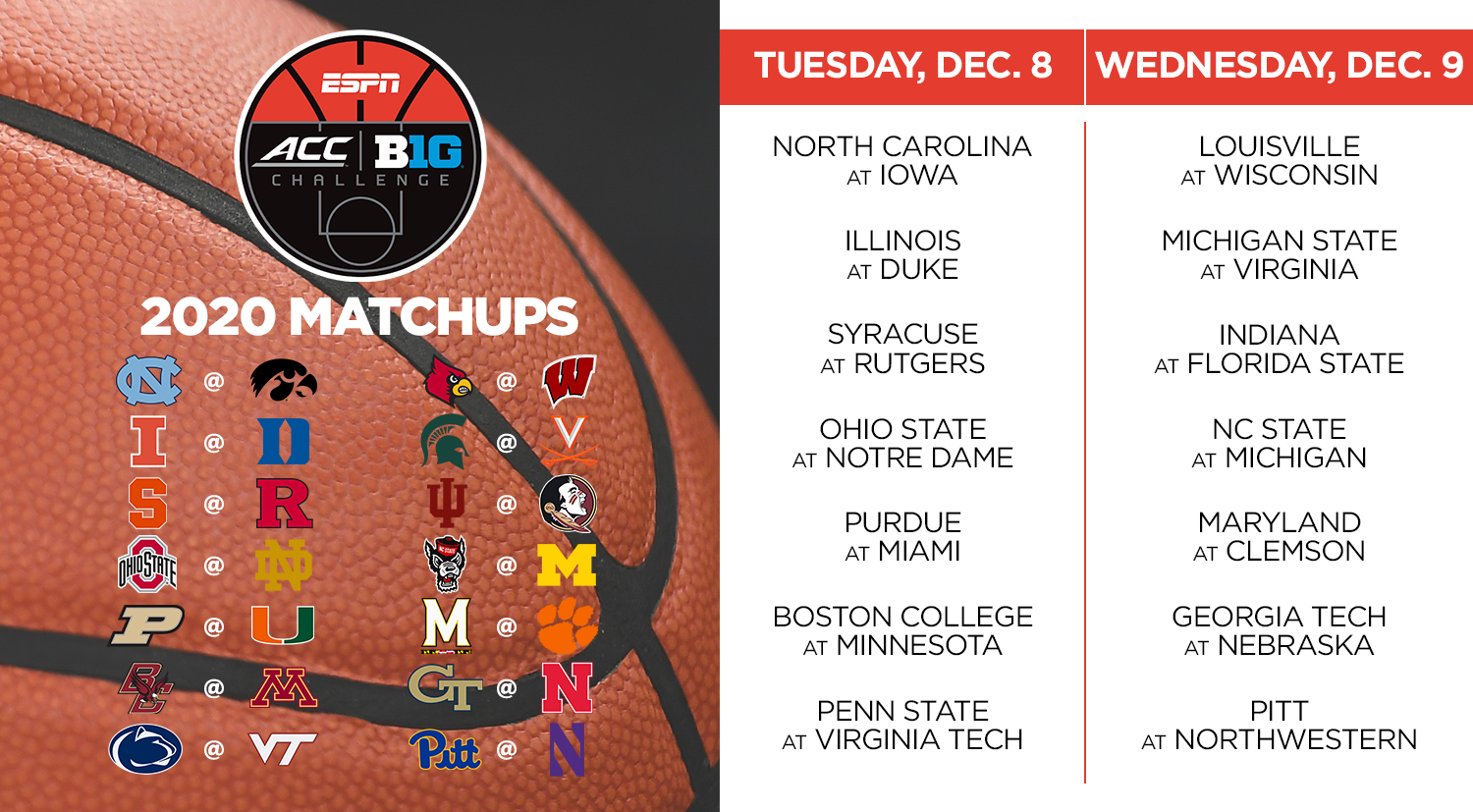 Here is a rough sketch of where we believe Indiana's 2020-21 schedule stands at this time.
---
Nov. 25 — Non-conference opponent A
Nov. 30 – Providence (Maui-Asheville)
Dec. 1 – Texas or Davidson (Maui-Asheville)
Dec. 2 – TBD (Maui-Asheville)
Dec. 5/6 – Big Ten game 1
Dec. 9 – Big Ten / ACC Challenge (at Florida State)
Dec. 12 – Big Ten game 2
Dec. 19 – Butler (Crossroads Classic) — date not confirmed
Dec. 22/23 – Non-conference opponent B
Jan. – March – 18 Big Ten contests
---
Find us on Facebook:  thedailyhoosier

The Daily Hoosier –"Where Indiana fans assemble when they're not at Assembly"
Seven ways to support completely free IU coverage at no additional cost to you.