Former IU player Dane Fife will become an assistant coach at Indiana under Mike Woodson.
The Daily Hoosier is able to confirm a report by CBS 4's JoJo Gentry that the former IU guard will become a member of Woodson's first staff.
Fife has been assistant coach at Michigan State under Tom Izzo since 2011.  The 41 year old has been to five Sweet 16s, three Elite Eights and two Final Fours with Izzo at Michigan State.
"Dane is someone who I have always had the utmost respect for," said Woodson in a release from IU. "His knowledge of the Big Ten and his success as a recruiter will be an invaluable asset as we look to continue building a staff that will help elevate this program to the highest levels. I know his love for the for the Hoosiers and this University comes across the moment you talk to him and we are excited to welcome back Dane, his wife Blair, and daughters Quinnly and Reagan back to Bloomington."
Fife was the youngest head coach in Division I when he was hired at IPFW at age 25. His record improved slightly in each of his seasons as head coach, culminating with an 18-12 mark in his final season at IPFW.
He was part of the 2002 Indiana team that reached the national title game before losing to Maryland. Individually, he was named co-Big Ten Defensive Player of the Year as a senior. He is the Indiana career leader with 180 steals over the course of his four-year career (1998-2002), while the 53 he recorded as a senior rank tied for the eighth-best single-season mark at IU. With 99 career 3-pointers, he ranks among the top 20 in school history, while his .478 3-point field-goal percentage in 2001-02 ranks sixth on IU's single-season chart. The 37 games he started as a senior established the Indiana single-season mark, while the 131 games in which he played over the course of his career rank tied for sixth all-time at IU.
"I'm excited to announce that I'm joining Coach Mike Woodson's staff and I intend to help him bring home number six," Fife said in a statement on his Twitter page.  "To be an Indiana Hoosier, I've always said, was my dream as a little boy growing up in Clarkston, Michigan.  Now, once more, I'm going to be a Hoosier."
Prior to becoming head coach at IPFW, Fife was a member of Mike Davis' staff for two years at Indiana, serving as an administrative assistant.
Fife was the Gary Steelheads' first round pick in the 2002 CBA Draft and started five of the 34 games in which he played, averaging 3.4 points.
A 1998 graduate of Clarkston (Mich.) High School, Fife was the recipient of the Hal Schram Mr. Basketball Award in 1998. He was also a McDonald's and Parade All-America selection, while playing for his father Dan.
He owns two degrees from Indiana, earning a bachelor's degree in recreation (2002) and a master's degree in athletic administration (2005). His family includes his wife, Blair, and daughters Quinnly and Reagan.
Along with Woodson, Indiana now has two former players on its coaching staff.  Fife joins former Archie Miller assistant Kenya Hunter as Woodson's second assistant coach.  One assistant coach position remains vacant.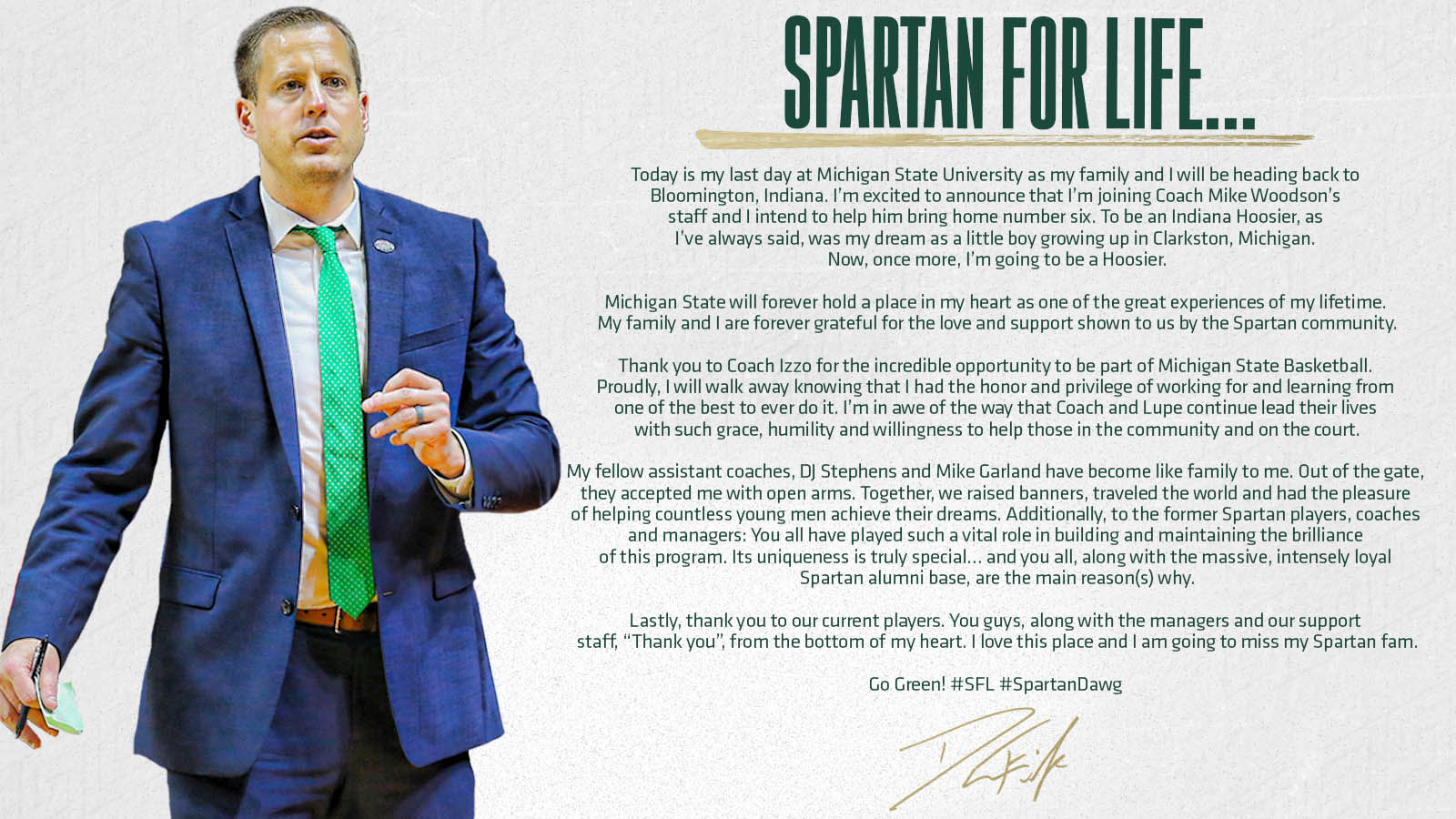 Find us on Facebook:  thedailyhoosier
The Daily Hoosier –"Where Indiana fans assemble when they're not at Assembly"
Seven ways to support completely free IU coverage at no additional cost to you.