Indiana head coach Tom Allen had to stick his neck out a bit to get some of these guys to Bloomington.
They have since made him look like a scouting genius.
Yes Allen likely has a good eye for talent.  But it seems the real magic happens when his recruits arrive on campus.
In the aggregate, recruiting rankings are directionally accurate.  That's what the folks in the industry will tell you anyway.  Like any good industry, they have some self-serving data to back up their claims.
Truth be told, they are probably right.
Yes, there are diamonds in the rough, and there are busts, but by and large 5-stars are better than 3-stars, and the teams consistently at the top of the rankings are generally the best.
But then how do you explain what is going on at Indiana right now?
The Hoosiers have no 5-stars, and barely any 4-stars that see the field.  And yet Indiana has won 11 of its last 14 Big Ten games and is ranked No. 7 in the country.
That's not supposed to happen.
This week Indiana had 13 players who received All-Big Ten honors, including 5 who made first team All-Big Ten.  All 13 were formerly 3-star recruits coming out of high school.
None of that was supposed to happen either.
3-star recruits are generally projected to be your run-of-the-mill starters, not all-league performers.
Yes, there are levels to 3-stars, and at the higher end are players who are expected to stand out a bit.  2 of Indiana's 13 — Michael Penix and Tiawan Mullen — fit that description.
As for the rest?  You are talking about guys that were barely getting looks from power five programs.
"(Tackle) Jerome Johnson had no Division 1 offers out of high school, and he came from a small town in Mississippi," Allen said on Wednesday afternoon.   "I knew his head coach, I recruited that area at Ole Miss and I knew him and we brought him here on an official visit and had not even offered him yet and I kind of convinced everybody here, I was not the head coach at the time, and convinced them to take him."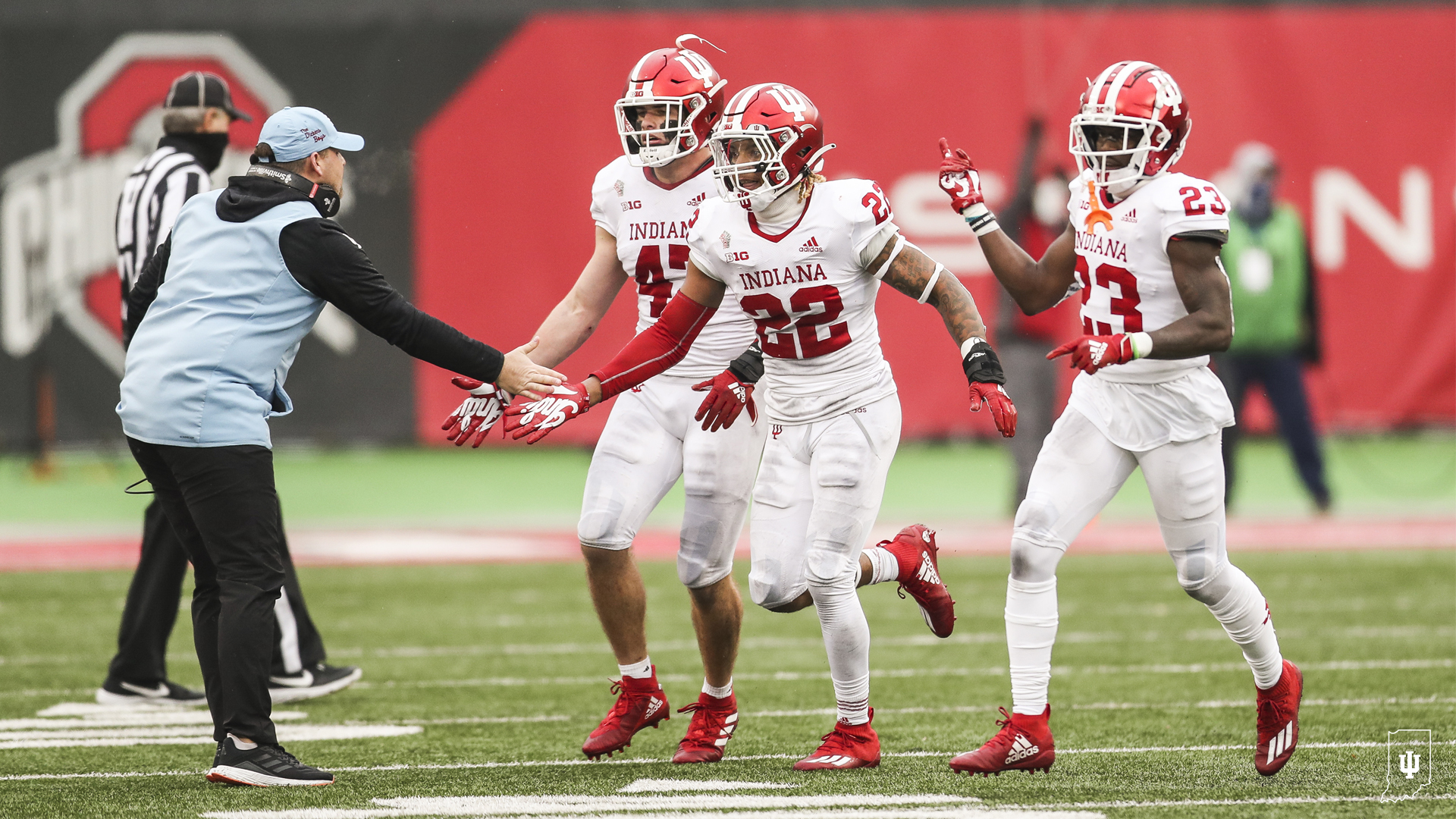 At the bottom of the rankings barrel of Indiana's 13 All-Big Ten performers were the best of the bunch.
This is how 247Sports describes a player rated like first team All-Big Ten performers Ty Fryfogle and Micah McFadden.
"a player that we consider to be a potential contributor at a Power Five program but a probable Group of Five starter with impact potential."
In other words, probably shouldn't be recruited at the power five level, and no chance in hell of first team all conference.
"Micah McFadden was not a highly recruited guy," Allen said.  "He had two power five offers, and we were one of them. He has come here, now he is a first-team All-Big Ten linebacker."
Another first teamer, Jamar Johnson, projected to perhaps become a starter.
But Johnson, like so many of the others, bought in, and he was coachable.
"Jamar Johnson, same thing he had offers and all but was not like some national guy," Allen said.  "And he believed in us and we believed in him. He came here and he made some positive changes in the way he did things on and off the field. He has developed into a great player, he is first-team All-Big Ten."
So much of the story is about finding players that fit the system and the culture that Allen has created.
From the day he arrived in Bloomington, Allen has sold his players on a Field of Dreams-like approach:  If they build the team, the individual glory will come.
"We talk about that. I told our defense that when I first got here. When you try to get recognized first, it never works. But that whole concept is what we want," Allen said.
They did build it, and the accolades now have in fact followed.
And now for Allen, recruiting becomes just a little bit easier.
He's no longer selling a vision.  He's showing you results.
LEO is more than just a catchy slogan.  It is a path to stardom.
"You say okay in recruiting, this is what we are able to do with these guys," Allen said. "These guys fit this culture, they fit what we are looking for, and they came here, they bought in, they believed and they were developed, and then the product on the field is indicative of that. To me that is as valuable as anything.
"Every kid wants to say, how can I benefit from coming to Indiana. How is it going to allow me to reach my goals and my dreams, and that is what we want to be able to do."
How can you benefit from coming to Indiana?
The results now speak for themselves.
Recruiting Rankings of Indiana Players with 2020 All-Big Ten Recognition
(Rankings via 247Sports Composite)
Tiawan Mullen:  3-star, No. 547 (2019)
Michael Penix:  3-star, No. 548 (2018)
Devon Matthews:  3-star, No. 776 (2018)
Jaylin Williams:  3-star, No. 851 (2018)
Cam Jones:  3-star, No. 951 (2018)
Peyton Hendershot:  3-star, No. 1,086 (2017)
Jamar Johnson:  3-star, No. 1,130 (2018)
Jerome Johnson:  3-star, No. 1,213 (2016)
Stevie Scott:  3-star, No. 1,337 (2018)
Whop Philyor:  3-star, No. 1,439 (2017)
Harry Crider:  3-star, No. 1,562 (2017)
Ty Fryfogle:  3-star, No. 1,712 (2017)
Micah McFadden:  3-star, No. 1,986 (2018)
---
Find us on Facebook:  thedailyhoosier
The Daily Hoosier –"Where Indiana fans assemble when they're not at Assembly"
Seven ways to support completely free IU coverage at no additional cost to you.