In what appeared to be a corporate ballroom with a basketball court dropped in at the Mirage in Las Vegas, No. 6 Indiana defeated Auburn 96-81 to improve to 6-0 on the season.
But the win was overshadowed by what took place in the game's opening minutes.
Fifth-year guard Grace Berger suffered a knee injury early in the first quarter and did not return to the game after an Auburn player landed on her leg.
Several of Berger's teammates responded in a big way, and none more so than Mackenzie Holmes, who had a perfect night from both the field and the free throw line.  Holmes made 10-of-10 field goal attempts and 6-of-6 from the stripe.  She added a team high 12 rebounds to her 26 point effort.
Freshman forward Yarden Garzon had 21 points.  She made 4-of-7 from three and added six rebounds and six assists.
Sydney Parrish saw a major bump in minutes with Berger out, and she pitched in with 16 points and nine rebounds.  Chloe Moore-McNeil and Sara Scalia were also in double figures with 15 and 12 points, respectively.
Garzon hit two threes and Parrish another as part of an 11-0 second quarter run to give IU a 41-29 lead.  The Tigers would never get closer than five points from there as the Hoosiers shot 54.1 percent from the field and 88 percent (22-of-25) from the free throw line.
IU head coach Teri Moren was asked about Berger's status after the game but did not have an update.
"Certainly I'm concerned.  I knew she was hurt because of the look on her face when I got to her," Moren said.
"If I know anything about Grace, whatever it is, she's gonna deal with, she will attack it the way she always attacks everything."
Berger stayed on the bench with her knee wrapped in ice for the remainder of the game.  Starting for the fourth straight season, a year ago Berger averaged team-highs with 16.2 points and 4.7 assists per game, and added 6.2 rebounds and 1.4 steals per contest.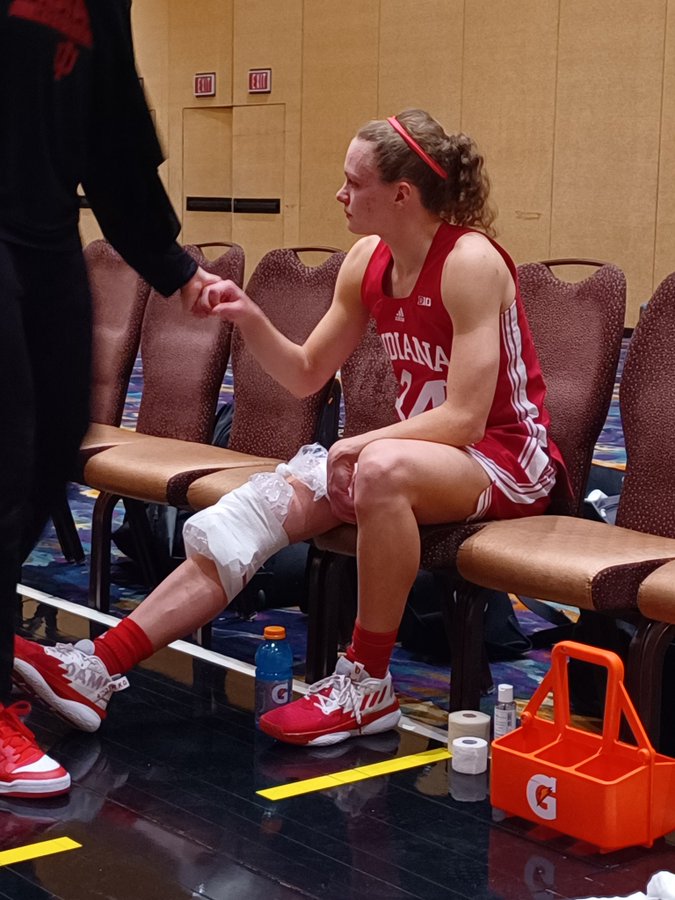 Indiana plays Memphis in Las Vegas on Saturday evening at 8:45 p.m. Eastern.
---
The Daily Hoosier –"Where Indiana fans assemble when they're not at Assembly"