It will be peak-Assembly Hall on Nov. 30 when Indiana hosts North Carolina in connection with the Big Ten/ACC Challenge.
It is always entertaining when two of college basketball's more iconic programs meet on the hardwood, and that will be the case when the Hoosiers and Tar Heels meet for the 16th time in what will likely be the 9 p.m. primetime slot on ESPN.
IU and UNC have a history that goes back to 1961.  They've played in a national title game (1981) and had numerous recruiting battles along the way.
Here are nine story lines to watch.
TJD AND BACOT GET THEIR WISH
Soon after Trayce Jackson-Davis announced his return for the 2022-23 season, the campaigning for an Indiana vs. North Carolina matchup began on social media.
Friends Trayce Jackson-Davis and UNC star big man Armando Bacot went public.
"@iget_buckets35 Trynna come to the crib for this ACC Big Ten challenge??," Jackson-Davis tweeted in May, hoping for a matchup against Bacot.
"You know it's going down @accmbb @B1GMBBall make it happen," Bacot replied.
The pair won gold together with Team USA at the FIBA U18 Americas Championship.
FAMILIAR FACES
Indiana recruited several of the North Carolina players who will show up at at Simon Skjodt Assembly Hall, including an in-state product and three point guards.
Former head coach Archie Miller offered junior point guards R.J. Davis and Caleb Love, while Mike Woodson offered freshman primary ball handler Seth Trimble.
Among the three guards, things got the most serious with Love, who came over from St. Louis for a visit.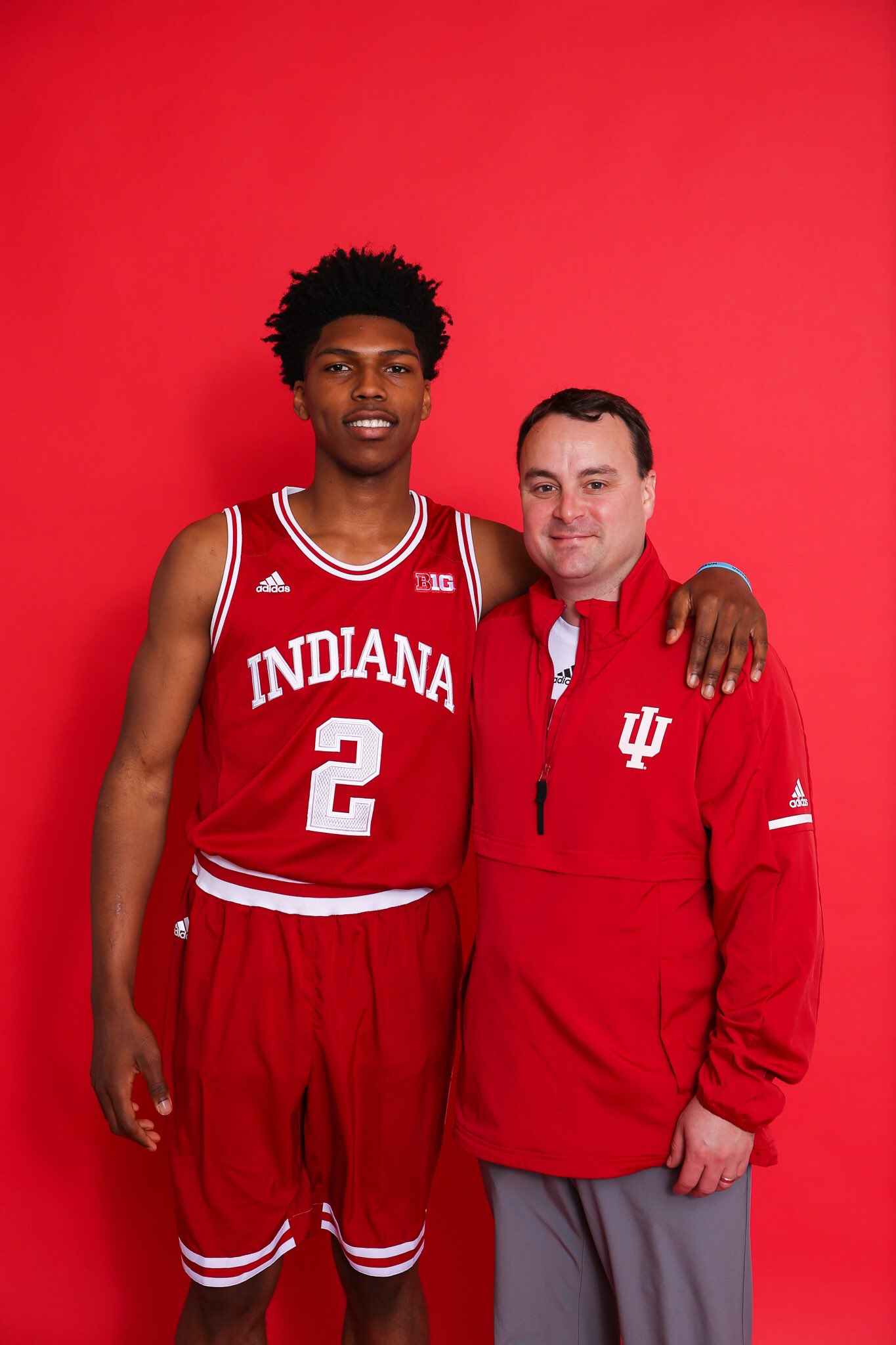 The UNC roster will also feature Tyler Nickel, an explosive scoring wing IU offered last year, and Gary, Ind. product Jalen Washington, who will also be a freshman in Chapel Hill.
IU forward Miller Kopp will also have one more go against a good friend.  He was the roommate of Tar Heel transfer Pete Nance when they played together at Northwestern.
WOODY'S REVENGE?
The only time Indiana faced North Carolina during Mike Woodson's playing career, he was forced to sit and watch a top-10 matchup from the bench.
Woodson missed a Hoosier game for the first time, against North Carolina on Dec. 22, 1979, after playing in 96 straight games over four years.  No. 5 Indiana lost, 61‐57 to No. 8 North Carolina, with Woodson sitting on the bench in street clothes.
It was the first of several games Woodson missed as a back injury ultimately forced him to have surgery that season.  He made his triumphant return in February, however, and led IU to six straight wins and a Big Ten title.
ANOTHER RETURN FOR SEAN MAY
Bloomington native Sean May is an assistant coach for the Tar Heels and the son of former IU National Player of the Year (1976) Scott May, one of Woodson's closest friends.
Sean will no doubt be treated a bit more graciously than he was in 2004.  Indiana's home crowd was fuming that May chose UNC over IU, and they let him hear about on Dec. 1, 2004, heckling his every move.
It had an effect — for the game May had just eight points and four rebounds, both about half his averages, and five turnovers.
May was classy after a 70-63 Tar Heels win.
"The only time I could really hear was on dead balls or free throws," May said. "But it was all right. They didn't attack my family or say anything bad about me. I still love Indiana and Indiana basketball."
North Carolina would go on to win the 2005 title.
FAMILY TENSION?
Could IU forward Jordan Geronimo's mother be torn watching the high profile game involving her son?
Okay, probably not, but Dawn (Royster) Geronimo was a star in Chapel Hill.
Twice she made first-team All-Atlantic Coast Conference, and she was named ACC Rookie of the Year and earned ACC tournament MVP honors as a freshman.  Royster was All-America honorable mention her senior year, 1987.
After college, Dawn played four years of professional basketball in Europe – one year in Italy followed by three years in Spain.
Ultimately, she named her son after a star player on the UNC men's team who left for the NBA when she was a freshman.  That player's college career was ended by IU in the 1984 NCAA Tournament.  You can probably guess who it was.
A FAMILIAR FOE FOR JOHNSON
Most of the faces will be different, but Indiana point guard Xavier Johnson has seen his share of North Carolina.
Johnson faced the Tar Heels four times while at Pitt, going 2-2 in the process including a win in Chapel Hill in 2020.
He averaged 14.5 points and 4.5 assists (against 4.2 turnovers) in the four meetings
THE NEW WAY?
Woodson and UNC Coach Hubert Davis are two of seven former NBA players who are coaching at their alma mater in Division I.
Of course another is Michigan's Juwan Howard.
Penny Hardaway at Memphis and Aaron McKie at Temple, along with Woodson, Howard and Davis, have their alma maters trending in the right direction.
Davis played in three games on the 2003-04 Detroit Pistons.  Mike Woodson was an assistant coach of that team.
TWO OF TEN
The Indiana vs. North Carolina matchup is no mistake, chosen by ESPN executives as a game that will likely draw a huge television audience.  IU and UNC have two of the nation's largest fan bases and they are two of the ten winningest programs in college basketball history.
Both teams are generally regarded as their conference's preseason favorite, with UNC No. 1 and IU No. 14 in ESPN's way-too-early national prediction.
IU has faced a nationally ranked opponent in eight of its last 10 Challenge games.  They last took on the No. 1 team in the country in the event in 2017 when they hosted Duke.  IU was the No. 1 team in the nation when it beat UNC at home in 2012.  UNC was ranked No. 3 when the Hoosiers won their last meeting in 2016.
LET THE GAMES BEGIN
Over an 18-day stretch from Nov. 30 to Dec. 17, IU will face North Carolina, Arizona, Kansas and two teams from the Big Ten.
We should learn everything we need to know about these 2022-23 Hoosiers during that meat grinder.
---
The Daily Hoosier –"Where Indiana fans assemble when they're not at Assembly"