Former IU basketball guard Jalen Hood-Schifino was selected in the first round by the Los Angeles Lakers at the NBA Draft on Thursday evening.
The one-and-done guard was the 17th overall selection in the draft.  He was joined at the draft at the Barclays Center in Brooklyn by Indiana head coach Mike Woodson.  The player and coach embraced after Hood-Schifino's named was called by NBA Commissioner Adam Silver.
"It's really hard to put into words, I really don't even know how I feel," Hood-Schifino said on the ESPN broadcast after the pick was announced.  "It's just like a surreal feeling, but I've got to give all thanks to the man above."
Hood-Schifino was joined by his mother and sister for the interview in front of the national television audience.
"My mom and my sister, they're my why," Hood-Schifino said.  "Just seeing the sacrifices they made when I was younger, and now for it to all pay off, I can't really explain the feeling.  I'm just so thankful."
Hood-Schifino is the first Indiana player chosen in the NBA Draft since Romeo Langford in 2019.  He grew up idolizing Kobe Bryant, who played for the Lakers.  He's the first IU player chosen by the Lakers since Thomas Bryant in 2017, and the fourth overall to go to the franchise.
IU has now had 27 players selected in the first round of the draft, and 78 picks overall.
Hood-Schifino was not regarded as a clear one-and-done player when he arrived at Indiana a year ago.
The Pittsburgh product started all 32 games played for IU in 2022-23.  He was named the Big Ten Freshman of the Year after he averaged 13.5 points, 4.1 rebounds, 3.7 assists, and 0.8 steals per game.
Hood-Schifino measured in at 6'4.25″ without shoes, the second tallest among those invited to the combine at the point guard position. His wingspan of 6'10.25″ was fourth among all guards, highest at PG.
Proud of you son! @jalenhs Congratulations. pic.twitter.com/W6FFBCpCcl

— Mike Woodson (@MikeWoodsonNBA) June 23, 2023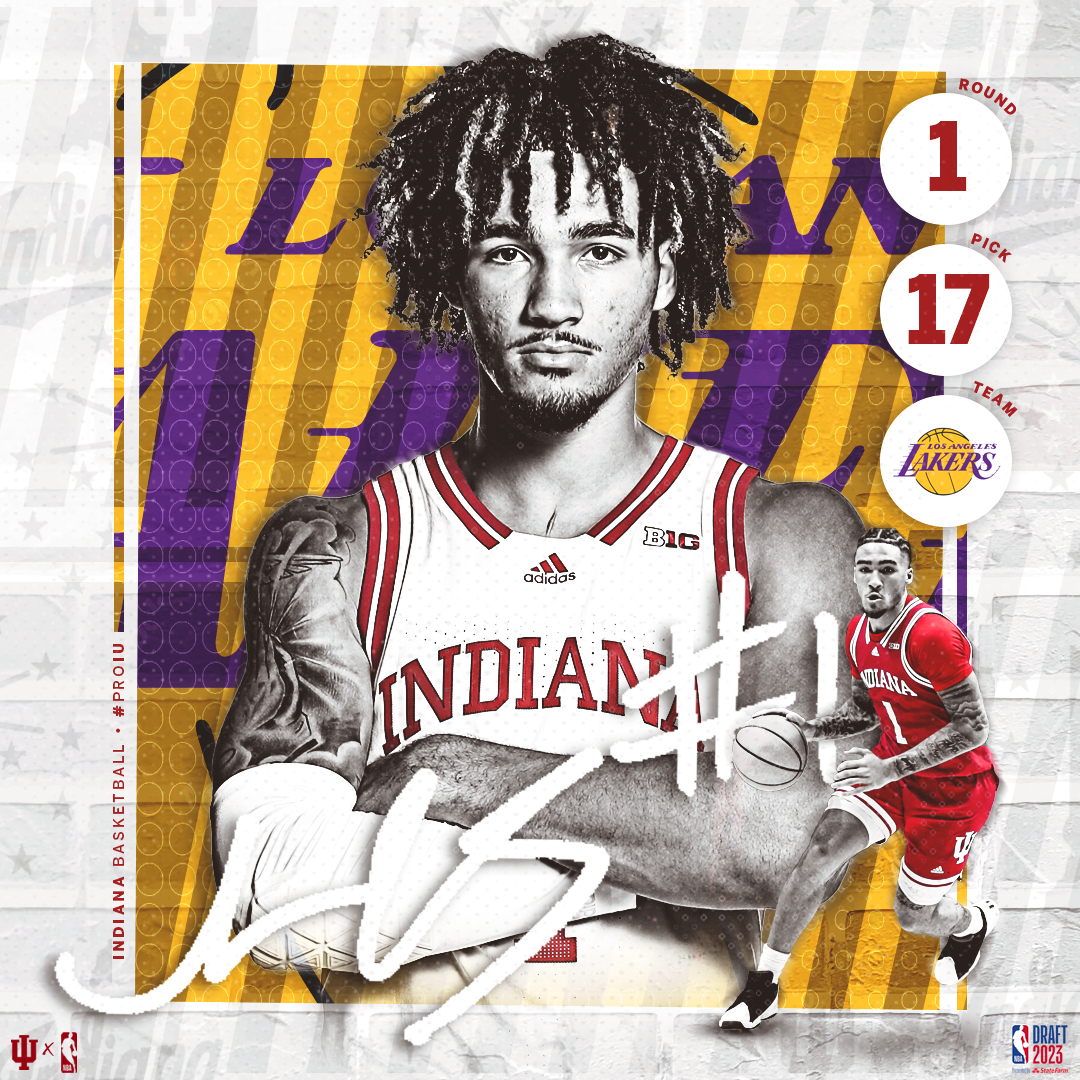 ---
The Daily Hoosier –"Where Indiana fans assemble when they're not at Assembly"