The Big Ten Conference announced on Thursday afternoon it's new approach to football scheduling beginning in 2024 when UCLA and USC join the league.
The new schedule model includes nine league games per year, 11 annual protected games, and every league matchup is guaranteed twice in four years (home, away).  In connection with those changes, the conference no longer has divisions.
The Indiana and Purdue rivalry is one of the 11 annual protected games.  The Hoosiers will also see Michigan State and Maryland in both 2024 and 2025 as part of a two-play model, although those are not protected games going forward.
In 2024, IU will play Maryland, Minnesota, Penn State, Purdue and UCLA at home, and they'll travel to Michigan State, Nebraska, Northwestern and Wisconsin.
In 2025, IU will play Iowa, Michigan State, Michigan and Rutgers at home, and they'll travel to Illinois, Maryland, Ohio State, Purdue and USC.
Looking ahead. 🏈👀 pic.twitter.com/oyEOm58Kce

— Indiana Football (@IndianaFootball) June 8, 2023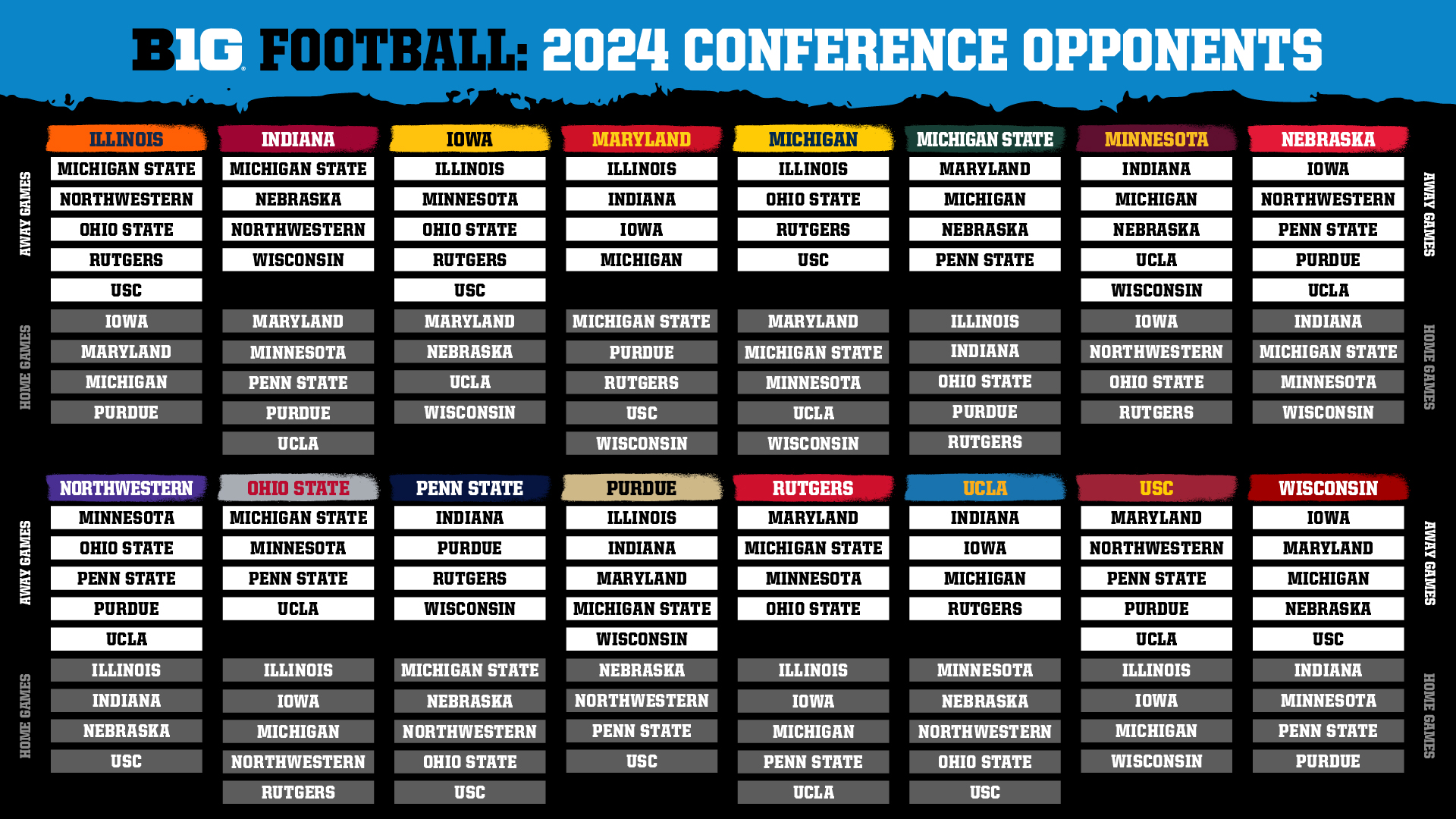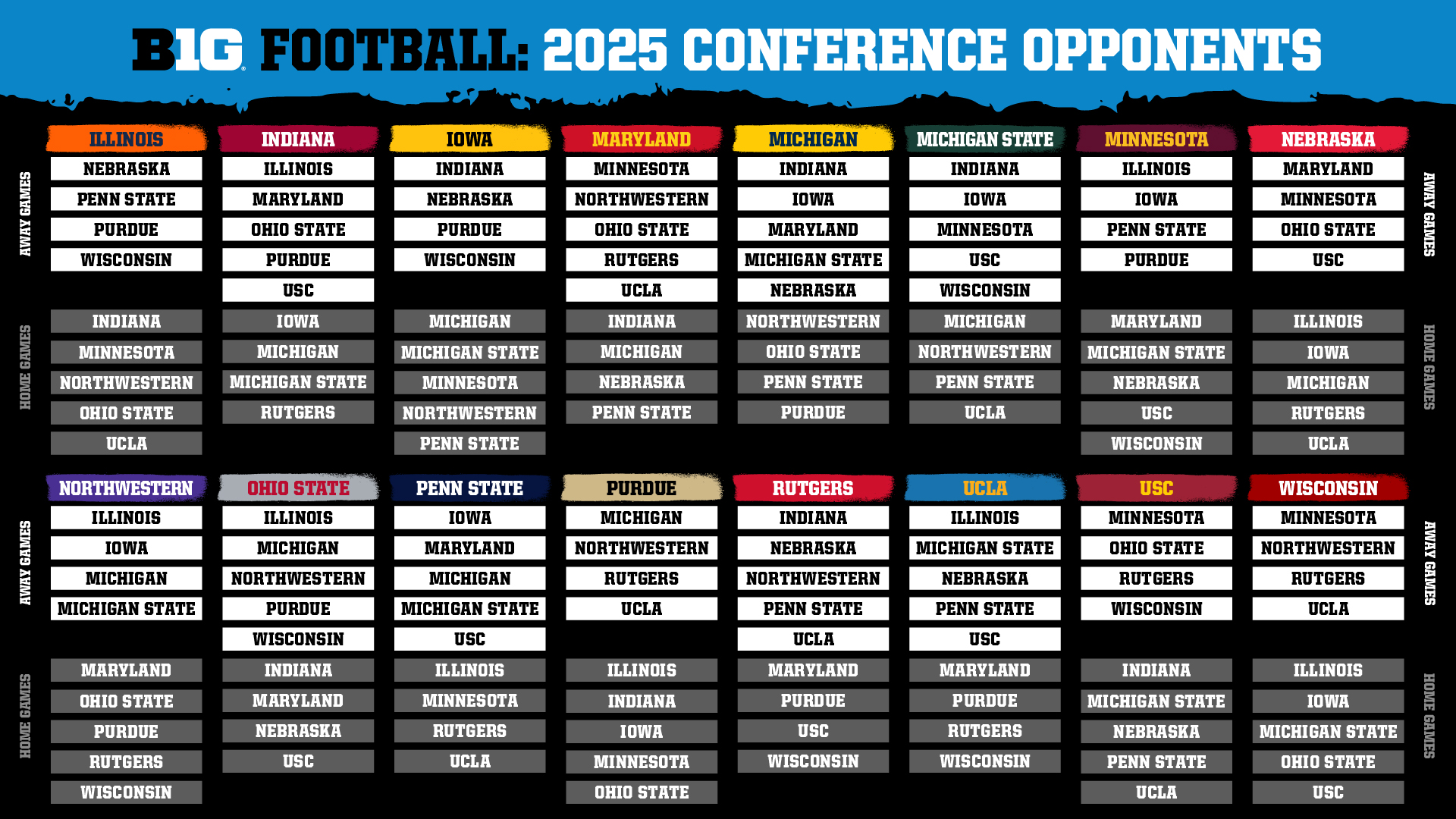 The below is a via release from the Big Ten office:
———————–
BIG TEN CONFERENCE ANNOUNCES EXCITING FUTURE FOOTBALL SCHEDULE FORMATS FOR 2024 AND 2025
2024 Season to Debut Flex Protect Plus Model with no Divisional Format; Nine Intraconference Game Tradition Continues as UCLA and USC Join the Matchups
ROSEMONT, Ill. – The Big Ten Conference today announced opponents for the 2024 and 2025 football seasons. With the additions of the University of California, Los Angeles (UCLA) and the University of Southern California (USC) into the conference, 2024 will be the first season with 16 teams and no divisional format.
The 2024 Big Ten football season will also debut the Flex Protect Plus model, which features a combination of protected opponents and rotating opponents for universities. Each member institution will continue to play nine intraconference games per season, and teams will play every other conference opponent at least twice – once home and once away – in a four-year period.
Conference schedules will include 11 protected matchups that will continue to be played annually and feature a combination of historic and geographic rivalries, as well as trophy games. These matchups were finalized in conjunction with all 16 member institutions to ensure the traditions of the Big Ten Conference remain strong as the conference evolves.
The guaranteed annual protected matchups are Illinois-Northwestern, Illinois-Purdue, Indiana-Purdue, Iowa-Minnesota, Iowa-Nebraska, Iowa-Wisconsin, Maryland-Rutgers, Michigan-Michigan State, Michigan-Ohio State, Minnesota-Wisconsin, and UCLA-USC. The other two-play opponents for each member institution will change every two years.
The 2024 season will conclude with the annual Big Ten Football Championship Game, which will feature the top two teams in the overall conference standings at the end of the regular season, with the winner earning the Big Ten Championship. Tiebreaking procedures will be announced later.
The 2024 and 2025 opponent rotations were approved by the Big Ten Administrators Council after careful consideration and constructs that included:
Maintaining control and flexibility as the college football postseason format evolves, with the goal to create access for programs into an expanded College Football Playoff.
Balance of annual travel by distance, regions of the conference, and time zones.
Balance of historic competitiveness and recent competitive trends, including home/away balance of traditionally competitive schools.
Balance and maximization of television inventory each season.
The game dates for the 2024 football schedule will be announced later this year.
---
The Daily Hoosier –"Where Indiana fans assemble when they're not at Assembly"