By Dustin Dopirak
For a moment, Jack Tuttle and Indiana's offense seemed like they had it all figured out.
It took the greater part of three quarters but Tuttle found a rhythm and an understanding of what throws the Ole Miss defense and his ailing shoulder would allow him. And IU offensive coordinator Nick Sheridan figured out a run-pass balance that would relieve some of the burden from Indiana's redshirt sophomore quarterback.
After cobbling together just six points in the Outback Bowl's first 38 minutes, the Hoosiers had scored back-to-back touchdowns and were on schedule for a third straight TD that would complete their comeback and give them their first bowl victory since 1991. A quarterback sneak by Tuttle to convert a 3rd-and-1 put the Hoosiers on the Ole Miss 33-yard line with a new set of downs and 1:44 remaining to go the rest of the distance.
But then Tuttle guessed wrong on a read on a run-pass option, putting the Hoosiers in 2nd and 12. Then he kept a play alive too long and took a 6-yard sack to put the Hoosiers in a 3rd-and-18 bind at the worst possible time. Two incomplete passes later, No. 11 Indiana's 26-20 loss to Ole Miss was complete. The Hoosiers' best season in more than half a century ended in defeat, and their drought without a bowl victory was guaranteed a 30th year going back to the 1991 Copper Bowl.
"We didn't play our best at all," Tuttle said. "We've just got be better, improve and grow from it."
So much of the talk between bowl selection on Dec. 20 and Saturday's game was about how the Hoosiers deserved better for their 6-1 season than to be playing a sub .500 team in the Big Ten's third bowl tie-in. Lost in that was how much the Hoosiers would be asking from Tuttle, who would be making his second start in college football nearly a month after his first one with a significant amount of practice time lost in between due to COVID-19. The second-year transfer from Utah and former four-star recruit was facing a shaky defense, but was being asked to match an Ole Miss offense that averaged over 40 points per game during the regular season and was still loaded with playmakers even with several of its top skill position players opting out of the game.
And sometime in the first half — Tuttle said he can't remember the specific play — he took a hit that separated his right shoulder and forced him to play the rest of the game in pain. It made for an uneven performance, and he went through periods when he couldn't complete anything. But he still managed to connect on 26 of 45 passes for 201 yards, completing 12 of his 15 before the miss on 3rd and 18. He led two touchdown drives that erased Ole Miss' 20-6 lead, but couldn't provide an answer once the Rebels took the lead back.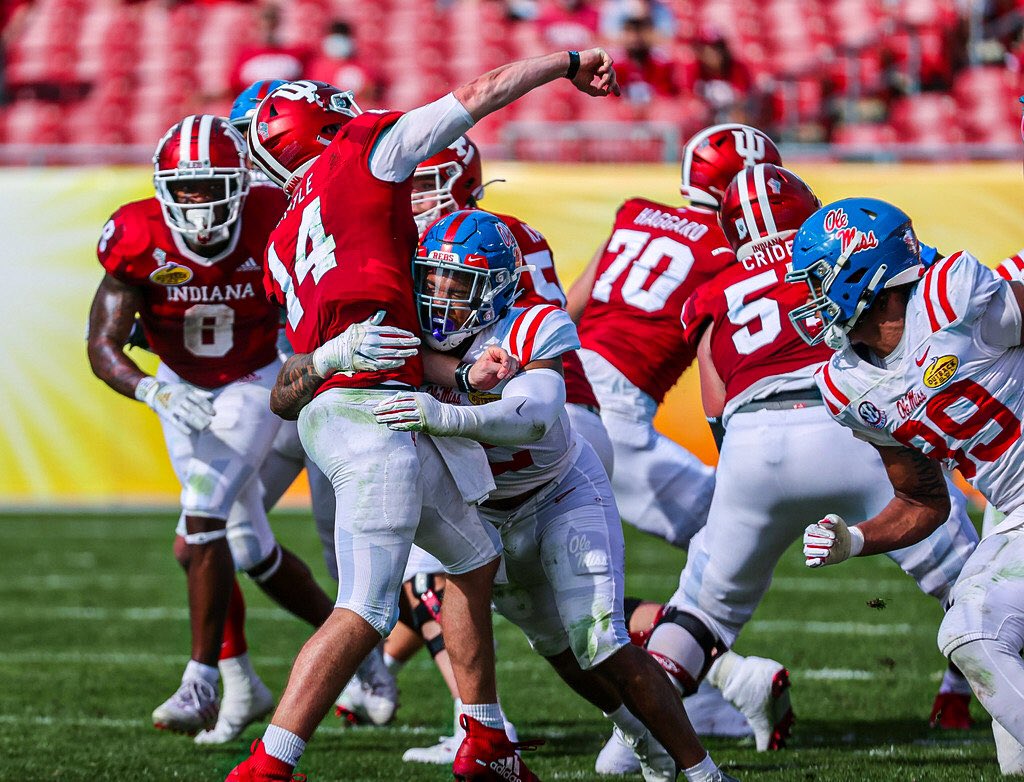 "I thought he was a warrior today," Indiana coach Tom Allen said. "He played through some serious pain. Since it's the end of the season, we can be open about that. He had a shoulder separation in his throwing shoulder. We did an X-ray on it, thought it might have been a broken collarbone at first. That was not the case. He just had to suck it up. It was very painful. … He was still running and diving and he competed his tail off."
In the Hoosiers' first few possessions, Tuttle played similarly to the way he did late in the Hoosiers' Nov. 28 win over Maryland when he stepped in following the ACL tear that ended starter and All-Big Ten second-teamer Michael Penix's season. He locked in on quick, short routes to get the ball out of his hands and into those of his playmakers. His first five passes all went to wide receiver Whop Philyor, who finished with an Outback Bowl record 17 receptions. He completed 10 of his first 11 passes and 13 of his first 16, but gained just 84 yards on those completions.
Then after that, with the effect of his shoulder pain starting to take a toll, he completed just one of his next 12 passes. The second miss was an interception on third-and-12 at the Ole Miss 26 that ended Indiana's most promising first-half drive without points.
"There's no excuse, right?" Tuttle said of playing through pain. "But yeah, it sucked. But like I just said, it's for my team and I have to find a way to get the job done. I love them."
He started to find a rhythm on the Hoosiers' second drive of the third quarter, though that ended in a Philyor fumble. He followed that with a pair of 80-yard touchdown drives in which the Hoosiers relied more heavily on running back Stevie Scott, but set Tuttle up for play-action opportunities and throws against an Ole Miss defense that started paying more attention to the run. He completed 9 of 12 passes on those drives and also rushed for 19 critical yards that kept the chains moving, leading to two rushing touchdowns for Scott.
"Jack is the type of guy who is excited, Scott said. "You just have to tell him to calm down and let the game flow. Once Jack calmed down and let the game come to him and went out there and was a playmaker, he did what he had to do and made plays."
And he earned his teammates' respect for playing through pain. They weren't aware the shoulder was separated until after the game, but they knew he was hurt and they still saw him running for extra yards and taking hits in the pocket. At one point on a 3rd and short, Tuttle got behind Scott and tried to push him forward for a first down. He made progress and got him across the line, but the play was whistled dead early by the officiating crew.
"For him to stay in and still try to get the job done and be a leader and be our starting quarterback, it shows that he's very strong and mentally tough," Scott said. "I really appreciate Jack for everything he's done this season, stepping up especially with Mike going down, being that great guy he is and being a leader."
But Tuttle's inexperience showed on the final drive. On 1st and 10 at the Ole Miss 33, he opted for a bubble screen to Philyor instead of giving the ball to Scott to run up the middle. Philyor was stopped as soon as he got his hands on the ball for a 2-yard loss and Indiana was suddenly behind the chains.
"It's a read," Allen said. "The quarterback has that read. After the play, I was like, 'Why didn't he hand it off?' But if you give him a read, you give him a read and you don't criticize or second-guess. He thought it was there. We probably should have handed it off, but he thought he had the leverage to get the ball out on the perimeter to get 4 or 5 yards."
Then on 2nd and 12, he scrambled to his right with his eyes downfield, got to the boundary and had nothing. He missed a chance to throw the ball away and was sacked by Ole Miss' Cedric Johnson.
"I was trying to do a little too much," Tuttle said. "Should have thrown the ball away there."
On 3rd and 18, he heaved one deep down the sideline to Philyor, but there were two Ole Miss defenders there and the pass was broken up. On 4th and 18, he was pressured and grabbed by an Ole Miss lineman and threw the ball into the ground, nowhere near an Indiana receiver and 35 yards away from the end zone. A bowl win had proven to be out of reach in Tuttle's second career start, and he left Raymond James Stadium in Tampa, Fla., with his arm in a sling.
Said Tuttle: "It just didn't work out."
See also:  Game story | Allen post-game | Ole Miss tempo too much
You can follow Dustin Dopirak on Twitter HERE
---
Find us on Facebook:  thedailyhoosier
The Daily Hoosier –"Where Indiana fans assemble when they're not at Assembly"
Seven ways to support completely free IU coverage at no additional cost to you.