Indiana lost its marquee nonconference matchup against No. 8 Cincinnati on Saturday afternoon in Bloomington.
Let's go position-by-position and take a look at what went right and what went wrong in front of a sold-out crowd at Memorial Stadium
See also:  Game story and stats | Allen post-game | Players post-game | Penix's status uncertain
Indiana (1-2) will travel to Western Kentucky next weekend.
QUARTERBACK (D)
Indiana might have a quarterback controversy if Michael Penix, Jr. is able to keep playing.  The fourth year quarterback threw three interceptions and had post-game x-rays, creating multiple layers of uncertainty going into week four.
Penix had some of his best throws of the season, completing three passes of 28 yards or more while compiling a season-best 224 yards.
But Penix's interceptions were especially costly.  He was off target on one in the end zone and he had another late in the first half at midfield that set up a Cincinnati field goal.  His final mistake effectively ended the game after the Cincinnati return put them in position to go up by two scores late in the fourth quarter.
Penix seems slow to step up and move sideways in the pocket, and his decision making under pressure has not been good.
RUNNING BACKS (C)
Tim Baldwin got nine carries, with most coming in the second half.  Head coach Tom Allen said after the game starter Stephen Carr was "dinged up."  Baldwin fumbled at the Cincinnati four yard line in the fourth quarter and averaged just 3.3 yards per carry.
Carr did come back into the game but never had a major impact.  He carried 21 times for 52 yards.  He managed to make a pitch on a reverse after he was hit — it was a play that could have ended in disaster.  Carr also caught two passes for 14 yards and a touchdown.
Davion Ervin-Poindexter got loose for 37 yards on his lone carry.
WIDE RECEIVERS / TIGHT ENDS (C)
D.J. Matthews has officially arrived as a factor, progressing each week thus far.  The Florida State transfer had 120 receiving yards and another 28 rushing yards, delivering most of IU's big plays on the day.  He made multiple difficult, contested catches.
Tight end Peyton Hendershot also played a big role with a team-high six grabs for 60 yards and a touchdown.  He is the 48th pass catcher in program history to eclipse 1,000 career receiving yards.
The problem with Indiana's passing attack was that no one else got involved.
All-American Ty Fryfogle had one catch and at least two drops.  Fellow starter Miles Marshall also had just one catch.
OFFENSIVE LINE (C)
The running game started off strong with 21 carries for 85 yards just before the half.  But save for the Poindexter run, the Hoosiers had 15 carries for 31 yards after that.
Penix was sacked just once but hit four times and under pressure more than that.
The main issue with the offensive line right now is that they are unable to impose their will.  This is certainly not a group that Indiana can hang its hat on.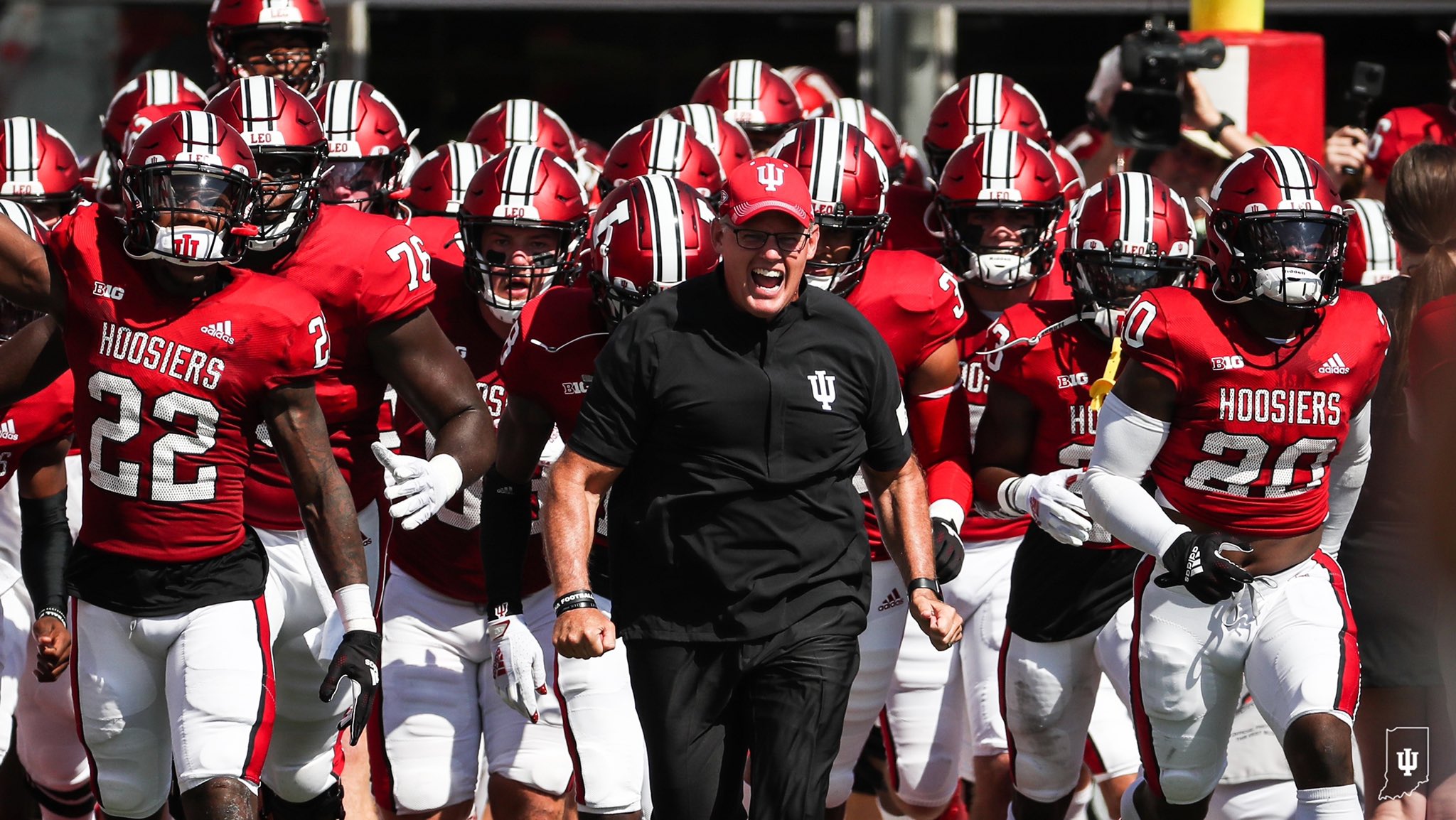 DEFENSIVE LINE (C)
Indiana mostly held Jerome Ford in check.  He came into the game averaging nearly eight yards per carry but had just 20 for 66 yards on the afternoon.
Ryder Anderson had another big day with 7 tackles, 6 solo, a sack, 1.5 tackles for loss, and a forced fumble.  His sack was the entire defense's only quarterback hit of the day.
Much like the offensive line, while there are bright moments, this just isn't a group showing that it can dominate games, at least not for 60 minutes.
With an assist from the crowd, the shifting defensive line played a role in six Cincinnati false start penalties.
LINEBACKERS (B)
Micah McFadden was disqualified after being called for targeting when he hit the quarterback as he was throwing.  He appeared to be pushed into the hit but nevertheless made helmet to helmet contact.  His replacement, Thomas Allen, also had a roughing the passer penalty in the fourth quarter that extended an eventual touchdown drive for Cincinnati.  The defense was never the same after McFadden's exit.
Cam Jones had some early big hits and ended up with six tackles and a pass breakup.
Without McFadden, Indiana's depth at the position was exposed a bit.
DEFENSIVE BACKS (B)
Marcelino McCrary-Ball had Indiana's first interception of the season on a tipped pass.
Raheem Layne, Josh Sanguinetti and the safety group were generally solid on the back end.  They never let any big plays get behind them. Both Layne and Sanguinetti had a pass breakup and they combined for 13 tackles.
The Hoosiers continue to not get splash plays from their cornerbacks.  Tiawan Mullen was beat on a 19 yard fourth quarter touchdown pass.
SPECIAL TEAMS (D)
Save for a 50 yard Charles Campbell field goal, this was a rough day on special teams.
Historically you might accept the risk of a kickoff return touchdown against the likes of Ohio State or Penn State, where depth can be exposed on special teams.  But Tre Tucker's third quarter 99 yarder after IU had stopped the 17-0 Cincinnati run was a backbreaker, and unacceptable.
An IU special teams penalty on a Cincinnati field goal attempt also allowed the Bearcats to go for it on 4th down on a drive where they eventually scored a touchdown.
Punter James Evans had four kicks for a 44.5 average.
IU averaged just 15.5 yards on kickoff returns and had no punt returns.
COACHING (C)
Tom Allen had his team ready to play as the Hoosiers dominated the first 26 minutes of the game.  But he couldn't find a way to help his team recover emotionally after the McFadden penalty and the Bearcats outscored IU 38-10 from that point forward.  Allen went for it on fourth down in the red zone but a Penix sneak was stuffed.
On offense Nick Sheridan seems intent on calling games like he has a dominant line.  By our unofficial count the Hoosiers ran the ball 20 of 28 times on first down.  With Cincinnati's offense struggling and on the field temperatures in excess of 100 degrees, a fast tempo approach might have put away the Bearcats early.  But none of the four turnovers were Sheridan's fault.  Without those mistakes by the players, the outcome would have been much different.
Although the defense gave up three long scoring drives of 75 yards or more, IU played well enough to win on that side of the ball.  17 of Cincinnati's points either came directly from the special teams or were set up by IU turnovers.  The Hoosiers started the game by forcing five straight drives of five plays or less, but they weren't the same after McFadden left.  Cincinnati QB Desmond Ridder seemed to have a pretty good read on how to attack in the final 34 minutes whether IU went with zone or man coverage.
---
The Daily Hoosier –"Where Indiana fans assemble when they're not at Assembly"