Indiana recorded its first win of the 2021 season with a 56-14 dismantling of Idaho in its home opener in Bloomington.
Let's go position-by-position and take a look at what went right and what went wrong as the Hoosiers played in front of fans at Memorial Stadium for the first time in nearly two years.
See also:  Game story | Tom Allen post-game | Carr, Swinton, Matthews and McFadden post-game
QUARTERBACK (B)
The big question remains — has Michael Penix shaken off the cobwebs?  Is he now ready for a major week three test against Cincinnati?  We just don't know.
Penix was 11-of-16 for just 68 yards.  At one point he completed eight straight passes including two very well thrown touchdowns passes — one a corner fade, the other a back shoulder toss.  He moved into a share of 10th on the school's career passing TD list with 27.  But Penix is known for his strong arm and his deep throws.  To this point we just haven't seen a lot of explosive plays delivered by the fourth year quarterback.
"I thought that it was a really good next step," head coach Tom Allen said of Penix's progression from week one.  "If I just kind of go through it and you say, you look at it, evaluate it. Obviously last week was really rough, and to be able to come back from that; and I understand that it wasn't the same opponent."
It was encouraging to see Penix escape the pocket and run after enduring a couple early sacks, and it was also a positive sign Indiana used him in a quarterback sneak.  The coaching staff did not appear to be protecting Penix.  And they just can't with the schedule upcoming.
Jack Tuttle saw the field for the second straight game.  He showed once again IU has a steady backup they can count on if the need arises.
RUNNING BACKS (B)
Stephen Carr posted his first 100-yard rushing game as a Hoosier and the second of his career with 118 yards on 22 carries (5.4 average) and one touchdown.  He posted Indiana's first touchdown of the season on a 2-yard rush in the first quarter. It marked Carr's first TD as a Hoosier and the 13th of his career.
Carr once again showed he has a good combination of power and shiftiness when given running lanes.
Indiana had 195 sack adjusted rushing yards with 4.1 yards per carry.  That average improved over the course of the game
Walk-on Davion Ervin-Poindexter scored his first career touchdown with a four yard plunge.  He carried three times for 17 yards, and Chris Childers carried four times for 19 yards.
WIDE RECEIVERS / TIGHT ENDS (B)
It wasn't a night where Indiana relied heavily on the passing attack.  Only three Hoosier wideouts caught passes, and only four players in total caught IU's 13 completions.
Senior wide receiver Ty Fryfogle hauled in his first TD of the year with a 9-yarder in the second stanza. Fryfogle made five receptions for 29 yards and shares 10th on the program's career receiving scores list with 14.
Senior D.J. Matthews was a bit more involved with four catches for 21 yards.
Sophomore Javon Swinton returned from suspension and recorded his first career touchdown, a 9-yarder, in the opening quarter. He finished with three receptions for 33 yards and added a blocked punt return score.
A.J. Barner showed off his immense potential with a 76-yard yard touchdown reception that highlighted his hands, quick feet and straight-line speed.  He is going to be a factor in the offense this year.
OFFENSIVE LINE (D)
Let's face it — it was disturbing to see IU struggle to create running lanes early in the game against a FCS opponent.
Even more disturbing was watching Penix get sacked on consecutive first half plays, one when the line didn't handle a stunt properly and the other when tackle Luke Haggard was beat on the edge.  Haggard started the game after missing the Iowa game with an injury, so perhaps some rust was involved.  His man got upfield on both sacks and disrupted each play.
With the sacks factored in, IU averaged just 3.3 yards per rush in the first half as the Hoosiers couldn't generate any explosive plays in the run game.
The starting five of Haggard, Michael Katic, Dylan Powell, Matthew Bedford and Caleb Jones is the group IU has liked since fall camp.
"That is no doubt that's the combination we want," Allen said.  "Feel like it puts our best five guys on the field, and that to me, they just have to keep working together."
Perhaps with more time together things will improve.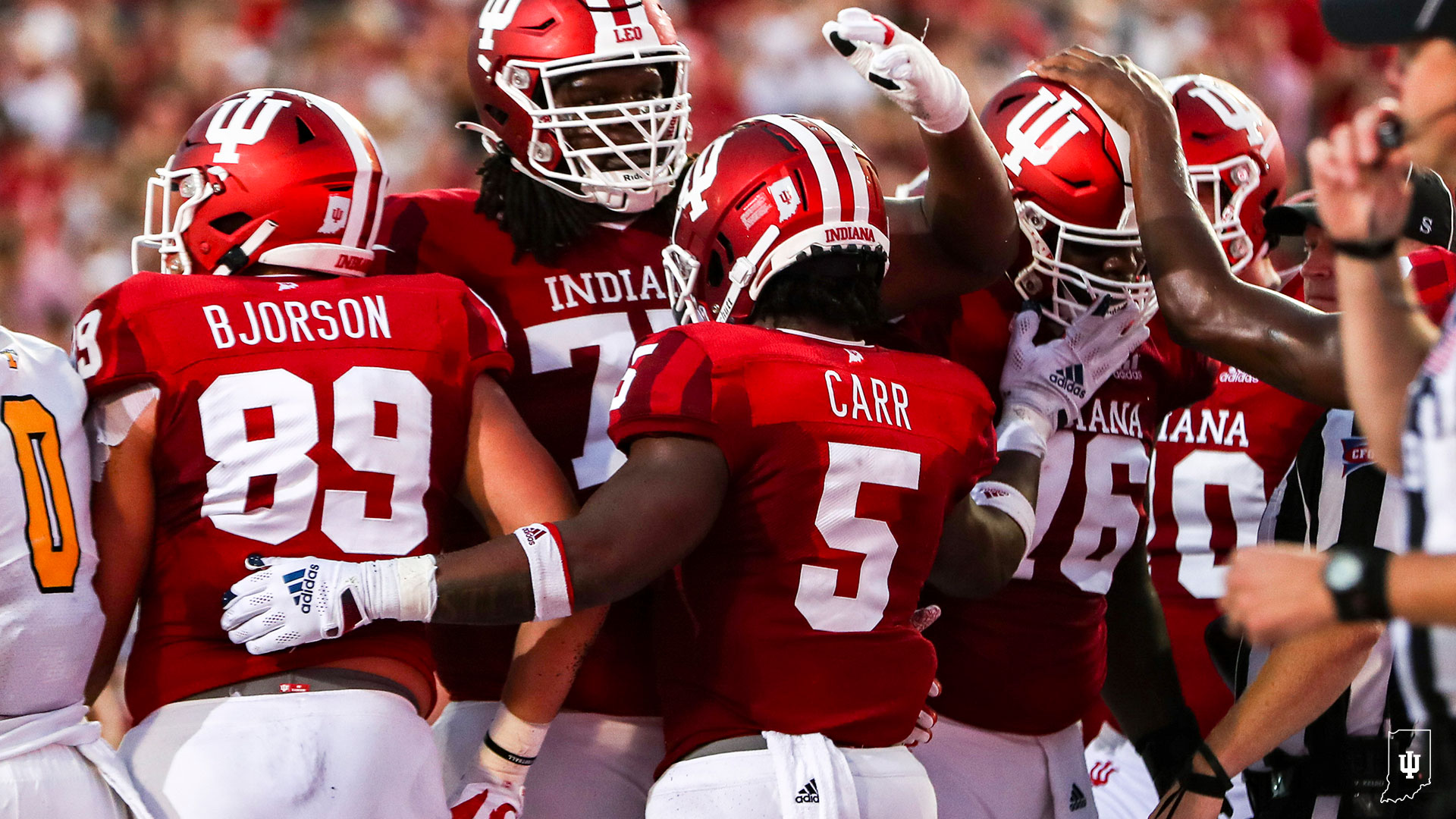 DEFENSIVE LINE (B)
With Idaho focused on quick passing plays, Indiana's front four didn't get to the quarterback.  But the Vandals had just 80 sack adjusted rushing yards including 20 on a quarterback scramble, and Allen felt like the group set the tone.
"Dominated them up front and I expected us to. I thought we needed to,"  Allen said.  "I thought we should. That's nothing (against Idaho) — I just felt like our guys needed to play that way and they did."
Ryder Anderson had four tackles, two solo and a tackle for loss.
Weston Kramer started and recovered a fumble deep in Idaho territory.
LINEBACKERS (B)
Indiana seemed more intent on getting its linebackers in the backfield, and that approach delivered at times.
Micah McFadden helped get the blowout going with a two-play drive involving a tackle for loss and then a strip-sack that IU recovered at the Idaho 13 yard line.
Versatile husky Marcelino McCrary Ball had five tackles.
Fellow linebacker Cam Jones also recorded a sack.  Aaron Casey and James Miller each also had three tackles.
DEFENSIVE BACKS (B)
Tiawan Mullen was everywhere, generating a team-high nine tackles including seven solo — both career highs.  He was beat on Idaho's first touchdown pass, and Reese Taylor on the second — both by wideout Hayden Hatten, an FCS All-American who Tom Allen praised after the game.
The Hoosiers were without two starters — Jaylin Williams and Devon Matthews — and still this group held up relatively well.  Josh Sanguinetti and Noah Pierre at safety, and Chris Keys and Larry Tracy III at cornerback, all saw extended action.
Good game, fellas. pic.twitter.com/M9M3PWeXme

— Indiana Football (@IndianaFootball) September 12, 2021
SPECIAL TEAMS (A)
The story of the game was the special teams, a unit that delivered two Indiana touchdowns for the first time in a game since 1969.
Pierre and Barner both blocked punts, with Swinton scooping up the first block and returning it for a score.
D.J. Matthews may have taken over the punt return job with an electrifying 81-yard return after an impressive over the shoulder catch.  Still, Taylor was impressive on his returns with an 11 yard average.
"We make such a huge emphasis on special teams," Allen said.  "I am in every single meeting, and that's on purpose. I want our guys to know how important they are. I interject a lot. Kasey (Teegardin) does a tremendous job and Ryan McInerney, quality control guy, does a phenomenal job studying film and getting us in great position."
The Hoosiers also averaged 37 yards on three kickoff returns and didn't have any lapses in their return coverage.
Punter James Evans averaged just 37.5 on his four kicks.
COACHING (B)
Allen had his team ready and they did what they had to do against Idaho.  The real test of where this team stands comes next week against top-10 Cincinnati, but a blowout win was just what this team needed.  The Hoosiers scored 56 points, tied for the 10th-most points scored in a single game in program history. IU last posted 56 points in a 56-36 victory over Purdue on Nov. 30, 2013.  The 42-point margin of victory is the largest for an Indiana team since the Hoosiers shut out Eastern Illinois, 56-0, on Sept. 7, 2019. The win is the third under Allen of 40-plus points.
There are still more questions than answers on offense.  Idaho's scheme looked similar to Iowa — they put a shell around the back-end and forced IU to make short throws and sustain long drives.  IU was able to sustain some long drives, including an 18-play adventure in the first half — but whether they can do that against high-end FBS defenses is an open question.  This is still an offense that appears to be too vanilla to sustain success in the Big Ten.
Overall it was a strong defensive effort against a Vandal team that scored 68 points the week prior.  Idaho scored touchdowns on consecutive drives at the end of the first half and beginning of the second against IU.  But those drives were sandwiched between ten Idaho possessions of five plays or fewer.
---
The Daily Hoosier –"Where Indiana fans assemble when they're not at Assembly"