Indiana suffered a disappointing 34-6 loss at Iowa on Saturday to open its 2021 season.
Let's go position-by-position and take a look at what went right and what went wrong in Iowa City.
See also:  Game story | Tom Allen post-game | Penix, Fryfogle, Anderson post-game
QUARTERBACK (F)
Let's face it — Penix's first half was a complete disaster, and it followed a trend of poor play in season openers.  The Tampa product was 8-of-20 for 95 yards before halftime with three interceptions.  One was not his fault, as D.J. Matthews let a ball go right through his hands.  Penix also threw a second half interception that was only disallowed because of a questionable late hit call.
Even the throws Iowa didn't catch were often behind receivers or otherwise off target.
"He seemed off," coach Tom Allen said of Penix. "The timing with the receivers wasn't there.
"They did a great job. They do what they do and do it well. He made mistakes and they made him pay."
Allen eventually made the call to bench Penix in the fourth quarter.  He explained why.
"No. 1, I wanted to get him out. If we had kept him in there and he had gotten hurt, we've have had a lot of regrets.
"No. 2, Jack (Tuttle) needs to play. I wanted him to play."
RUNNING BACKS (C)
Stephen Carr picked up the yards that were available, but there wasn't a lot of running room in this one.  Carr seems to be a step quicker than Stevie Scott while just as physical.  But the running lanes were tight and congested, and that part isn't Carr's fault.  Indiana will need more than three yards per carry (19 carries, 57 yards) from Carr, but this might have been one of the two or three best defenses he will see this year.
Sophomore Tim Baldwin added six carries for 12 yards.
The personnel surprise of the game might have been a pair of walk-ons — Davion Ervin-Poindexter and Chris Childers sharing the third down duties.  That is likely due to pass protection more than anything, but Indiana appears to be less of a threat to run on third down with them in the game.
WIDE RECEIVERS / TIGHT ENDS (C)
Indiana's receivers didn't do a great deal to help their struggling quarterback.  They weren't able to get any separation from Iowa's experienced secondary, nor were they ever able to get behind it.
Ty Fryfogle had five catches for 84 yards but had an uncharacteristic drop.  Matthews couldn't snare the pass that turned into the first pick-six and quickly put IU in a 14-0 deficit.  He didn't make the splash that many expected.  Starter Miles Marshall only had one catch.
Peyton Hendershot got open in the end zone for what would have been a touchdown but Penix badly overthrew him.
OFFENSIVE LINE (C)
Indiana's longest run of the day was 14 yards.  Beyond that run the Hoosiers toted it 30 times for 63 yards as they struggled to create running lanes.
Iowa only had one sack, but they registered six quarterback hits and when they decided to bring pressure it often had an impact.
There may or may not have been some late shuffling of the lineup that impacted the line's play.  Many expected tackle Luke Haggard to start, but he didn't see the field.
Caleb Jones had two false start penalties, a hold, and he got beat on a second half sack.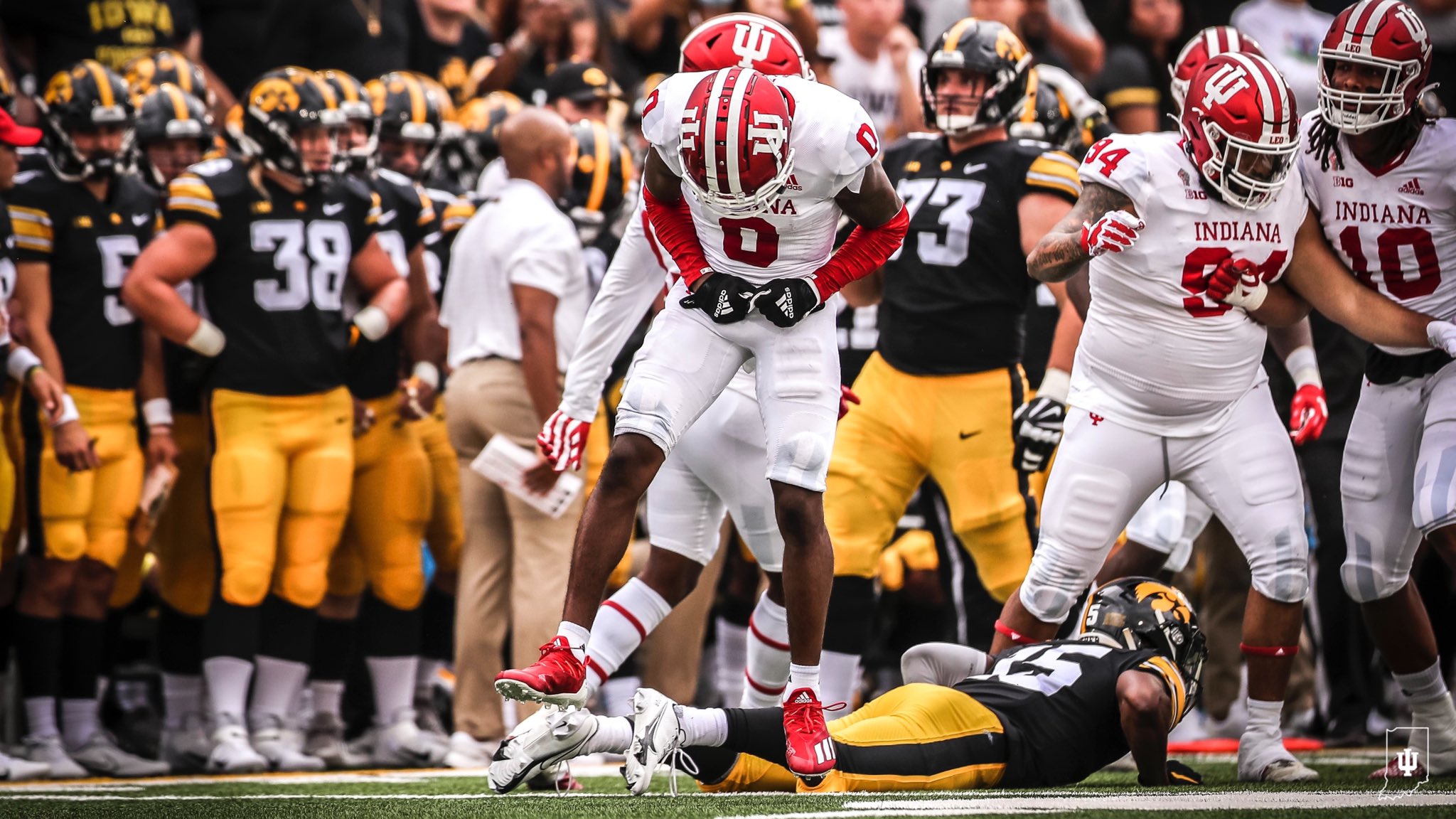 DEFENSIVE LINE (B)
Two transfers made strong debuts.
Ryder Anderson had a team co-leading seven tackles including five solo, a sack and two tackles for loss.
Weston Kramer also had seven tackles including four solo and one for a loss, and he showed a lot of effort chasing down plays from behind.
Auburn transfer Jaren Handy also had three tackles and showed promising ability.
Two expected starters didn't have a big impact.  Demarcus Elliott had two tackles, and Sio Nofoagatoto'a has been working his way back from a fall camp injury and had a diminished role.
LINEBACKERS (B)
The veteran group played well in the run game but Iowa tight end Sam LaPorta had five catches for 83 yards.
James Miller led the way with four tackles including three solo and two pass breakups.
Cam Jones and Micah McFadden each had three tackles including two solos apiece.  Jones stripped the ball to force a first half fumble.  But for as good as this duo is, we didn't hear from them enough.
DEFENSIVE BACKS (B)
The nation's leaders in interceptions per game in 2020 were unable to pick off the ball at Iowa, but no Hawkeye wide receiver had more than two catches.
Reese Taylor appeared to have responsibility for maintaining contain on the edge on Iowa's first quarter touchdown run.  He had a late-game sack and two tackles for loss.
Raheem Layne had a strong debut at safety in his first action since 2019 when he played cornerback.  Layne had a hand in both Iowa fumbles, and he had six tackles including four solo.  Safety Josh Sanguinetti recovered the second fumble.
Tiawan Mullen and Jaylin Williams were solid but were unable to produce any big plays.
Marcelino McCrary-Ball had three tackles and a costly roughing the passer penalty that may not have been a good call.
Safety Devon Matthews suffered an injury that appeared to relate to his neck and he did not return.
SPECIAL TEAMS (B)
Charles Campbell continues to be clutch.  He made 2-of-2 field goals and has now converted 14-of-15 for his career.
In his first ever American football game, punter James Evans saw plenty of work.  He punted eight times and posted a 42.8 average while placing four kicks inside the 20 yard line.  His effort improved over the course of the game after a couple shaky early punts.  Iowa only averaged four yards on their punt returns.
IU didn't do a great job of containing kickoffs.  Iowa averaged 29 yards on two returns.
COACHING (C)
Indiana could have had the best game plan, but if players make mistakes a lot of that goes out the window.  How much of Penix's performance are you going to put on the coaches?  The D.J. Matthews drop?  Taylor not containing Goodson on the touchdown run?
It would be silly to doubt Tom Allen at this point.  He has been good for a while now so until a trend develops, we will chalk this game up to being a fluke of first quarter mistakes.
What is a trend is the offense not being particularly productive.  That was the case in several games in 2020 including the last three, and the pattern continued into 2021.  Offensive coordinator Nick Sheridan is going to have to find ways to make the offensive attack more dynamic.
New defensive coordinator Charlton Warren's debut went well.  His unit was good but not great.  He'll need to find ways to get more pressure on the quarterback and allow his talented defensive backs to play tighter coverage.
---
The Daily Hoosier –"Where Indiana fans assemble when they're not at Assembly"