Indiana escaped Western Kentucky with an exciting 33-31 win on Saturday night.
Let's go position-by-position and take a look at what went right and what went wrong in Bowling Green.
See also:  Hoosiers hang on against WKU | Post-game locker room scenes
Indiana (2-2) will travel to top-ten Penn State (4-0) next Saturday for a 7:30 p.m. Eastern kickoff.
QUARTERBACK (A)
This was just what the doctor ordered for Michael Penix, Jr.
The redshirt junior completed 35-of-53 passes for 373 yards.  Penix was composed throughout, used his feet when he had to, and looked much more nimble and fundamentally sound than he had to this point in the season.  The 35 pass completions from Penix is tied for the fifth-most by a quarterback in program history for a single game.
Of course the opponent wasn't what Penix will see in the coming weeks, but this was a major step in the right direction.
RUNNING BACKS (B)
Stephen Carr had a solid evening, rushing for 109 yards on 25 carries with two touchdowns.  He added two receptions for 16 yards.  While Carr doesn't have game-breaking speed, he gets downhill, has some shiftiness, and almost always falls forward.
While Carr was solid, backup Tim Baldwin fumbled for the second time in two games, and he also had a dropped pass.  Baldwin did carry four times for 35 yards.
WIDE RECEIVERS / TIGHT ENDS (B)
Ty Fryfogle was on the receiving end of six passes that resulted in conversions on third or fourth down.  For the game he snared 10 balls for 98 yards.  It was the second highest reception total in a game for his career.
Peyton Hendershot put together a second straight high volume game, pulling in six passes for 94 yards.  He became the 22nd Hoosier with 100 catches (105) and 1,000 yards (1,116).
Miles Marshall only had two receptions on the season coming in, but he hauled in five passes for 64 yards, all in the second half.
D.J. Matthews suffered what looked like a serious knee injury.  David Ellis also appeared to suffer an injury.  In their place, Jacolby Hewitt, Javon Swinton and Camron Buckley made plays.
The group still had a few drops on the evening, but there was improvement, and the depth of the room was on display.
OFFENSIVE LINE (C)
The group was respectable most of the way but certainly not great.
Western Kentucky had three sacks and three more quarterback hits
On a sack-adjusted basis, IU ran for 159 yards and a 4.4 yard per carry average.
As was the case in the second half against Cincinnati, run blitzes seemed to cause issues after the break in this one as multiple carries were stopped in the backfield.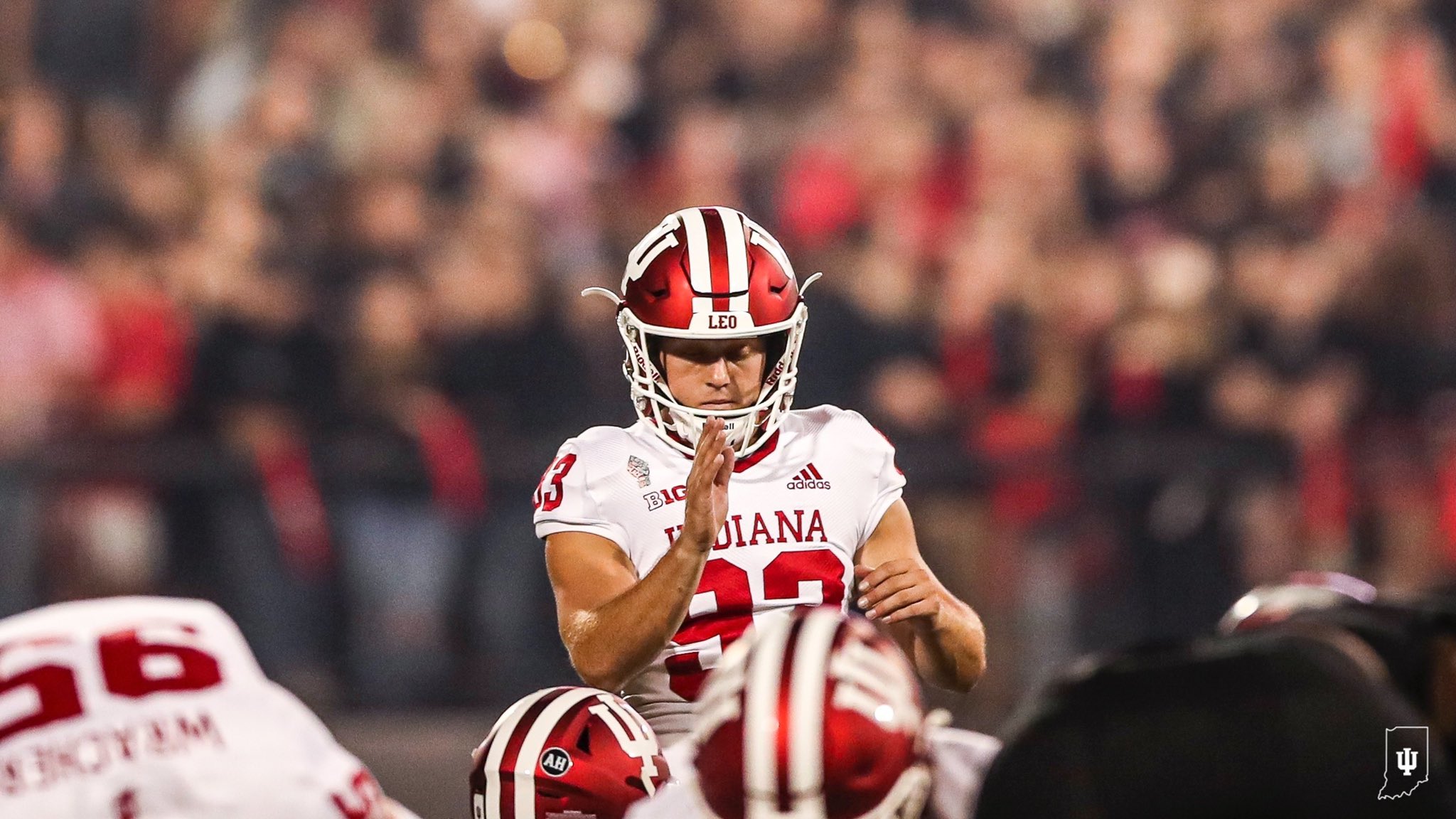 DEFENSIVE LINE (C)
WKU's quick strike pass first offense largely took this crew out of the game.
But just one quarterback hit and no tackles for loss or sacks while WKU averaged 5.4 yards per carry (sack adjusted) is not an impressive outing.
LINEBACKERS (A)
After being ejected for targeting last week, Micah McFadden was all over the field.  He had a first half tackle for loss on third down that set up a fourth down stop, and he blew up another play in the backfield for a sack.  McFadden had a career-high 12 tackles.  At times it seemed like WKU was intentionally working the boundaries to avoid McFadden, but he was everywhere.
Cam Jones was also productive, with six tackles including four solo and a tackle for loss.
DEFENSIVE BACKS (C)
WKU quarterback Bailey Zappe completed 31-of-44 passes for 365 yards and three touchdowns, and all the damage was done by Hilltopper wide receivers.
In his first game back from an injury incurred against Iowa, safety Devon Matthews started and had eight tackles including three solo and one for a loss.
Tiawan Mullen broke-up three passes, and Marcelino McCrary Ball was active with five tackles and a pass breakup.
Jaylin Williams bit hard on a double move on WKU's second touchdown of the game.  He also let an interception go through his hands and left the game with an apparent concussion.
Indiana had no interceptions on the night and still has just one on the season.
SPECIAL TEAMS (A)
Kicker Charles Campbell might have been IU's MVP.  He was 4-for-4 kicking field goals and is now 19-for-20 for his career.  Campbell connected from 46, 37, 25 and 48 yards out, and Indiana needed all of them.
The kickoff return coverage wasn't great as Western Kentucky averaged 24 per attempt and bigger opportunities were there.  WKU didn't have any punt return yardage.  James Evans averaged 45 yards per punt.
Jacolby Hewitt returned three kickoffs for a 19-yard average.
The Hoosiers got the hands team on for a late kickoff, avoiding a Gator Bowl repeat disaster.
COACHING (B)
The game followed a script similar to Cincinnati, with a fast start followed by a lull.  Tom Allen is going to have to find a way for his team to play a complete game.  Credit both him and offensive coordinator Nick Sheridan for sticking with Penix and instilling the confidence for a breakout performance.
Indiana's offense hadn't looked good against anyone this year, so the 507 yard evening was a promising sign even if WKU's defense isn't high caliber.  It was the highest offensive output since the 2019 win at Purdue. Sheridan seemed to do a better job of mixing up the play-calling with more passing on first down, and there were a few more wrinkles with a flea-flicker, some jet sweeps, and a good use of the short-passing game to move the sticks.  Sheridan had the right play calls on third down most of the night, but on key plays in WKU territory the offense stalled and was forced to kick field goals against a suspect defense.
After a three-and-out on the opening drive, Charlton Warren's defense didn't handle WKU's fast-tempo offense very well for most of the game, allowing 458 yards.  This is an offense that will likely give everyone fits, but Indiana knew what was coming and had few answers.  IU forced punts on two key late second half drives to help deliver the win, but the Hoosiers put out some ugly film for teams looking for an edge against this defense.
---
The Daily Hoosier –"Where Indiana fans assemble when they're not at Assembly"