Indiana saw two of its locations shift from its original 2021 Big Ten schedule and saw most of the rest of its dates shuffled when the conference released its revised schedule on Friday.
The Hoosiers had already changed their schedule online earlier in the year to reflect that they would host Michigan State and travel to Ann Arbor to play Michigan. The locations were the opposite in the original release.
The Hoosiers still open the road at Iowa on Sept. 4 before a three-game non conference slate. They host Idaho on Sept. 11 and Cincinnati on Sept. 18 before going to Western Kentucky on Sept. 25.
Conference play returns in earnest on Oct. 2. The Hoosiers were originally scheduled to take on Maryland that day, but will now play on the road at Penn State before taking a bye the following weekend. After that, they host Michigan State on Oct. 16 and Ohio State on Oct. 23. They follow that with road trips to Maryland and Michigan on Oct. 30 and Nov. 6 before returning home to play Rutgers on Nov. 13 and Minnesota on Nov. 20. They finish the regular season with the Old Oaken Bucket Game at Purdue on Nov. 27 after the game was cancelled twice this season because of COVID-19 concerns in the two programs.
The Iowa, Minnesota and Purdue games are the three games that remain in their original slots. The other six were shifted.
The Hoosiers are coming off a 6-2 season in which they finished second in the Big Ten East and lost to Ole Miss in the Outback Bowl. They are expected to begin next season ranked in the Top 15.
REVISED INDIANA 2021 SCHEDULE
Sept. 4 – at Iowa
Sept. 11 – Idaho
Sept. 18 – Cincinnati
Sept. 25 – at Western Kentucky
Oct. 2 – at Penn State
Oct. 9 – BYE WEEK
Oct. 16 – Michigan State
Oct. 23 – Ohio State
Oct. 30 – at Maryland
Nov. 6 – at Michigan
Nov. 13 – Rutgers
Nov. 20 – Minnesota
Nov. 27 – at Purdue
Dec. 4 – Big Ten Championship Game
Here are the complete schedules for every team in the league released on Friday afternoon by the Big Ten.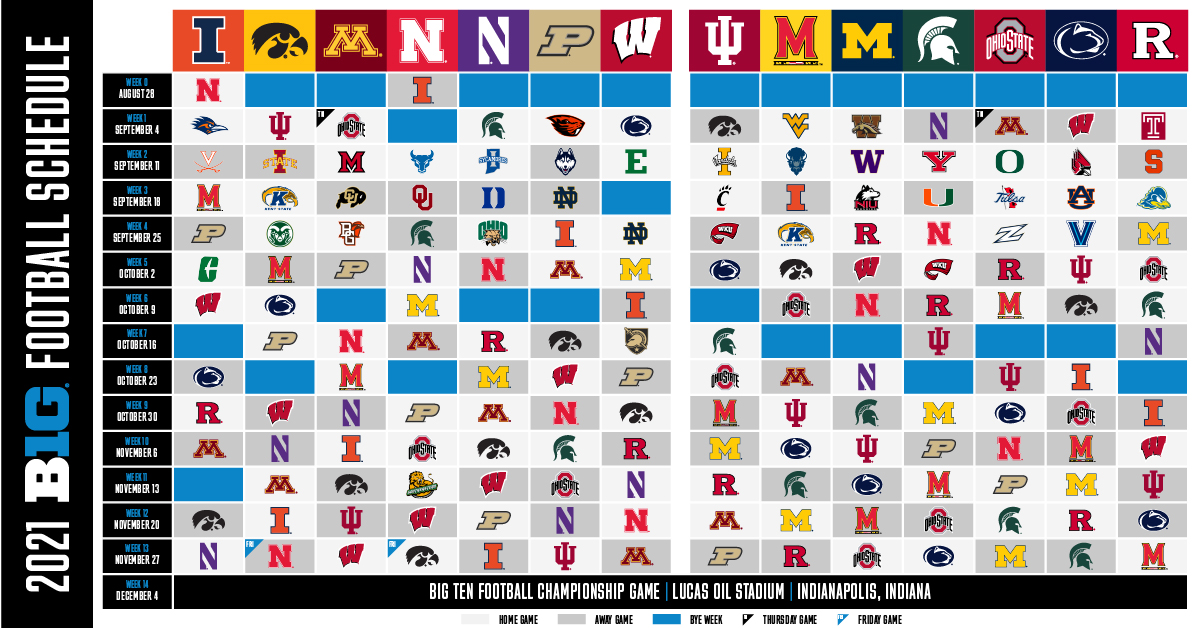 You can follow Dustin Dopirak on Twitter HERE
---
Find us on Facebook:  thedailyhoosier
The Daily Hoosier –"Where Indiana fans assemble when they're not at Assembly"
Seven ways to support completely free IU coverage at no additional cost to you.