The losses up front are significant for the Hoosiers.
Stepaniak, Littlejohn, Cronk and Love have all moved on.
2020 hasn't presented the optimal offseason for retooling on the offensive line, but that is what IU is attempting to do as the Hoosiers prepare for an all-Big Ten 2020 campaign.
The good news — Indiana has three starters back in the fold including tackles Matthew Bedford and Caleb Jones along with interior lineman Harry Crider.
Those three, along with offensive line coach Darren Hiller, spoke with the media on Thursday.
POSITIONAL SHUFFLING
One byproduct of the player turnover has been asking veterans to assume new roles in 2020.
That can be a challenge for players after they have mastered the footwork, techniques, reads and other nuances of a particular spot.
But in the case of Jones, Crider and Bedford, each has a certain degree of comfort with their new spot on the line.
Jones, a redshirt junior, played both tackle positions at times in 2019.  He started the season on the right side but started his career at IU on the left.  In 2020, Jones is going back to left tackle.
"Coach Hiller has a lot of faith in me because I started here (at IU) as a left tackle and he moved me a lot from left to right in practice and put me in a lot of different situations and scenarios that will prepare me to play both sides," Jones said.
Crider, a senior, is moving from guard to center to fill the void left by Littlejohn.  Indiana can move Crider because of their comfort with Stanford graduate transfer Dylan Powell at guard.
For Crider, it is a move back to a familiar place.
"Super excited to be back at the center position," Crider said. "When I first moved to O-line in high school that is all I played is center.  The past two years was my only experience being outside of center.  Center is home."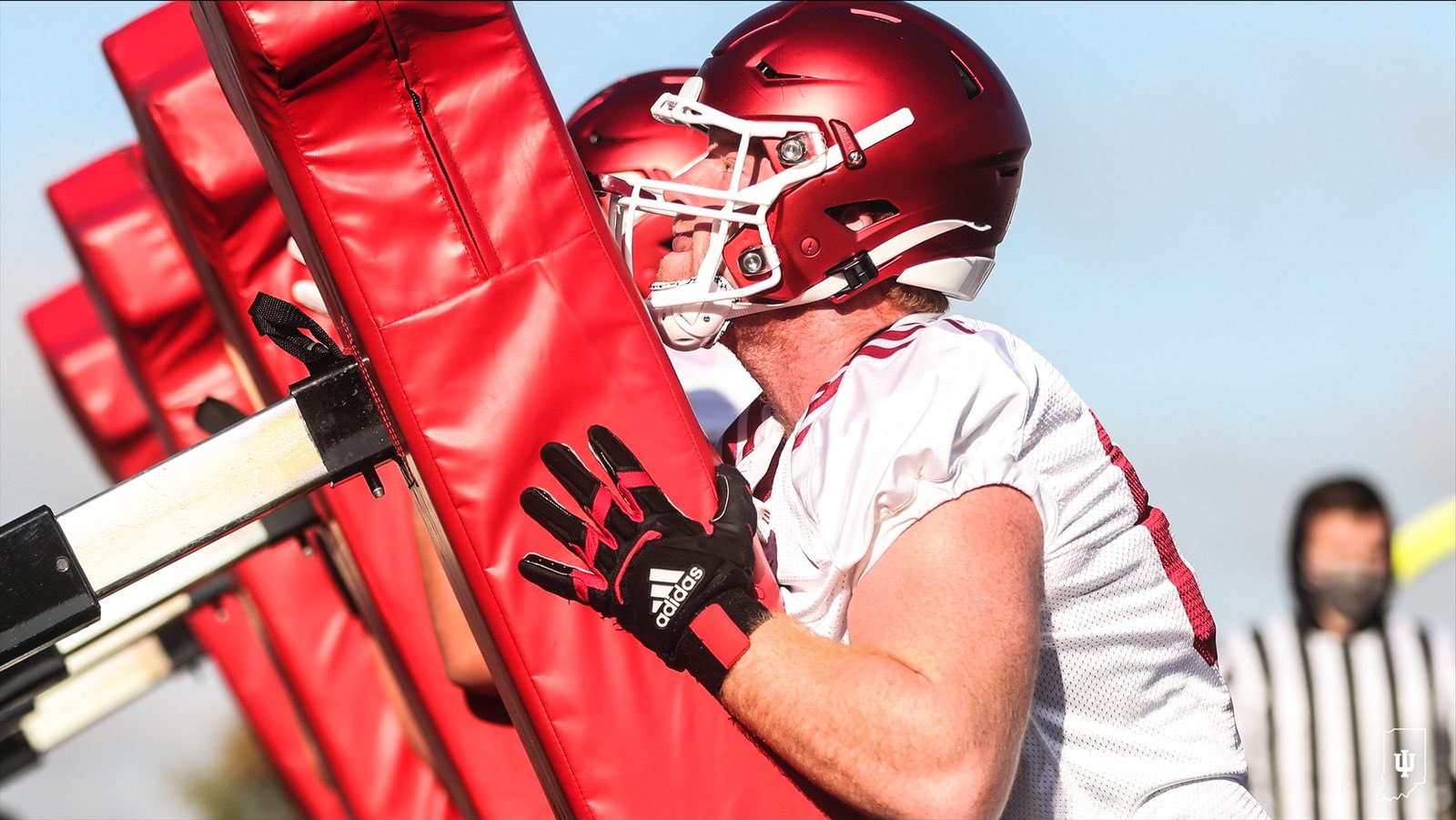 Bedford ended up starting in 2020 after Cronk went down with a season ending injury.  After a strong showing as a true freshman at left tackle, Bedford is swapping ends of the line with Jones.
"The right side is actually a lot more natural to me.  It has been an easy transition," Bedford said.
Bedford protected Peyton Ramsey's blind side in 2019, and now he will be asked to do the same for Michael Penix.
"I take it very seriously," Bedford said of that responsibility.
With a year under his belt, Bedford said that overall he is a lot more confident and comfortable heading into this season.
UNITY > PHYSICALITY RIGHT NOW
Although an offensive line is made up of individuals, in many ways they operate as a unit.
A more ideal offseason would have allowed the group to get in a lot more reps together at their new positions.
Hiller doesn't worry so much about knowledge of the playbook or chemistry off the field.
It is the physical side of the game, with pads and helmets, and playing under duress, that is a bit more concerning.
That aspect of football is only just beginning as IU is only now starting to practice is shoulder pads and helmets.
"The hard part is the physicality portion of playing offensive line," Hiller said of building cohesion.  "When you are doing things from real football, with shoulder pads and helmets and all of that stuff…the unity of working those blocks together we haven't had as much time or repetition with that."
FRESHMEN OFF TO A GOOD START, WITH ONE FAMILIAR FACE
Indiana has five freshmen and two junior college transfers as new additions in 2020.
Hiller thinks he has a strong cohort of first year players on the roster.  He likened his group to the 2017 season when the offensive line was relatively young.
"I'm really excited about the freshmen, it was a big class," Hiller said.  "Randy Holtz, Khalil Benson, Brady Feeney, Cam Knight, Luke Wiginton — five freshman offensive linemen."
One of the freshmen makes Hiller feel like he has gone back in time.
Knight is the younger brother of former IU star Brandon Knight, who has been starting for the Dallas Cowboys in 2020.  Hiller sees a strong resemblance.
"It's eerie how much his mannerisms and all those things are like his brother," Hiller said.  "He's just not quite as big right now.  He's got to continue to gain weight, but football wise he understands, he's very quick and strong for a guy at his weight right now.  We just gotta get pounds on him."
Cam Knight is working out as a center right now.
---
Find us on Facebook:  thedailyhoosier

The Daily Hoosier –"Where Indiana fans assemble when they're not at Assembly"
Seven ways to support completely free IU coverage at no additional cost to you.