Indiana head coach Tom Allen met with the media on Monday afternoon along with coordinators Nick Sheridan and Kane Wommack and quarterback Michael Penix, Jr.
Below are some of the more noteworthy news items and notes from the session.
No. 12 Indiana (4-1) will return home this weekend for a noon ET kickoff against Maryland (2-1) at Memorial Stadium.  The game will be televised on ESPN2.
Will the Terrapins show up?
As you are likely aware, Maryland has not played a game since week three as the program has dealt with a COVID-19 outbreak.
Maryland issued a release on Monday that suggests the Terrapins do indeed intend to make the trip to Bloomington this weekend.
"The Maryland football team will begin its regular game week preparations on Monday for this Saturday's game at Indiana and is scheduled to practice this afternoon. Maryland Athletics will continue to monitor the program's COVID-19 testing results to determine the team's activities moving forward as the week progresses."
Head coach Tom Allen was asked about how the IU program is preparing for the uncertainty.
"I would say business as usual and we will adjust, if necessary," Allen said.  "But, everything we have been given to this point is we are expecting to play."
Assuming the game does happen, one interesting angle is the amount of film Indiana has put out for Maryland to review, vs. the more limited amount of tape on Terrapins.
"We don't look at it as an advantage or disadvantage, we just look at it for what it is," offensive coordinator Nick Sheridan said.  "We'll have to adjust and adapt relative to what they decide to do from a schematic standpoint.  We don't make any excuses, we just hope for both groups of kids to get the chance to play."
Missed tackles a big part of the story vs. OSU
You weren't mistaken if you felt like a flurry of second quarter missed tackles turned the tide early for Ohio State.
That's certainly the way defensive coordinator Kane Wommack saw things after reviewing the film.
"I thought that (missed tackles) was the difference in the outcome game, either when we had opportunities to get (Justin) Fields down, or when we missed some critical tackles in the run game," Wommack said.  "They had 50 rushing attempts, and they had 8 explosive runs for 210 yards on those.  Fields is half of those."
As they do each week, the defensive staff went back and charted missed tackles.
Wommack said there was a total of 13 missed tackles, which included 8 missed sacks.  He highlighted a second quarter play where multiple players missed Fields in the backfield and the Buckeyes scored a touchdown two snaps later.
This is why I love this group! Gut wrenching loss and all they can talk about is the relentless pursuit of perfection in next week's practice! #NeverDaunted #LEO #SwarmD pic.twitter.com/2gmGfkLmIb

— Kane Wommack (@KaneWommack) November 23, 2020
Sheridan on the run game woes
As Aidan Kunst highlighted for The Daily Hoosier earlier on Monday, the lack of running game is a clear limiting factor for an Indiana offense that ranks just No. 73 nationally in total yards.
The Hoosiers have feasted on takeaways and the resulting short fields, but not even that was enough as IU recorded no points off the three turnovers it forced on Saturday.
The clear culprit with the offense is a running game that ranks No. 123 out of 127 teams.
Sheridan talked about the issues he is seeing on the ground, and the potential remedies.
"I wish it was just one thing, and certainly if we felt like it was just one thing we would address that and move forward," Sheridan said.
"Structurally you look at all sorts of things.  I told the offensive staff yesterday that principles are set in stone, but methods are not.  If there are things that we feel like we can do whether its fundamentally, schematically, formationally, to be more creative and create better leverages and angles then we are open to that and we're exploring all options.  Our strength is throwing the ball, yet you want to be able to control the game and you've got to have a run game to do that."
Penix poised under pressure
Pro Football Focus released a stat over the weekend that indicated quarterback Michael Penix had the most passing yards in a game (305) while under pressure in the history of that service.
Penix made several throws off his back foot to get the ball out before Ohio State's pressure got home.
He was asked how he stayed composed during a game where he seemingly never had a clean pocket.
"That is just how I have always played," Penix said.  "I know that at the quarterback position you have got to be poised, you have got to be calm. You have got to just control everything that is going on the offensive side of the ball. I cannot show that I am rattled, because the quarterback cannot show that he is rattled because it sends a message to the rest of the offense that you do not want to have. So, I just tried my best to stay calm under pressure and just deliver strikes every time I get the opportunity. I know I have got great play makers out there on the outside, so I that if I put the ball in the air, one of them is going to go get it. So, I really believe in them, I really trust them and I just go out there and play and just have fun."
Maryland brings red hot QB to Bloomington
While the film on Maryland is limited, one thing is certain — they have an impressive young quarterback.  Taulia Tagovailoa has emerged with 6 touchdowns and 1 interception over his last two contests.  The 5-foot-11 sophomore also rushed 15 times for 72 yards and 2 scores in those two games.
The latest dual-threat quarterback IU will face has caught Wommack's attention.
"I'm really impressed with him," Wommack said of the Maryland quarterback.  "His high school coach is a good friend of mine, and I thought he did a great job of utilizing his skill set in the run and passing game.  I think they're (Maryland) doing a great job of putting him in advantageous situations."
Thus far, Wommack doesn't see a clear weakness in Tagovailoa's game.
"He can extend plays with his feet, he's got a great arm, and he is getting better and better as a decision maker," Wommack said.
Big Ten Week 7 schedule details released
As the Hoosiers get ready for Maryland in week six, the Big Ten released the details for week seven.
IU and Wisconsin will kick off at 3:30 p.m. ET in Madison.  The game will be televised on either ESPN or ESPN 2.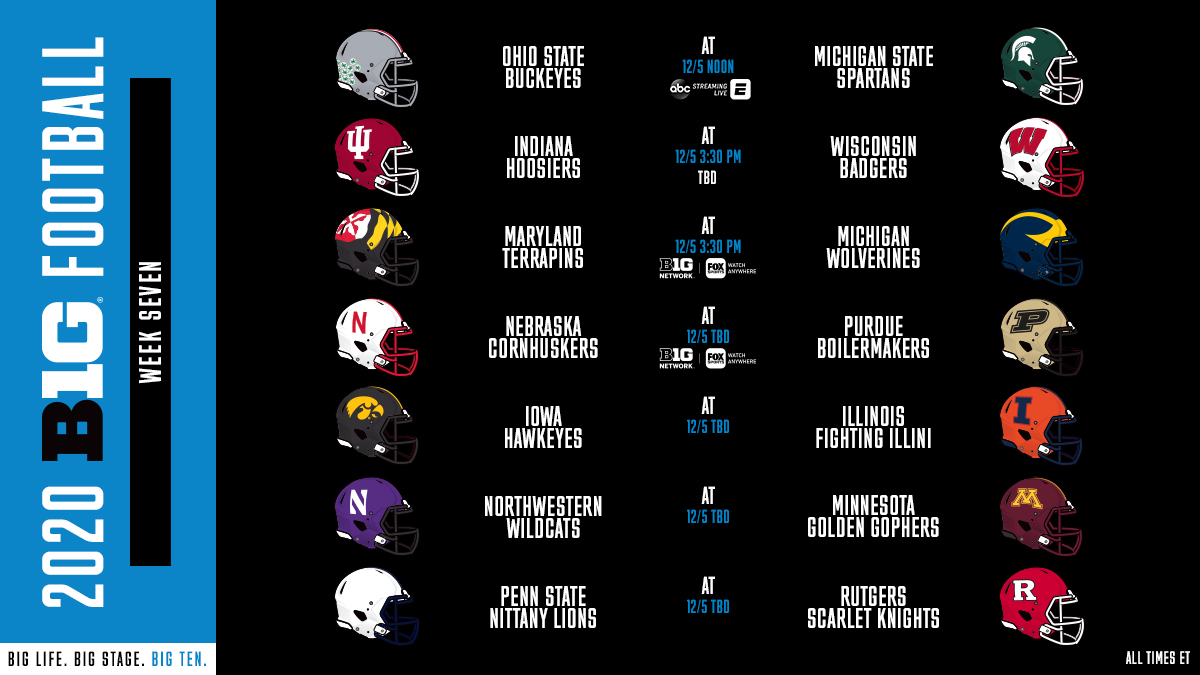 ---
Find us on Facebook:  thedailyhoosier

The Daily Hoosier –"Where Indiana fans assemble when they're not at Assembly"
Seven ways to support completely free IU coverage at no additional cost to you.