Indiana head coach Tom Allen met with the media on Monday afternoon along with coordinators Nick Sheridan and Kane Wommack and quarterback Michael Penix, Jr.
Below are some of the more noteworthy news items and notes from the session.
No. 9/10 Indiana (4-0) will travel to Columbus this weekend for a noon ET kickoff against Ohio State.  The game will be televised on Fox.
See also:  Opportunities on the line against Buckeyes difficult to comprehend
---
Michigan State players of the game
As it does each week, IU named its top players for each phase on Monday.
Allen announced the following players of the week for the 24-0 win over Michigan State:
Ty Fryfogle, offensive
Micah McFadden/Tiawan Mullen, co-defensive
AJ Barner, special teams
Thomas Allen out for the season / Katic should be back
Allen indicated that his son Thomas has a "serious" injury to his hip and will have season ending surgery on Tuesday.  The fracture was described as similar to Tua Tagovailoa's injury at Alabama last year.  Tagovailoa is now the starting quarterback for the Miami Dolphins.  Tom Allen hopes for a similar positive outcome for his son.  Tom Allen said Thomas will return to play in 2021.
The Hoosier head coach became emotional during the press conference as he reflected on his family's long and winding path to Bloomington.
"My kids have sacrificed, and my wife," Allen said as he fought back tears.  "That's why it hurts so much for Thomas.  I know what he's been through to get here.  He's a tough sucker."
On the plus side, Allen indicated that starting left guard Mike Katic is likely to play against Ohio State.  He missed the previous two contests.
Allen did not remark on the status of left tackle Caleb Jones, who unexpectedly missed the Michigan State game, or linebacker Cam Jones, who left the game with an undisclosed injury.
No. 9 Hoosiers big underdogs
Although Saturday's game is a top ten matchup, Vegas is projecting a blowout.
The early line has Ohio State favored by roughly three touchdowns.  How much does the series history contribute to the doubt in the minds of oddsmakers?
Indiana has not defeated Ohio State since 1988.  But similar to his refrain during the week before the Michigan game, Allen is resolute that the past does not predict the future.
"We're not going to compete against the last 50 years of Ohio State players, we are going to have to match up with the 11 on the field this Saturday, Allen said.
"We're going to compete, we're going to fight, I don't care what anyone says about this doggone game."
Allen knows his team has not yet played to a level that will be good enough to beat Ohio State, remarking that "we're still not where we need to be in all three areas."
He hopes a desire to improve and compete should serve as all the motivation his team needs this week.  He certainly doesn't expect to have to fire up his team with "rah rah" speeches.
"You shouldn't need motivation to play the Ohio State Buckeyes," Allen said.
On the other hand, Allen was asked whether he will talk about the point spread with his team this week.
"Yes, it will be addressed," he said.
Major respect for Justin Fields
Ohio State quarterback Justin Fields has compiled an early season stat line that is hard to believe.  The 6-foot-3 Georgia product is 72-of-83 (86.7 percent) throwing the ball through three games.  He has thrown for 908 yards with 11 touchdowns and no interceptions.  Fields has also run for 57 yards and two more scores.
Obviously, slowing down Fields will be at the center of Indiana's game plan.
"(He's) arguably the best QB in the country," Allen said.  "A special player playing at a high level.
"He's just extremely poised and has tremendous arm talent and a quick release.  He has really good protection and makes people miss."
The quarterback matchup will be one of many storylines on Saturday.
Indiana quarterback Michael Penix said he met Justin Fields once at a QB camp, and is looking forward to matching up with him on Saturday.
"It's what people want to see," Penix said.
Still waiting on Maryland game information
Indiana's week six game against Maryland has been designated as a "six-day selection" according to the Big Ten.  That means the game time and television details will not be announced until after this weekend's games.
The league did announce a game for Friday, Nov. 27 which should take the Hoosiers out of the possibility for a game that night.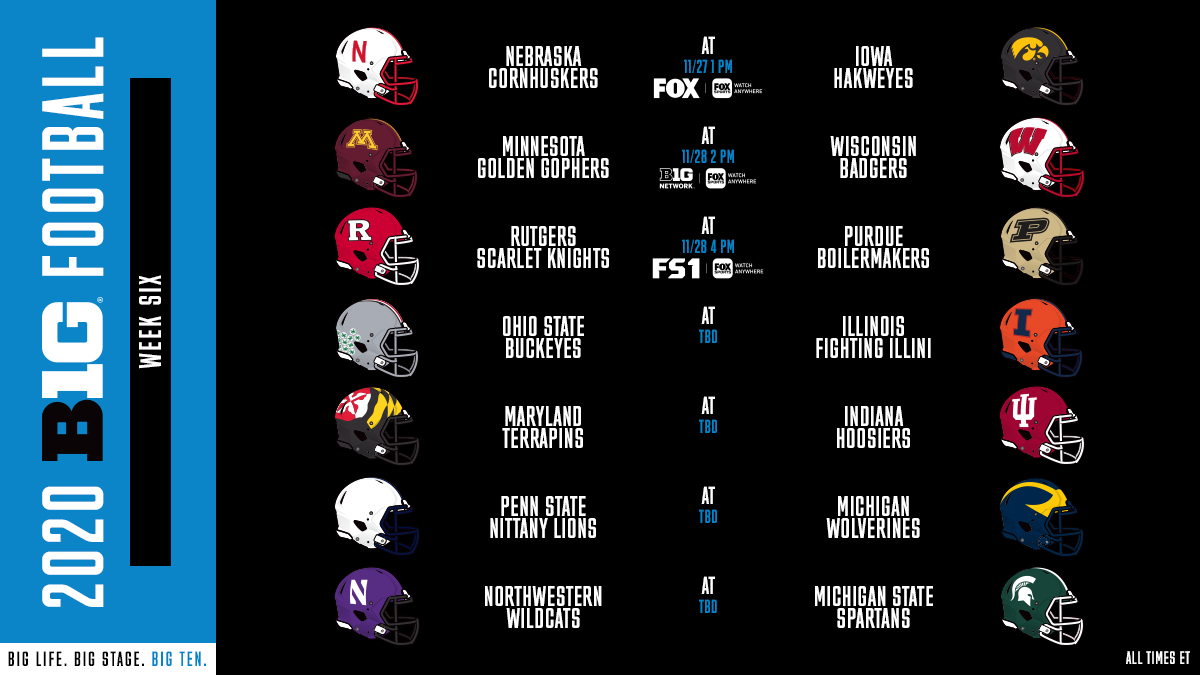 ---
Find us on Facebook:  thedailyhoosier

The Daily Hoosier –"Where Indiana fans assemble when they're not at Assembly"
Seven ways to support completely free IU coverage at no additional cost to you.