Indiana has had plenty of big wins in 2020.
But this one was on another level.
A top-20 opponent, on the road, with your backup quarterback, as a 13.5 point underdog?
No problem.
IU (6-1) did what it has done all year.  It put on the earmuffs and blinders.
And took care of business.
See also:  Tom Allen post game | Game story and highlights | Player post game
QUARTERBACK (A-)
The ask of Jack Tuttle was massive.
And he stepped up in a big way.
Tuttle was poised throughout, completing 13-of-22 for 130 yards and 2 touchdowns with no interceptions.  And don't forget a third touchdown pass was dropped.
Against a Wisconsin defense that was leading the nation in fewest yards allowed per game, Tuttle made big throws and showed toughness by racing back into the game after getting checked out for a concussion.
"I just wanted to get back on the field," Tuttle said after the game.  "That is really it to be honest. I love my team and I just wanted to be back on the field."
We'll knock his grade a touch for not taking care of the ball on a costly fumble.  And it wouldn't be a bad idea to learn how to slide to avoid hits.
But this was special day for Tuttle.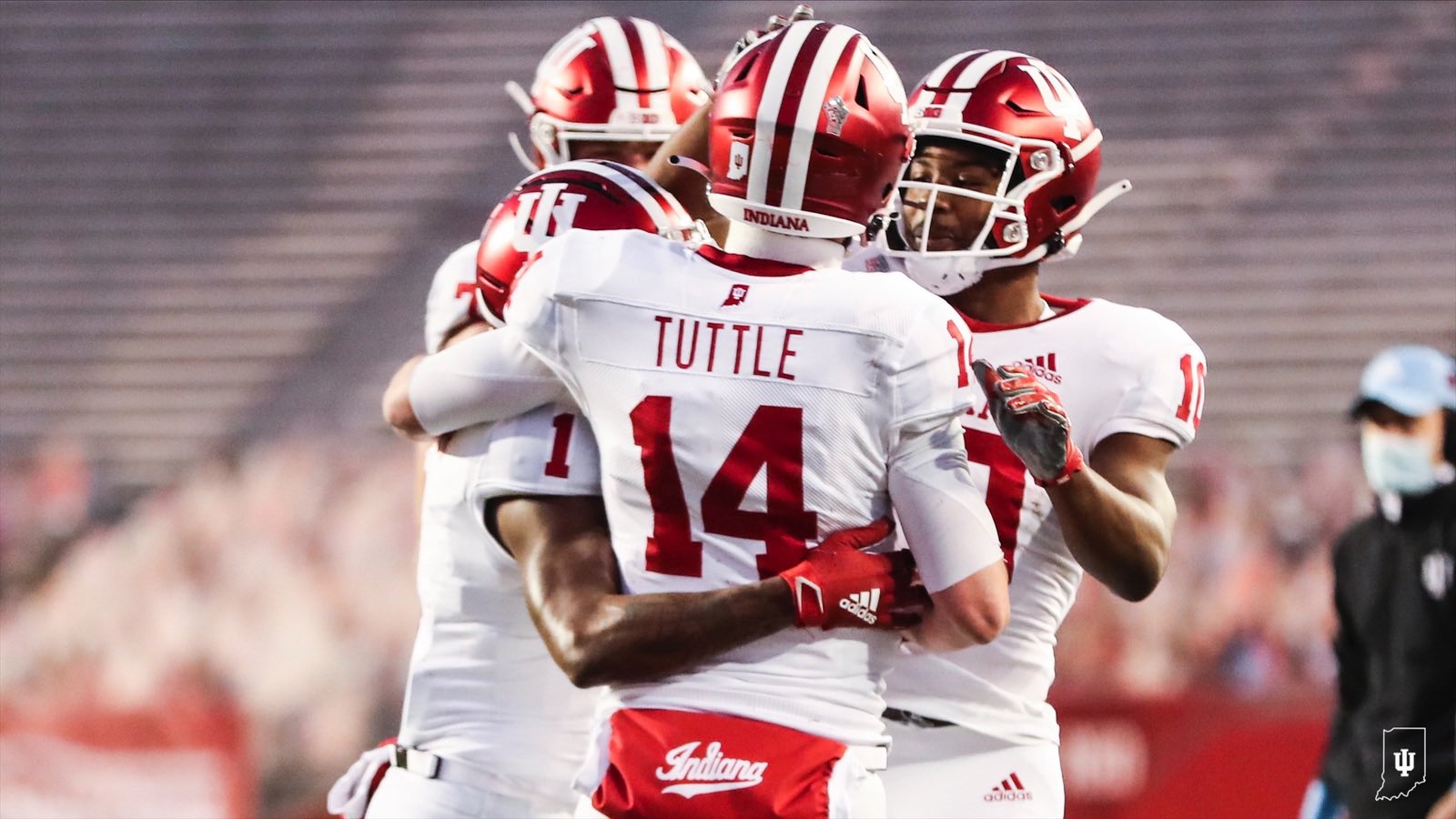 RUNNING BACKS (B+)
This was never going to be a big rushing day for Indiana, but with Stevie Scott running hard and David Ellis providing a change of pace the Hoosier ground game kept Wisconsin honest.
Scott was running as hard as we've seen this year and seemed to have a bit more burst to his game.  He racked up 18 carries and 57 yards along with a catch for 4 yards.
Ellis added 5 rushes for 22 yards and 2 catches for another 15 yards.
WIDE RECEIVERS / TIGHT ENDS (B)
Whop Philyor had some timely catches and probably a couple balls that he'd like to have another chance to track down.
Peyton Hendershot continues to be a nice weapon in the red zone.
Ty Fryfogle only had one catch but was able to draw a couple pass interference calls.
Miles Marshall dropped a sure touchdown in the fourth quarter and was no doubt thrilled that it didn't impact the outcome.
OFFENSIVE LINE (B+)
Considering the caliber of the defense, this might have been the offensive line's best performance of the season.  Indiana managed to grind out 87 rushing yards while only allowing Tuttle to be sacked once.
No doubt boosted by the return of tackle Caleb Jones, the run game seemed to get stronger as the game progressed.  While there weren't gaping holes, the offensive line created space and kept Tuttle out of 3rd and long situations.
It was interesting however, that the other starting tackle Matthew Bedford did not play.
DEFENSIVE LINE (A)
Playing without Demarcus Elliott who was inactive on Saturday, it looked like IU might struggle in the trenches.
Sio Nofoagatoto'a seemed to play extensively and he was getting plenty of push, especially late in the game.  He had 4 tackles.
C.J. Person also played a heavy role and had 4 tackles.
Wisconsin's running backs ran 26 times for 126 yards, numbers that the IU staff would have almost certainly been happy with going into the game.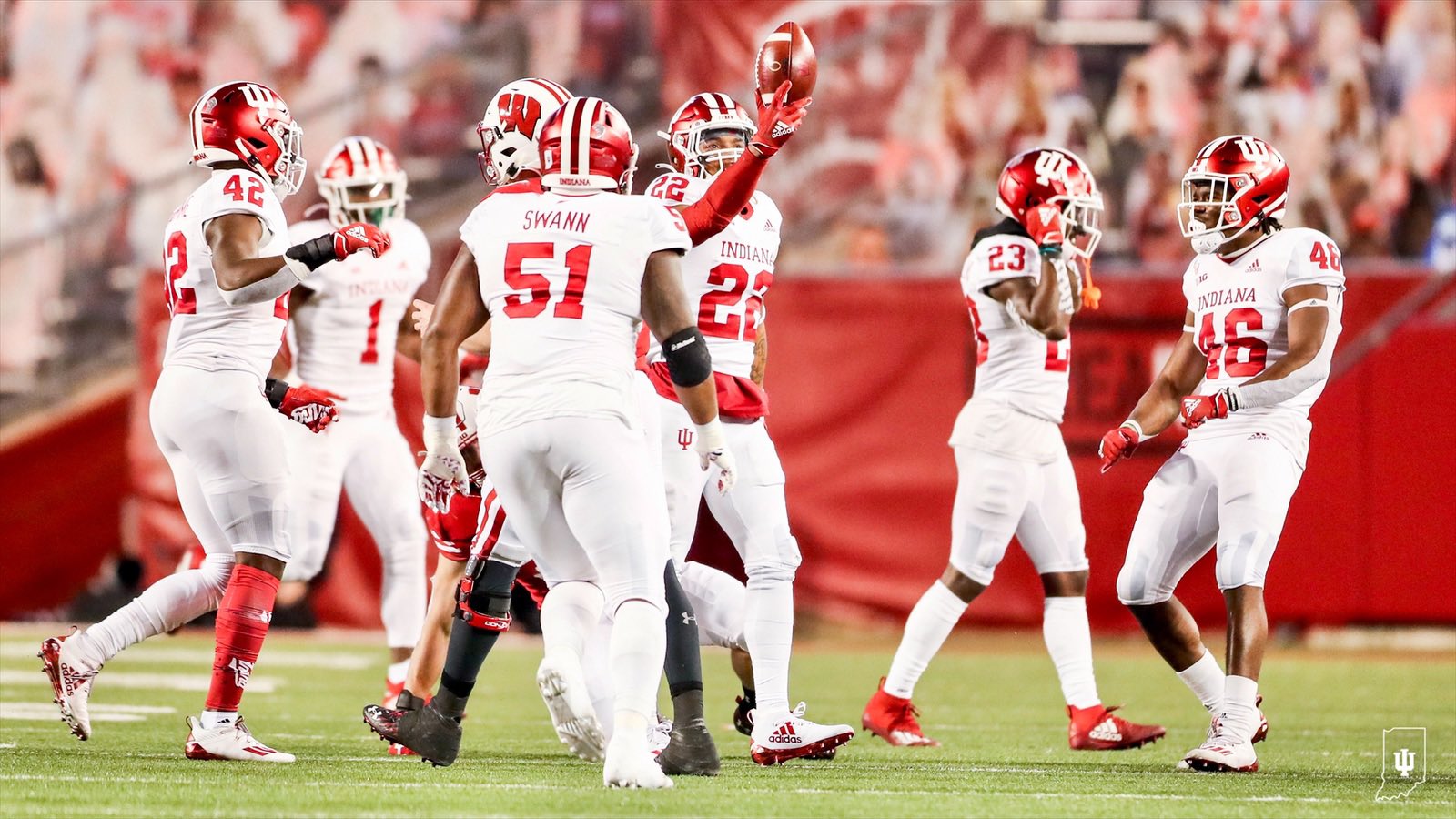 LINEBACKERS (A)
Micah McFadden likely stamped his place on the All-Big Ten first team with this latest big performance.  We say it every week, but McFadden was all over the field making splash plays.  He finished with a team leading 9 tackles (6 solo) and 2 sacks.
Cam Jones and James Miller both had 5 tackles.  Jones added a pass breakup while Miller recovered a fumble.
Aaron Casey and D.K. Bonhomme both continue to make a positive impact.  Casey had a third quarter tackle for a loss in the IU red zone that helped to stall out a Badger drive.
DEFENSIVE BACKS (A)
Jamar Johnson continues on his torrid pace with 6 interceptions in his last 9 games.  He is IU's active team leader for his career with 7 interceptions.
Tiawan Mullen changed the course of the game early with a sack and forced fumble near midfield.  IU scored on the ensuing drive.  Mullen also broke up a pass in the end zone.
Safety Devon Matthews led the group with 6 tackles.
Bryant Fitzgerald had a tackle for a loss that forced 3rd and long and led to Johnson's interception.
Reese Taylor defended Wisconsin's last pass into the end zone to close out the game.
SPECIAL TEAMS (A)
We've said it all year — Indiana continues to avoid giving up big plays in the return game.
Punter Haydon Whitehead was phenomenal, totaling five punts for 201 yards (40.2 yards per punt). He pinned Wisconsin inside the 20-yard line four times, including two punts downed inside the 10.  He did not allow any return yardage on the day.
Philyor made a big play on punt coverage to down the ball at the one yard line.
Reese Taylor made a nice return off a bounce to avoid Indiana being pinned deep.
COACHING (A)
With this win Tom Allen is firmly in the hunt for national coach of the year recognition.  A season that includes wins over Penn State, Michigan, Michigan State and Wisconsin is borderline inconceivable.  Allen has his team prepared, believing and executing on a week-in, week-out basis.
Offensive coordinator Nick Sheridan deserves a ton of credit for having Jack Tuttle comfortable and ready to go.  This wasn't a big offensive day for IU, but the if you give Sheridan credit for a touchdown on the Marshall drop, then this was a fairly impressive day against a top-10 defense.  While the Hoosiers didn't put up a lot of points or yards, they only went 3-and-out once the entire game.  That gave the defense time to catch their breath.
Indiana's defense has now allowed just one touchdown total in three of its past four games excluding Ohio State.  And that score was something of a desperation heave by Maryland.  Defensive coordinator Kane Wommack has likely worked his way onto several coaching vacancy hot boards with a defense that continues to produce takeaways and sacks while befuddling every quarterback they face.
---
Find us on Facebook:  thedailyhoosier

The Daily Hoosier –"Where Indiana fans assemble when they're not at Assembly"
Seven ways to support completely free IU coverage at no additional cost to you.