Indiana proved it belonged in the national conversation on Saturday afternoon in Columbus.
But the Hoosiers were also reminded just how difficult it is to knock off the nation's elite.
IU did what it has done every week — generate sacks and takeaways on defense, while attacking through the air on offense.
But it wasn't enough against No. 3 Ohio State as the Hoosiers fought down to the final play but fell 42-35.
Indiana has an interesting week coming up, as it gets set to play Maryland.  Maybe.  The Terrapins haven't played since week three while battling COVID-19 cases within the program.
But before we move on to Maryland, let's go position by position and evaluate the effort against the Buckeyes.
See also:  Tom Allen post game | Game story
QUARTERBACK (A-)
With no running game and suspect pass protection, Michael Penix set new career highs and threatened all-time IU single game passing records against the No. 3 team in the country.
Penix had very little time in the pocket, often throwing off his back foot just to get the ball out.  That pressure impacted his completion percentage.  Penix was just 27-of-51 through the air and threw a pick-six that seemed to put the game out of reach.
But the redshirt sophomore didn't hang his head.  Penix led the way as IU stormed back and he ended up with 491 yards and 5 touchdowns.
RUNNING BACKS (C+)
Indiana's running backs had 11 carries for 18 yards and caused the Hoosiers to be one dimensional all day long.  But let's be clear, the IU backs weren't missing open holes.  There was nothing there.
Stevie Scott showed nimble feet breaking a couple tackles on 2 catches for 23 yards.
You have to give Scott credit for continuing to be effective in pass protection too.  There were a few plays that would not have happened without him.
Proud of our fight!! I love this team. pic.twitter.com/K4PHDkPnmv

— Coach Tom Allen (@CoachAllenIU) November 21, 2020
WIDE RECEIVERS / TIGHT ENDS (B+)
Ty Fryfogle has had a three game run that might put him in the NFL.  The Mississippi native has hauled in 25 catches for 560 yards and 6 touchdowns during that span, including 7 catches for 218 yards and 3 scores on Saturday.  Fryfogle became the first player in Big Ten history to record consecutive 200 yard receiving games.
Whop Philyor, Miles Marshall and David Ellis all put up big numbers too, although Ellis had a fumble at the OSU 7 yard line.
Ellis, Peyton Hendershot and Fryfogle all had big drops.
OFFENSIVE LINE (C-)
While it had been improving, Indiana's offensive line has been its weak link throughout the season and that continued to be the case on Saturday.
Facing the best defensive line they've seen, the Hoosier offensive line couldn't create any running lanes.
While the group only allowed two sacks, Penix rarely had a clean pocket or time to run through his progressions.
Luke Haggard filled in for Caleb Jones again and he struggled early but settled in somewhat as the game progressed.
Harry Crider snapped the ball over Penix's head near the OSU goal line.
DEFENSIVE LINE (C)
Indiana had to blitz aggressively to generate pressure because it could not get that when rushing only four. That left the rest of the defense vulnerable.
As has been the case for most of the season, the Hoosiers got little production from their defensive ends.  Indiana's normally stout tackles were neutralized by OSU's athletic and physical line.
Jerome Johnson had a sack and an interception, while C.J. Person and Jovan Swann were able to tip passes.
LINEBACKERS (C)
Junior linebacker Micah McFadden was once again all over the field, generating 10 solo tackles including one for a loss.
Aaron Casey saw a bigger role and registered a sack, as did Cam Jones who added 6 tackles.
Missed tackles were a big part of the game, including from this group.
James Miller was too late filling the running lane on a 41 yard TD run by OSU in the first half.
Overall IU gave up more than 300 yards rushing and 6.1 yards per carry with the linebacker group often chasing rather than filling their run fits.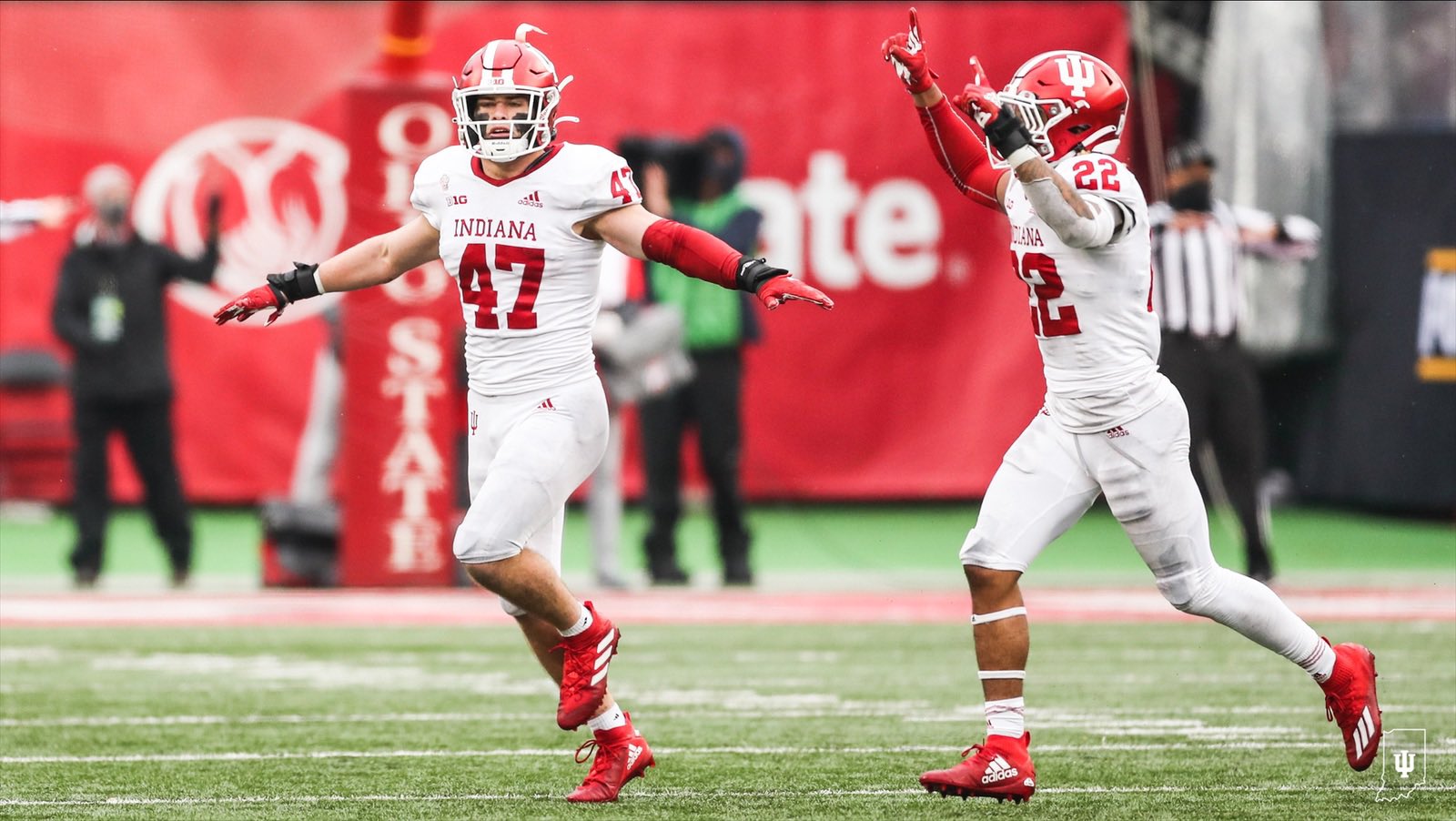 DEFENSIVE BACKS (B+)
Jamar Johnson continues to be an interception machine, with two more on the day and 5 in his last 7 games.  But Johnson fumbled away his second return at the OSU 16 yard line.
Justin Fields' 18-of-30 passing day was an impressive effort by the IU backs considering Fields numbers coming in and the amount of one-on-ones required behind all the blitzing.
Jaylin Williams and Johnson both delivered sacks on the day, while Tiawan Mullen was the second leading tackler with 7.
The group had several big missed tackles on the day, including multiple failed attempts to bring down Fields in the backfield.
SPECIAL TEAMS (A)
Ohio State's special teams can often be the difference in games but they were not a factor in this one.
Reese Taylor continues to be productive in the punt return game, averaging 11 per return.
Haydon Whitehead was solid with a 43.2 average and two inside the 20.  Ohio State never got a chance to return any of his 6 punts.
Jared Smolar only allowed one kickoff return.
COACHING (B+)
That Indiana was competitive and resilient in this game was a reflection of its head coach.  Tom Allen has narrowed the gap with Ohio State despite a still young and developing roster.  Culture is the reason why.
The defensive game plan made sense.  There was no point in trying to line up and beat Ohio State with a vanilla defense.  Kane Wommack dialed up the blitz all day long with the goal of generating big plays.  That often led to big plays for OSU, but you would rather have the Buckeyes score fast to give your own offense more possessions.  With 5 sacks and 3 takeaways, the defense obviously did have an impact despite allowing 35 points and 607 yards.
Indiana's offensive line continues to create challenges for Nick Sheridan, as his play-calling is necessarily one dimensional.  Still Indiana produced 35 points, matching the Buckeye offense and going over 30 points for the fourth time this year.
---
Find us on Facebook:  thedailyhoosier

The Daily Hoosier –"Where Indiana fans assemble when they're not at Assembly"
Seven ways to support completely free IU coverage at no additional cost to you.