First win over Michigan in 33 years?
Straight A's across the board right?  Has to be.
Not quite.  But not far from it.
Indiana put together one of the more complete efforts that the program has produced in a generation as the Hoosiers exorcised its Michigan demons and moved to an improbable 3-0 on the season.
Let's go position by position and evaluate the effort.
See also:  Tom Allen and IU players | Game story | Highlights and post-game scenes
QUARTERBACK (A)
Michael Penix, Jr. has gotten better each week of the 2020 season.
On Saturday, he put it all together.  Pocket presence, a fast delivery, and Penix's trademark big arm delivered a 30-for-50 day for a career high 342 yards and 3 TDs.  Penix read the switching Michigan zone/man defense all day long and quickly cycled through his progressions to make the right throw.
While it isn't good that Penix keeps getting hit, the good news is that he is holding up.  The offseason plan was to add weight to his frame, and so far it is working.
RUNNING BACKS (A-)
Stevie Scott and Sampson James put in a full day of work and eventually wore down the Wolverines.
Collectively IU rushed 38 times for 118 yards, just enough to keep Michigan honest and allow Penix to work his magic through the air.
But the 4th quarter is when the rush game clicked.  IU earned 49 of its total yards in the final quarter and kept the ball out of Michigan's hands to finish off the game.
Scott found the end zone two times, and he and James also added 4 catches for 22 yards.  Scott also continues to be a major factor protecting Penix in the passing game.
WIDE RECEIVERS / TIGHT ENDS (A)
When Penix needed to take advantage of a bigger wide receiver he went to Miles Marshall for the first score of the game.
When Michigan shaded Whop Philyor, Penix went to the steady Ty Fryfogle, whose 7 catches for 142 yards and a score all came in the first half.
When Michigan realized that Fryfogle was too good for that, Penix found Whop Philyor for 11 catches and 79 yards.  It was Philyor's sixth career double digit reception game as he moved up to No. 7 on IU's all-time reception list with 147, 44 shy of James Hardy's record.
Peyton Hendershot continues to be a big weapon both in space and in the red zone.  He has 3 TDs in the last two games.
After several drops early in the season, the group was much better on Saturday.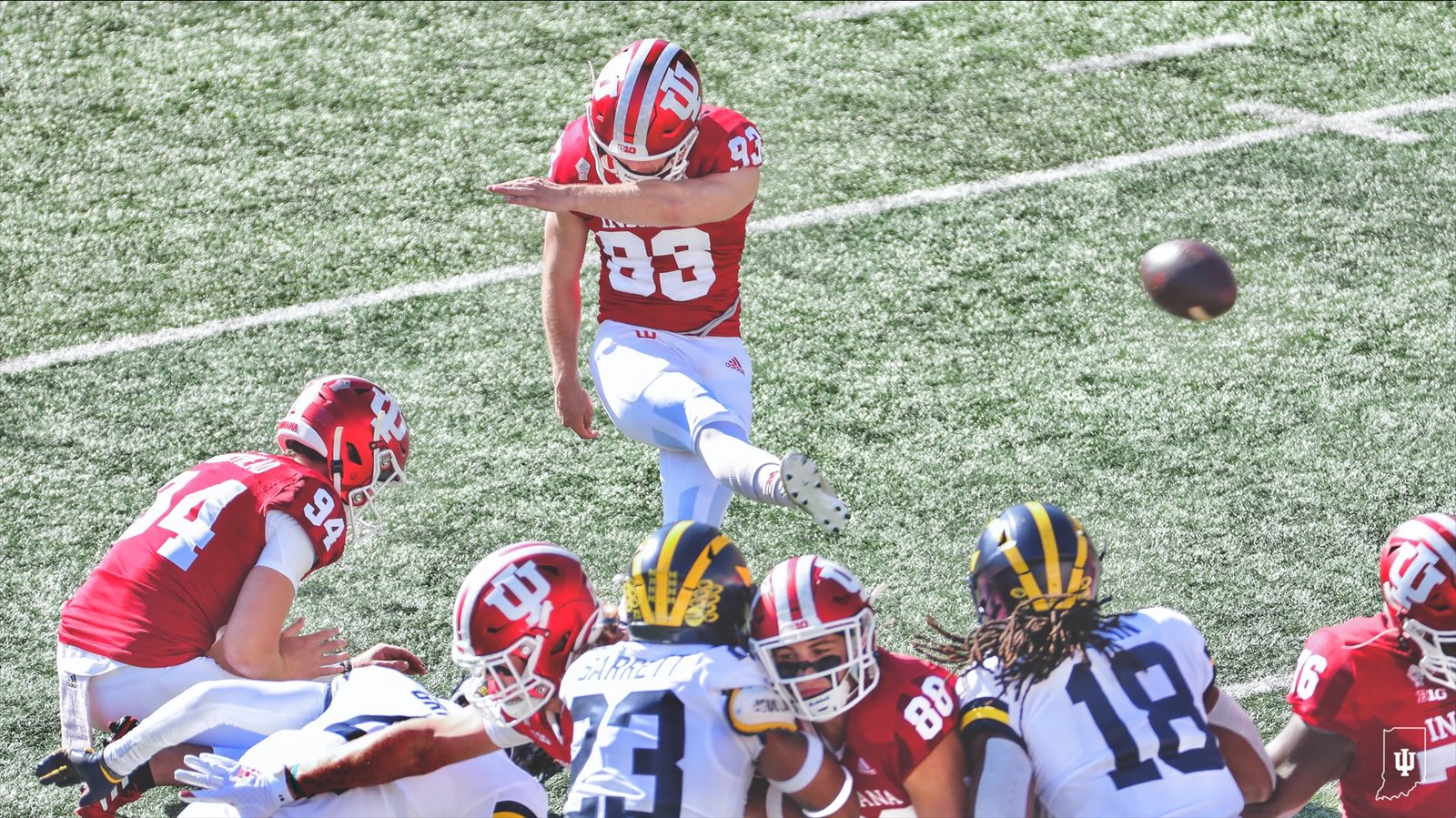 OFFENSIVE LINE (B+)
This is a unit that appears to be getting better as the season progresses.
The running lanes weren't there early and Penix was under a lot of pressure and officially took six hits.
But Penix was never sacked, and as the game wore on the running game got stronger, allowing IU to run out the clock in the 4th quarter.
Starting guard Mike Katic was out, but Dylan Powell had already played extensively this year and did a good job.
With the line holding up, the Hoosiers recorded four scoring drives of 10-plus plays.
DEFENSIVE LINE (A)
The unit doesn't earn the headlines, but Indiana's front four was a big part of the story on Saturday.  The group continues to do all of the dirty work up front to create lanes for the playmakers.
The end result on Saturday was particularly noteworthy.
The Hoosier defense held Michigan to just 13 yards rushing, believed to be the lowest yardage output by a Wolverine rushing attack against IU. The 13 rushing yards surrendered was the lowest by an IU opponent since William and Mary charted -32 yards on Aug. 31, 2002 and the fewest by a Big Ten opponent since Purdue tallied -8 yards on Nov. 24, 2001.
Junior James Head had a sack, the fourth of his career.
LINEBACKERS (A-)
Of course this group was a big part of the effort defending the run too.
Micah McFadden continues to amass tackles and had 5 more on the day.
D.K. Bonhomme and Thomas Allen also both played extensively and each registered two tackles.
Collectively the group delivered four hits on the Michigan quarterback.
DEFENSIVE BACKS (A)
Indiana's secondary continues to headline the defense.  The Hoosiers now have 7 total interceptions in 2020 and have picked off at least two balls in four straight games.
Cornerback Jaylin Williams delivered his third interception of the season, while fellow cornerback Reese Taylor had 7 tackles including a sack and two total for a loss.  Safety Devon Matthews had the game-clinching interception.
Cornerback Tiawan Mullen broke up two passes and had what originally was ruled as a sack and forced fumble before it was surprisingly overturned.
On the negative side, Jamar Johnson was ejected from the game for punching a Michigan player.  Juwan Burgess filled in well for Johnson.
SPECIAL TEAMS (A)
A continuing theme in the 2020 season is that IU is not giving up big plays on special teams, something that has haunted them historically in big games.
Kicker Charles Campbell made a 53 yard field goal and is 6-for-6 on field goals this season and 8-for-8 in his career. Campbell also connected on all five of his PATs in the game, pushing his season total to 11-for-11 and his career mark to 12-for-12.
Punter Haydon Whitehead booted five punts for 231 yards (46.2 per punt), including a season-best effort of 54 yards.
COACHING (A)
Culture is an overused term in sports, but LEO is real and undeniable at IU.  Michigan has more talent on paper, but Indiana is more bought in, more together and better prepared.  Tom Allen now owns wins over Nebraska, Penn State and Michigan over the last year.  With the talent on his roster improving and developing, Allen has shown that with that talent, coupled with his culture, Indiana can win at the highest levels of the game.
It is time to talk about first year play-caller Nick Sheridan.  The Hoosier offense has had 16 red zone drives this season and converted all 16 drives into points. Of the 16 scoring drives, 12 have resulted in touchdowns.  Sheridan's offense was 4-for-4 against his alma mater on Saturday, and his three-wide arrowhead scheme had Michigan's defensive backs a step slow all day.
Defensive coordinator Kane Wommack calls his defense the "Swarm D" and they are living up to the billing.  IU has created eight takeaways during the 2020 season and have scored 34 points off turnovers.  Strong at all three levels and in constant attack mode, Wommack's defense held both Penn State and Michigan to 21 points prior to allowing a late Nittany Lions score intentionally and a score in overtime.
---
Find us on Facebook:  thedailyhoosier

The Daily Hoosier –"Where Indiana fans assemble when they're not at Assembly"
Seven ways to support completely free IU coverage at no additional cost to you.