The Love Each Other train kept rolling on Saturday afternoon as Indiana continued to stack wins against the Big Ten's traditional power programs.
Michigan State was the latest Big Ten East giant to face this reality:  Indiana is for real.
The Hoosiers secured their first road shutout in the Big Ten since 1993 with a convincing 24-0 triumph in East Lansing.
Things won't get any easier next weekend as 4-0 IU will travel to Columbus to face No. 3 Ohio State with the Big Ten East lead on the line.
But before we move on to the Buckeyes, let's go position by position and evaluate the effort against the Spartans.
See also:  Tom Allen post game | IU players post game | Game story
QUARTERBACK (B)
When your quarterback throws for 320 yards and 2 touchdowns but it doesn't feel particularly impressive, we'd call that a good problem to have.
Head coach Tom Allen acknowledged that Michael Penix, Jr. wasn't at his best, but he also said Penix's second of two interceptions was a receiver route running error.
Penix did struggle at times with accuracy, but finished a respectable 25-of-38 (66 percent).  Penix didn't attempt to run all day, something Ohio State no doubt took note of.
RUNNING BACKS (B)
Hoosier running backs started the game with 6 carries for 9 yards but picked it up from there.  After that slower start, the running back trio of Stevie Scott, Sampson James and Tim Baldwin toted it 30 times 115 yards to close out the game.
That's still not a great yards per carry average, but it is not like the backs were missing gaping holes either.
Without breakaway speed, IU isn't likely to get many big runs from the group, but they do keep things respectable for Penix.
Baldwin showed that he might have one more gear than Scott and James. Scott's 8 yard power run to open the scoring was the IU junior at his best.  James is clearly earning more carries with a combination of shiftiness and an ability to run people over.
WIDE RECEIVERS / TIGHT ENDS (A-)
Senior wideout Ty Fryfogle continues to be the story with 11 catches for 200 yards, both career highs.  He had two more scores and has caught at least one touchdown in three-straight contests.
There is no doubt that some of Fryfogle's success is due to attention going Whop Philyor's way, but the key for IU is that Fryfogle can make defenses pay.  Philyor had 3 grabs for 35 yards.
Miles Marshall matched a career-high with four catches on four targets for 47 yards, the second-best yardage total of his career.
David Ellis made his first appearance of the seasons, and IU had its full complement of weapons on the field.
(Note:  Philyor became the sixth pass-catcher in program history to secure 150 career catches, the first since Shane Wynn in 2014, with his third catch in the first half.)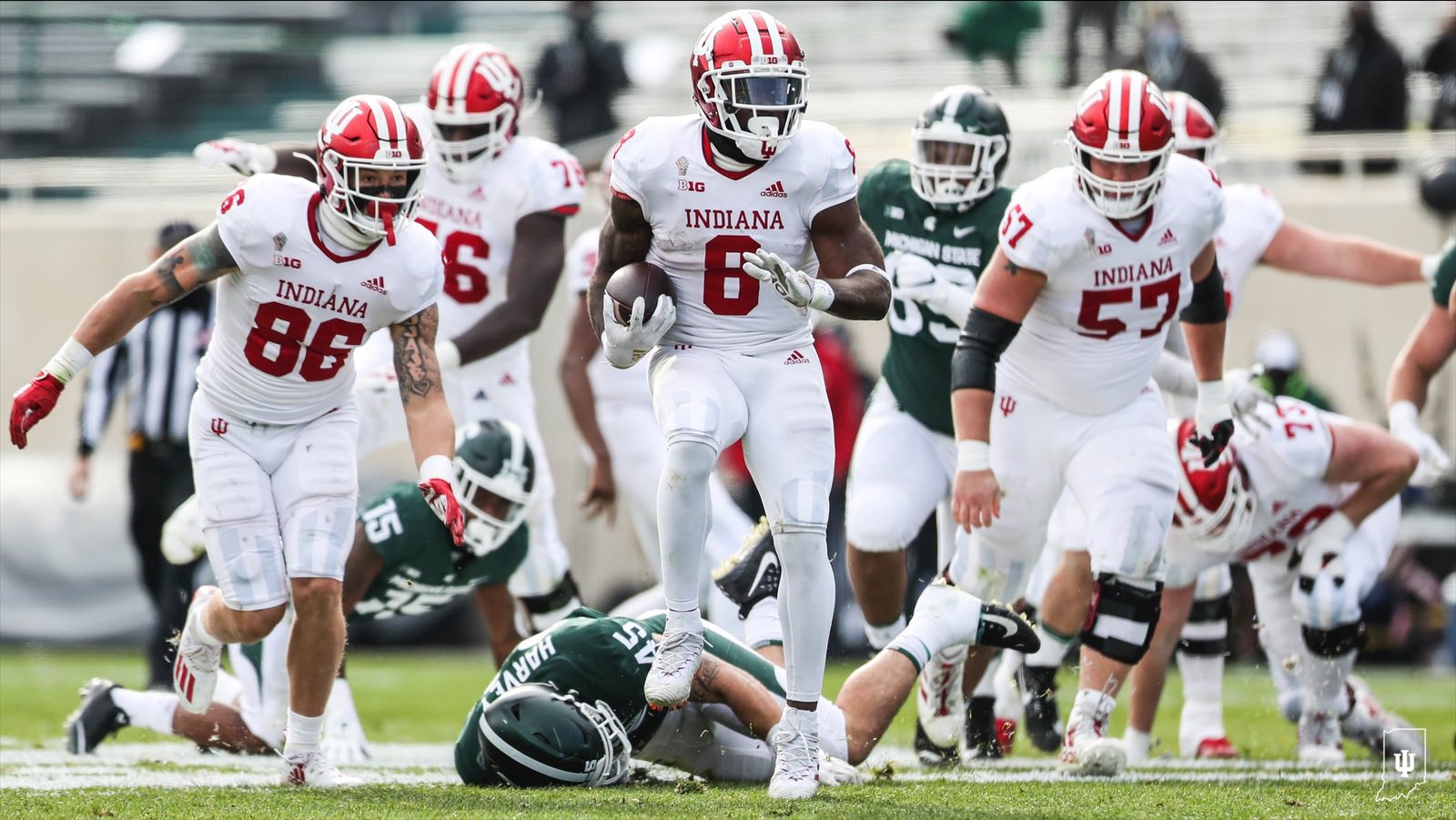 OFFENSIVE LINE (B)
Down two starters, the line was respectable but certainly not spectacular.
But just like last week, the group got better, at least in some respects, as the game wore on.  The run game improved overall, but several second half drives stalled out because the Hoosiers couldn't pick up third and fourth downs on the ground.
Penix was hit four times officially and sacked once.
Allen did not clarify during his post-game press conference why left tackle Caleb Jones missed the game.  His replacement Luke Haggard had some struggles against the rush but generally held up despite being an undersized (280 pounds) Big Ten tackle.  Guard Mike Katic also missed the game.
DEFENSIVE LINE (A)
Michigan State didn't have any semblance of a running game coming in, and IU made sure they didn't find any room on Saturday.  The Spartans were held to 60 yards rushing on 24 carries for a 2.5 average.
So much of the splash plays that people see by the defense in the passing game start with the group up front, and especially the tackles.
On Saturday they made some plays of their own.
Tackle Jerome Johnson delivered two sacks, and end James Head was in the right spot to recover a fumble.  Demarcus Elliott moved into the starting lineup at tackle, but Indiana's two-deep rotation is all players that could start.
End Alfred Bryant left the game with an injury.
LINEBACKERS (A)
When your two leading tacklers are linebackers it is generally a good sign, and IU's second tier was up to the challenge.
Micah McFadden was all over the field with a team-best nine tackles (5 solos), a career-high three tackles for a loss, and a career-best two sacks.
Redshirt sophomore linebacker James Miller tallied a season-best six tackles as he took on a bigger role.
Thomas Allen forced a fumble, while Aaron Casey and D.K. Bonhomme were solid in larger roles.
It's a deep group but there are legitimate injury concerns.  Starter Cam Jones left the game with an injury as did Allen.
DEFENSIVE BACKS (A)
They just keep making plays.
This time it was cornerbacks Reese Taylor and Tiawan Mullen that delivered the takeaways.  Mullen had the first two picks of his career and became the first Hoosier with a two interception game since Jonathan Crawford in 2016.  Taylor iced the game with a late interception that he returned 53 yards.
The Hoosier secondary largely held a talented Spartan receiving group in check, and forced MSU starting quarterback Rocky Lombardi out of the game.
IU had 4 pass breakups on the day and the Hoosiers now have 10 interceptions in 4 games.
SPECIAL TEAMS (B)
There were some hiccups, but IU continues to avoid giving up big plays.
The Hoosiers struggled to get their kickoffs deep in the first half, although the wind played a role.
Taylor continues to produce effective punt returns.
Kicker Charles Campbell missed the first field goal attempt of his career.
Punter Haydon Whitehead averaged 39.7 yards per kick.
COACHING (A-)
After watching Tom Allen and Pat Fitzgerald move to 4-0 on Saturday, you realize 2020 is the year that culture reigns supreme.  Allen has his team mentally and physically prepared each week.  There was no letdown after a big win over Michigan, and no looking forward to Ohio State.
Indiana's offense continues to be the underperforming side of the ball, benefiting greatly from field position created by the defense once again.  The Hoosiers saw a 16-of-16 red zone scoring streak end emphatically with 3 empty trips.  But Nick Sheridan's group still generated 433 yards.  The key going forward will be to find ways to sustain more drives, especially with a second half lead.
Defensive coordinator Kane Wommack's defense is on a roll.  The Hoosiers added four more takeaways in the game and now have recorded a takeaway in 33 of the last 35 games. IU has created 12 takeaways through four games in the 2020 season and have scored 51 points off of the turnovers.  Stat of the game:  Michigan State never crossed the IU 35 yard line.
---
Find us on Facebook:  thedailyhoosier

The Daily Hoosier –"Where Indiana fans assemble when they're not at Assembly"
Seven ways to support completely free IU coverage at no additional cost to you.