Nebraska had their legendary blackshirts on, and more than 85,000 fans were at Memorial Stadium in Lincoln rooting on their Huskers.
With Indiana as the opponent, every conceivable historic college football notion would suggest a Nebraska blowout win.
As the Huskers steamrolled their way to a 14-3 first quarter lead just over eight minutes into the game, things appeared to be following the script.
But this Indiana football team is different.  Generationally different.
Led by backup quarterback Peyton Ramsey, the Hoosiers responded to the initial Husker onslaught.
And then they responded again, and again, and again.
IU outscored Nebraska 35-17 the rest of the way, and when it was all said and done, the Hoosiers had reached standards that the program hadn't touched in decades.
For the first time since 1993, IU has at least six wins in their first eight games.  Also for the first time since 1993, the Hoosiers have won three straight Big Ten games.
Once again Ramsey filled in admirably for starter Michael Penix.  The Ohio native went 27-for-40 through the air for 351 yards and two touchdowns and added another 51 yards and a score on the ground.
14 of Ramsey's completions went to receiver Whop Philyor, who added 178 yards on the day.
Ramsey, who lost his starting job at the beginning of the season to Penix, led IU to their second straight Big Ten road win.  That's something the Hoosiers have not accomplished since 2015.
Although losing his starting job has been difficult for Ramsey, he hasn't let that impact his play when his number has been called.
"I think it's awesome, Ramsey said of the win over Nebraska.
"That locker room, there's not a single guy in that locker room that I would want to give up on.  I just prepared all week.  Being out here, being at my best, that's all that really mattered for me.  It's just awesome to walk out of here with a win."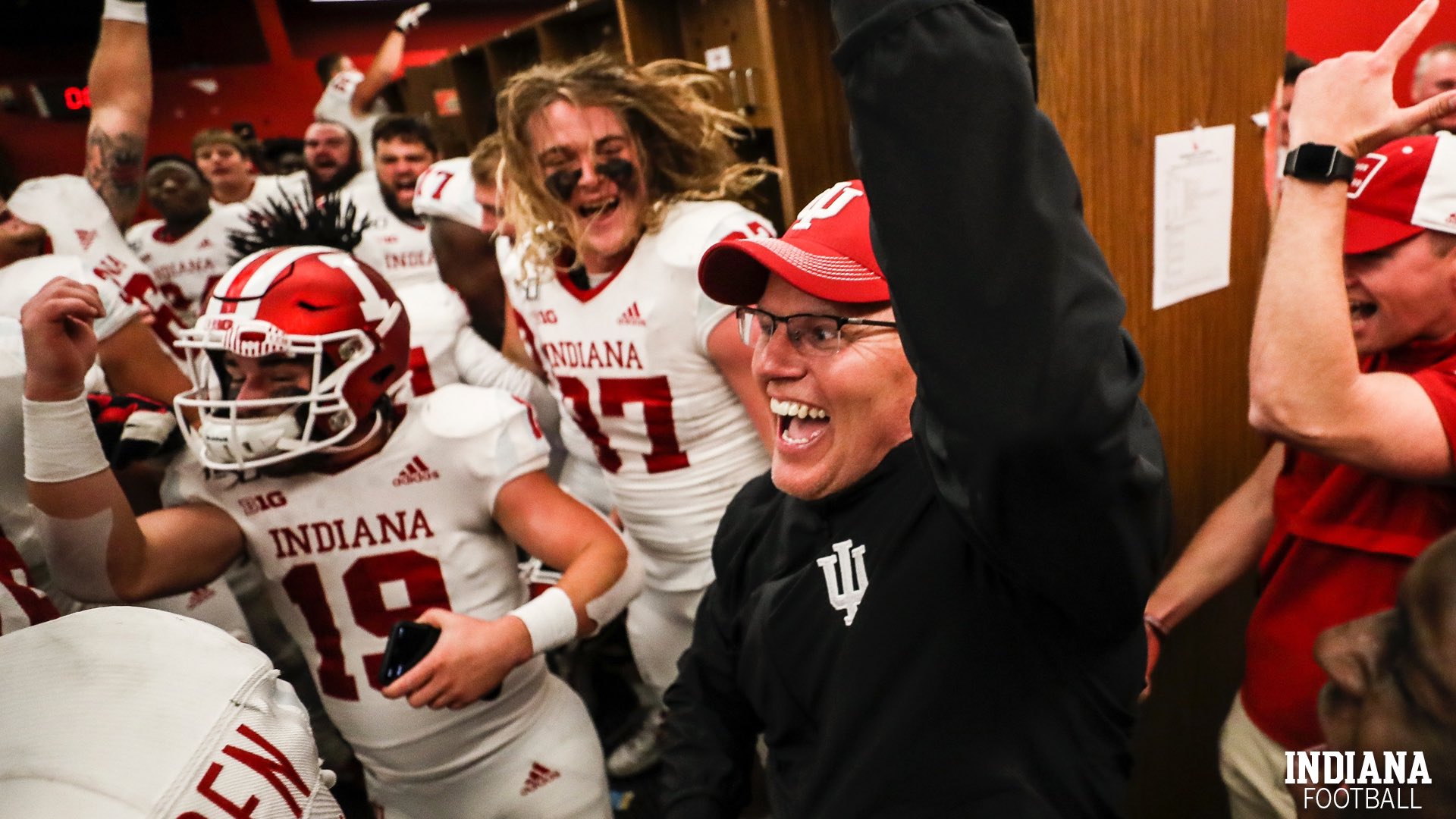 Indiana head coach Tom Allen has had Indiana close to reaching a bowl game in each of his first two seasons.  Allen's Hoosiers went 5-7 in both the 2017 and 2018 campaigns.
After plenty of near misses along the way during those two seasons, Allen's Hoosiers finally broke through with a signature win on Saturday.
After clinching bowl eligibility and defeating a premier program in a historic stadium, the Indiana native Hoosier head coach was visibly emotional after the game.
"I love this team, the kids play so hard," Allen said on the field to a BTN reporter while fighting back tears.  "We've had a lot of adversity this week.  Things people don't even know about.  It's been a hard week.  But this team fights man, we've got so much grit."
Allen commented on Ramsey's perseverance after the game.
"It's a tremendous tribute to his character," Allen said of Ramsey's contributions to the team after losing his starting job.  "It's the way he was raised.  There's something special about him.  He was hurt by the decision that I had to make, but he stayed true to his teammates and he stayed true to our program."
The Hoosiers now have the unique challenge of staying true to the rest of the season.
Indiana has four games remaining during the regular season, and that presents more opportunities to reach historic program achievements.
Ramsey believes the Hoosiers will continue to play hard down the stretch despite reaching bowl eligibility so early.
"We'll enjoy it, but this team has a lot bigger goals than just getting to a bowl game," Ramsey said on the field after the game.  "We want to continue to win, continue to play well, and be playing our best football when we do hit the end of the season."
Allen has already issued the next challenge to his team.
"Now we've got to figure out how far we want to go and how long we want it to be."
First things first, Indiana (6-2, 3-2) will host Northwestern next Saturday night at 7:00 p.m. Eastern in Bloomington.
Allen was still emotional in the post game locker room, and already looking forward to that prime time contest next week.
"I want a huge, huge crowd for this football team," Allen said.  "These kids have fought, and fought, and fought and fought," he added while pounding the podium.
"I understand the frustration of the past.  But I don't care.  I haven't been here that long.  All I know is what we're doing right now.  And come support this football team and help these guys do something special."
See also:  Final stats and highlights | Tom Allen post game
---
You can follow us on Twitter:  @daily_hoosier
Find us on Facebook:  thedailyhoosier
The Daily Hoosier –"Where Indiana fans assemble when they're not at Assembly"
Seven ways to support completely free IU coverage at no additional cost to you.