You expect mistakes in week one, and Indiana had plenty of them.
From interceptions, to dropped passes, kickoffs out of bounds and missed tackles, IU showed plenty of room for improvement against Ball State.
But the Hoosiers also have something else that they've now accomplished in 14 of the last 16 years — a season opening win.
Despite a day filled with miscues, the Hoosiers had one player that was perfect.
Logan Justus' 50-yard field goal, his fourth of the game on four attempts, gave IU a 34-24 lead with 2:15 left, and their first hint of breathing room in an error filled afternoon at Lucas Oil Stadium in Indianapolis on Saturday.
That margin would hold up as IU moved to 1-0 on the 2019 season.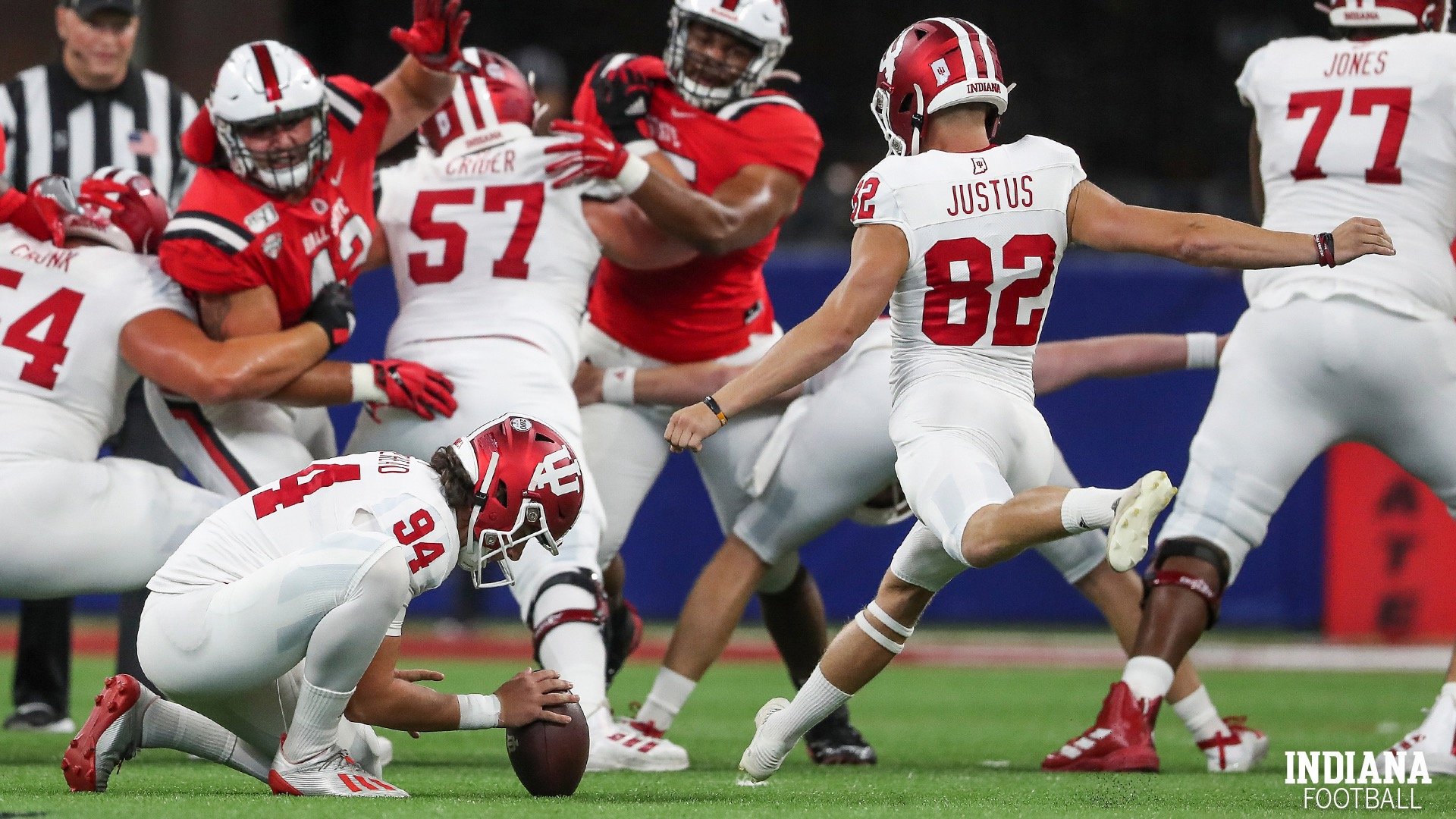 Redshirt freshman quarterback Michael Penix showed why he was chosen as the new starting quarterback over Peyton Ramsey with 326 yards on a 24-for-40 day throwing the ball.  But his two first half interceptions also reminded you that this was his first career start.
"The two picks (stick out)," IU head coach Tom Allen said about his starting quarterback.  "One was a bad throw.  The other was the receiver fell down and threw the timing off.  It happens, but at the same time he has a lot of poise.  He missed some reads, but those are some of the things that we are trying to work on to key at him."
The Tampa, Fla., product added 67 yards rushing to lead the team, and Penix's day illustrated the kind of game it was for most of his teammates.
With the Hoosiers using a fast tempo to start the game under new offensive coordinator Kalen DeBoer, Penix found senior receiver Nick Westbrook for a 75 yard touchdown pass in the first quarter to put the Hoosiers out in front 10-3.
The fifth year senior receiver and fellow Florida native was impressed with his quarterback.
"It was good man," Westbrook said.  "He is a young guy, his first start.  He showed up when we really needed him."
Like Penix, Westbrook also had his own struggles, later dropping what would have likely been a 73-yard touchdown in the second half.
Penix's first interception of the afternoon appeared to be a bad read along the sidelines, with the pass thrown directly to the waiting arms of Amechi Uzodinma.  The Cardinals quickly turned that into a five play, 35 yard scoring drive to tie the game at ten.
Multiple dropped passes, including two by junior receiver Whop Philyor stalled out subsequent first half drives.  The Hoosiers managed two Justus field goals in the second quarter and went to the halftime locker rooms up 16-10.
Penix demonstrated good two minute offense management to engineer the Justus field goal to close out the first half, and then the Hoosiers took advantage of the first possession of the second half to extend their lead.
Despite it being his first career start, Penix said he wasn't nervous.
"Not too nervous, no," Penix said.  Mostly anxious and ready.  I've been preparing.  The whole team had been preparing in the film room, so we were mentally prepared and ready to go out and execute."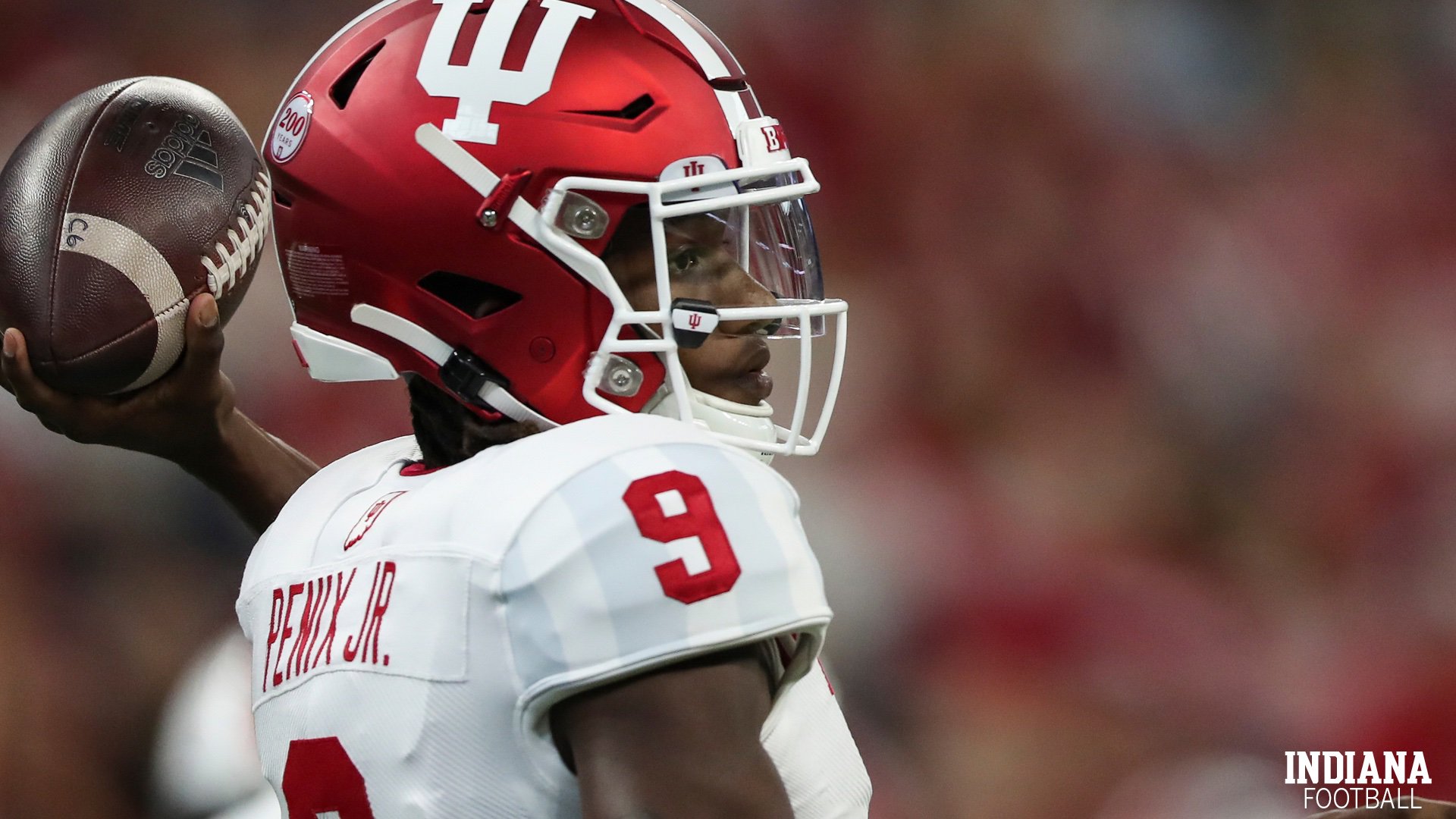 IU went seven plays and 63 yards after halftime, and when Stevie Scott ran in virtually untouched from four yards out, it looked like the Hoosiers might cruise to victory as they stretched the lead to 23-10 early in the second half.
That's when perhaps the biggest of several missed tackles changed the momentum once again.
With Ball State backed up 2nd and 17 from the IU 45, a seemingly harmless pass in the flat by quarterback Drew Plitt to Walter Fletcher turned into a 45 yard touchdown when Indiana linebacker Micah McFadden couldn't wrap him up.
McFadden was far from the only one to miss a tackle.
"Defensively we did not tackle very well," Allen said.  That really sticks out to me, and it was terrible.  We will get that fixed."
Back and forth things went.
Indiana responded with another long drive — and another Scott touchdown run, and Ball State followed with another big play fueled by a Hoosier mistake to stay within striking distance.
This time safety Bryant Fitzgerald gambled on a pass along the sidelines, resulting in a Plitt to Yo'Heinz Tyler 36 yard touchdown pass.  Fitzgerald barely missed a pick-six the other way, and the Cardinals were within 31-24 with just over six minutes to play.
That's when IU went back to their one reliable option on the day.  Justus hit his fourth field goal on the ensuing drive to really stack the odds against Ball State.
An interception by Jaylin Williams with under two minutes to go erased any doubt.
It was the 19th straight game that Indiana has generated at least one takeaway — good for the best such streak in the country.  Indiana now has at least one interception in 11 straight games.
The Hoosiers are clearly good at creating mistakes by the opposition.
The challenge going forward will be to do a better job limiting their own.
What's next:  The Hoosiers host Eastern Illinois next Saturday at Memorial Stadium.
---
See also:
---
You can follow us on Twitter:  @daily_hoosier
Find us on Facebook:  thedailyhoosier
The Daily Hoosier –"Where Indiana fans assemble when they're not at Assembly"
Seven ways to support completely free IU coverage at no additional cost to you.