What do we have here?
Just over a year ago Indiana traveled to East Lansing to face Michigan State as a 14 point underdog.
What a difference a year makes.
The point spread has reversed by a more than 21 point margin, and the top ten ranked Hoosiers find themselves in a strange place.  Could a game in East Lansing be labeled a trap game?  Seems impossible.
But IU needs to keep its focus against a down-but-dangerous Spartan squad if it wants a Big Ten East showdown against Ohio State next weekend.
---
No. 10 INDIANA (3-0) at MICHIGAN STATE (1-2)
Kickoff:  Noon Eastern Time
Location:  Spartan Stadium (75,005 / no fans allowed), East Lansing, Michigan
Television:  ABC
Series:  Michigan State leads the series 48-16-2.  (Michigan State won 40-31 in 2019)
Trophy:  The Old Brass Spittoon (since 1950)
Odds:  Indiana is a 7.5 point favorite
Weather at kickoff:  40 degrees, sunny, wind 10 mph, 0% chance of precipitation.
Tom Allen is 21-20 and now in his fourth full season as the head coach at Indiana.
Mel Tucker was named Michigan State's 25th head football coach on Feb. 12, 2020. A 23-year coaching veteran, Tucker posted a 5-7 record at Colorado in 2019.
---
See Also:
---
TALE OF THE TAPE 
BTN GAME PREVIEW
THE COMPLETE BIG TEN WEEK 3 SLATE
(Via the BigTen.org)
WHEN MICHIGAN STATE HAS THE FOOTBALL
Junior quarterback Rocky Lombardi has taken over the reins in East Lansing with mixed reviews through three weeks.  His big arm helped fuel an upset of Michigan in week two, but 5 interceptions and just a 58 percent completion percentage for the season leaves much to be desired.
IU has produced 7 interceptions on the season, which may not mix well for MSU with Lombardi's erratic arm.  Michigan State has allowed 5 sacks on the season while Indiana has brought down the quarterback 8 times thus far.  Lomardi doesn't look to escape the pocket, meaning he is either going to have to get it out fast or throw under pressure.
If Lombardi can stay composed and find them, he has several strong receiving options.  Jalen Nailor, Ricky White and Jayden Reed are all at 10 or more catches for more than 150 yards on the season.  Running back Connor Heyward is also a big weapon in the passing game with 9 receptions.
Thus far Michigan State's rush offense has been non-existent, although some of that is a by product of game flow.  The Spartans were down big early against both Rutgers and Iowa, and it used the deep passing game to attack Michigan's vulnerable secondary.
But any way you slice it the rushing numbers are abysmal.
Jordan Simmons has led the way thus far with 37 carries for 132 yards (3.6 ypc).  No other running back is averaging better than 2.4 yards per carry, and none have found the end zone.
Indiana's defensive front is no joke in 2020, and a big reason why the Hoosiers are 3-0.  If the front four can continue to generate pressure and occupy multiple blockers, it could be another long day for the Spartans in both phases.
IU has flipped every game with the takeaway, while Michigan State has given the ball away 10 times and ranks 121st in the nation (out of 123 teams) in turnover margin.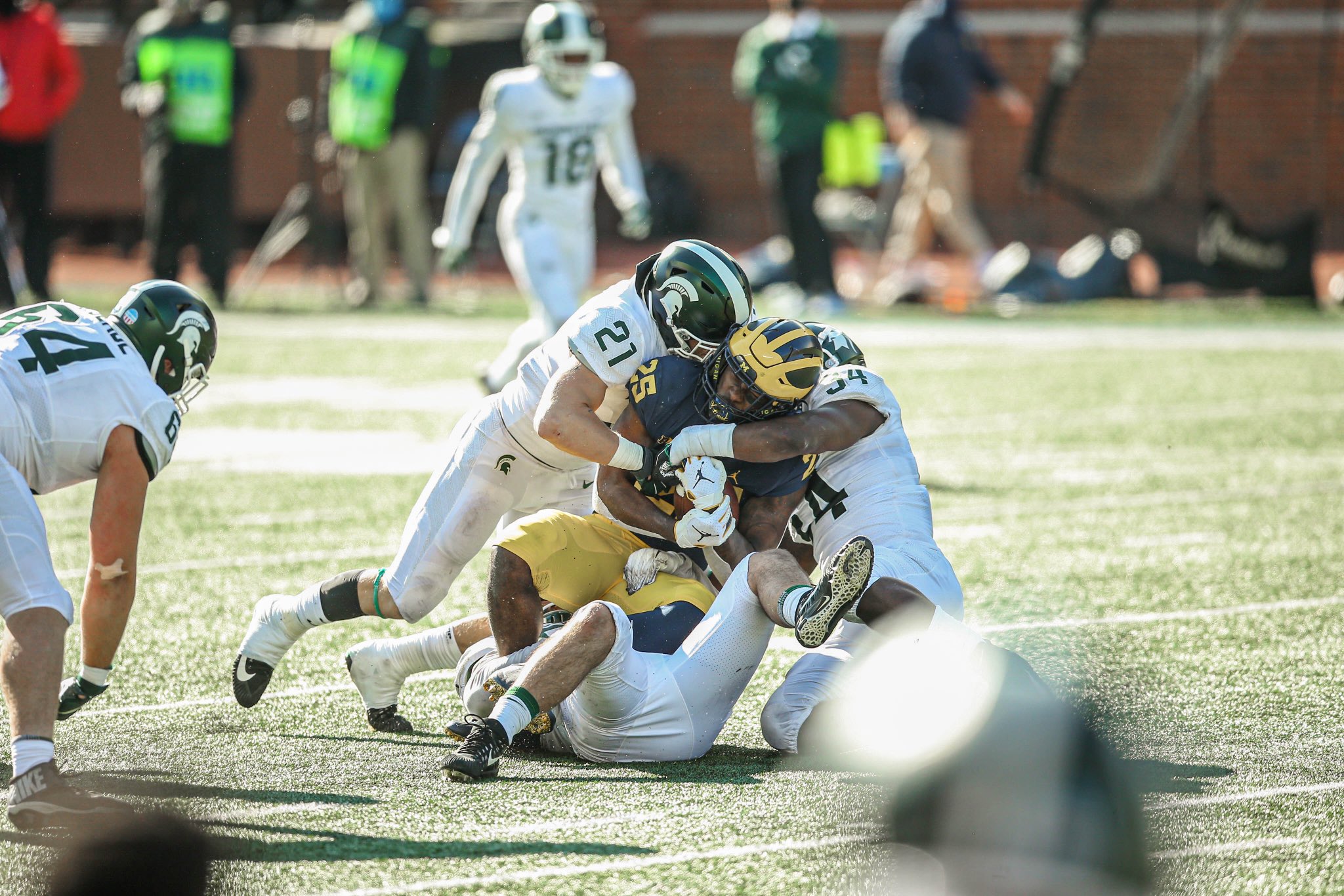 WHEN INDIANA HAS THE FOOTBALL
2019 against Michigan State was Michael Penix's coming out party.
Penix completed 20 consecutive passes at one point and nearly rallied the Hoosiers to a victory. He finished with 286 yards passing and three touchdowns while running for a fourth score.
Last year Indiana used the short passing game as a pseudo running game against Michigan State.  But the Spartan defensive scheme is entirely new in 2020 — a 4-2-5 approach that should be somewhat familiar to IU since that is what they run.
MSU has a respectable top-40 defense against the pass, but the Spartans haven't faced a quarterback like Penix, who should have his full complement of receivers healthy for this first time all season.
Whop Philyor torched Michigan State with 14 catches for 142 yards and 2 touchdowns in 2019.  As Michigan learned last weekend, any help thrown Philyor's way is only going to open things up for Penix's other big weapons — Ty Fryfogle, Miles Marshall and Peyton Hendershot.  Penix will likely throw plenty to David Ellis, Stevie Scott and Sampson James out of the backfield too.
Indiana tried to pluck MSU defensive line coach Ron Burton when they had an offseason opening, and for good reason.  Burton is highly regarded and he has big, physical group up front.  Coupled with Indiana's struggles at times running the ball at times, yards on the ground could be hard to come by.
Iowa was able to gash MSU with 41 carries for 226 yards, but thus far Indiana hasn't had that kind of running game.  Stevie Scott is averaging just 3.6 yards per carry, and the sledding could be tough once again on Saturday.  The problem for Michigan State has been their linebacker group, and Indiana will need to find a way to get past the first level and expose them.
Michigan State's defense isn't nearly as bad as the points they've given up suggest.  The plague of turnovers by their offense has forced them to defend short fields again and again.
If Indiana cannot produce takeaways and shorten the field, its offense will likely stall out at times.
PREDICTION
It would be a mistake to take Michigan State lightly.  The Spartans lost a lot of production from 2019 and are going through a coaching change during what has been a very difficult year to accomplish much of anything transformative.
The talent gap between these programs isn't that wide.
But the culture, the belief and the motivation right now are all on Indiana's side.
The Hoosiers will be tested, but will move to 4-0.
INDIANA 31
MICHIGAN STATE 23
---
You can follow us on Twitter:  @daily_hoosier
Find us on Facebook:  thedailyhoosier
The Daily Hoosier –"Where Indiana fans assemble when they're not at Assembly"
Seven ways to support completely free IU coverage at no additional cost to you.