The Daily Hoosier is live at Nippert Stadium in Cincinnati for Indiana (3-0) vs. Cincinnati (2-1)
Join us for live updates throughout the day, and participate in the discussion thread below.
The game will be televised on ESPN2 and kicks off at around 3:30 p.m. Eastern.
Refresh the page for updates before, during, and after the game and stay tuned for post-game coverage.
FINAL STATS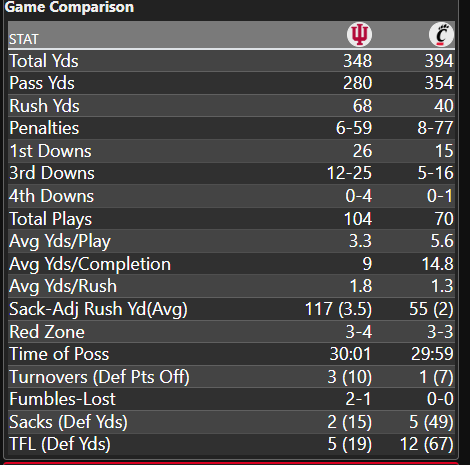 FOURTH QUARTER
FINAL – Cincinnati 45, Indiana 24.  Hoosiers fall to 3-1 on the season.
TOUCHDOWN CINCINNATI:  Bearcats capitalize on a short field and put the game away.  3 plays, 2 yards.  45-24 UC, 1:20 left.
Cincinnati with the ball with under five minutes left, still up 38-24.  Indiana is using its timeouts.
IU ran into the punter which gave UC a new set of downs, but IU stopped the Bearcats on 4th down at the IU 38, where the Hoosiers will take over with 6:46 left.  Still 38-24 UC.
1st and 10 UC, ball on their own 47.  10:31 left in the game.
Indiana defense forces another punt, but IU will start their next drive at their own 10. 11:21 remaining.  38-24 UC leads.
TOUCHDOWN INDIANA:  Shaun Shivers runs 47 yards for a touchdown.  UC 38, IU 24, 14:01 left.  3 plays, 58 yards.
Quarter starts with Cincinnati having the ball at their own 8, 2nd and 7.
THIRD QUARTER
Indiana outgained Cincinnati 103-32 in the third quarter, but they only chipped away 7 of the massive 28 point halftime deficit.
Indiana goes for it on 4th and goal and comes up empty.  Cincinnati ball at their own 5, :58 second left in the third, 38-17 Bearcats.
Still 38-17 with 2:39 left.  Indiana driving, 1st down at the UC 28.  IU defense has delivered three straight 3-and-outs.
Indiana's defense has responded so far, with a takeaway, and then two straight three-and-outs.  7:42 left in the third, IU ball at their own 25.  1st down.
TOUCHDOWN INDIANA:  Bazelak to Shivers for 2 yards.  38-17 UC, 10:23 left in the third.  11 plays, 51 yards.
INTERCEPTION by INDIANA:  Tiawan Mullen with the pick on Cincinnati's opening drive.  1st and 10 Hoosiers at the 49
HALFTIME STATS
Cincinnati leads 38-10 at halftime.  Here are the stats at the break: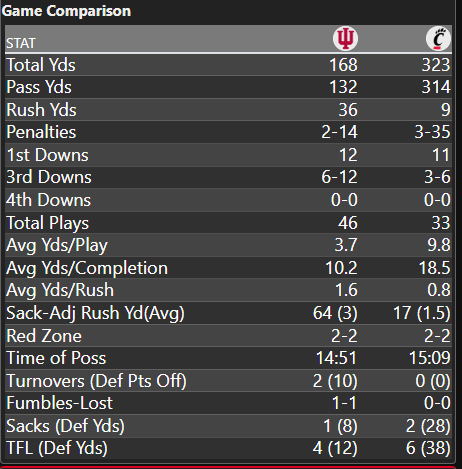 SECOND QUARTER
TOUCHDOWN CINCINNATI:  Strip sack, scoop and a 14-yard score for the Bearcats.  38-10 UC, :22 second left in the half.
TOUCHDOWN CINCINNATI:  Bryant to Scott.  7 plays, 80 yards.  31-10 UC, :32 left.
TOUCHDOWN CINCINNATI:  Another big pass play, Bryant to Scott for 34 yards.  Bearcats go 7 plays, 75 yards.  24-10 UC, 4:33 left.
TOUCHDOWN INDIANA: Bazelak to Henderson for a 19-yard TD pass.  4 plays, 39 yards.  17-10, UC, 8:06 left.
Indiana with the ball 1st down at the UC 39.  Critical drive coming up with 9:11 left in the quarter.  Drive set up by a Lance Bryant sack and a 3-and-out by the Bearcats.
TOUCHDOWN CINCINNATI:  Bearcats go 6 plays, 64 yards.  17-3 UC, 12:36 left in the half.  Score set up by another big mistake in the defensive backfield as Tre Tucker got behind the safeties for a 45-yard pass play.
FIRST QUARTER
Indiana ends the quarter on a 3-play, -20 yard drive and will punt from their own five to open the second.
TOUCHDOWN CINCINNATI:  Bearcats go 75 yards on one play.  A coverage mistake in the defensive backfield set up the Ben Bryant to Tyler Scott bomb.  1:00 left.
FIELD GOAL INDIANA:  Hoosiers go 16 plays and 66 yards to set up a 27-yard Charles Campbell field goal.  It's 3-3 with 1:15 left.
FIELD GOAL CINCINNATI:  Indiana stops the Bearcats inside the 10 and forces a 24-yard field goal.  It's 3-0 UC with 8:00 left.
INTERCEPTION by CINCINNATI:  Overthrow by Connor Bazelak into double coverage give UC the ball at the IU six.  First and goal.
Similar first drive for UC, they go 29 yards and pin IU at their own 10.  0-0, 8:38 left.
Indiana picks up 33 yards on its first drive and is able to pin Cincinnati inside its own 10 after punting.
Cincinnati won the toss and deferred to the second half.
PREGAME UPDATES
The Daily Hoosier's Patrick Felts is down on the field for pre-game.
Indiana is wearing all white uniforms today.
🗣 RIGHT NOW IS NOW!@cjones1_ | #IUFB pic.twitter.com/zHlb7Y3yWU

— Indiana Football (@IndianaFootball) September 24, 2022
INJURY NOTES
A few injury notes as the players make their way out on the field:
Center Zach Carpenter is not in uniform as Indiana takes the field for warm-ups.  Third-string center Caleb Murphy is taking first team reps during warm-ups.
Tight end James Bomba is also not in uniform.  He was injured during the Western Kentucky game.
Safety Jonathan Haynes is back in uniform after missing the last two games.
Defensive end James Head, Jr. made his return from injury last week and he is back in pads once again.
Note:  Because Indiana is on the road, they have a limited travel party and thus most injured players stayed home.
---
The Daily Hoosier –"Where Indiana fans assemble when they're not at Assembly"