Flashes of brilliance.  Agonizing inconsistency.  Senior day in Bloomington looked a lot like the careers of the two Hoosiers that Indiana honored on Saturday afternoon.  As Devonte Green and De'Ron Davis played their last games in Bloomington barring a return to the NIT, the Hoosiers started fast but collapsed down the stretch, falling 60-56 at Simon Skjodt Assembly Hall.
After dropping a high stakes game that saw Wisconsin win a share of the Big Ten on their home floor, now Indiana has work to do to feel comfortable on Selection Sunday for the NCAA Tournament.
Indiana (19-12, 9-11) will play against Nebraska on Wednesday night at around 8:25 p.m. ET.  That No. 11 vs. No. 14 Big Ten Tournament matchup will be held at Bankers Life Fieldhouse in Indianapolis.
OVERALL (C+)
As has been the case in recent weeks, the effort was there.  As has also been the case at times, the skill and ability to finish wasn't.
Things started out very well, and it was Indiana's seniors that led the charge.
In starting roles for the Hoosiers, Green and Davis combined to score the first 17 points of the game for Indiana. Green ignited the crowd with a personal 9-2 scoring run in the first half to put IU up 17-13 with 13:02 to play. Redshirt freshman forward Jerome Hunter drilled a wing 3-pointer to extend the Hoosier run to 12-2 over a span of 5:10 on the clock.
As they have done too many times this year, IU let the Badgers back in the game.  After going up by as many as seven points early, Wisconsin pulled back to within one.
With IU clinging to a 38-37 lead with 13:33 to play in the second half, the Hoosiers ran out to an 8-0 run to bump the lead up to nine with 10:04 remaining in the game. Redshirt sophomore forward Race Thompson capped the run with a hook shot from the post.
That's where things fell apart.
Wisconsin closed the game on a 16-5 extended run in the final 6:52 and held Indiana to 1-of-14 (7.1 percent) from the floor down the stretch.
Indiana had just one field goal in the final ten minutes of the game.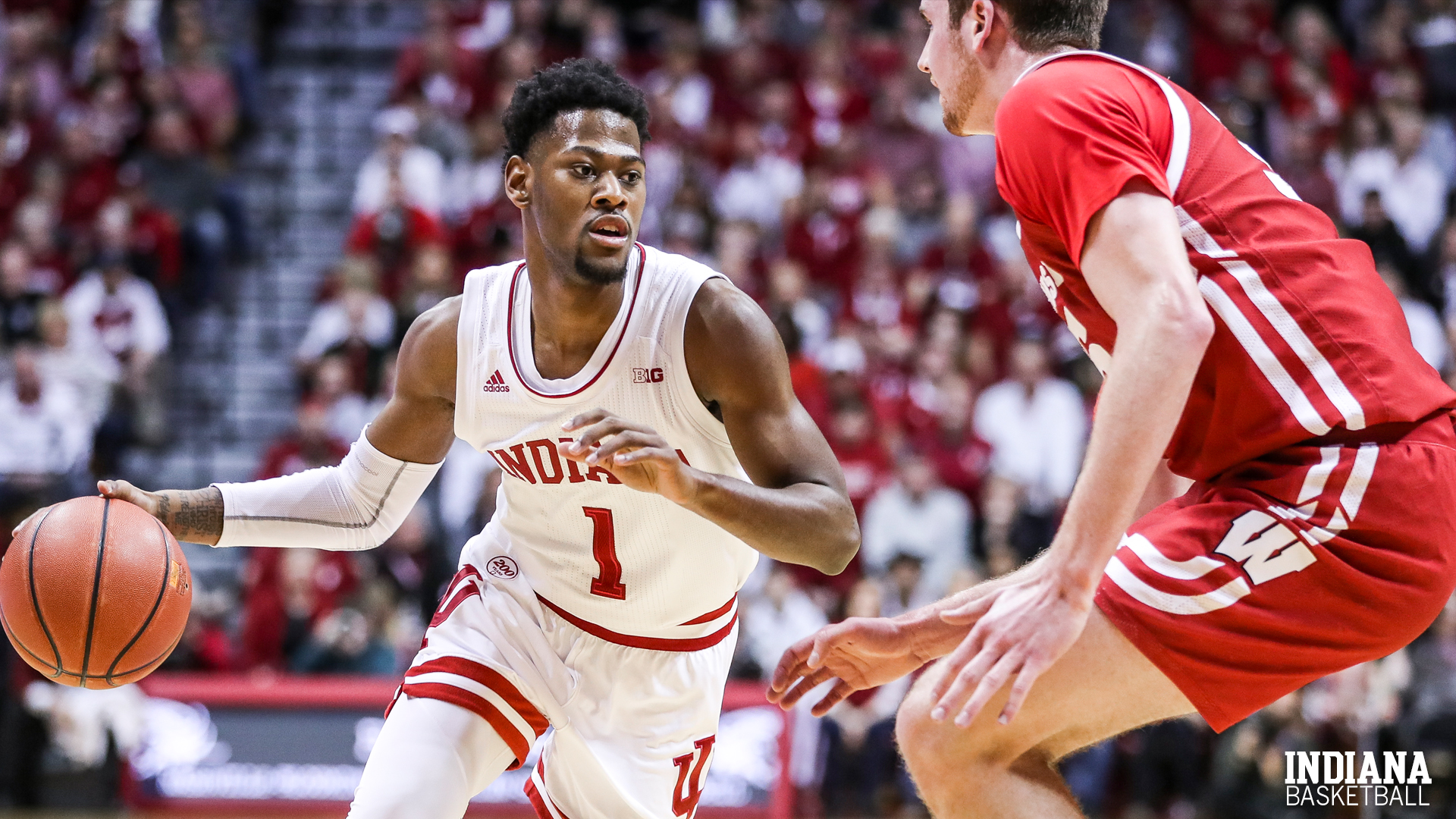 OFFENSE (C)
A strength most of the season, Indiana struggled mightily on Saturday in the paint.
"Offensively, just things around the basket were really hard for us. If you look at our two-point field goals in the game, what were we, 14-from-43 from two-point range. That's not going to get it done," head coach Archie Miller said after the game.
Indiana had some bad luck during the game, as a red hot Green landed on the foot of a Wisconsin player.   After scoring 16 first half points, Green didn't score in the second half.
Green was 6-of-10 in the first half, and 0-of-7 after the break.
"You have to make some jumpshots against them, which Devonte did early in the game and then I think he tweaked an ankle or something because he definitely did not move the rest of the game," Miller said.  "Didn't look right."
But Indiana could have could have overcome Green's injury if they could have converted in the paint.
Wisconsin's rim protection was solid, and Indiana seemed to duck contact at times rather than attacking strong.
"You know, if you just look at our lines, you know, Thompson, 1-for-5, Brunk 0-for-2. Trayce was 2-for-8, Justin 3-for-7," Miller said.  "Not a lot of those guys were taking a lot of threes. So things around the basket were made difficult by their size, their bigs dropping."
"They play hard. I can't say our guys didn't play hard and I can't say that we didn't get some good looks," Miller said.  "Just at times that we needed to be able to convert, we didn't. Especially I thought the last two minutes."
Indiana only had seven turnovers for the game and made 6-of-15 (40 percent) from long range, although three of those came from Green in the first half.
But 30 points less in the paint than they had on Wednesday against Minnesota did them in.
DEFENSE (B)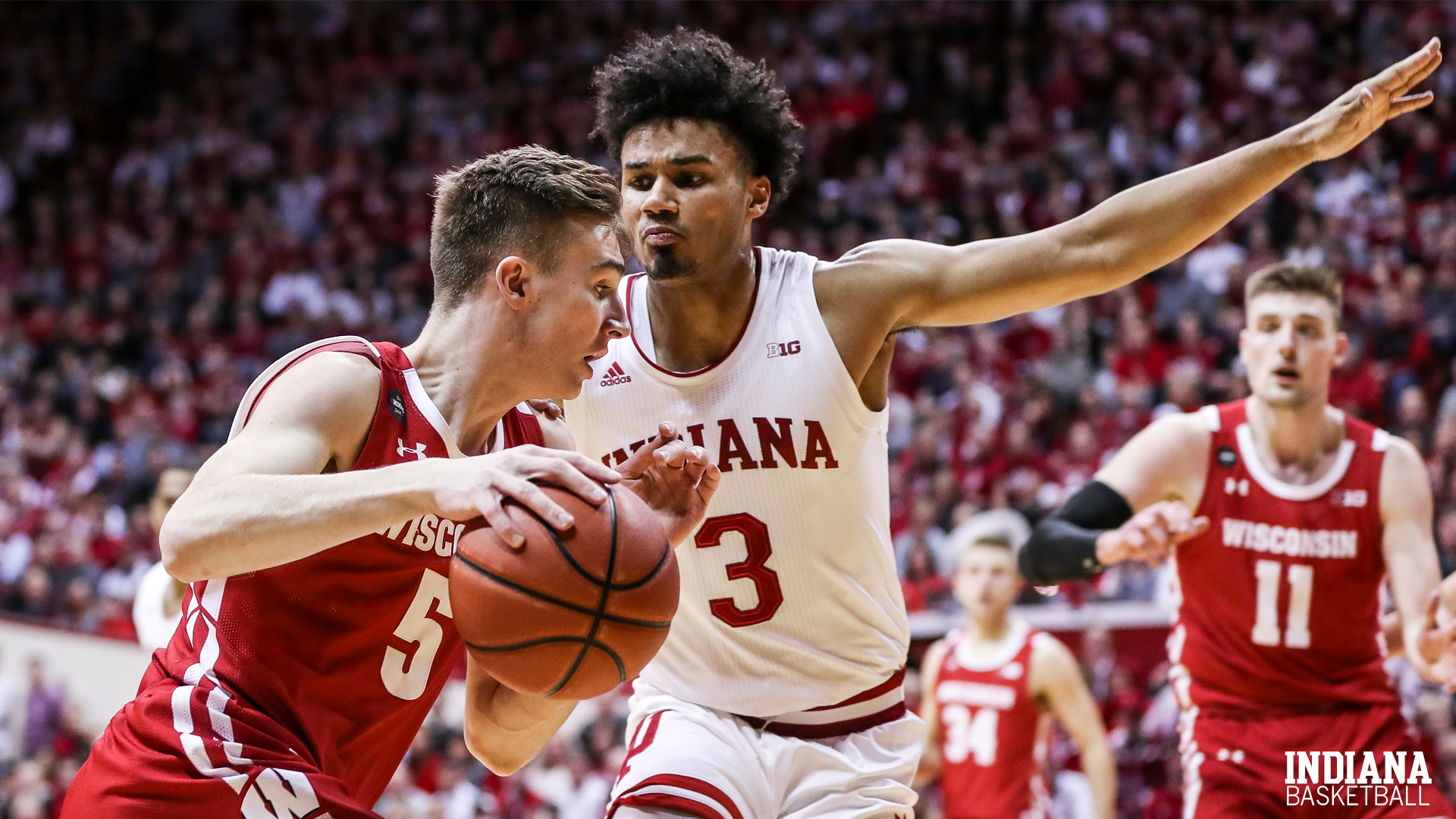 What defined the collapse over the last ten minutes of the game?
"Rebounds," junior guard All Durham said.  "We got to make sure we come up with those rebounds. They don't get these second shots, they don't hit those threes. Just rebounding and play harder. I feel like we played hard but just little things, little assignments we have to make sure we don't slip up on and come out with a win."
Miller had the same reaction.
Wisconsin had four offensive rebounds in the last seven minutes of the game, and each time they scored on the second chance opportunity.
"The one thing that really, really stands out to me was with about eight minutes to go, maybe even ten, we almost had them doubled up on the glass. The rebounding was about 30-something to 20-something, and it finished 38-34, Miller said.
"And to me the rebounding really, really started to change with about eight minutes to go. Long rebounds, two or three of them led to five, six points, and then a couple back-breaking tap-ins in the last two minutes, when we switched to take away the pick-and-pop, their big rolled us down and their other big came in, however it worked when we rotated when the guard drives. Not being able to carve out and keep those guys off the glass was a big part of the game. They were able to take advantage of that at the end."
IU held Wisconsin to 42 percent from the field and forced 10 Badger turnovers — a high mark for a team that doesn't cough it up.  Those are figures that Miller likely would have taken coming in.
"We played hard. We competed and we were right there. We played well enough to win for the most part defensively," Miller said.
---
OTHER GAME COVERAGE
---
THE PLAYERS
(players with meaningful minutes)
Joey Brunk* (C) Brunk lost his starting role to the senior Davis for this game, and he didn't have a big role against Wisconsin's mobile big men.
Justin Smith* (C) Like everyone, Smith struggled to finish, but most concerning, he had just one rebound in 27 minutes.

Trayce Jackson-Davis* (B-) The freshman does not look like he is 100 percent, with his best attribute, quickness off the floor, appearing to be limited.
Al Durham* (C+) Durham did some things well scoring the ball, but a 3-to-1 turnover to assist ratio was a problem in this one.
Rob Phinisee* (B+) With 7 assists and no turnovers in just 21 minutes, Phinisee was superb facilitating.  But like everyone else, he couldn't convert offensively.
Jerome Hunter (C+) He knocked down a big three early and had a couple steals.  Could Hunter have been someone that got an extended look in this one?
Devonte Green (B+) You have to give him the benefit of the doubt with the injury.  Green had one of his classic halves after the getting the start on senior day.  It was an unfortunate second half in the final home game for the IU senior.
Race Thompson (B+) He didn't convert in the paint, but with 11 rebounds in 24 minutes, Thompson was an absolute force, playing at an effort level that is needed to win consistently in the Big Ten.
De'Ron Davis (B) Davis played a big role early with 4 points and 2 steals,but his inability to close out on shooters kept Wisconsin close early.
Armaan Franklin also appeared in the game.
*Denotes Starters
---
You can follow us on Twitter:  @daily_hoosier
Find us on Facebook:  thedailyhoosier
The Daily Hoosier –"Where Indiana fans assemble when they're not at Assembly"
Seven ways to support completely free IU coverage at no additional cost to you.