For the second year in a row, IU basketball will face the defending national champion.
The Empire Classic announced on Monday Indiana will face UConn on Nov. 19 in New York.  That's the first of two games in two days at Madison Square Garden.
The Hoosiers will face either Louisville or Texas in the second contest on Monday, Nov. 20.
The IU vs. UConn game will tip at 1 p.m. ET according to a release.  Here is the full Empire Classic schedule:
Nov. 19 – Semifinals
1 p.m. ET – UConn vs. Indiana
3 p.m. ET – Texas vs. Louisville
Nov. 20
4:30 p.m. ET – Third-Place Game
7 p.m. ET – Championship Game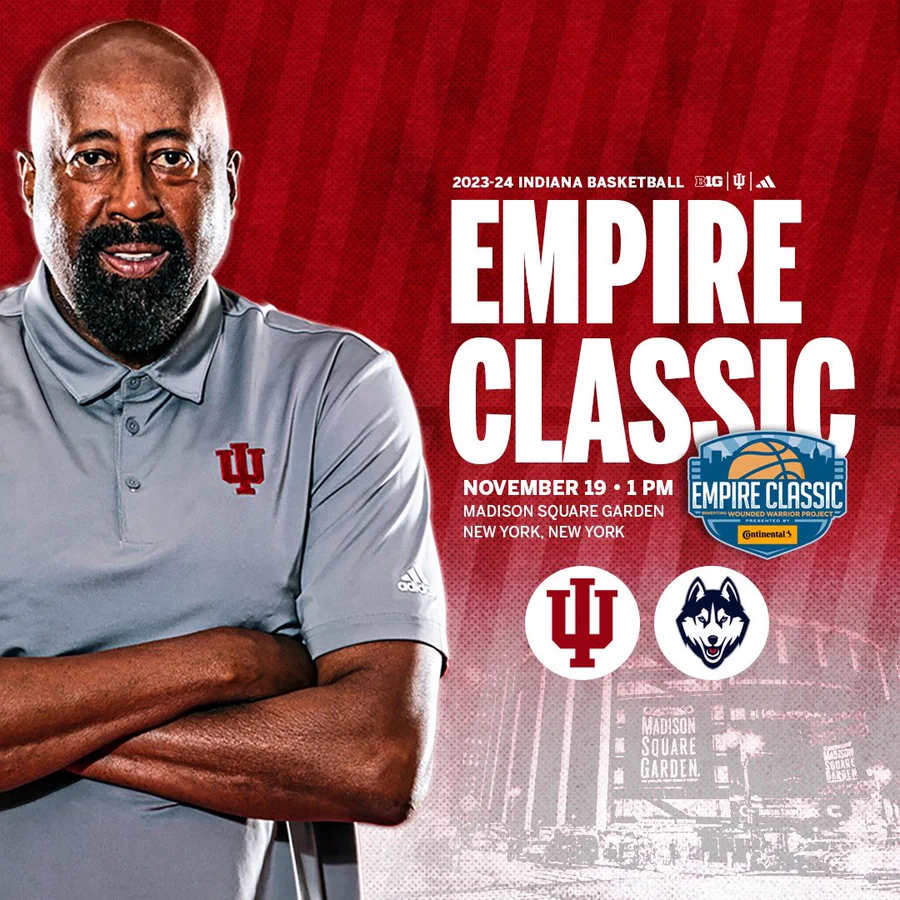 Led by coach Dan Hurley, the Huskies won the 2023 national championship.  IU faced 2022 national champion Kansas at Lawrence in December.  The Jayhawks, likely a preseason top-5 team, will travel to Bloomington in December.  IU will also face Auburn in Atlanta as part of a non-conference slate that should test an overhauled Hoosiers' roster.
UConn is projected as the No. 3 team in the country according to Bart Torvik, but they return just 42.6 percent of their minutes from the championship squad.
The Huskies lost several key players from a season ago, including big man Adama Sanogo (17.1 PPG), NBA draft pick Jordan Hawkins (16.3 PPG), and Andre Jackson Jr. (6.8 PPG).
UConn does have some key pieces returning including Tristen Newton (9.9 PPG), former IU recruiting target Alex Karaban (9.5 PPG), and 7-foot-2 center Donovan Clingan (7.1 PPG).
UConn also has several promising newcomers, including Stephon Castle, a top-20 recruit and close friend, neighbor and high school teammate of IU guard Jakai Newton.  The Huskies have three other top-100 high school recruits.
And Cam Spencer, a 3-point shooting specialist who scored 13.2 PPG at Rutgers last season, is also now with UConn.
Indiana is 4-6 all-time vs. UConn.  The Hoosiers won the most recent meeting, a 2019 contest in New York as part of the Jimmy V Classic, by a final score of 57-54.  That was Hurley's first season on the job in Storrs.
This year is the 10th anniversary of UConn defeating Indiana 59-58 in the 2013 Empire Classic Championship Game.  That was IU's only other appearance in the event. The Huskies went on to win the National Championship later that season.
The series of games will mark a homecoming for Indiana head coach Mike Woodson, who was the head coach of the New York Knicks from 2012-14. Woodson was drafted 12th overall in the 1980 NBA Draft by the New York Knicks and played with the franchise from 1980-81. He also served two stints as an assistant coach with the Knicks from 2011-12 and 2020-21.
Fan can explore tickets for the Empire Classic at Ticketmaster.
Indiana opens the season on Nov. 7 vs. Florida Gulf Coast in Bloomington.  For the complete 2023-24 IU basketball schedule, GO HERE:
---
The Daily Hoosier –"Where Indiana fans assemble when they're not at Assembly"