Signature win, meet frustrating loss.
As has been the case throughout Archie Miller's tenure at Indiana, the Hoosiers failed to build on a big win, instead falling to Rutgers at home to slip back under .500 in league play.
IU is now just 2-3 at home in Big Ten play this year, another familiar pattern of home mediocrity in a once formidable venue that has plagued Miller's squads.
Indiana (9-7, 4-5) will have over a week off to once again try to figure things out.  The Hoosiers' game at Michigan scheduled for this weekend was postponed.  Now IU will wait until Feb. 2 to once again try to protect its home court when Illinois comes to Bloomington.
OVERALL (C-)
The first half was a wild back-and-forth affair with each team going on extended scoring runs. Rutgers ran out to an early lead on the strength of a 10-0 stretch before Indiana countered with an 8-0 run of its own. The Scarlet Knights promptly answered with a 7-0 run before IU regained the lead with a 9-0 run. In total, the first half featured four ties and five lead changes.
The decisive stretch of the game was the first 12 minutes of the second half, when Rutgers went on a 17-6 run after Al Durham opened the second stanza with a two-point jump shot.  During that stretch IU had five of its 12 turnovers for the game, and Rutgers scored seven points off those Hoosiers miscues.
The avalanche of turnovers allowed Rutgers to extend out to a 55-41 lead that IU was able to work back down to three on three occasions, but never any closer.  Interestingly enough, Indiana went on an 18-7 run to pull to within 62-59 with little used subs Khristian Lander and Jordan Geronimo on the floor along with fellow freshman Anthony Leal for most of the span.
The loss quickly erased all of the good feelings from a top-5 road win over Iowa less than 72 hours prior.
"Just disappointed for each other," IU guard Armaan Franklin said.  "We put in the work all last week, all this week and when you put in that much work and you work so hard it is just, when that final buzzer rings and you are not winning, and you do not win it is just, everybody is upset. So, we just take this and move forward for the next one."
Indiana responded well after a long layoff leading up to the Iowa game, and now they will have a chance to regroup once again.
"It is one of 20 (Big Ten games), like the Iowa game was, like I told them after the Iowa game," Miller said. "Everyone is going to talk about how great it was, but the bottom line is Rutgers is just as good and the next one is going to be just as good and they all count the same."
OFFENSE (C+)
Indiana didn't get the ball enough to their star, and their star didn't take advantage of the opportunities he was given.
Trayce Jackson-Davis was well under his season averages for points and field goal attempts.  Indiana didn't get the ball to the sophomore forward enough, or in good spots on the floor.  And when Jackson-Davis did get his chances, he was largely ineffective against Rutgers' pair of 6-foot-11 centers.
"I think Trayce probably left four or five shot attempts that you would take over again," Miller said.  "I don't think we got him the ball enough tonight. I don't think he did a good job of being physical around the basket. I have to watch the film, but Trayce didn't have his best offensive performance in and around the rim."
Indiana had the unusual distinction of making just 35 percent of its shots from two-point range and 62.5 percent (10-of-16) from 3.  Miller's IU teams typically win when they are effective from long range, but they were so inefficient from close range that the 3-point shooting was marginalized.
The key for Rutgers was effective rim protection from Myles Johnson and Cliff Omoruyi.
"The two-point percentage was really dictated by how we played," Miller said.  "I thought they dropped back with their size. Especially at the center position, they kept him in between the rim and players. It kind of made it like a two on two game. You are able to get down there, but you are not able to get some clean ones. We missed some good ones."
Indiana was just 9-of-22 on shots at the rim, and 4-of-17 from mid-range.  At 1.059 points per possession, IU was below its season average, but higher than it has been in some wins, including Butler and Maryland.  The offense was erratic and coming from unusual places, but good enough to win if the defense was dialed in.
Indiana converted on 10-of-16 (62.5%) 3-point attempts in the game, the highest team percentage since also hitting 10-of-16 shots from deep against Chattanooga on March 17, 2016.  The 10 made triples marks the most by a Hoosier team in a conference game since hitting 11 against Iowa on Feb. 13, 2020.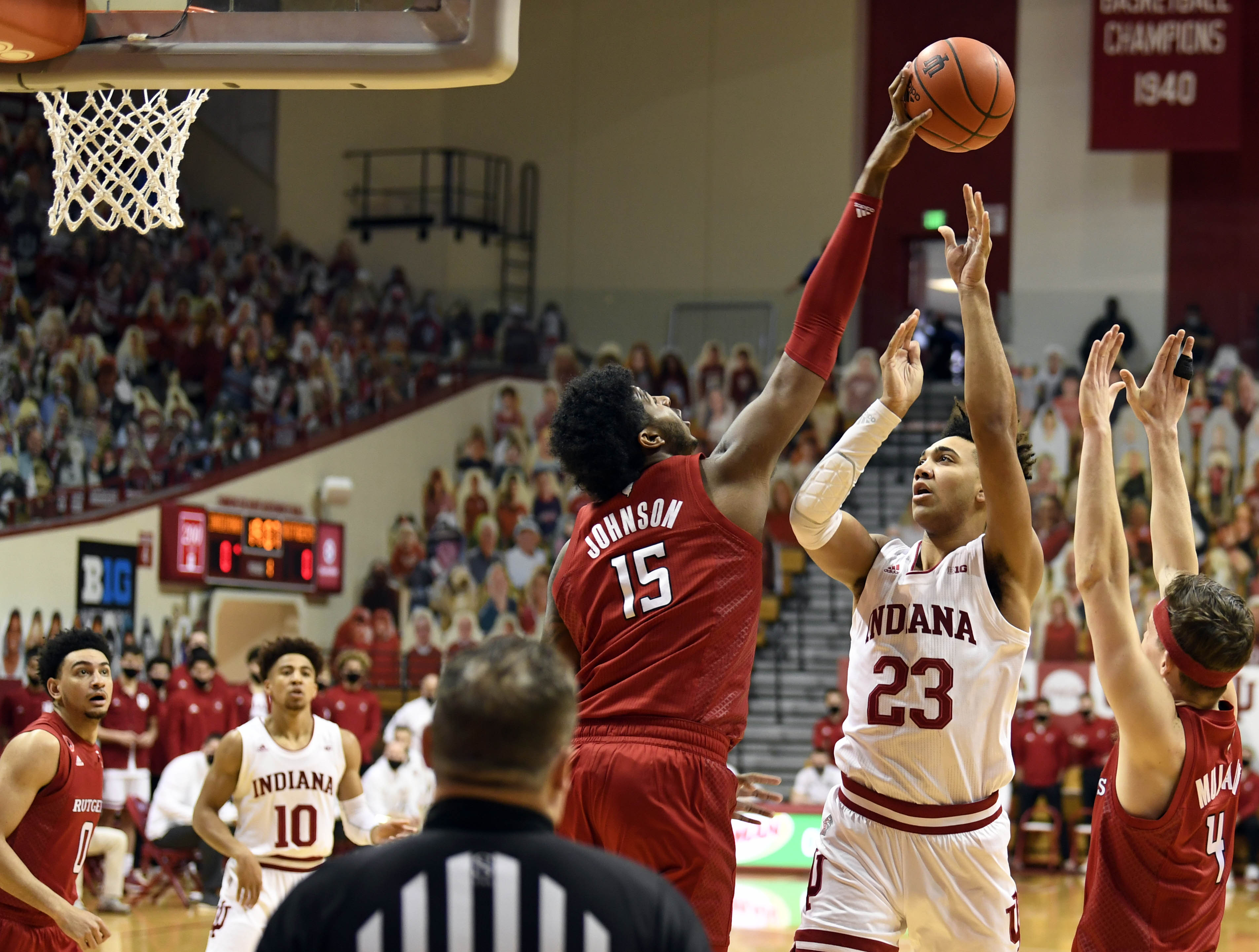 DEFENSE (D)
On the defensive end, the game was lost on Rutgers' ability to break down the defense with dribble penetration.
"Rutgers did a really good job with dribble penetration," Miller said.  "We had a hard time keeping them off the bounce, in particular on the perimeter."
The Scarlet Knights put four guards around Johnson and Omoruyi the entire game.  It didn't matter who caught the ball on the perimeter, their mission was to put the ball on the floor on go.  That's exactly what Indiana expected, but the Hoosiers didn't have an effective plan to limit Rutgers off the bounce.
"Coming into the game talking about what we needed to do in the game and how we worked into the game there weren't any surprises," Miller said.  "I thought them changing their lineup but Baker in much more primary role. Young has been way more primary with the ball in his hands. I thought Baker had a really good day. McConnell played a lot more today. Mulcahy played a lot more today. In general, I thought they got a lot of contributions from a lot of players that have been playing for them. There wasn't a whole lot of secrets. They did what they did.  I thought we had a difficult time keeping the ball in front."
The numbers looked better in the second half as Indiana was a bit more effective contesting shots in the paint.
After hitting 16-of-29 (59.3%) from the floor in the first half, Rutgers made 11-of-26 (42.3%) shots in the second stanza. Indiana held Rutgers to 8-of-22 (36.4%) from the 3-point line in the game.
After limiting Iowa down the stretch on Thursday, it was difficult to process why IU was having so much trouble with a more middling Rutgers offense.
Ultimately, Rutgers' strength is Indiana's weakness right now.  Iowa is a passing team that wanted to play inside-out and beat you with 3-pointers.  Rutgers wants to beat you any way it can once the defense is broken down by dribble penetration.
"Rutgers is a driving team," Miller said.  "They have terrific offense with one-on-one players. It's how they play. When Harper Jr. is at the four, it is a tough match up for anybody. Between Baker, Young, McConnell, Mathis, those guys are all hard attacking, driving guys." … "We were much better against Iowa in being able to execute, we weren't as good today in being able to communicate and talk and keep the ball in front. But Rutgers is a good driving team. I thought our defensive would be tighter and it wasn't. They got us in some rotations too that shouldn't have happened. We didn't need to be in as many rotations as that."
IU allowed 15 assists while only forcing nine turnovers.  While the Hoosiers only allowed six offensive rebounds, Rutgers' broke their backs with one on their final possession.
---
OTHER GAME COVERAGE
---
THE PLAYERS
Trayce Jackson-Davis (D) All things considered, this might have been Jackson Davis' worst game of the season.  He didn't attack strong and was often beat down the floor in transition by Rutgers' pair of big men who combined to go 7-of-8 from the field.  Jackson-Davis' limited offensive skillset is ineffective at times against long, athletic centers.  Although he can be a good passer, TJD had four turnovers and no assists on Sunday.
Armaan Franklin (C+ / player of the game) Franklin reinjured his left ankle early in the game and was favoring it the rest of the way.  While he was able to be effective at times on the offensive end, Franklin was a shell of himself on defense and it showed up on Rutgers' dribble drives.  We'll give him the player of the game for gutting it out.
Race Thompson (C)  Thompson had some nice moments but he had only one rebound in the second half and looked fatigued down the stretch after spending much of the day guarding the perimeter.
Al Durham (D+) Indiana didn't get enough production from its senior guard, especially in the second half when he produced just two points beyond a banked 3-pointer.  He struggled to defend the perimeter, both on dribble drives and closing on shooters.
Rob Phinisee (C) After a hot start and seven first half points, Phinisee was shutout in the second half.  Had a team high five assists against just one turnover, but Phinisee also struggled at times guarding the ball.
Jerome Hunter (C) Hunter produced nine first half points and helped keep IU in the game, but then only played three minutes after the break.  The issue appeared to be on the defensive end where Hunter struggled with Harper, Jr.'s physicality, and he could also be seen wearing some kind of back brace when on the bench.
Jordan Geronimo (B) Geronimo was expected to play more after a strong effort vs. Iowa.  The matchups weren't optimal for him but Geronimo held his own in limited action.
Anthony Leal (C+) Leal had three first half assists and then two second half turnovers.  He seemed to pass up shots and should embrace his role as an emerging knock-down 3-point shooter when he has space.
Khristian Lander (B)  With Trey Galloway out once again, Miller stuck with Lander for his most extensive action in over a month.  Lander rewarded the decision with some strong ball handling against heavy pressure and two 3-pointers, but he also had a couple defensive lapses.
Player of the game tracker:  Jackson-Davis (6), Thompson (3), Phinisee (3), Franklin (3), Durham (1).
Notes:  Joey Brunk had back surgery and continues to be on an uncertain timeline.  Trey Galloway missed the game with a sore back.  Parker Stewart was at the game but on an uncertain timeline.
---
Find us on Facebook:  thedailyhoosier
The Daily Hoosier –"Where Indiana fans assemble when they're not at Assembly"
Seven ways to support completely free IU coverage at no additional cost to you.