Class of 2022 4-star wing Justin Taylor wrapped up his Indiana official visit on Wednesday morning.
Ranked No. 87 nationally by the 247Sports Composite, the 6-foot-6 Taylor is reaching the late stages of his recruitment.  The Daily Hoosier caught up with him to discuss his impressions of Indiana and what's next in his decision making process.
Here is our Q&A with Taylor after his IU visit.
See also:  Justin Taylor complete profile page
TDH:  Talk about what is standing out to you fresh off of your visit to Bloomington.
Taylor:  "It was a really good visit, but really just Coach Woodson and the entire staff.  He (Woodson) just has so much basketball knowledge and experience.  I think he can bring a lot to Indiana.  My class will be the first that he recruited to Indiana himself, so I think it is super important to him to get the guys that he wants.  He's big on shooters and that's why I've been a priority for them with being able to make an impact for them right away with shooting the ball because that's what they need — they need scorers.  So I'd say the thing that stood out to me the most was just talking to Coach Woodson."
TDH:  What was it like to meet assistant coach Kenya Hunter and the rest of the staff in person for the first time?
Taylor:  "It has been kind of weird on these visits because you feel like you know all these coaches so well but you haven't met any of them in person, so it was good to see him(Hunter)  live and not through texting or a call but actually just seeing him in person, walking around campus, going out to eat and stuff like that, so it was good."
TDH:  Which Indiana players were the most involved in your visit?
Taylor:  "Xavier Johnson played for the same AAU team that I play for, Team Takeover, so we've known each other for a little while, and then Trey Galloway, we went out to dinner and to his apartment.  So those two probably hosted me around the most."
TDH:  Were you able to watch the team workout and practice?
Taylor:  "We watched a full practice, so that was good to see how Coach Woodson operates and how the whole staff operates within a practice.  They didn't really do individual stuff as much when I was there because they were doing a full team practice, but it was still good to see how the coaches interact with the players and how the players have respect for Coach Woodson and the other coaches.  That was definitely good to see a full practice."
TDH:  What were main takeaways when it came to facilities and the campus?
Taylor:  "Both me and my mom were both super impressed with just both how the campus is set up, and also just the facilities were really, really nice.  A lot of them were donated by Victor Oladipo and Cody Zeller, so all that stuff was super nice and the campus was beautiful.  We picked a really good day to visit because it was really good weather.  I wish I would have seen it during the regular school year when all of the students are out and about, but it was still good to see how nice it is."
TDH Note:  Oladipo also played on Team Takeover.  He has had some dialogue with Taylor about Indiana.
TDH:  Did anyone recognize you during your time in Bloomington?
Taylor:  "Outside of the basketball facilities there were people taking pictures.  I could definitely tell it was a basketball town.  It is a basketball school for sure.  That was cool to see.  The fan base has been incredible through social media and stuff like that."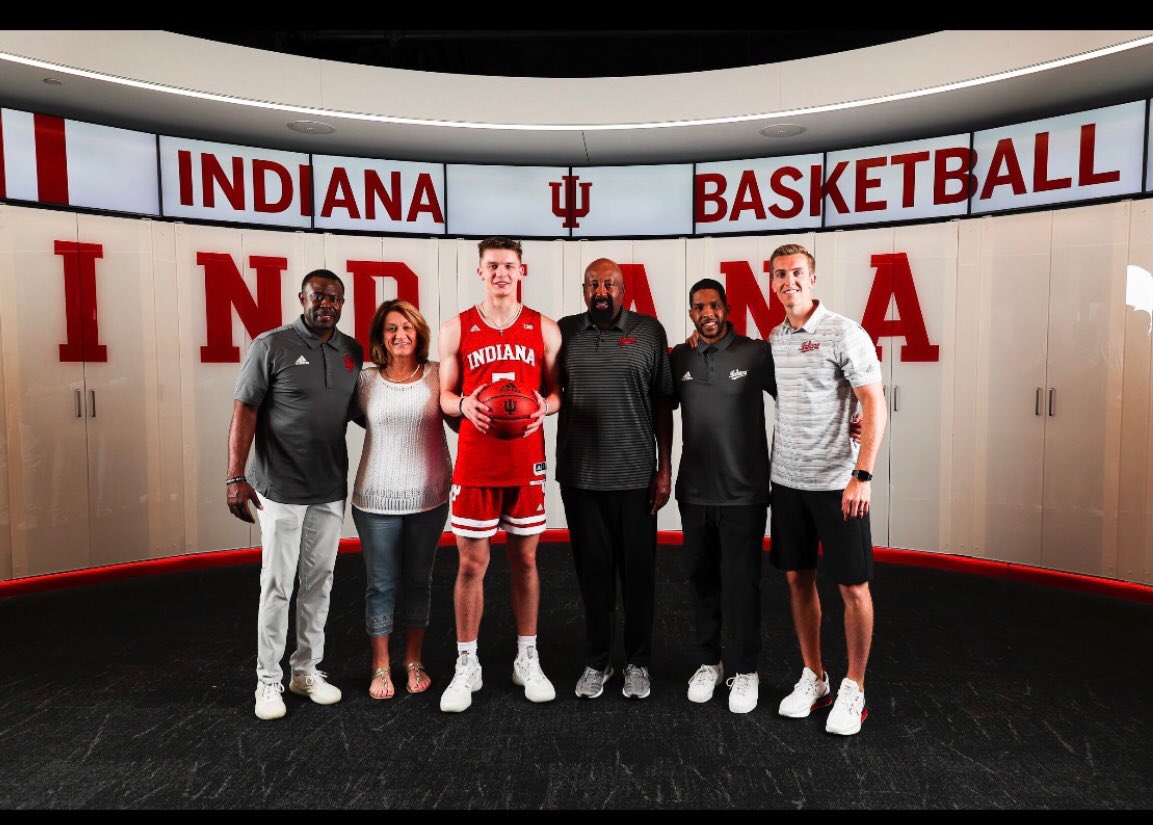 TDH:  What is your mom saying stood out to her?
Taylor:  "She was super impressed with Coach Woodson as well along with the campus.  It is definitely one of the nicer campuses we've seen.  We've seen pictures and everything, but definitely a cool spot to be at just in so far as the atmosphere and the college town."
TDH:  What was Woodson's main message to you when it comes to basketball?
Taylor:  "He mentioned a lot how he loves to coach shooters and he has a lot of players for guys who can shoot the ball and make plays because that's what he wants and offense is going to be very free flowing.  He doesn't like guys looking over their shoulder when their playing, second guessing themselves.  So that was big for him, just getting guys who go out there and play with a lot of freedom.  He mentioned guys he coached in the NBA, like JJ Reddick."
"He wants to make it a super strong class, and he wants a guy like me to start it off, a guy who can attract other players and come in and make an impact right away with my shooting ability and playmaking ability, so that was huge for him.
TDH:  You were there at the same time as Kyle Filipowski.  Did you guys interact during your visits?
Taylor:  "Through the recruiting process we've built a pretty good relationship and we've been texting a little bit.  We both definitely liked it (Indiana) and we were there the whole day yesterday (Tuesday) together.  We did a photo shoot together, had lunch together, walked around campus together.  We definitely built a good relationship.  It would be kind of cool to play somewhere together.  We talked about that a little bit.  We're getting recruited by some of the same schools including Indiana obviously.  So that could be a possibility, we'll see."
TDH:  How do you feel like this visit shaped your impression of Indiana?
Taylor:  "It definitely made a huge impression on me.  Their videos of everything don't really do it justice.  To see it in person and everything like that was huge.  Just meeting the guys in person and seeing what life would be like on campus, was huge.  I think it definitely helped us and opened our eyes to what a cool place it is."
TDH:  You have now taken several visits.  Have they made this process harder or easier for you?
Taylor:  "Maybe a little bit of both to be honest with you.  It definitely helped, and it was good to meet all of these coaches in person and see all of the campuses.  But it makes it that much harder because now you've built even better relationships with all of these coaches.  It will be hard.  I definitely want to make a decision soon, but I think it will just be about choosing the place that feels like home and where I fit in the best.  But taking visits was huge because obviously last year's senior class didn't get the opportunity, so I am definitely grateful for it."
TDH:  Are you now done with your visits?
Taylor:  "Yes, these were my three officials (IU), North Carolina and Syracuse.  And then I took an unofficial to Virginia Tech and some unofficials to Virginia, so this will be it.  I am just trying to limit it and not go to too many different places."
TDH:  Are you still thinking that you will make a decision in the summer?
Taylor:  "Yeah, I think so.  Summertime.  It might be late summer or it might be July, but definitely want to get it out of the way so I can focus on my senior season of high school basketball."
---
Find us on Facebook:  thedailyhoosier
The Daily Hoosier –"Where Indiana fans assemble when they're not at Assembly"
Seven ways to support completely free IU coverage at no additional cost to you.