By Dustin Dopirak —
Through its recruitment of Victor Oladipo back in the 2010 class, Indiana established a connection with DeMatha Catholic High School that transcends coaching staffs. The Hoosiers haven't landed a DeMatha player since, but they have been in on a few and have maintained credibility with the Hyattsville, Md., program and that could help them with a couple of players they're recruiting in the 2022 class.
The Hoosiers have already offered one DeMatha junior in Rodney Rice Jr., a 6-foot-4 combo guard who can score from all three levels. They might be close to offering another.
DeMatha coach Mike Jones said the Hoosiers have been in steady contact with him about Tyrell Ward, a four-star, 6-foot-7 wing.
Jones has had Ward in the DeMatha program since seventh grade and has seen him develop into a two-way force. His length allows him to defend multiple positions, and he can score from inside and out. Ward is rated the No 108 player in the Class of '22 in the 247Composite rankings.
"He's a legit 6-7, long lanky limbs," Jones said. "I don't know what his wingspan is, but it's huge. He affects every part of the game. He scores, he rebounds. He blocks shots. He steals the ball. He does a little bit of everything."
Ward's length gives him defensive versatility, which can obviously be of value in Archie Miller's pack line defense.
"He can guard every position on the floor, except for maybe a 7-foot center," Jones said. "He can guard point guards and stay in front of them. His length bothers them. He can guard wings. He can guard face-up 4s. He's extremely versatile and he embraces being that."
He's versatile on offense as well. He's proven he can be trusted with the 3-point shot, but he can also get to the bucket and score there. He started a few games as a sophomore for a DeMatha team that was one of the best in the country and has seen his role increase so far this season in DeMatha's first six games.
"He's a throwback in terms of the way he plays," Jones said. "He makes jump shots. He's shooting very well from the 3 so far this year. We tease him because he's got a lot of finesse. The finger rolls. The finishing around the rim. He's got good touch with his right and his left hand. He's good. He's really good. He's developed into what I believe to be one of the top players in his class around the country."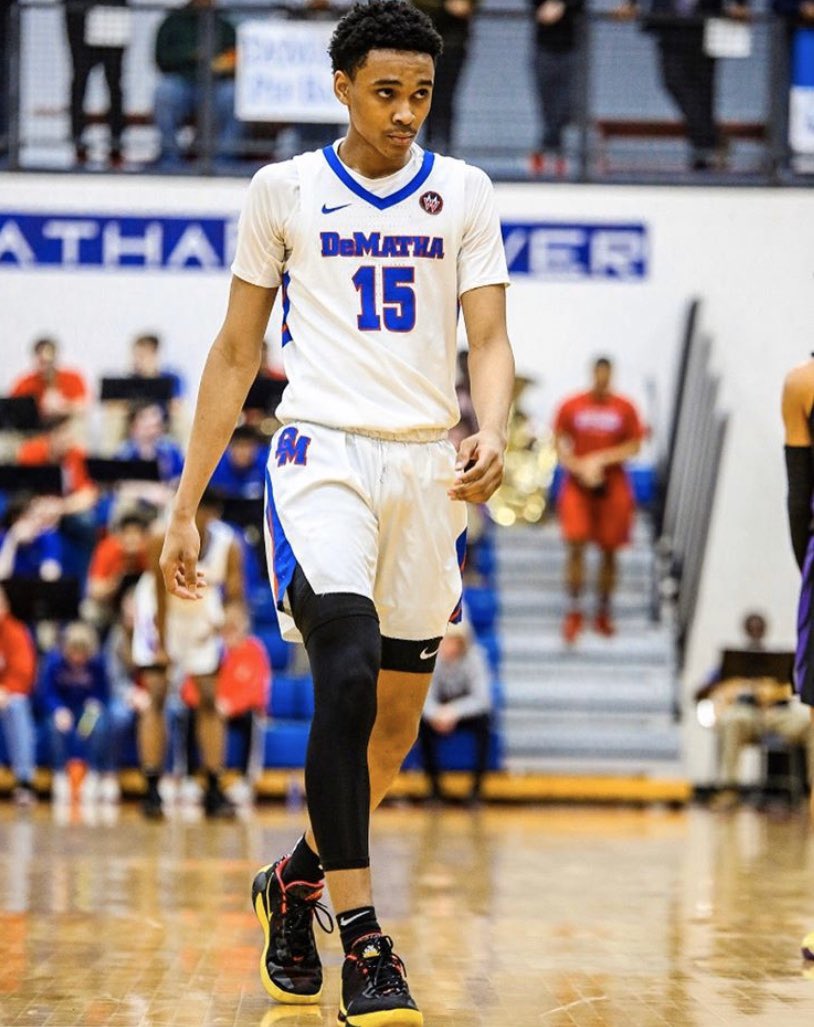 Indiana joins nearby Maryland as the only Big Ten teams heavily involved in his recruitment. According to 247Sports, he has offers from George Mason, Georgetown, Georgia, LSU, Providence, Seton Hall, Virginia Tech and Wake Forest. Jones said Louisville and Xavier are also involved.
Rice is even higher rated and as the No. 87 player in the class, and has a longer offer list. Indiana offered in September, and is one of 22 schools that have. That includes Illinois, Maryland, Penn State and Rutgers from the Big Ten, Louisville, Miami, Virginia Tech and Wake Forest from the ACC, Connecticut, Georgetown, Marquette, Providence and Seton Hall from the Big East, Oklahoma State from the Big 12 and Alabama and LSU from the SEC.
They all like Rice because he can make buckets. He averaged 22.9 points per game at The Bullis School in Clinton, Md., last season and Jones has seen him continue along those lines in his first year at DeMatha, saying he's averaging around 16 points per game so far.
"He's an elite shot-maker," Jones said. "He's got a great mid-range game. He can get to the basket. He can make 3s at a pretty good clip. He's an elite shot-maker."
The Stags are using Rice at point guard extensively as well as off-the-ball, and he has to adjust to the fact that he's surrounded by star players and also dealing with them on the other side of the ball on a constant basis. DeMatha is part the Washington Catholic Athletic Conference, which might be the nation's best high school basketball league.
"You're playing with other really good players all the time," Jones said. "You have to be able to do that. With the level of school he's being recruited by, for the rest of his career, he's going to have four other really good players on the floor with him. The quicker he gets used to that all the time, the quicker his transition to college will be. He knows that's one of the reasons he's at DeMatha and he's embraced that and the mental progression it takes to be able to do that. He's an elite-level scorer, so in the past, at any point in time if he feels like taking a shot, he can. He's still talented now, but he has four other teammates. He has to be able to get his and be able to keep other guys happy."
Jones said he's happy with Rice's progression and also likes what he's doing as both a rebounder and defender. He's 6-4, averaging about 7 rebounds per game and also doing well at handling ball handlers.
"I think he's a really good defender," Jones said. "He's capable of being a great defender and an elite defender because he can move his feet and he is strong. With the schedule we play every night, he's going to line up against somebody who is a high-level basketball player. If he goes to Indiana or any of the other schools that are recruiting him, that's what he's going to see every single night."
Jones said Rice is taking his time determining which one of his schools he will ultimately go with.
"They're in the exploration phase," Jones said. "They strike me as the type of family that when it feels right they'll make that decision, but they definitely are in the information gathering time. They just want to make sure they have all the information they can before they make a decision. I know Indiana is one of the schools that has done a good job recruiting him. Amongst others, but Indiana is definitely one of the schools that has his attention."
You can follow Dustin Dopirak on Twitter HERE
---
Find us on Facebook:  thedailyhoosier
The Daily Hoosier –"Where Indiana fans assemble when they're not at Assembly"
Seven ways to support completely free IU coverage at no additional cost to you.