Mike Roberts knew he wasn't going to get far with a rising phenom in the Atlanta suburbs named Bruce Thornton.
Roberts has known Thornton's Milton High School head coach Allen Whitehart for a long time, but as an assistant coach at UNC-Greensboro, it was quickly becoming clear this wasn't a mid-major prospect.
When Roberts took an assistant coaching position at his alma mater last summer, he knew he had a second chance.
"Mike had already known about him (Thornton) before he went to Indiana, and he knew they didn't have a chance when he was at UNCG," Whitehart told The Daily Hoosier.  "But as soon as Mike got the job at Indiana he called me immediately."
Thornton has been on Indiana's radar since, and the IU staff had planned to ramp up their recruitment considerably this spring before the pandemic shut down AAU play.
Under normal circumstances, head coach Archie Miller won't offer a scholarship to a prospect until he has watched him play live.
Miller and Thornton have spoken every week for the last month, and the IU head coach was going to have to go a different route if he wanted to accelerate things with the 6-foot-2 point guard.
He did.
Miller obtained two game films, and that was enough.  He called Thornton on Friday afternoon and issued Indiana's first scholarship offer to a true point guard in the class of 2022.
The offer makes a major statement.  Relatively speaking, Miller and his staff don't offer a lot of players.
Point guard is a priority position in the class of 2022 for IU, and Thornton was the first that IU offered, and just the sixth player overall.
A significant offer for Indiana, and for Thornton as well.
"He's really excited for the Indiana offer," Whitehart said.  "Coach Miller and coach Roberts have both been involved regularly.  He understands the history of Indiana basketball.  When he let me know he got the offer he was really excited about it."
When Miller watched that film, he no doubt saw a point guard with the attributes that are required to succeed in the Big Ten.
"He's the epitome of a true point guard," Whitehart said when quizzed on what stands out about Thornton's game.  "He's a bulldog defender.  He's the kind of lead guard that fits that league.  He's a very physical guard."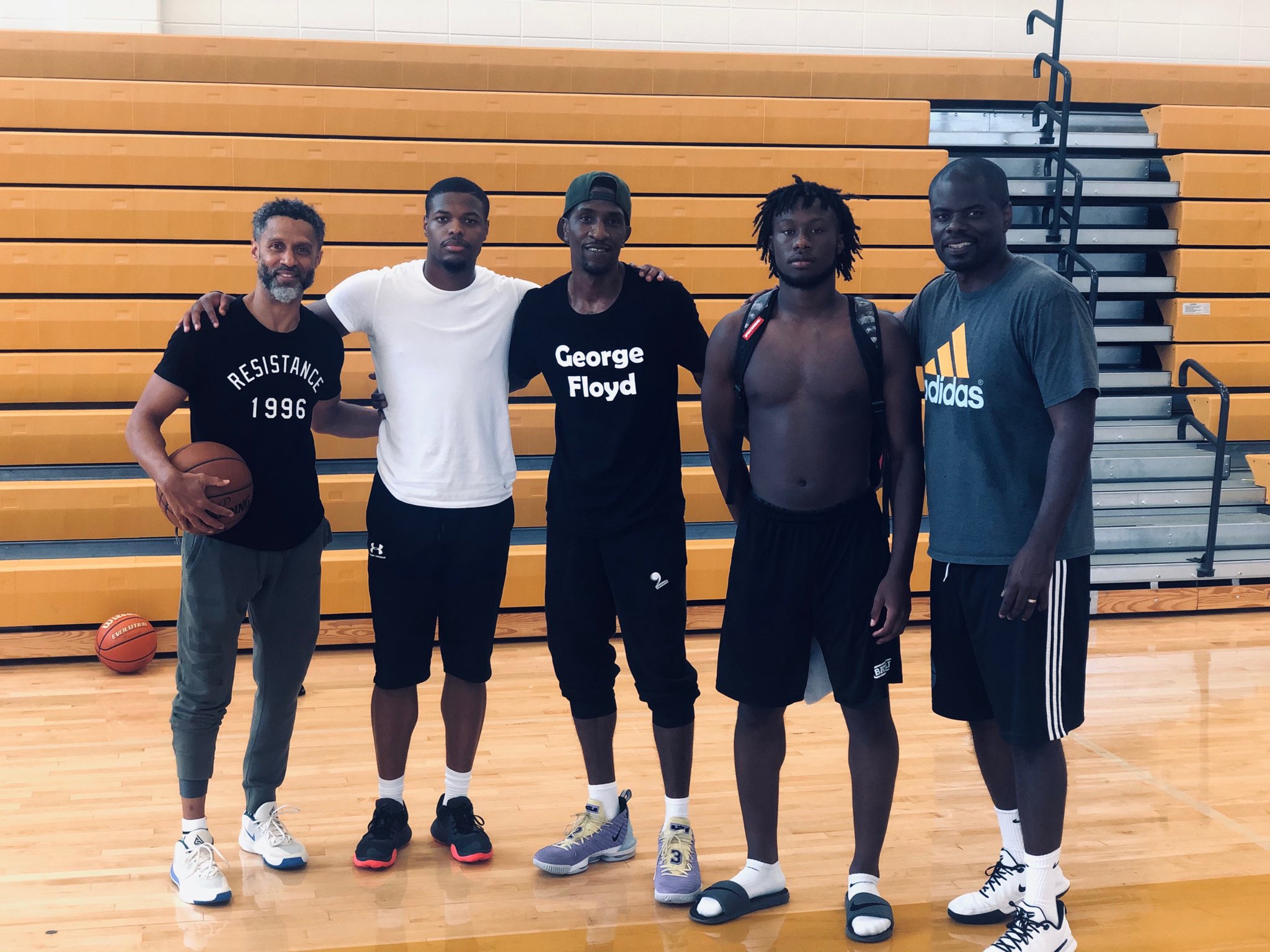 An Atlanta Journal Constitution first team all-state selection for Milton, Thornton averaged 23 points, 7.5 rebounds and 6.1 assists per game to lead the Eagles to the GHSA Class AAAAAAA state semifinals as a sophomore.
Those stats aren't padded.  Milton plays a highly competitive schedule.
Nationally, Thornton is the No. 31 player in the 2022 class according to the 247Sports Composite, and the No. 7 point guard.
And while Thornton was able to put together "an incredible" sophomore season in Whitehart's view, his point guard didn't let it go to his head.
"He's a humble kid," Whitehart said.  "I'll always say that he's got the demeanor of Tim Duncan.  He'll come down and dunk on a 6-foot-8 guy, and you would think it's just another routine play.  Some kids are show horses, he's a workhorse.
"Everything he does, he competes.  I can't recall the last time I saw him lose a sprint.  If there is a drill that he loses, he's like 'run it back, run it back, we've got to go again.'
"If its really competitive and the drill ends, he'll say 'coach can we get four more minutes in that drill, things are going really well.'"
Thornton was a team captain as a freshman and a sophomore, and that is a reflection of how well he is liked by his coaches and teammates.
"I don't think you can find anybody to say a bad word about him," Whitehart added.
Whitehart struggled when asked to find any glaring weakness in Thornton's game.
Instead, he went to the one thing that all young point guards can do a little better.
"He's vocal but I'd like to see him more vocal," Whitehart said.  "As a point guard you can never be vocal enough.  He's directing traffic, he's telling people where to go, he's holding people accountable, and I think going into his junior year he's going to become even more vocal."
Thornton might end up moving off the ball some as an upperclassman.
Although he is a top-35 recruit nationally, Thornton shares the court with a top-10 recruit in class of 2023 backcourt mate Kanaan Carlyle.  Also a point guard, Carlyle arrived at Milton with high major offers.
With the ball in his hands most of the time as a sophomore, Thornton didn't have the luxury to catch-and-shoot much, but he still shot a respectable 37 percent from long range as a sophomore.
"If his defender goes under a ball screen he is going to knock it down.  From his freshman to his sophomore year he really developed.  His pull-up is probably the best part of his outside game.  He can really get you leaning and just stop-and-pop.
Playing off the ball at times over the next two years should only serve to expand the skills that Thornton brings to college.
Indiana joined Cincinnati, Clemson, Georgia, Georgia Tech, Miami (Fla.), Ole Miss, Purdue, Virginia Tech, and Xavier on Thornton's offer list.
When people learn that both of Thornton's parents were college athletes at Georgia, they assume that he will follow that path.
Will the Bulldogs and former IU head coach Tom Crean be too much to overcome?
Whitehart says not so fast.
"They're (Georgia) recruiting him, but it's going to come down to his relationship with the head coach.  His mom will say 'Georgia is where I went to play.  He's going to go where he wants to play.'  She is originally from Colorado.
"Where his parents played is going to have no impact on where he goes to school."
---
See also:   Thornton sophomore season highlights
---
Find us on Facebook:  thedailyhoosier
The Daily Hoosier –"Where Indiana fans assemble when they're not at Assembly"
Seven ways to support completely free IU coverage at no additional cost to you.