Uh oh.
After an eighth straight loss to Purdue, a product that generally looks unimproved, and a schedule that looks impossible, the mob is howling.
The last time IU was this consistently bad against Purdue, legendary coach John Wooden was playing for the Boilermakers under a coach named Piggy.  Peach baskets may or may not have been involved.  While the fan base has generally been patient with head coach Archie Miller, he now definitively has a Jim Harbaugh problem — he can't beat his rival to an embarrassing degree.
And with a remaining slate that entails 14 straight against KenPom top-61 teams, the worst of which already beat IU, well, where we end up in March is a troubling thought right now.
Indiana (8-6, 3-4) will have a week off to try to figure something out.  After its road trip to Michigan State was canceled, the Hoosiers will travel to Iowa next Thursday.
OVERALL (D+ / C-)
On paper, Purdue was not good enough to lose to at home by 12 points.  Vegas liked IU by three.  KenPom.com liked IU by three.  But reality isn't smiling on these Hoosiers.
As we've seen in recent years, while the Purdue program is trending favorably at the right time in an established culture, Indiana is seemingly floundering.
In a series where everything gets magnified, the optics are not good.  Purdue was the tougher team, the more confident team, and in the end, the more deserving team.
Unable to find Purdue's shooters, IU fell behind 29-17, not helped by Trayce Jackson-Davis' two early fouls.  Things improved on the defensive end led by Armaan Franklin's effort, but then a second half offensive slump kept Indiana from getting out of the hole they created.  That is just who this team is — flawed enough that its shortcomings make it nearly impossible to sustain success, both in games and over stretches during a season.
When you watch Purdue freshmen step into shots confidently, while Indiana's upperclassmen continue to be erratic, you suddenly realize where we are.  Whether personnel, culture, scheme, or really, you name it — this Indiana program is nowhere near where it can or should be four years into a coaching regime.
OFFENSE (C)
Miller almost seemed to waive the white flag in his post-game comments about the offense.
Put the defense on its heels?  Nope.  Wear down the defense with precision execution?  Nope.  Instead?
"Offense is hard," Miller said.  "Sometimes you are not going to shoot the ball well. We shot 3-for-18 from three, they shot 11-for-17 from three. They went 20-for-31 from the line, we went 16-of-29. We missed 13 free-throws, missed a few pairs went 3-for-18 from three."
At times it seems like Miller believes the only surefire way to win is via near flawless defense.
Indiana got good looks from long range.  Most of the 15 3-pointers they missed were open shots.  That's not on Miller.  But that we are still here, talking about that exact same issue four years into his tenure is.
The Hoosiers were surprisingly effective in the paint for much of this game.  Jackson-Davis was good on the block for the first 30 minutes, often attacking before the help arrived.  But Purdue's post doubles in the final ten minutes were much more effective.  In the decisive ten minute stretch in the second half, Jackson-Davis only scored one field goal — and no one else stepped up.  IU went more than five minutes without a basket and fell behind by 11 points with five minutes remaining.
The Hoosiers took care of the ball, committing just nine turnovers.  But almost no amount of ball security can make up for the abysmal shooting numbers from long range and the stripe that Miller referenced.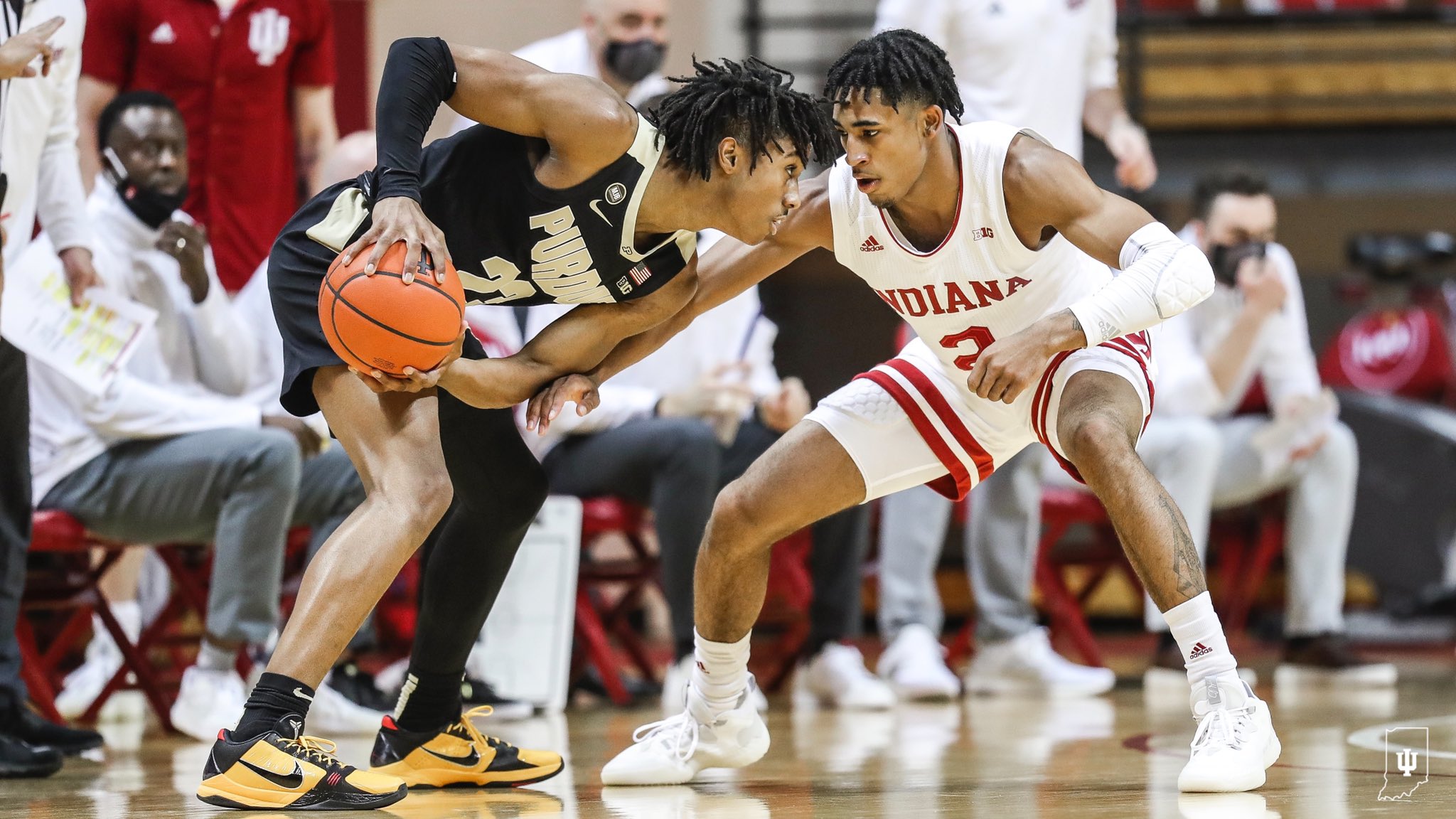 DEFENSE (D)
Purdue is very good at cutting and moving the basketball, and if you let them do it with minimal disruption they will make you pay.
Early in the game, Indiana got caught up in screens, was late to close out and sucked in by penetration.  Shooters that had to be run off the line weren't.
"They got too comfortable once they got going," Miller said.  "Bottom line is that they were too comfortable the rest of the game. They played easy."
Purdue started the game 6-of-7 from behind the 3-point line and finished 11-of-17 as timely 3-pointers stifled Indiana rallies on several occasions.  Indiana's pack-line defense is designed to force contested 3-pointers, but the Hoosiers weren't aggressive enough recovering to the ball.  And that has been a concerning theme.
"As you look at it recently the 3-point line has been something that we have struggled to guard since the beginning of January," Miller said.
IU has allowed teams to convert on 41.2 percent of attempts from beyond the arc going back to the Butler game.  For context, only one high major team in the country is allowing greater than 40 percent on the season as a whole.
It wasn't just the 3-point line.  Indiana was bad on baseline out-of-bounds plays, and generally weak on the ball save for an eight minute stretch before the half.
"To be honest, they could have done whatever they wanted offensively because we had no answer other than the last eight minutes of the first half," Miller said.  "I thought our ball pressure went up (at the end of the first half) and we had some deflections. Started to get back in the game that way."
IU forced 14 turnovers, but Purdue shot 53.2 percent for the game, and with 11 makes from long range the Boilers were able to post 1.15 points per possession.  That was IU's worst defensive effort of the season.
---
OTHER GAME COVERAGE
---
THE PLAYERS
Trayce Jackson-Davis (C)  Yes, he had 25 points, but Jackson-Davis was taken away on the boards by Purdue, and taken away overall in the closing stretch as he struggled against double teams.  He had both a second half lane violation, and was beat on a missed block out on another free throw.  Bad reaching fouls contributed to him only playing 27 minutes, and seven missed free throws is a problem.
Armaan Franklin (B-)  Skying for defensive rebounds, pushing the tempo, aggressively guarding the ball — at times it looked like Franklin was the only guard that truly came to play.  And that is really saying something considering it was his first game back off an ankle injury.  Franklin understandably struggled to find an offensive rhythym, but he was good on the attack and central to IU's limited bright moments on defense.
Race Thompson (B+ / Player of the game) Thompson might be the only player on this team that truly understands what it takes to win in the Big Ten.  But he can only do so much.  Thompson was tough throughout guarding bigger players, made good passes, and had several hustle plays.  On the downside he also missed five free throws.
Al Durham (D-) Durham has never looked comfortable or confident against Purdue's ball pressure and quickness, and he might end up 0-for-his career against the Boilermakers.  The strong dribble drives weren't there, nor was his jump shot.  And IU's defense was at its worst with the senior guard on the floor.
Rob Phinisee (C)  Phinisee was really good getting into the lane early but foul trouble took him away in the second half.  Phinisee has reached four fouls in five games, and he only took one shot in eight minutes after the break.  He could be seen icing his knee when out of the game, a clue to his overall health.
Trey Galloway (C)  The effort was there as was some sharp passing.  But as long as he is unable to make perimeter shots, Galloway's overall effectiveness will be limited.
Jerome Hunter (C-) His presence on the floor continues to be a trade off.  There were two made 3s, but a missed block out and defensive lapses gave away buckets on the other end.  And Hunter wasn't a presence on the boards in this one.
Anthony Leal and Khristian Lander also saw action in the game.
Player of the game tracker:  Jackson-Davis (6), Thompson (3), Franklin (2), Phinisee (2), Durham (1).
Note:  Joey Brunk had back surgery and continues to be on an uncertain timeline.
---
Find us on Facebook:  thedailyhoosier
The Daily Hoosier –"Where Indiana fans assemble when they're not at Assembly"
Seven ways to support completely free IU coverage at no additional cost to you.