The IU basketball program formally introduced new assistant coach Kenya Hunter today.
The program broke some news in its announcement when it clarified that Hunter will be a co-associate head coach along with fellow assistant Tom Ostrom.
Statements from both head coach Archie Miller and Hunter are below.  Hunter's background prior to arriving in Bloomington is further below.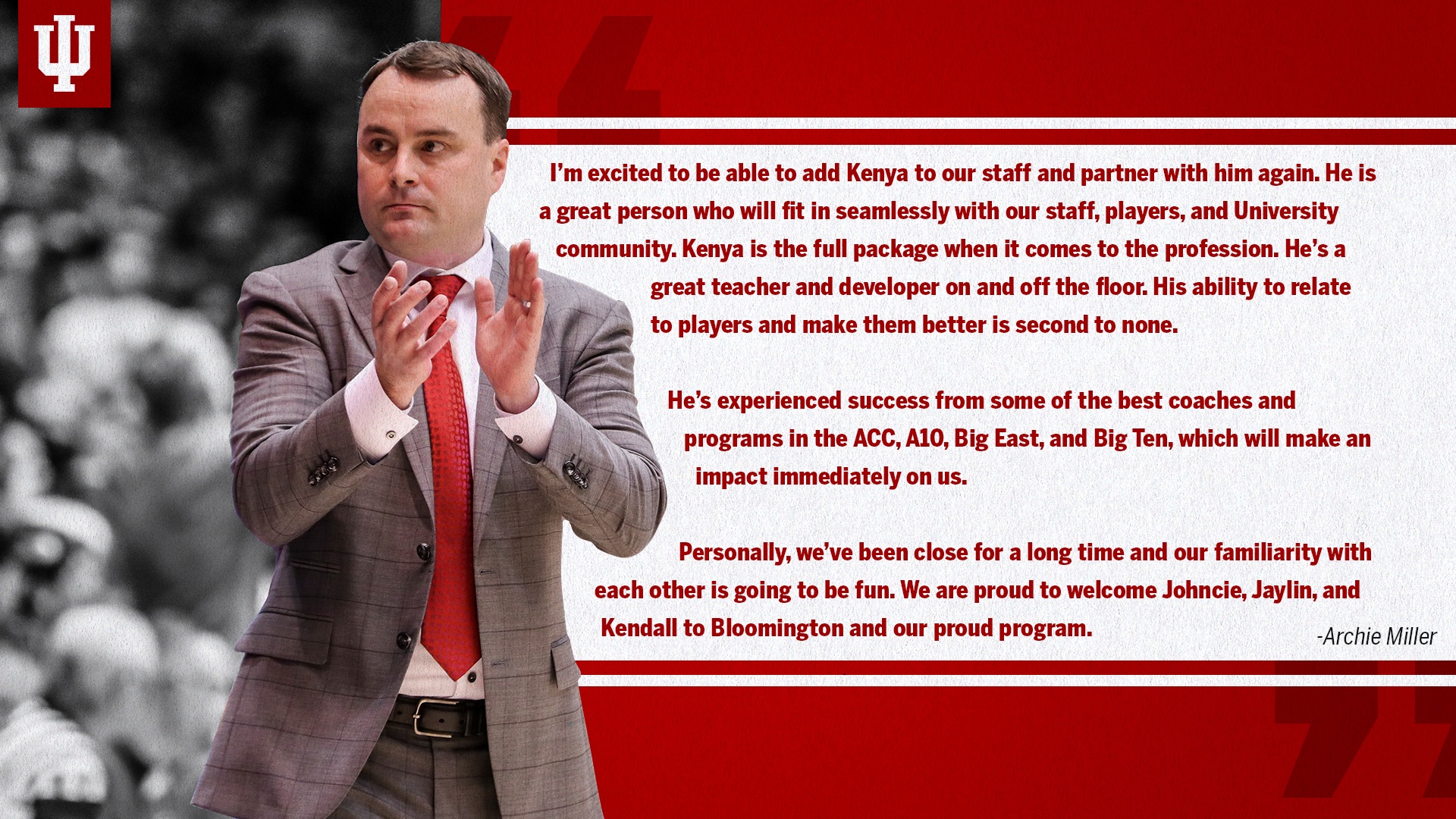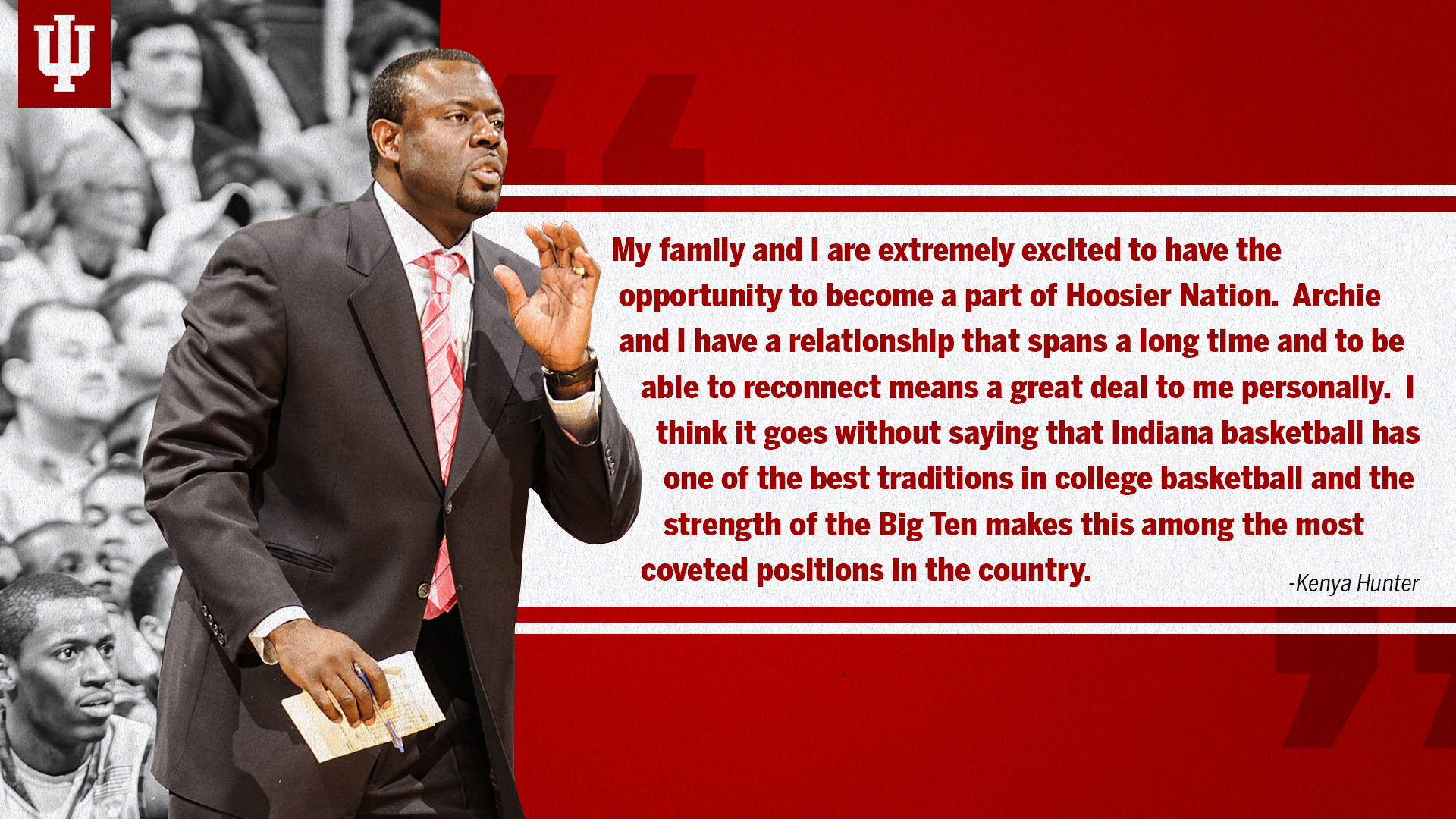 Hunter arrives at IU after two seasons at UConn under head coach Dan Hurley.  He was on the opposing bench when Indiana defeated the Huskies at the Jimmy V Classic in December.
Hunter worked primarily with UConn's big men during his time in Storrs.  He helped sophomore center Josh Carlton earn the American Athletic Conference Most Improved Player Award for 2018-19, and developed freshman Akok Akok into one of the nation's leading shot blockers last season.
Hunter has experience in the Big Ten, coaching under Tim Miles at Nebraska from 2013 to 2018.  His stint in Lincoln followed extensive coaching experiences at Georgetown, Xavier and Duquesne, as well as basketball administrative experience at North Carolina State.
The stop at Xavier coincided with Archie Miller's brother Sean's time there,.  Hunter's time at N.C. State as the director of basketball operations was at the same time when Archie Miller was a player for the Wolfpack.  Hunter also coached AAU basketball in Pittsburgh with the Miller family.
As a player, Hunter was a four-year point guard at Duquesne in Pittsburgh.
Hunter finished his playing career ranked third on the Dukes' all-time assist list (439). He tallied 971 points and 218 steals while shooting 74.4 percent from the free throw line and 35.1 percent from the three-point arc. After starting 93 of his 103 career games for the Dukes, Hunter was a two-time recipient of the Sihugo Green Award, presented annually to Duquesne's top upperclassman. He was also a three-year captain.
A native of Arlington, Va., Hunter's roots and extensive coaching ties to the east coast will help fill the void left by Bruiser Flint.  He has already helped Indiana connect to several top targets including Hunter Sallis and Rodney Rice.
HUNTER'S COACHING TIMELINE
(assistant coach unless otherwise noted)
UConn:  2018 to 2020
Nebraska:  2013 to 2018
Georgetown: 2007 to 2013
Xavier: 2004 to 2007
N.C. State:  2000 to 2004 (Director of Basketball operations)
Duquesne:  1998 to 2000
---
Find us on Facebook:  thedailyhoosier

The Daily Hoosier –"Where Indiana fans assemble when they're not at Assembly"
Seven ways to support completely free IU coverage at no additional cost to you.