New Indiana basketball head coach Mike Woodson laid out his vision for the future of the program at his introductory press conference on Monday morning.
Here are some of the more noteworthy items from the session.
You can watch a video of the press conference and read the full transcript HERE.  Stay tuned for more coverage of the hiring of Mike Woodson from The Daily Hoosier.
See also:  Former players giddy about Woodson | Duncomb happy with hire, Gunn wants to meet new coach
---
THE DAY STARTS WITH KNIGHT
Woodson was a star player under legendary Indiana head coach Bob Knight.  In an act of great reverence for his former coach, Woodson opened with remarks on Knight.
"Coach Bob Knight who means so much to Indiana Basketball, and he took a chance on a kid out of Indianapolis many years ago to come here and play basketball," Woodson said.
"And it was a journey for Mike Woodson. And coming to Indiana University to play basketball, he taught me how to play the game of basketball from a fundamental standpoint. He taught me how to be a man on and off the floor. And that was huge for me coming out of the inner cities of Indianapolis.
"So I pay tribute to Coach Knight in the utmost way because Indiana Basketball will always be Bob Knight. Will always be. It was great he came back in February a year ago and all the ex-players that surrounded him, the fans, it was a beautiful, beautiful thing. So Karen, Coach, I love you guys and for me this is a complete circle."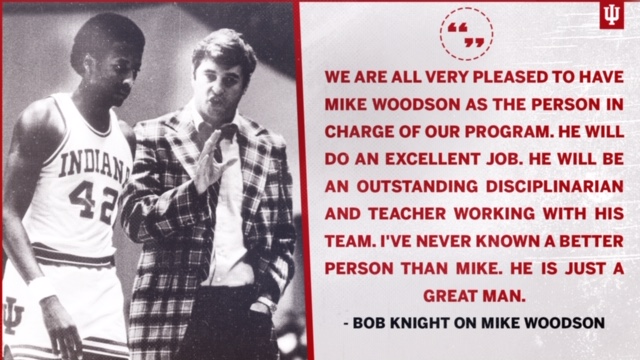 THE PLAYERS AND THE CULTURE
Woodson arrives at Indiana with six players in the transfer portal and others who are uncertain about whether they will return to the program for the 2021-22 season.  The new head coach held his first team meeting on Sunday evening, and he described his vision for the program.
"I spoke to the guys last night, and I think they understand who Coach Woodson is early on because I've told them that this whole program is going to be about family," Woodson said.
"And being about family, there's a lot of things that comes with that. You know, they are looking for me to get them where they need to go, and I'm looking at them to get Indiana Basketball where it needs to go, and that's going to be huge because I'm a coach that push and grab and I try to get the most out of my players. And that word "accountability" is so important when you look at players and you talk about coaching."
Woodson is scheduling meetings with each player on Monday to find out where they stand as it relates to moving forward with the program or moving on.
"I'm going to meet with each player individually today and see where their heart and mind are and talk about moving this program in the right direction, and that's getting it back on top," he said.  "That's why I'm here. I'm excited about being here.
"Moving forward, we have a few players that have entered the portal, players that I think can help us win basketball game games next season.
"But again they have got to make the final decision on what they want to do, but there's no better place in the country to play basketball I think. That's what I'm going to relay to them and let them know that I'm in their corner, that we're family. I'm always going to have an open-door policy where they can come in and talk to coach Woodson. I've never strayed from that over the years. There's a lot that I have to do once I leave this press conference in terms of sitting down with each individual player and having a pow-wow with them and see where their heart is."
It is an interesting time for Woodson to take over the program.  All of the players are eligible to return due to the NCAA's grant of an extra season of eligibility.  Moreover, with the NCAA's expected implementation of a one-time transfer rule, it is expected that any player who decides to leave or join the program via the transfer portal will not have to sit out a season.
Woodson is prepared to find fresh talent from the outside if the circumstances require it.
"But if not, then I've got to go to Plan B and probably go in the portal and try to find players that I think fits the system that can help us win basketball games here," he said.
DOLSON'S THREE REASONS
In his opening remarks, AD Scott Dolson outline his three primary reasons for hiring Woodson to be Indiana's 30th men's head basketball coach.
"The first thing is, is that I feel that Coach Woodson was a perfect fit as a person, and I'm talking — I've talked to the people — the people I talked to had no idea who I was leaning towards, who was in the mix, not — but I'm talking about people all across basketball, all across, to a person, they said there's no better person than Mike Woodson as a person and had a meant a lot," Dolson said.  "I had someone I really, really respect in basketball say to me, we need someone that's a normal person, we need him to fit in and collaborate and be part of a team. I can't tell you how many people told me how many people told me about Mike and what Mike stood for.
"The second thing is Mike is known as a visionary. Mike is an X's and O's guy. Mike in the NBA and circles of people at the highest level that I talked to talked about his visionary pick-and-roll defense that started in Atlanta that became the normal way for defenses to play moving forward; for his visionary offense, his one-in and four-out, and I'm talking about people not advocating for Mike and had no idea where I was in the search and who talked about there's no better mind in the NBA than Mike Woodson and it hit me as we were looking for the future, that was very important.
"The final piece, obviously the most important, I wanted a partner who shared the same vision and passion and plan moving forward, because I think it's all about the plan. It was clear that Mike was the right choice. He checked those boxes among all others."
EARLY THOUGHTS ON ASSEMBLING A COACHING STAFF
Most believe Woodson's decisions as he forms a staff will be critical to help him bridge the gap between the NBA and college game.  While he did not name anyone on Monday, he has a list of candidates ready.
"I have staff people in mind and I will sit down with Scott and Thad (Matta) and assess some of the coaches," Woodson said.  "I'm getting all kind of calls from friends and coaches that want to come and help me, and I have my list of coaches that I think can help me.
"So we will collaborate together and figure out what's good for Mike Woodson and the Indiana University program moving forward.
Two possible candidates are holdovers from Archie Miller's staff.  Both Kenya Hunter and Mike Roberts remained with the program and have been actively recruiting for Indiana since Miller was fired.
THE COMPLETE WOODSON BIO (via IU Athletics)
As head coach of the New York Knicks, Woodson guided his 2012-13 Atlantic Division Champions to their first appearance in the Eastern Conference semifinals since 2000 and finished his tenure as New York's coach with a record of 109-79 (.680). As an NBA head coach with Atlanta (2004-2010) and New York (2011-2014), Woodson saw his teams compile two 50-plus win seasons including a personal high of 54 victories during the 2012-13 season with the Knicks. Woodson joined the Knicks staff following six seasons as head coach of the Hawks, where he guided the Hawks to the NBA Playoffs in each of his last three seasons (including 2007-08, ending Atlanta's eight-year Playoff drought), and into the Eastern Conference Semifinals in his last two seasons. In the Playoffs, he piloted the Hawks to back-to-back Game 7 wins in the first round over Miami in 2009 and Milwaukee in 2010.
Before joining the Hawks, Woodson served for one season (2003-04) as an assistant coach with the Detroit Pistons, where he earned an NBA Championship ring as one of the chief architects behind Detroit's suffocating defense that helped lift the Pistons to the 2004 NBA title. Prior to his six years at the helm of the Hawks, Woodson logged eight seasons as an assistant coach with Milwaukee (1996-97 through 1998-99), Cleveland (1999-2000 through 2000-01), Philadelphia (2001-02 through 2002-03) and Detroit (2003-04).
Among the All-Stars he's mentored are Ray Allen (Milwaukee Bucks), Kenny Anderson (Atlanta Hawks), Carmelo Anthony (New York Knicks), Chauncey Billups (Detroit Pistons), Sam Cassell (Milwaukee Bucks), Derrick Coleman (Philadelphia 76ers), Baron Davis (New York Knicks), Blake Griffin (Los Angeles Clippers), Richard Hamilton (Detroit Pistons), Al Horford (Atlanta Hawks), Allen Iverson (Philadelphia 76ers), Joe Johnson (Atlanta Hawks), DeAndre Jordan (Los Angeles Clippers), Shawn Kemp (Cleveland Cavaliers), Jason Kidd (New York Knicks), Kenyon Martin (New York Knicks), Dikembe Mutombo (Philadelphia 76ers), Chris Paul (Los Angeles Clippers), Paul Pierce (Los Angeles Clippers), Julius Randle (New York Knicks), Glenn Robinson (Milwaukee Bucks), Derrick Rose (New York Knicks), Amar'e Stoudemire (New York Knicks),  Antoine Walker (Atlanta Hawks), Ben Wallace (Detroit Pistons) and Rasheed Wallace (Detroit Pistons, New York Knicks).
As an assistant, he has worked for greats such as Chris Ford (Bucks), George Karl (Bucks), Larry Brown (76ers and Pistons), Mike D'Antoni (Knicks), Doc Rivers (Clippers), and Tom Thibodeau (Knicks).
The Knicks selected Woodson with the 12th pick of the 1980 NBA Draft and he enjoyed an 11-year NBA playing career, averaging 14.0 points over 786 games for the Knicks (1980-81), New Jersey (1981-82), Kansas City/Sacramento (1981-82 through 1985-86), the LA Clippers (1986-87 through 1987-88), Houston (1988-89 through 1990-91) and Cleveland (1990-91). He scored a career-high 18.2 ppg with Kansas City in 1982-83. He also averaged 12.2 points in 13 career Playoff games over five post-seasons. Woodson's NBA playing career began in 1980-81, when he averaged 4.7 points over 11.7 minutes in 81 contests with the Knicks.
He had the honor of playing for some of the most decorated coaches in league history including Red Holzman (Knicks) Larry Brown (Nets) Cotton Fitzsimmons (Kings); Gene Shue (Clippers), Don Chaney (Clippers and Rockets).
Woodson As A Hoosier
Woodson played 104 games for the Hoosiers after graduating in 1976 from Broad Ripple High School and is the fifth all-time leading scorer with 2,061 points and his 19.8 points per game average is tied (Calbert Cheaney) for the second highest by a Hoosier who played four seasons in college.  He averaged 21.0 points during his junior season and helped lead Indiana to an NIT Championship.  Woodson captained the USA's Pan American Games team to a gold medal during the summer prior to his senior year and was all set to have a perfect season with the Hoosiers who were ranked No. 1 in the preseason of the 1979-80 campaign.  After five games, Woodson suffered a herniated disc in his back and had to undergo surgery.  Upon losing Woodson, the Hoosiers went 7-5 in the Big Ten until he returned to spark Indiana back into action.  IU finished the conference season with six straight victories and won the Big Ten title.  Woodson was the MVP after playing in only six league games that season.
About Mike Woodson
The 63-year old was born on Mar. 24, 1958 in Indianapolis.  At Broad Ripple High School in Indianapolis, he averaged 28.6 points as a senior, scored 1,154 points in his career, and earned All-State honors while being a member of the Indiana All-Stars.  He was inducted into the IU Athletics Hall of Fame in 1992 and the Indiana Basketball Hall of Fame in 2010. Mike and his wife, Terri, have two daughters, Alexis and Mariah, who were volleyball players at Georgia Tech.  Alexis also played one season at IU.
| | | | | | | | |
| --- | --- | --- | --- | --- | --- | --- | --- |
| Team | Year | G | W | L | % | Finish | Postseason |
| Atlanta | 2004–05 | 82 | 13 | 69 | 0.159 | 5th in Southeast | |
| Atlanta | 2005–06 | 82 | 26 | 56 | 0.317 | 5th in Southeast | |
| Atlanta | 2006–07 | 82 | 30 | 52 | 0.366 | 5th in Southeast | |
| Atlanta | 2007–08 | 82 | 37 | 45 | 0.451 | 3rd in Southeast | |
| Atlanta | 2008–09 | 82 | 47 | 35 | 0.58 | 2nd in Southeast | Lost in Conf. Semifinals |
| Atlanta | 2009–10 | 82 | 53 | 29 | 0.646 | 2nd in Southeast | Lost in Conf. Semifinals |
| New York | 2011–12 | 24 | 18 | 6 | 0.75 | 2nd in Atlantic | Lost in First Round |
| New York | 2012–13 | 82 | 54 | 28 | 0.659 | 1st in Atlantic | Lost in Conf. Semifinals |
| New York | 2013–14 | 82 | 37 | 45 | 0.451 | 3rd in Atlantic | Missed Playoffs |
Career                                            680          315      365          463      
Postseason Record                        46            18        28            .391
Coaching Timeline
1996–1999                                 Milwaukee Bucks (assistant)
1999–2001                                 Cleveland Cavaliers (assistant)
2001–2003                                 Philadelphia 76ers (assistant)
2003–2004                                 Detroit Pistons (assistant) • 2004 NBA CHAMPIONS
2004–2010                                 Atlanta Hawks (Head)
2011–2012                                 New York Knicks (assistant)
2012–2014                                 New York Knicks (Head)
2014–2018                                 Los Angeles Clippers (assistant)
2020–present                             New York Knicks (assistant)
As A Player
| | | | | |
| --- | --- | --- | --- | --- |
| Year | Team | Pts. | Reb. | Ast. |
| 1980-81 | New York Knicks | 4.7 | 1.2 | 0.9 |
| 1981-82 | New Jersey Nets/Knicks | 15.7 | 3 | 2.7 |
| 1982-83 | Kansas City Kings | 18.2 | 3.1 | 3.1 |
| 1983-84 | Kansas City Kings | 14.5 | 2.5 | 2.5 |
| 1984-85 | Kansas City Kings | 17 | 2.5 | 1.8 |
| 1985-86 | Sacramento Kings | 15.6 | 2.8 | 2.4 |
| 1986-87 | Los Angeles Clippers | 17.1 | 2.2 | 2.6 |
| 1987-88 | Los Angeles Clippers | 18 | 2.4 | 3.4 |
| 1988-89 | Houston Rockets | 12.9 | 2.4 | 2.5 |
| 1989-90 | Houston Rockets | 6.5 | 1.4 | 1.1 |
| 1990-91 | Rockets/Cleveland Cavaliers | 4.3 | 0.9 | 1 |
---
Find us on Facebook:  thedailyhoosier
The Daily Hoosier –"Where Indiana fans assemble when they're not at Assembly"
Seven ways to support completely free IU coverage at no additional cost to you.