It all came together down the stretch for Indiana on Wednesday night.
During a five minute run in the final eight minutes, Indiana got contributions from almost everyone, ran efficient offense, and locked down Minnesota defensively.  For all of their flaws, IU once again showed their resiliance, both coming off a bad loss to Ohio State, and responding to a Minnesota run that had a must win game very much in doubt.
In a matter of minutes, the Hoosiers went from the precipice of a season tanking disaster to a strong closing effort that has them close to securing an NCAA Tournament invitation.
But of course there will be no gift-wrapped wins down the stretch to secure that bid.  Indiana (12-9, 7-7) will host Michigan State at Noon ET on Saturday at Simon Skjodt Assembly Hall in Bloomington.
OVERALL (B+)
After a Brandon Johnson dunk at the 8:35 mark, this was a game very much in doubt.  But there was no uncertainty about the way Indiana played over the next five minutes.  The Hoosiers challenged shots on one end, and ran fast, efficient offense on the other.  In what seemed like the blink of eye, a 55-53 deficit turned into an insurmountable 71-57 Indiana lead.
Indiana head coach Archie Miller arrived at IU touting tough-minded defense that leads to transition offense.  But that has been easier said than done in the physical and athletic Big Ten.  At least for five minutes, Miller saw what he likely envisions as peak-Indiana basketball under his lead.
"The big stretch of this game was from the offense to the defense," Miller said.  "We were able to get some stops and were able to transition. Both Armaan Franklin and Aljami Durham hit back-to-back 3-pointers which was a big turn in the game."
Minnesota seemed determined to out-hustle, out-physical and out-work Indiana.  Bodies were on the floor, and on one occasion, IU forward Jerome Hunter and Johnson ended up in a tussle that resulted in two fouls including a flagrant on Hunter.  After the word soft hung like a cloud over the program following a blowout loss to Ohio State, Hunter believes the Golden Gophers were trying to test IU's will to compete.
"They did try to test us," Hunter said.  "I think every team from here on out is going to test us. Just because of the team they think we are. If they keep doing that, we are going to keep showing them that we are not going to be pushed around down there. We are not going to be pushed around and we are not soft down here."
Miller hasn't shied away from calling his team out publicly, and at least on this night, he saw a team that responded in the right way.
"We are trying to get our team to focus in on doing more of the little things," Miller said.  "The little things matter. I thought we made the little plays tonight that were needed. The key plays, tie-ups on the floor. Jerome got on the floor two or three times. We had a couple great defensive rebounds by guards late. Our offense is part of toughness as well. You are tough with it. You drive it hard. You don't get the ball stripped from you. You make a good pass. You go to the line. You step in and make two. Our physical toughness, our physical size to me is in question. Our attitude and the way we approach things as a group is not. This team worked really hard coming into this game, coming off of this last week on the road. They are going to come back tomorrow and be ready to go. That is what this team has a chance to continue to keep being good at the right time."
OFFENSE (A-)
Indiana had some built-in advantages in this one.  Minnesota was down its best perimeter defender in Gabe Kalscheur, who was unavailable with a hand injury, and their best frontcourt defender, Liam Robbins, was far less than 100 percent with a bad ankle.  And the Golden Gophers already were not anything resembling an elite defense.
So this was a game where Indiana's offense needed to shine.  It was by no means a flawless effort, as IU's 17 turnovers can clearly attest.  But despite the miscues, the Hoosiers' 1.21 points per possession were a season-best, as was the team's 57.8 percent effort from the field.
IU moved the ball well and took good shots.  When they weren't giving the ball away, Indiana's possessions were about as good as you could ask for.
"Offensively we were pretty efficient when we did not turn it over and we got some good shots," Miller said.  "We made some shots tonight which was good. We were able to make free throws again at the end of the game to keep our cushion."
For a team that is often thought of as a poor-shooting, IU made 7 of 12 shots from 3-point range and 23-of-30 from the free throw line.
While the turnover total was much too high, Indiana did produce 15 assists on their 26 made field goals.
"I thought in the first half we got too stagnant. In the second half we committed to moving the ball more. I thought our guards did a good job of the reads and I thought our big guys did a good job of making the second read," Miller said.
"We were able to get the ball hopping a little bit," he continued.  "That is what we have to do as a team. Right now, our biggest thing is turnovers. We went a month and some change without turning it over and right now we are turning it over way too much."
The Hoosiers were balanced, with five in double figures, 42 frontcourt points, and 40 backcourt points.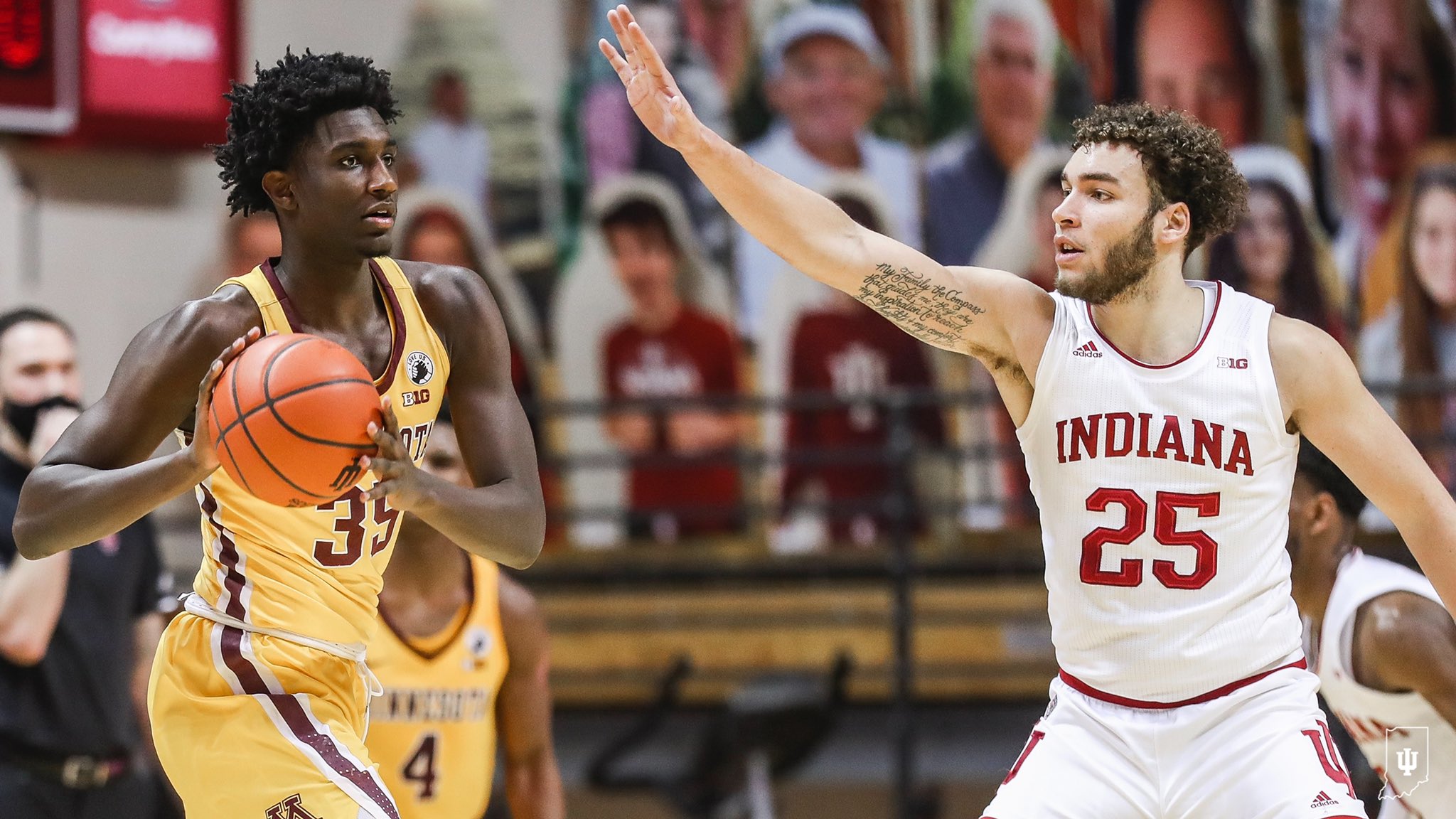 DEFENSE (B-)
Minnesota was gashing IU's pack-line with dribble penetration in the first half.  The guard trio of Marcus Carr, Tre Williams and Jamal Mashburn combined for 30 points before the break and each only made one 3-pointer as part of that effort.  But the Hoosiers were able to slow down the Golden Gophers' persistent rim attacks if not completely stop them in the second segment.  And while IU was focused on helping against straight-line drives, they still managed to hold Minnesota to an 0 of 9 effort from behind the arc after halftime.
"Their perimeter guys did a really good job for them," Miller said.  "They are hard to contain off the bounce.  I didn't think we were very good in one-on-one situations most of the night. They were hard to guard off the bounce. I thought when it mattered the most tonight we started to get some key stops."
Indiana senior guard Al Durham saw his teammates step up to the challenge in crunch time.
"I feel like we were spread out most of the game, but in the last couple of minutes we finally locked in. We strung a couple of stops together and it led to our offense. It led to that gap that we made at the end of the game."
IU held Minnesota without a field goal from the 8:35 mark of the second half to the 2:51 mark.  And by then, the game was over.  Likely first-team All-Big Ten performer Carr had just one point in the second half until he scored with 2:10 left in the contest.
Minnesota shot just 40 percent for the game, but because they only committed eight turnovers and they crashed the offensive glass, the Golden Gophers scored 1.06 points per possession.  That is more than IU allowed in five of its losses.
---
MORE GAME COVERAGE
---
THE PLAYERS
Trayce Jackson-Davis (A- / player of the game) It takes a special player to respond when all of the noise is directed at how you play at the beginning of games.  Jackson-Davis stormed out of the gates with six points in the first 3:17 and was a force throughout.  He attacked more quickly on the block, ran the floor, and TJD was much improved reading double teams and passing out of the post.
Armaan Franklin (B+) Franklin is now above 45 percent from 3-point range on the season and has become the reliable perimeter shooter IU has needed.  His six rebounds and four assists were also big in this one, including a couple nifty passes to Jackson-Davis down the stretch.  Like his backcourt mates, Franklin struggled at times guarding dribble drives.
Race Thompson (B) Thompson is on a run of quieter games, at least statistically.  While his stat line isn't eye-catching, don't underestimate Thompson's ability to draw fouls.  And his post passing continues to be a positive.  Thompson started 5 of 6 at the line but finished 6 of 10 overall for the game.
Al Durham (B) Durham is on a really good run shooting the ball, and he has quietly excelled at reading and cutting as he runs his man through screens off the ball.  But he had four turnovers, and on the other end Durham struggled guarding the ball.
Rob Phinisee (B+) Phinisee didn't make a perimeter shot the entire game — and that was both the good news and bad news.  Peak Phinisee is attacking off the bounce, creating for himself and teammates, and playing high end defense.  He did all that despite four turnovers, and he shut down Carr in the second half.  A more reliable jump shot would be the icing on the cake.
Jerome Hunter (A-) Hunter is picking up technical and flagrant fouls, but in a strange way, that is okay.  An angry Hunter seems like a better Hunter. "Jerome is playing well and he is playing hard. He is playing very physical," Miller said.  As 16 points in 19 minutes indicates, Hunter can score like a cold-blooded assassin if his mind is right.
Khristian Lander (C) Lander made some good passes, struggled with his shot, and saw mixed results defensively.  That is just kind of where we are right now.
Trey Galloway (B-) Galloway is so good on the dribble drive that he can make something out of nothing, but he is passing up wide open shots.  Perhaps his back is improving, because he moved better in this one on both ends.
Jordan Geronimo also played in the game.
Player of the game tracker:  Jackson-Davis (8), Thompson (5), Phinisee (3), Franklin (3), Durham (2).
Player Notes:  Joey Brunk had back surgery and continues to be on an uncertain timeline.  Transfer Parker Stewart was at the game but on an uncertain timeline.
---
Find us on Facebook:  thedailyhoosier
The Daily Hoosier –"Where Indiana fans assemble when they're not at Assembly"
Seven ways to support completely free IU coverage at no additional cost to you.