After a dominant start on Saturday afternoon in Bloomington, it was difficult to imagine how Michigan State would survive against Indiana.  Now it is difficult to imagine how Indiana will survive Selection Sunday.
The Hoosiers dropped one they couldn't afford to lose and put their postseason hopes in serious jeopardy with just four games remaining in the regular season.
For weeks the question has been — how can Indiana start faster?  Against the Spartans IU figured out the beginning part, but sprung a new leak at the end.  Now Indiana will once again try to patch things up and find answers on their seemingly never ending journey to find a complete game.
Indiana (12-10, 7-8) will travel to Rutgers for an 8 p.m. tip on Wednesday night in Piscataway, N.J.
OVERALL (D+)
As the game went to a timeout with Indiana leading 19-8 at the 9:25 mark of the first half, an IU win seemed like a foregone conclusion, with only the final margin in question.
Although MSU rallied, an IU win still seemed almost certain in the second half.  The Hoosiers stretched their lead back out to 48-39 with 12:59 remaining.  And then it happened.  A scoring barrage by Aaron Henry, Josh Langford and Gabe Brown decimated Indiana's defense and allowed the Spartans to run away with it.
Did Indiana let up and lose focus?  12 Michigan State offensive rebounds and seven Indiana second half turnovers would seem to indicate — yes and yes.
Indiana had their moments of high level play, but Michigan State had the adjustments and the mental fortitude to stick with it and find a way.
"We did not control either end in the second half and it is a hard one to take," Indiana coach Archie Miller said.
In the decisive second half stretch, Michigan State outscored IU 31-10 in a just under eight minute span that began with an Aaron Henry jump shot at the 12:33 mark.
"I would say the second half of the second half was not good for us on both ends of the court," Miller said.
OFFENSE (C-)
If you thought the only way to slow down Indiana's offense was via a never ending wave of post traps and double teams, you were mistaken.
Although they showed help at times and tried to dig the ball out on occasion, for the most part Michigan State attempted to contend with Trayce Jackson-Davis one-on-one despite not really having the personnel to take on such a task.  That led to a career high 34 points for Jackson-Davis, and his frontcourt mate Race Thompson added 15.  But no one else really produced.
"We played inside out and when the ball came out, especially in the first half, we missed some open ones," Miller said.  In the second half it came down to our inability to capitalize in transition and also capitalize on the inside out game. We shot 4 for 19 from the three today. Armaan Franklin made three of them and Jerome Hunter made one early. Other than that, there was not much perimeter shooting at all."
Indiana shot the ball well in the second half, making 15 of 27 shots overall including 13 of 18 2-pointers.  But seven IU turnovers in just over ten minutes, from the 16:59 mark of the second half to the 6:14 mark, helped thwart the Hoosiers' strong start out of the halftime gates and then ultimately fuel the MSU rally.
"I thought our second half offense was bad after the first five minutes," Miller said.  "We had seven turnovers and all seven were tough and bad plays. We took all the sprit and momentum away from ourselves."
Part of Michigan State's calculation in guarding Jackson-Davis one-on-one was because they liked their chances against Indiana's guards.  If the ball didn't enter the post, there was really nothing happening.
Beyond Armaan Franklin, the IU guards were unable to get past their man on the bounce.  And as a collective group the Hoosier backcourt shot 5 of 23 on the day.
The net sum was 1.03 points per possession.  Indiana has won games with less scoring per trip, but this was by no means anything special.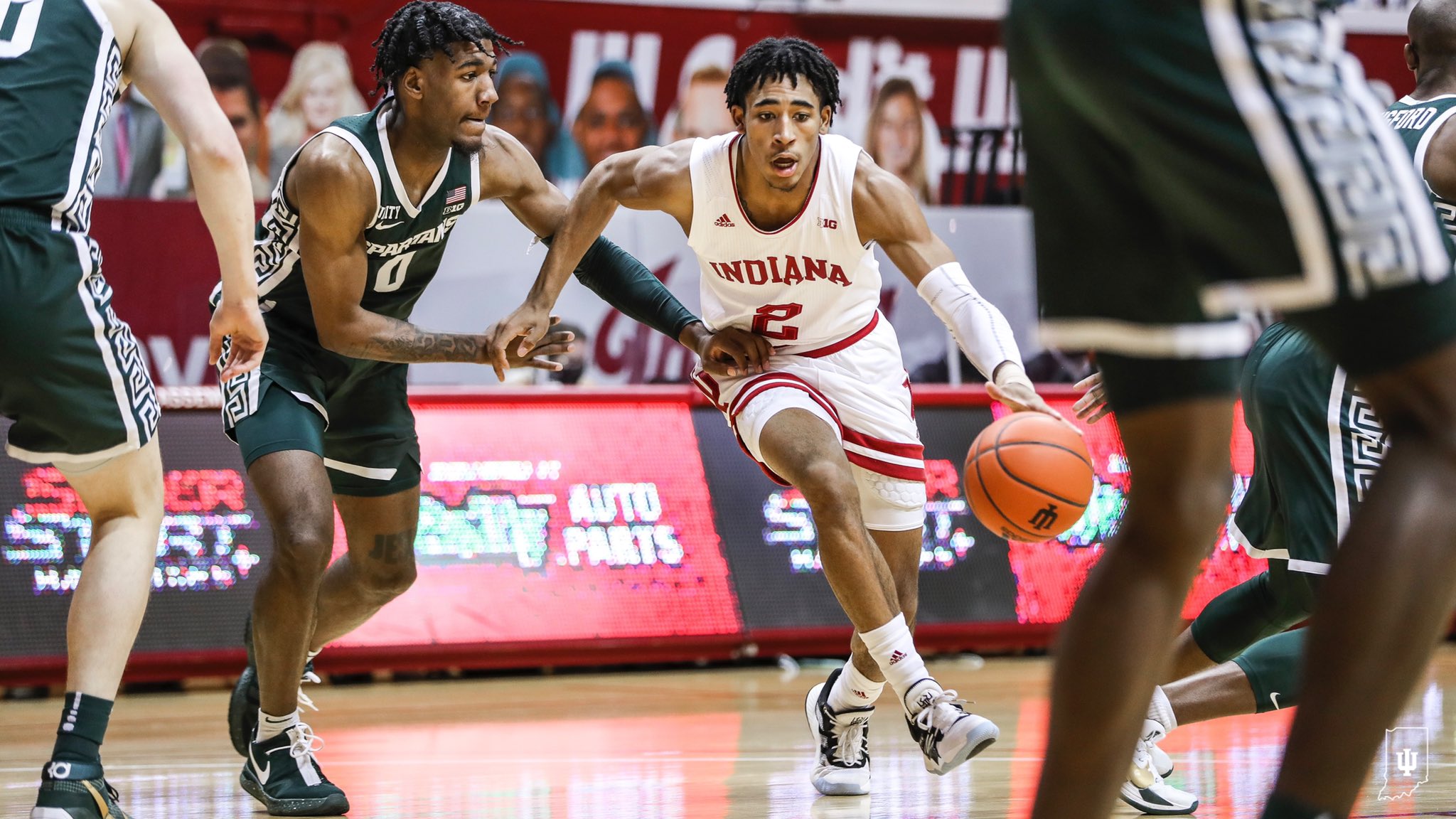 DEFENSE (D)
There was no way to sugarcoat what happened in this second half.
"I really look at the second half as being a complete bust on defense, very disappointing there," Miller said. "To give up 52 after you only gave up 26 in the first half."
Michigan State picked apart Indiana's defense in a number of different ways.  Slips to the rim off of high ball screens, isolation for Aaron Henry, diagonal passes for corner 3s.  The Spartans played four out and turned Race Thompson into a perimeter defender, something that they were able to take advantage of at times, especially after switches.  The Spartans were also able to put IU back on its heels in transition.
"Whether it was transition rebounding or guarding the ball screen," Miller said.  "I think we let Michigan State continue to build confidence throughout the game and as they hung around.  We knew today was going to be hard and I am disappointed in our team's ability to defend in the second half. 26 points given up in the first half, lot of deflected balls and guys playing hard. Then in the second half we gave up 52 points and 55 percent from the floor."
Trayce Jackson-Davis tried to explain what led to a barrage of corner 3-pointers that helped contribute to the second half onslaught.
"A few times in our rotations, we are supposed to be in the gap already," Jackson-Davis said.  "We are not supposed to run into the gap. So, we are running into the gap, and that was allowing them to dish it to the corners and we would have to run back out for threes. That really killed us."
Indiana allowed 1.13 points per possession, their fourth worst mark of the season.  The Spartans had only been higher than that once in their last nine games.
Of course the 31 points in eight minutes means IU only allowed 47 in the other 32.  But the collapse at crunch time was devastating.
---
MORE GAME COVERAGE
---
THE PLAYERS
Trayce Jackson-Davis (A- / player of the game) It would hard to ask for too much more out of Jackson-Davis, who seems to have added a soft baby hook to his scoring repertoire.  If you are looking for a nit, he did have two of the seven second half turnovers.
Armaan Franklin (B-) Franklin did his part in this one on the offensive end and didn't turn it over.  He struggled guarding Henry, but he is giving up a lot of size in that matchup.  He missed two late free throws that could have helped stem the tide.
Race Thompson (B+) Thompson put his name in the IU record books, tying the fourth highest single-game steal total with seven.  He was active and physical throughout, but Michigan State did a nice job pulling Thompson out of the paint at times.  He did a nice job on the other end scoring on the block in one-on-one matchups.
Al Durham (D-) You can look on the bright side with Durham's three assists and one turnover, but beyond that there wasn't much to feel good about in this one on either end of the floor.
Rob Phinisee (F) Once again Phinisee followed a good performance with a bad one. And this might have been one of his worst. If there is any saving grace, Indiana really doesn't have another solution at point guard right now.  Perhaps Phinisee can play his way out of it.
Jerome Hunter (D) Hunter delivered an early 3-pointer but wasn't much of a factor in the game after that.
Khristian Lander (F) You have to feel for the young man right now.  His mind just isn't right at a time when he could be pushing Phinisee out of the lineup.  Lander's turnovers helped fuel the MSU rally.
Trey Galloway (D) He gave IU some good hustle plays, but Galloway isn't helping the offense right now and he was on the floor during much of the second half defensive meltdown.
Anthony Leal also appeared in the game.
Player of the game tracker:  Jackson-Davis (9), Thompson (5), Phinisee (3), Franklin (3), Durham (2).
Player Notes:  Joey Brunk had back surgery and continues to be on an uncertain timeline.  Transfer Parker Stewart was at the game but on an uncertain timeline.
---
Find us on Facebook:  thedailyhoosier
The Daily Hoosier –"Where Indiana fans assemble when they're not at Assembly"
Seven ways to support completely free IU coverage at no additional cost to you.