They are who we thought they were.  Both of them, Indiana and Michigan.
The Hoosiers toyed with the idea of making it a game a few times, but in the end it was a vastly superior Michigan squad that was toying with IU all along.
The No. 3 Wolverines asserted their dominance on both ends of the floor, and cast further doubt on Indiana's postseason hopes in the process.
The Hoosiers (12-12, 7-10) will travel to Michigan State next for an 8 p.m. ET tip on Tuesday night.
OVERALL (C-)
Michigan took the lead for good at the 13:31 mark of the first half when a 3-pointer by Isaiah Livers give them a 15-12 advantage.
Indiana made a highlight reel play to pull to within 22-21 when Race Thompson drove baseline and found a cutting Trayce Jackson-Davis for a dunk.  That was at the 8:36 mark of the first half, and by the 5:53 mark Michigan was up 32-21.  The Hoosiers would never get closer than a six point deficit, and never closer than nine in the second half.  Michigan led by 12 or more points for the final 14 minutes of the game, extending their lead to as much as 18 points late.
It was a slow, methodical, and precise death for the Hoosiers.  At times it didn't even feel like Indiana was playing poorly.  But Michigan was better, and they knew they were better.  And each time Indiana so much as hinted at a rally, the Wolverines had an answer.
"I think as you watch Michigan you may hang around for a while, but they have the ability to sustain it throughout the course of the game, and they play extremely hard," Indiana coach Archie Miller said.
Overall IU has lost four out of its last five games and continues to be a team heading in the wrong direction at the wrong time.  Their struggles are now compounded by the loss of starting guard Armaan Franklin, who is likely out for the remainder of the regular season.
The program's elder statesman had the prescription for breaking out of the late season funk.
"We have to be more fearless," senior guard Al Durham said.  "We have to come out hungrier than our opponent. We have to come out wanting it more. I feel like we need to lock in even better each day and continue to lock in and stay with the process and I feel like we will break through here soon."
OFFENSE (D)
Just about the only way Indiana was going to stay in this one was via a red hot shooting day from the perimeter, and that didn't happen.
With a seemingly never ending wave of big men bothering Jackson-Davis at the rim, Michigan's defense was effective at making Indiana's sophomore star inefficient.
"We only had 57, and a big part of that was their ability to protect the rim," Miller said.  "We had a hard time at the rim. Trayce was 3 for 12 and Race was 3 for 5.  Very difficult to stay in rhythm on offense because of their ability to switch and they're so big at the 3, 4 and 5. They really protect the rim."
Michigan switched defenses, and at times forced the ball to the sides to prevent Indiana from running high ball screen actions.  That's how Miller wanted to get his big men going since playing back-to-the basket against the Wolverines' length was a challenge.
"I thought today they mixed up their defenses, tried to take us out of rhythm in sets and made us play the game. I think when we got Trayce on the run and he's able to get some pick-and-roll game, he's able to get some more face-up opportunities, he was better at attacking the basket," Miller said.  "But tough to score with low post back-to-the-basket moves consistently against that type of size inside. And (Austin) Davis does a good job when they bring him in, too. He's very underrated."
Indiana made 3 of its first 5 3-pointers but finished the game just 1 of its last 10.  Without its best long range shooter Franklin there were just not enough weapons on the floor.
At .89 points per possession, IU ended up worse than their performance against Rutgers a few days ago and delivered their second worst average of the season.  The Hoosiers kept the turnovers down with just 11, but a 38.5 percent overall shooting effort was never going to get it done.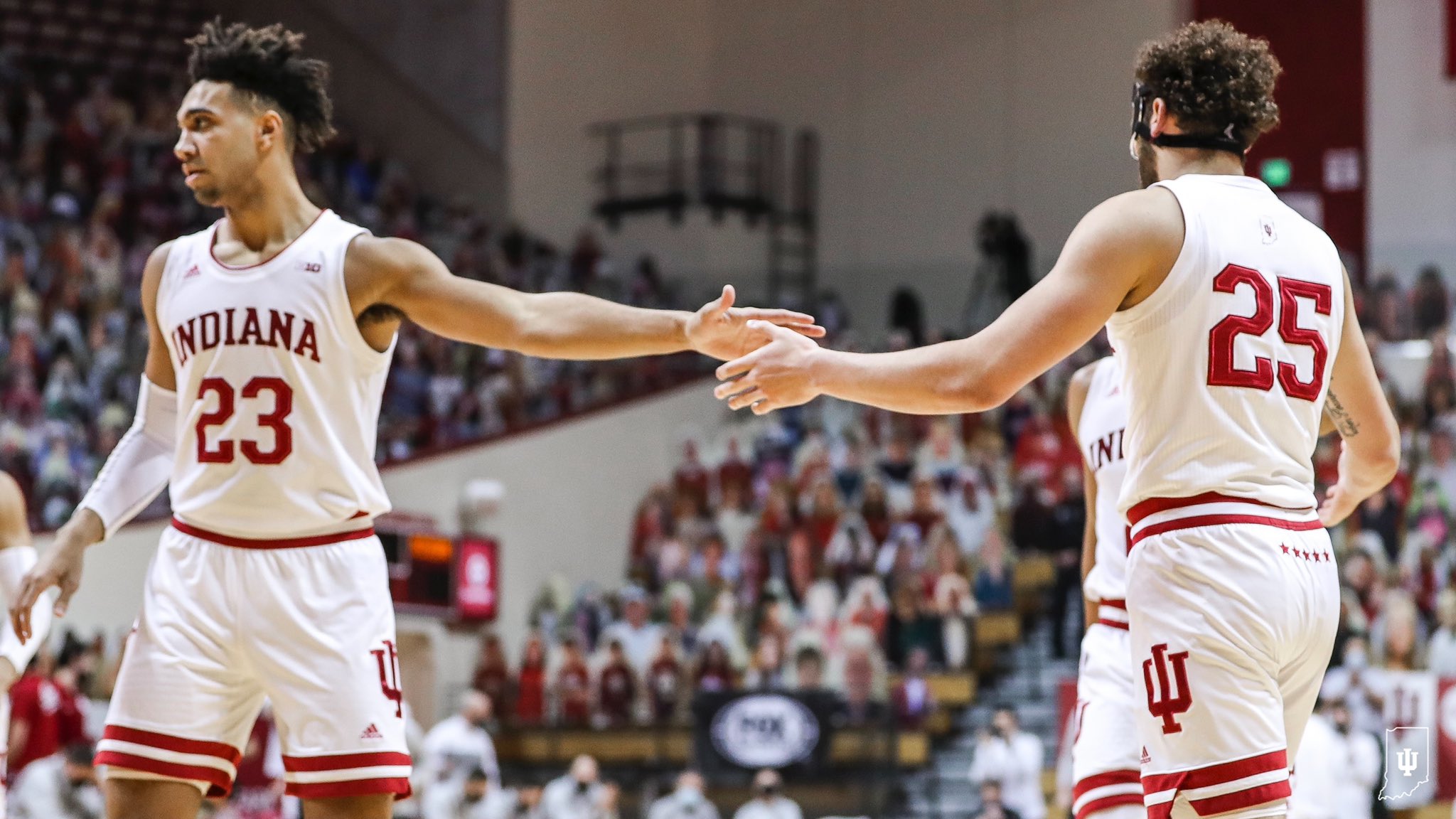 DEFENSE (C+)
Livers delivered 3-pointers on Michigan's first three possessions of the second half, giving the Wolverines a 13 point lead and highlighting a glaring issue for Indiana.  At 37 percent, IU is last in the Big Ten in 3-point field goal defense.
Miller sees a multifaceted issue that is exacerbated by teams like Michigan.  The Wolverines made 8 of 21 (38.1 percent) on the day from behind the arc.
"I think our 3-point field goal percentage defense has really suffered because of our lack of smarts, effort and communication in transition over the course of the season," he said.  "Transition defense has been our biggest problem, and when you're playing against a team like a Michigan or you're playing against some of the teams that really have four shooters out there, we've really struggled with that element. That's a big part of why.
"I think the second part of it is if you're not able to guard the ball, if you're not able to rebound it effectively and your help is late, you're not where you're supposed to be when you're supposed to be there, you're going to break down, and that's the second part of it. I don't know if some of the shots are any more challengeable at times. Sometimes you're playing against terrific players and they make shots. But no question about it, 3-point field goal percentage defense in our conference play and our defense in general in conference play has been a big letdown."
Michigan lived at the foul line in the first half, and made 16 of 18 attempts before the break.  Miller cited a lack of physicality and discipline as the causes for the excess fouling, and the free points masked what was at times a respectable effort against one of the nation's best offenses.
At 1.14 points per possession, IU actually held Michigan under their 1.2 average, and about four percentage points under their effective field goal percentage on the season coming into the game.  But Wolverine hustle plays that led to 13 fast break points and seven second chance points helped hold the Hoosiers at bay.
Michigan had one possession in the second half where they scored on their third shot, and another where they scored on their fifth.  It was backbreaking stuff for an Indiana team with no margin for error.
"To me we had one stretch in the game that really stood out, which was our lack of ability to rebound and chase down balls in the second half," Miller said.
Michigan held an overall 37-27 rebounding edge for the game.
---
MORE GAME COVERAGE
---
THE PLAYERS
Al Durham (player of the game) — Indiana's senior guard went out in style for his last home game.  Durham attacked the rim, flashed his strong midrange game, and utilized his off hand well to produce a team high 15 points on 6 of 9 shooting.  The Georgia native also passed the 1,000 point mark in the second half.  Durham also held Eli Brooks, his primary defensive assignment, to six points.
Player of the game tracker:  Jackson-Davis (9), Thompson (5), Durham (4), Phinisee (3), Franklin (3).
Player Notes:
Joey Brunk had back surgery and is out for the season but likely to return for a sixth year.
Transfer Parker Stewart is also unlikely to appear this season.
Armaan Franklin is unlikely to return during the regular season due to a new injury he suffered on Wednesday.
---
Find us on Facebook:  thedailyhoosier
The Daily Hoosier –"Where Indiana fans assemble when they're not at Assembly"
Seven ways to support completely free IU coverage at no additional cost to you.