Finish was the one word last week for the IU football team going into the Outback Bowl.  That didn't work out so well, but the IU basketball program took the idea and ran with it on Monday night in Bloomington.
IU lost its second-leading scorer during an ugly first half that likely left many looking forward to the 2021 football season.
But fueled by grit that would make Tom Allen proud, the Hoosiers found something after the break, and the result was a mission-critical win with a daunting schedule on the horizon.
Indiana (7-4, 2-2) will face Wisconsin next at 7 p.m. ET on Thursday night in Madison.
OVERALL (B)
There seems to be something a little different about this team.
When Maryland connected on a 3-pointer to go up 37-27 with 15:14 remaining in the second half, IU appeared to be in trouble.  Recent vintage Hoosier squads certainly would have hung their heads down digits with shots not falling.  But Indiana quickly responded with an 8-0 run thanks to 3-pointers by upperclassmen guards Rob Phinisee and Al Durham, who also added a driving layup.
IU went on a 33-11 run from that point, and as it turned out, the 10-point deficit it overcame is the largest come-from-behind victory of the season.
Was it a perfect performance?  Oh heck no.  And if you are expecting those, you are in for a long couple months here.
"Anytime you can get a win in this league, you got to take it," IU coach Archie Miller said after the game.  "That was a good one for us.  We will see where we go from here."
To our eyes the difference with this team is a bit more of an edge, and bit more toughness than Miller's previous IU squads.  It isn't a constant, and it isn't where it could be, but this team fights.
Sometimes basketball is simple.  Who wants it more?  That was perhaps best reflected in a 43-33 overall rebounding edge on Monday night.
"Coach says that if you get the most rebounds in the game, you win the game," IU's resident tough guy Race Thompson said after the game.  "So, at the end of the day, me and Trayce (Jackson-Davis) have got to do our job and get as many rebounds as we can throughout the game and the outcome will be what we want if we get more than the other team."
OFFENSE (C)
There are many ways to win games.  For the most part, shooting 37.3 percent from the field including 18.2 percent (4-of-22) from distance is not one of those ways.
But Indiana optimized just about everything else — low turnovers, second chance points, control of the paint — to do enough to pull out a hard fought Big Ten win.
And things certainly got better from the field after the break.  The Hoosiers shot 44.8 percent overall and made all four of its 3-pointers (4-of-13) in the second half.
IU outscored the Terrapins by a total of 36-24 in the paint, held a 12-6 edge on the offensive glass, and the Hoosiers outscored the Terps, 14-4, on second chance buckets.
"Offensively in the second half we were a much different team," Miller said.  "We were more physical around the basket. It started with Trayce. We were much more physical on the offensive glass. I know Race and Trayce really started to get after it there.
(We) only turned it over 10 times and rebounded like that, you are going to give yourself a chance to win the game when you don't shoot the threes — for us the first half was abysmal offensively in general. Second half was much different."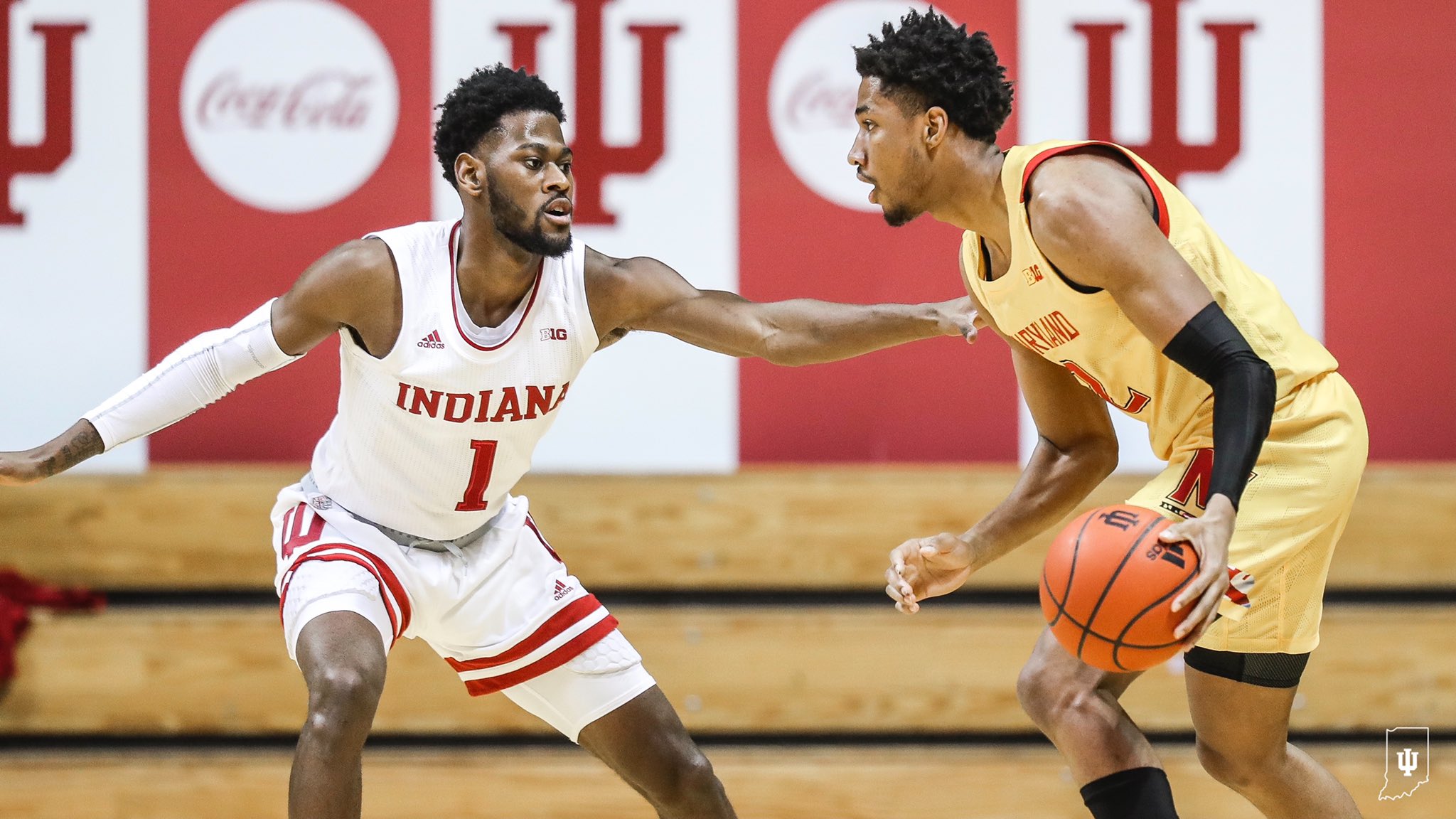 DEFENSE (A)
Maryland's offense was a major concern coming into the game according to Miller.  Especially in light of how his own team's defense had folded down the stretch in recent league contests.  The fourth-year Hoosier head coach had to be thrilled with how things turned out late in Bloomington on Monday night.
The IU defense held Maryland scoreless for 6:19 late in the second half, fueling a sudden double-digit lead over the Terrapins. During the run, Maryland went 0-for-7 from the floor and turned the ball over three times.
"We hadn't been able to close recently defensively," Miller said.  "That was a big difference tonight. We just didn't give the avalanche of points up in the last eight minutes of that game that we did in the past."
Over his last eight games, Terrapin forward Dona Scott was averaging 14.9 points and shooting 59-percent from 3-point range.  With Thompson leading the way, Scott only got up six shots and scored just seven points on Monday.
"We were very concerned coming into the game with how to defend," Miller said.  "I thought our guys did a great job for the most part of being able to contain their front court from getting good threes. Donta Scott coming into the game was fantastic. He didn't have a big scoring night. That was important. I thought we did a decent job on their guards, kind of keeping the in front."
For the game Maryland made just 38.5 percent of its shots, including just 28 percent from three-point range.  The Terrapins turned it over ten times against just eight assists.  Maryland scored only .855 points per possession, IU's best effort of the year against a high-major opponent.
For Miller, Indiana's success started away from the basket.
"Our perimeter guys for the most part did a really good job switching and the communication game where you have to do a lot of switching," Miller said.  "We switched more so than we had in the past couple of games. In this one we didn't get burned as much. I thought defensively."
The 55 points surrendered by Indiana marks the lowest against a Big Ten opponent since holding Ohio State to 54 points in a 66-54 win on Jan. 11, 2020.
---
OTHER GAME COVERAGE
---
THE PLAYERS
Trayce Jackson-Davis (A- / Player of the game) How important is Jackson-Davis?  Indiana is 13-2 in the 15 games in which he records a double-double.  He nearly did that in the second half alone, with 17 points and nine rebounds after the break.  If Jackson-Davis can find a way to play that way for 40 minutes every night IU will be difficult to beat.
Race Thompson (A-) Indiana probably doesn't close the gap without Thompson's nine point and seven rebound first half.  His defense was a constant all night, and his 5-for-5 effort at the free throw line, a quiet key.
Al Durham (B) Yes the 3-point shooting is a concern.  Durham missed wide-open looks.  But the toughness he displayed in the second half attacking the basket was an important part of IU's late burst.  Durham's relentless mentality generated six second-half free throws attempts.
Armaan Franklin (Incomplete) Franklin left the game early with an ankle injury.  After the game Miller said he is likely to miss IU's remaining two games this week.
Rob Phinisee (B) There are flashes of brilliance in Phinisee's game.  He can be very high level attacking in the half court off the dribble.  And the junior point guard was strong on the defensive end guarding the ball.  If he can bottle up that bulldog mentality and bring it for a full game Phinisee can deliver a midseason turnaround story.
Trey Galloway (C) Just an all-around tough night.  It happens for freshmen.  Galloway appeared to lose confidence with his 3-point shot, and he was unable to find the driving opportunities that have led to his early success.
Jerome Hunter (B-) There were highlights and lowlights, and that is just how it goes with Hunter.  He fouled 3-point shooters twice within just a few minutes, but also hit a three-pointer to give IU a 45-43 lead right after that sequence.  Hunter is an enigma right now, but he seems to be trending in the right direction.  IU was at their best with him on the floor in the second half.
Anthony Leal (B) The "beneficiary" of Franklin's injury, Leal was stout on the defensive end in 12 minutes.  He is going to have to find a way to pose more of a threat on the other end.  Right now, confidently stepping into 3-point shots appears to be the best bet.
Jordan Geronimo (B-) Hauled in a couple second half rebounds and gave good physical effort.  Everything Geronimo does seems to have a little bit of a "wow" factor as he skies for rebounds and elevates on his jump-shot.  His potential is undeniable, but a turnover and ill-advised 3-pointer cannot go unnoticed.
Khristian Lander also saw action in the game.
Player of the game tracker:  Jackson-Davis (5), Thompson (2), Franklin (2), Durham (1), Phinisee (1).
Note:  Joey Brunk had back surgery last week and continues to be on an uncertain timeline.
---
Find us on Facebook:  thedailyhoosier
The Daily Hoosier –"Where Indiana fans assemble when they're not at Assembly"
Seven ways to support completely free IU coverage at no additional cost to you.