IU basketball freshman guard Jalen Hood-Schifino will forgo his remaining college eligibility and enter the 2023 NBA draft, he told ESPN's Jonathan Givony and Adrian Wojnarowski on Friday morning.
The Big Ten's Freshman of the Year, Hood-Schifino averaged 13.5 points per game in his lone season in Bloomington.
Hood-Schifino is widely projected to be a first round selection in the June NBA Draft.
"From start to finish my freshman season has been nothing short of amazing," Hood-Schifino wrote in an Instagram post on Friday morning.
"To the fans and people in Bloomington, you welcomed me with open arms.  I can't thank you enough.  This is an experience I'll take with me and remember forever.  No matter where basketball takes me, I'll always be an Indiana Hoosier!"
His full Instagram post is below.
The Pittsburgh native didn't arrive as a clear first round choice, but on multiple occasions he showed he was able to deliver against top competition on a big stage.  Hood-Schifino scored 12 of Indiana's first 19 points in an early season win over North Carolina.  He scored 35 in a win at Purdue that likely sealed his place in the first round.  Four other times he scored 21 or more points, and Hood-Schifino scored in double-digits in 25 of IU's 35 games.
Hood-Schifino told ESPN the IU staff delivered on their message to him as a recruit.
"My coaches kept their word by having the ultimate trust in me as a freshman," he said.
The 6-foot-5 Hood-Schifino was pressed into the lead guard role when senior starter Xavier Johnson went down at Kansas in December.  He proved to be up to the task, delivering several big moments for the Hoosiers in the back half of the season.  He helped lead IU to a second place finish in the Big Ten and a No. 4 seed in the NCAA Tournament.
The NBA draft combine is set for May 15-21 in Chicago, and the draft will be June 22 in New York.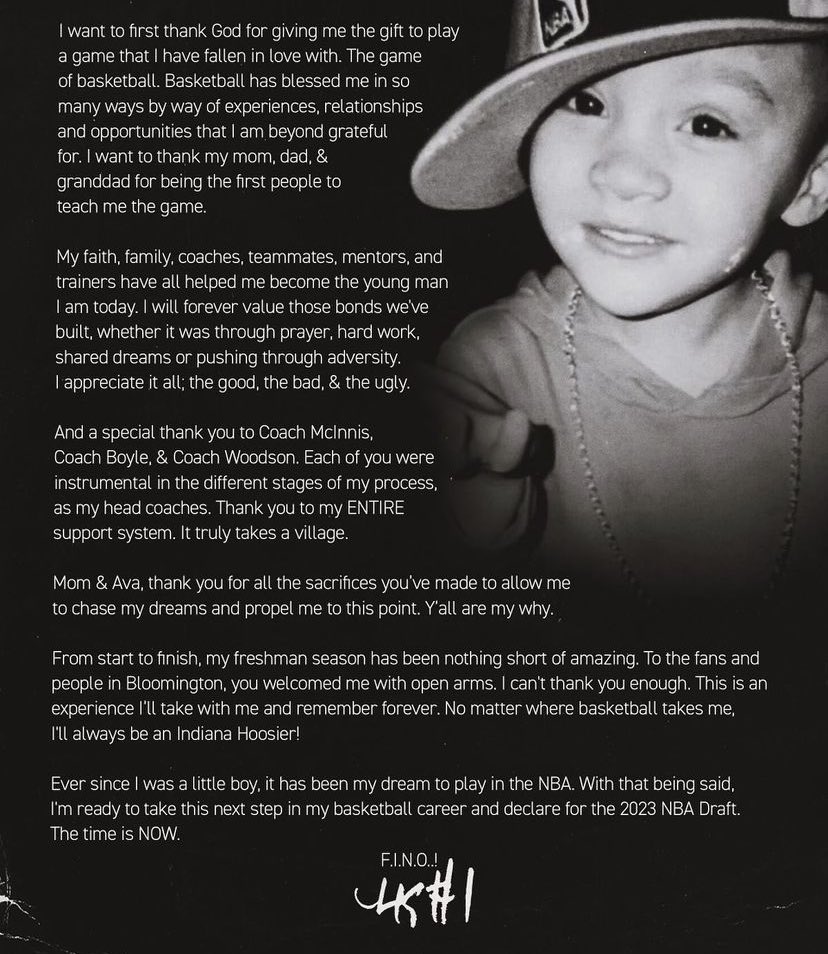 ---
The Daily Hoosier –"Where Indiana fans assemble when they're not at Assembly"