Playing with all four scholarship guards for the first time this season, at least for a while, Indiana was able to use a dominant second half to surge past Princeton on Wednesday night in Bloomington for a 79-54 win.
Although the Tigers were Indiana's toughest competition to date, the Ivy League opponent was still a major step below what they will face throughout the final 24 games of the season.  IU needed to be perfect through their first seven games, and so far they are getting that done in fairly convincing fashion when considering the backcourt injury challenges that the Hoosiers have faced.
Indiana moved to 5-0 for the first time since the 2013-14 season, and a stiffer test will arrive next week.  The Hoosiers will host KenPom No. 91 Louisiana Tech on Monday night at 8:30 p.m. ET.
OVERALL (B)
As has been the case often in this young season, it was a tale of two halves.  Leading just 35-31 at the break and somewhat stuck in a half court affair, the Hoosiers broke things open in the second half.  Indiana has never trailed in a second half this season, and they weren't about to on Wednesday night.
Indiana shot 18-of-29 (62.1 percent) from the floor in the second half, while holding Princeton to 7-of-25 (28.0 percent). The Hoosiers outscored Princeton 44-23 in the final 20 minutes.
After Princeton pulled to within 35-33 early in the second half, IU went on a 24-8 run over the next ten minutes to put things out of reach.
"Well, the second half – it's two halves. They came out and I knew if it got to ten….," Princeton head coach Mitch Henderson said after the game.
As they have done in every game thus far, the Hoosiers used a major size advantage to overwhelm the Tigers with waves of big men.  Indiana outscored Princeton in the paint 50-22 and won the rebounding battle 34-25.
OFFENSE (B)
With Princeton abandoning the offensive glass in an effort get back on defense and slow IU's transition offensive attack, the game had a muddied Big Ten feel in the first half.
"I think they definitely did try to slow us down," Archie Miller said of the first half after the game.  "I didn't think that our point guards in general in the first half really ran and pushed the ball how we've seen. They were better in the second half.
"As we get stagnant early, we tend to stand then rather cut. I think at times that we did execute a couple screening actions and move the ball, we got easy ones or we got drives.
"But the offensive rebounding was another thing they slowed us down on. We weren't on the glass as heavy in the first half."
A staple of the Indiana offense early on has been getting to the free throw line, and that was something else that was missing early in this game.  IU attempted just three free throws in the first 13 minutes, but ended with 17 attempted and an impressive 14 makes.
"Second half, we were much better," Miller said.  "Our offensive execution and not turning the ball over, getting a shot almost every time down was really good."
For the game Indiana continued a season long trend of low turnovers with nine, including just three in the second half.  Indiana is now No. 30 nationally with a 15.4% turnover percentage.
"Nothing's more important for this team than not turning the ball over," Miller said.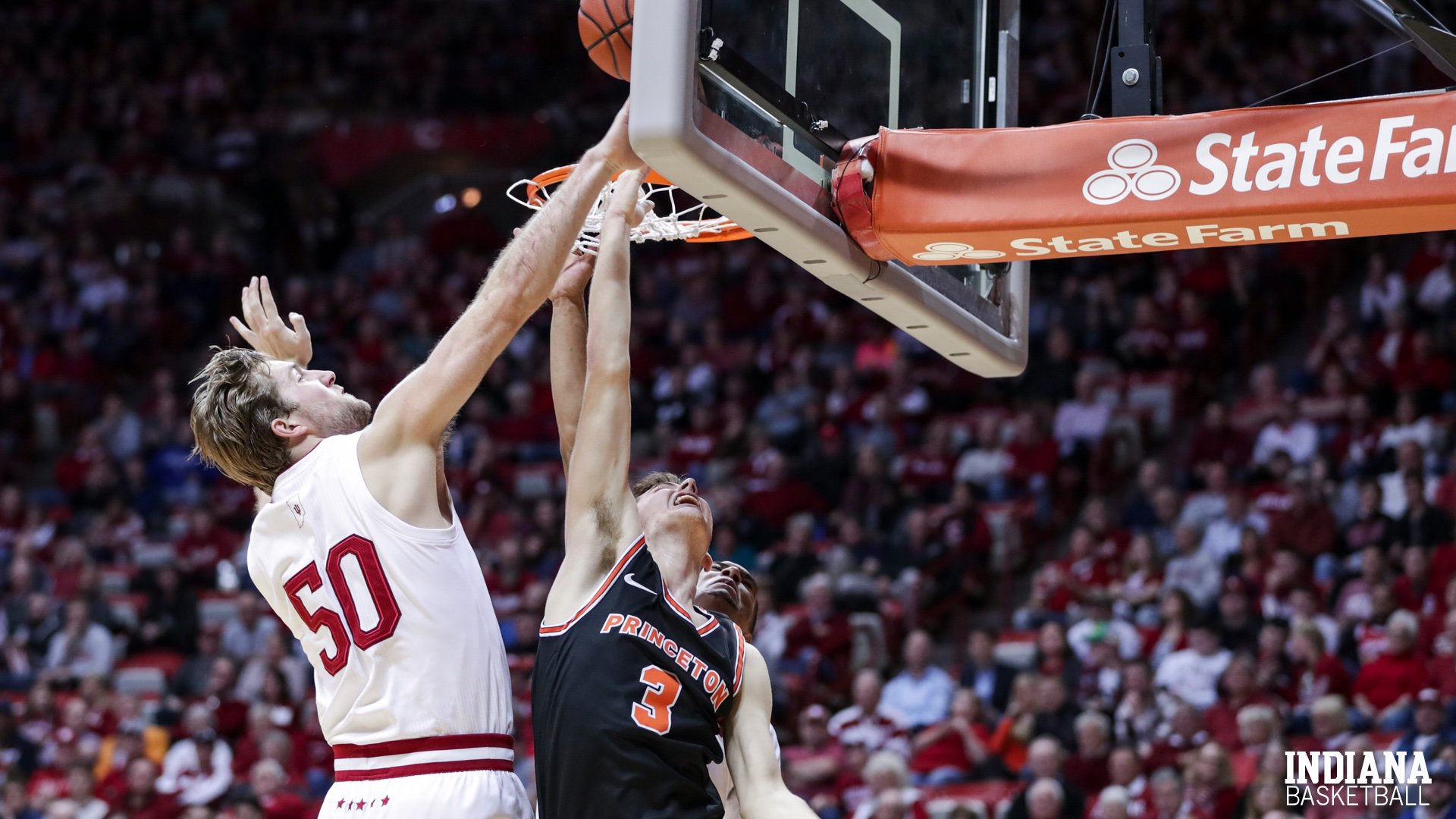 DEFENSE (B+)
Indiana entered the game placing a heavy emphasis on stopping Princeton center Richmond Aririguzoh, and the game plan worked.  The Tiger big man came into the game averaging more than 17 points per contest but finished with just four points and four turnovers.
Miller's plan was to keep the ball out of Aririguzoh's hands in scoring positions, and his team delivered.
"Joey (Brunk) did a great job defensively, as did our bigs," Miller said.  "We were very concerned about their low post game, and I thought for the most part we eliminated a lot of easy catches tonight."
Despite the emphasis on the paint, the Hoosier head coach was pleased with his team's effort defending the three point-line as well, especially as the game progressed.  Princeton was just 2-of-13 (15.4 percent) in the second half from long range.
"The 3-point line for us defensively, their percentage tonight was at 22 percent. But obviously in the first half they made a few. I think over the course of the game, we get better. Hopefully we continue to shrink that percentage down.
"It's a huge part of the game. We have a big team in the way that we play. If we're not getting beat off the dribble, we're getting back and getting set, we should be a tough team to defend the 3. Clearly we have to do our work, keep getting better."
Learning the help concepts of Miller's pack-line has been a challenge this year at times, as his young team has been spread out by smaller teams that are looking to attack off the bounce.
"We're playing a lot of teams right now just in general that have spread the floor," Miller said.  "We're tending as our inexperience and our youth are in there, we're tending to get a little bit closer to our man, when in general we have to be a tighter team so they can't get in there and our help is — our early help is sort of our positioning."
---
OTHER GAME COVERAGE
---
THE PLAYERS
(players with meaningful minutes)
Joey Brunk* (A-) Brunk was strong on both ends, putting up season highs in points and rebounds and defending the post.  Four turnovers took away a bit from a productive night.
Justin Smith* (A-) Miller praised Smith's defensive effort and versatility after the game, and Smith put up another efficient game from the field.  You would like to see more than three rebounds in 31 minutes.

Trayce Jackson-Davis* (B+) The true freshman continues to be very efficient from the field.  Lower rebounding numbers and foul trouble led to a bit quieter night, but still a steady effort.
Armaan Franklin* (B) Franklin's minutes will naturally drop as his fellow guards return to health, but four points, two assists and no turnovers in 12 minutes will keep him on the floor.
Al Durham* (A-) A quieter scoring night, but still a productive and clean floor game.  "Al 6 to 0 (assist to turnover), that's awesome," Miller said.
Rob Phinisee (C+) A bit of a shaky showing that ended prematurely after Phinisee left with an apparent injury.  Miller was not certain what happened, but Phinisee appeared to take a hit to his face area.
Devonte Green (A) To truly appreciate Green's value, you have to remember that his teammates missed at least four layups that would have padded his assist total.  "He was very impactful in tonight's game," Miller said.  "I don't take a whole lot into the plus/minus, but when you're plus-29 in your minutes in the game, that's pretty good."
Jerome Hunter (C+) Hunter was part of a substitution wave that led to Indiana falling flat.  He will have highs and lows in his progression, and this wasn't the redshirt freshman's night.
Race Thompson (B) Thompson personified the two distinct halves, struggling in the first including a couple missed layups but returning to his productive form as the game wore on.
Damezi Anderson (B-) Anderson will of course be judged in large part by how well he shoots, and he didn't have it against Princeton.  He still contributed with a couple assists.
Note:  Senior forward De'Ron Davis was not in uniform for the game for undisclosed reasons.
*Denotes Starters
---
You can follow us on Twitter:  @daily_hoosier
Find us on Facebook:  thedailyhoosier
The Daily Hoosier –"Where Indiana fans assemble when they're not at Assembly"
Seven ways to support completely free IU coverage at no additional cost to you.