That was what you call a bad beat.
Indiana had several chances to get a monkey off its back and pull out a win over No. 8 Wisconsin in Madison for the first time since 1998.
The Hoosiers were seemingly one play away from the win on multiple occasions throughout regulation and two overtimes, but ultimately came up short, 80-73.
Indiana (7-5, 2-3) will stay on the road.  The Hoosiers face Nebraska at 6 p.m. ET on Sunday evening in Lincoln.
OVERALL (B)
An early tone was set, as forward Race Thompson picked up two fouls less than four minutes into the game.  In a game that demanded toughness and physicality in the paint, the Hoosiers were challenged early and fell behind 9-4 soon after Thompson left the game.
But an improbable 7-0 IU stretch, fueled by buckets from Trayce Jackson-Davis and a long 3-pointer from Jerome Hunter gave the Hoosiers an early 11-9 lead.  Wisconsin answered immediately with a 14-0 run, but IU rallied again with a 6-0 response that spanned the final 2:25 of the first half and consisted of a couple of 3's from Anthony Leal.
Beyond fighting to stay alive, Indiana didn't do anything particularly well in the first half.  But the first 14 minutes of the second half was a work of art.  Fueled by a monstrous effort from Jackson-Davis and good guard play, IU outscored the Badgers 31-21 to open the second stanza, including a 14-2 run over a four-minute stretch where IU appeared to take over, turning a 48-42 deficit into a 56-50 lead.
Indiana shot 16-of-24 (66.7 percent) from the floor in the second half and scored 31 of the team's 37 second half points in the paint or at the free throw line. On the other end of the floor, IU held Wisconsin to 10-of-27 (37 percent) shooting in the second frame.
With Armaan Franklin out, IU got big contributions from seemingly unlikely places as players continue to develop.  And Indiana's veteran guards continue to trend favorably.
But in the end, the Hoosiers couldn't close.
"We gave ourselves a great chance to win this game a number of times," head coach Archie Miller said after the game.  "We didn't make enough winning plays at the end.  That's what it takes in this league.  When you play the best teams in the country, and that's what Wisconsin is, you have to step-up and find a way to execute and make some tough plays, and we didn't do that when we needed to the most.
"Our execution late is what killed us."
OFFENSE (B+)
Indiana's offense looked bad in the first half, converting just 40 percent from the field and committing seven turnovers.  Wisconsin, of course, had a lot to do with that.
"Wisconsin is one of the best in the country defensively," Miller said.  "They don't give you a lot.  They're very tough to pierce the paint with their bigs staying back most of the game."
When Indiana got going after the break, their momentum on the offensive end was fueled by high-ball screen actions that allowed its guards to get into the paint and break down Wisconsin's defense.
"I thought we did a great job establishing a rhythm on offense for the majority of the second half," Miller said.
"We were able to establish Trayce (Jackson-Davis) on some pick-and-rolls, and when he started to pick-and-roll effectively, our guards started to get downhill and make some really good plays.  You look at Al and Rob had 11 assists in this game and as a team we had 19, so we ran some pretty good offense."
The effort led to an overall 44-32 advantage for IU scoring the ball in the paint.
But Wisconsin made changes on its high ball screen coverages in the last 15 minutes of game time including overtime, keeping the ball in front of them better with switching.
Despite 50 minutes of game action, Indiana only earned eight free-throw attempts on the night.  Jackson-Davis came into the game averaging 8.3 attempts per game from the stripe in 33 minutes per contest, but he only got there five times in 49 minutes of floor time on Thursday.
"Usually he (Jackson-Davis) is going to draw more fouls and get more free-throw attempts.  He only got five tonight, and our team only got eight," Miller said of what led to the offense stalling out late.
Overall IU shot 48 percent from the field, a number they no doubt would have gladly accepted going on.  The same is true of the Hoosiers' 19 assists.  But 13 turnovers in game where possessions were at a premium was a factor.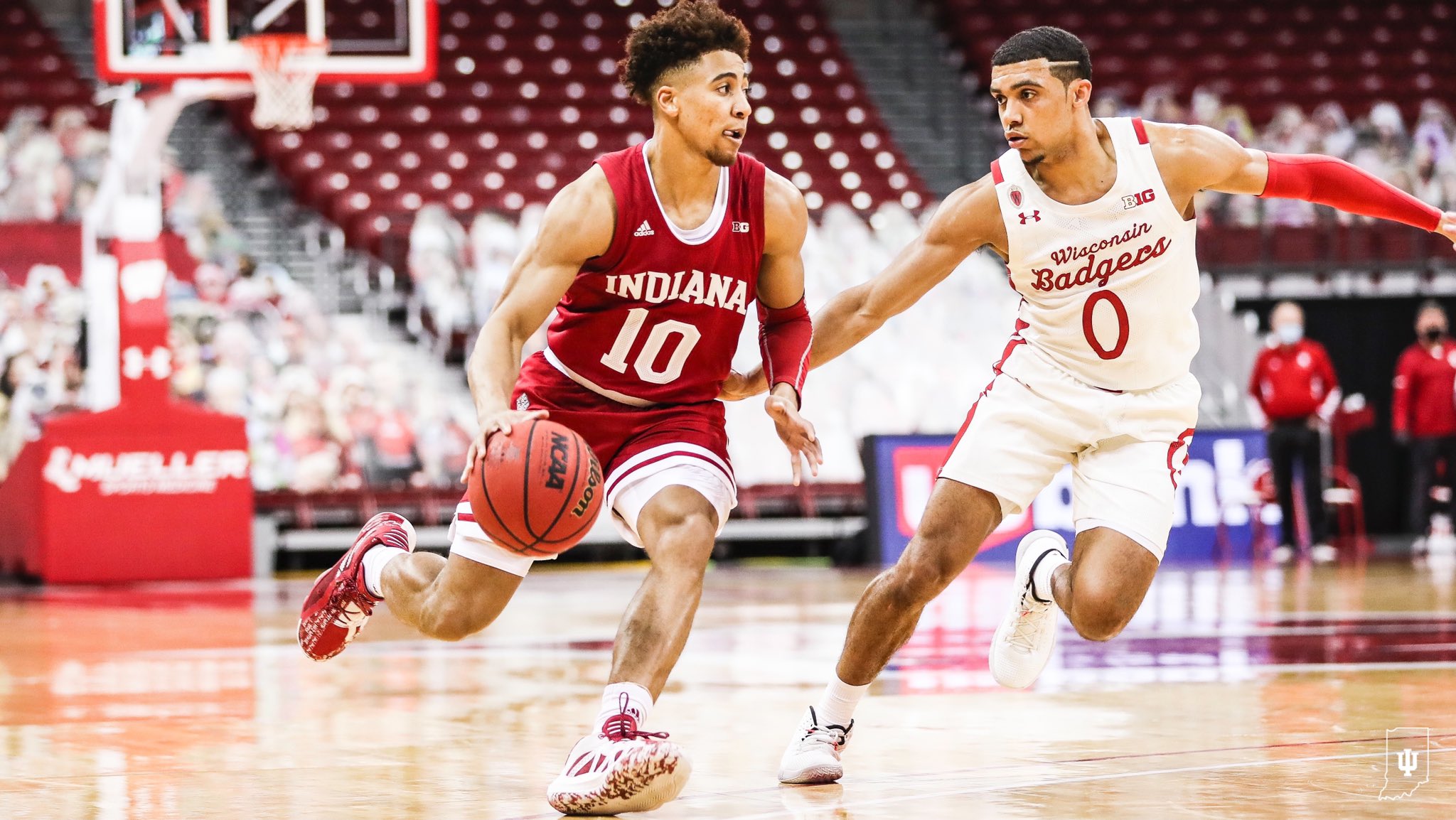 DEFENSE (B-)
Indiana's defense certainly did enough to keep the Hoosiers in the game against a top-10 KenPom offense.
"Our team has re-grasped our defensive ability, and that's given us some confidence that we can stay in any game," Miller said.  "We're starting to believe in our defense again as we are starting conference play."
There were stretches when Indiana's defense was cruising along at a high level, but overall the Hoosiers allowed 1.06 points per possession.  That is not a terrible number when considering the opponent, but it was Indiana's third-worst performance of the season.  It was also the fifth worst performance for Wisconsin.  The Badgers have been over a point per possession in all 12 of their games this season.
Of greatest concern were late possessions where the Hoosiers couldn't get the one critical stop they needed.
Wisconsin guard Travis Trice canned jumpers in the final 30 seconds of both regulation and the first overtime.  A stop on either possession likely results in an IU win.  The crafty Badger guard broke Indiana down on several occasions, drawing fouls and delivering seven assists against just one turnover.
In the second overtime, Indiana's defensive dam finally broke, as Tyler Wahl hit two 3s to balloon the lead to seven points.
"The two-3s in the second overtime broke down our defense and realistically cracked the game open," Miller said.
Overall Wisconsin made just 42 percent of their shots from the field, but they were able to find points in other ways.  The Badgers were aided by 20 free throw attempts, 12 more than IU, and Wisconsin was able to outscore IU 16-5 at the stripe.
IU also allowed nine offensive rebounds, and Wisconsin outscored the Hoosiers 10-6 in second chance points.
---
OTHER GAME COVERAGE
---
THE PLAYERS
Trayce Jackson-Davis (A / Player of the game) Seemed to play with a chip on his shoulder after two disappointing efforts against Wisconsin as a freshman.  Jackson-Davis was dominant, but still played within himself and did a nice job reading double teams and passing.  His four assists were a career high, and TJD had one of the best defensive games of his career.
Race Thompson (B-) The victim of some 50/50 foul calls, Thompson never really got going.  He gave Indiana some really strong defensive minutes when he was on the floor.
Al Durham (B+) Durham is giving Indiana everything he's got right now from an effort standpoint.  He was uneven in the first half with some poor decision making, but Durham's relentless attacking and good second half vision was a key to the second half rally.  Overall Durham has improved this year as a defender as well.
Rob Phinisee (B) Similar to Durham, Phinisee had a really strong second half.  His ability to play at a high-level with an attacking mindset can catapult this team, but he has to bring it for 40 minutes.  Struggled at times defensively against an All-Big Ten caliber player in Trice.
Trey Galloway (D) The true freshman has hit a rough patch, struggling to make a sustained positive impact on either end for the second straight game.
Jerome Hunter (B+)  Hunter continues to be a player that appears to be trending favorably.  It is a slow climb, and there are hiccups, but in a tough matchup where he was needed after Thompson's foul trouble, Hunter matched his career high in both points and rebounds.  The key with Hunter right now is to become more reliable on defense.
Anthony Leal (A-) Indiana needs to lengthen its bench and Leal gave the Hoosiers another player they can trust.  In an improbable 35 minutes he contributed what is needed most — perimeter shooting.  Leal was also very strong on the defensive end.  "It's a credit to him of what a winner he is," Miller said.
Jordan Geronimo and Khristian Lander also saw action in the game.
Player of the game tracker:  Jackson-Davis (6), Thompson (2), Franklin (2), Durham (1), Phinisee (1).
Note:  Joey Brunk had back surgery and continues to be on an uncertain timeline.  Armaan Franklin missed the game with an ankle injury.
---
Find us on Facebook:  thedailyhoosier
The Daily Hoosier –"Where Indiana fans assemble when they're not at Assembly"
Seven ways to support completely free IU coverage at no additional cost to you.