Say what you will about this Indiana team, but they don't quit when the going gets tough.
In what looked like the warm-up act for a game that was originally scheduled for 9:00 p.m. ET, the Hoosiers seemed to be sleepwalking through the first 34 minutes in Evanston, Ill. on Wednesday afternoon.  But soon after the clock struck 6:00 p.m. locally, IU commenced a series of highs and lows that was difficult to comprehend.
Somehow in the end Indiana emerged on top and now finds itself on a two-game Big Ten winning streak and back to .500 in league play.  But things will only get more difficult.
Indiana (11-8, 6-6) will travel to No. 4 Ohio State for a noon ET tip on Saturday.
OVERALL (B-)
Indiana was dead to rights.  Twice.
The Hoosiers trailed 54-47 when Northwestern scored what appeared to be a back-breaking shot by Ryan Young at the 2:16 mark.  That's when Al Durham went on a personal 7-0 run to force overtime.  Things were more dire in the first overtime, where IU trailed 66-60 after a pair of Chase Audige free throws at the 1:05 mark.  And that's when Armaan Franklin hit four straight free throws and then Durham hit his second overtime forcing shot of the evening.
"It's a game you look back on and say I really don't know how we figured out a way out to get a win in this win," IU coach Archie Miller said after the game.
Overtime seemed like an impossibility early on.  Mired in a miserable offensive performance, IU trailed 21-7 in the first half before outscoring the Wildcats 13-2 to close things out before the break.  The half ended with a strange sequence where Trayce Jackson-Davis made a shot after the shot-clock buzzer but it was allowed because it was determined that the clock did not operate properly.  Those two points would play a pivotal role.
The Hoosiers would fall behind 47-38 with 6:22 remaining, but they didn't quit.  And that became the story of this game.  These Hoosiers are flawed in many ways.  But resilience can mask imperfections, and IU is showing a level of grit and determination we haven't seen during the Archie Miller era.
"You don't win today if you're not together, you're not gritty, you're not tough-minded," Miller said.
Those seemingly new found attributes ultimately appeared to manifest in another missing ingredient — confidence.
"Putting them in both overtimes, you could kind of see the confidence in our guys grow, like we were going to figure something out and find a way to do it," Miller said.  "Like I told them after the game, of all the games this season, for this team, this one right here puts a smile on my face more than any of them just because of what we had to go through to figure out how to do it.
"We just found a way, really on a day that we shouldn't have won."
OFFENSE (C)
Indiana had just 38 points through the first 34 minutes of the game against a Northwestern defense that was ranked No. 12 in the Big Ten in KenPom adjusted defensive efficiency coming in.
There was poor shooting, poor finishing, poor free-throw shooting and poor ball security.  Poor probably isn't a strong enough word.  Putrid or pathetic are perhaps more apt descriptions.
"Really played poorly offensively shooting the ball, decisions for a good period of time," Miller said.  "Northwestern did a lot of packing it in the paint and made it hard on us."
But Indiana's resilience started to show when its guards made some big shots.  Franklin hit a 3-pointer at the 7:32 mark of regulation to pull IU to within four, 42-38.  Durham hit a 3-pointer at the 6:04 mark to pull the Hoosiers to within 47-41.  And the pair was just getting warmed up.
Rather than trying to force the action in the paint against relentless double-teams, Indiana decided to spread the floor and let its playmakers take over.  It worked.
"Right now we're doing a little bit better job of putting the ball in our guards' hands and keeping the floor open and seeing if we can create some driving lanes," Miller said.
After the slow start, IU scored 41 points over the last 16 minutes of action, in part fueled by a season-best 20 fast break points.
Another aspect of the improvement was Indiana cleaning up sloppiness that had plagued them throughout regulation.  After a turnover on a bad pass by Rob Phinisee with 2:48 left in the second half, IU never coughed it up again.
"We really locked in as the game went along," Durham said of the improved ball security.
While Indiana struggled to score for much of the game it had other things going in its favor, first and foremost the free throw line.  After starting the game 0-for-6 from the stripe, IU made 27 of its final 32 free throws and the Hoosiers outscored the Wildcats 27-8 at the line for the game.
"The way we started at the foul line to the way we finished, that was a drastic difference," Miller said.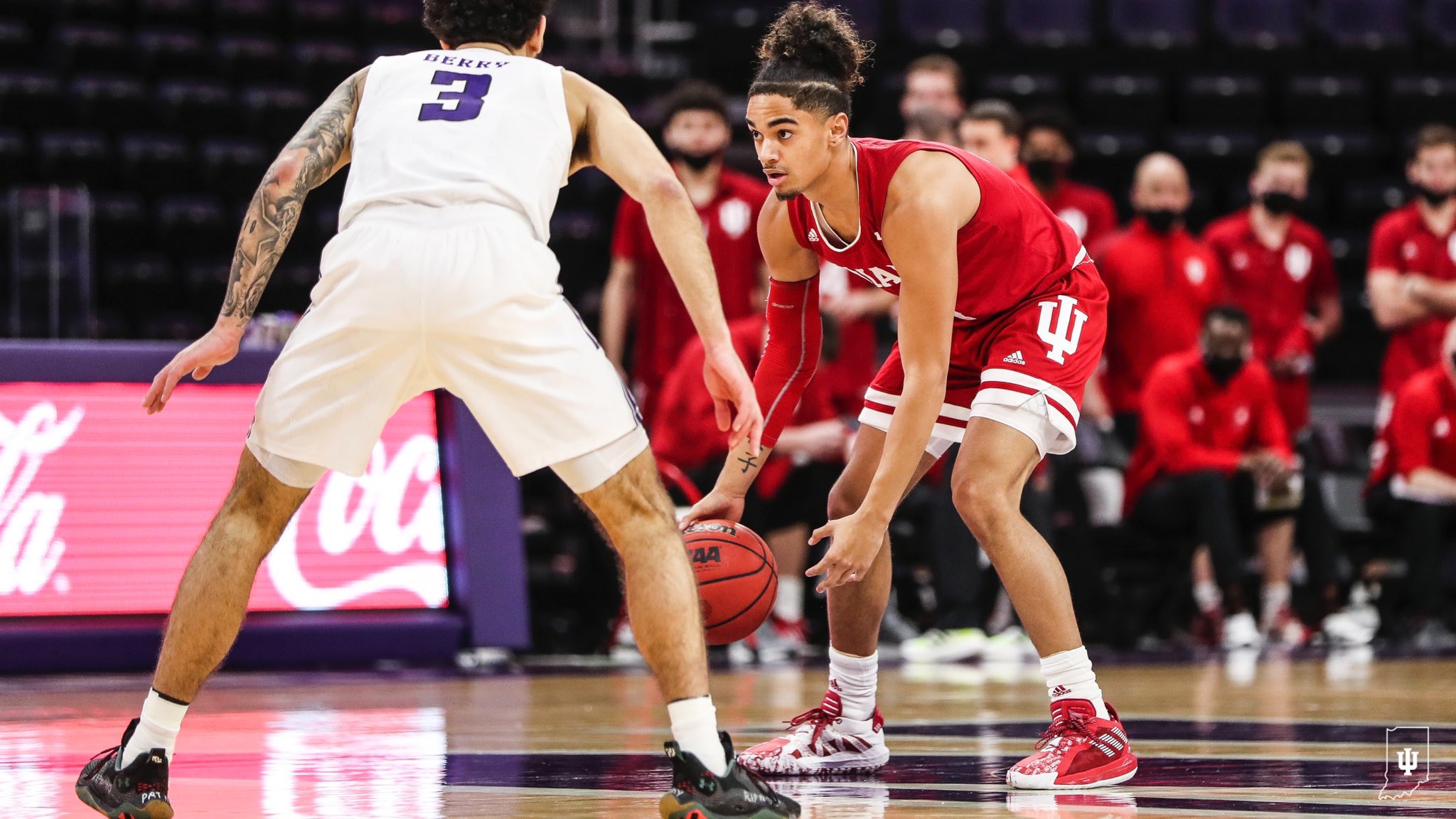 DEFENSE (A-)
While another head-scratching offensive performance stole the headlines, Indiana's defense was its foundation for a second straight contest.
Indiana held Northwestern to .964 points per possession, marking the third time this season the Hoosiers have held a Big Ten opponent under one point per possession.  Each time they've done that, the Hoosiers have won, with Maryland and the home game vs. Iowa being the other instances.
It was a significant improvement for IU after the Hoosiers had allowed 1.1 points per possession in the first meeting against Northwestern.
"We fought our way through it the whole time defensively, and even when we gave up a couple runs late, we were able to get back in," Miller said.
For the game Northwestern made 42.6 percent of its shots including 30 percent (10-of-30) from long range.  The Wildcats turned it over 13 times, including three in the final 1:33 of regulation and three more in the overtime periods.  Several of those late turnovers were forced by IU rather than Northwestern giveaways.
The Hoosiers stayed out of foul trouble even with the extra time, with only Rob Phinisee reaching a fourth foul.  Northwestern only attempted 12 free throws in 50 minutes.  That gave Indiana 26 more cracks at it from the stripe.
---
MORE GAME COVERAGE
---
THE PLAYERS
Trayce Jackson-Davis (C+) Northwestern threw everything they had at the sophomore big man, and it was mostly effective, especially late arriving double teams that impacted Jackson-Davis' timing.  That caused him to be off balance and he was unable to attack and draw fouls.  Still, the 14 rebounds highlight the effort, and on the defensive end, Jackson-Davis is improving when it comes to his ability to wall up when guarding the ball in the post.
Armaan Franklin (A) Yes he tied a career high with 23 points, but what stood out above all was Franklin's mental toughness on both ends.  He delivered four big steals, and hit timely free throws as part of a ten point outburst in the first overtime.  Ball security was problematic early in the game, but Franklin has clearly emerged as a go to player in clutch moments.
Race Thompson (B-) A quieter day for Thompson, but that was mostly due to a Northwestern game plan hell bent on forcing IU to win from the perimeter.  He struggled at times guarding the longer Pete Nance, but overall it was just another solid workmanlike day for Thompson.
Al Durham (A / player of the game) Simply the best game of Durham's IU career.  In addition to his career-high point total that included a make that ended Northwestern's 21-7 game opening run and two more that forced both overtimes, he never turned it over after halftime, added some key late steals, and made nine-straight free throws down the stretch.
Rob Phinisee (C) Give him credit, Phinisee had five assists and played good defense.  But after his own career best game at Iowa, he has made just 3-of-22 shots for 12 total points in the four games since.
Jerome Hunter (B+) Hunter showed a lot of mental toughness to make a big shot after being benched for two games.  Hunter's 3-pointer gave IU a 75-71 edge with 15 seconds left in the second overtime.  His five rebounds highlight his effort in 16 minutes that included improved defensive play.
Jordan Geronimo (B) Geronimo continues to be impactful and reliable in short bursts. He is averaging 11.9 points and 8.6 rebounds in an admittedly small per-40 minute data set.
Anthony Leal (B) Steady is the word that comes to mind with Leal.  He has become a reliable contributor that doesn't seem rattled.
Khristian Lander (C) If Leal is steady, Lander is the opposite, with dynamic plays followed by head-scratchers.  Lander continues to appear to get anxious at times, but his high-end potential is clear.
Trey Galloway also appeared in the game.
Player of the game tracker:  Jackson-Davis (6), Thompson (5), Phinisee (3), Franklin (3), Durham (2).
Player Notes:  Joey Brunk had back surgery and continues to be on an uncertain timeline.  Transfer Parker Stewart was at the game but on an uncertain timeline.
---
Find us on Facebook:  thedailyhoosier
The Daily Hoosier –"Where Indiana fans assemble when they're not at Assembly"
Seven ways to support completely free IU coverage at no additional cost to you.