After two Big Ten contests a troubling trend has emerged.
Indiana is playing hard and keeping things close.  But they haven't been good down the stretch.
The Hoosiers competed all afternoon against the No. 18 Illini, but like the loss to Northwestern earlier in the week, a second half Illinois run was too much.
And now IU finds itself 0-2 in league play.
Indiana (5-4) will face Penn State next for what has the early feel of a must win game.  That contest tips at 8:30 p.m. ET at Simon Skjodt Assembly Hall in Bloomington on Wednesday.
OVERALL (C)
It happened so fast.
Freshman forward Jordan Geronimo hit a three-pointer to give IU a 49-44 lead with 9:47 left in the game.  Just over three minutes later, it was 58-49 Illinois.
Indiana was able to pull back to within three, but the Hoosiers weren't able to make plays down the stretch.
"I really believe that our team has to be a better finishing team in the last three to four minutes," head coach Archie Miller said after the game.
Miller believes Indiana hit on all of its keys to be able to win the game.
"Our big deal with our team, we've taken a lot of pride in trying to give up no easy baskets in transition and we're trying to give up no second shots and we don't want to turn the ball over. We feel if we have those three in check, we're gonna win," Miller said.
Of course the fact that IU was able to for the most part do all of those things but still lose is a bit concerning.
Sometimes you do things the right way to put yourself in a position to win, but it still isn't enough.
"This is a game of makes and misses," Miller said. "They made theirs. We didn't make ours, but I'm proud of our effort."
A big reason why — Illinois' stars delivered, especially down the stretch.
Illinois guard Ayo Dosunmu's had 30 points and 7-foot center Kofi Cockburn, 15 points and 15 rebounds.
"Their two studs really produced," Miller said. "Ayo was the difference in the last 12 minutes. He's a great player."
OFFENSE (D)
After six straight games with at least 14 turnovers, Indiana didn't give it away on Saturday.
"We played without turning it over, which was a huge step for us," Miller said.
While IU only coughed the ball up 8 times, the Hoosiers shot just 39.7 percent from the field on Saturday.
Indiana had its second least efficient day, scoring just 90.3 points per possession as the Hoosiers continue to struggle in the half-court.
Sophomore guard Armaan Franklin believes that IU needs to get more transition opportunities before the defense gets set up.
"I think our defense needs to translate to offense, said Franklin, who scored a team leading and career-high 23 points and shot 5-for-6 from 3-point range.
"That's one of our biggest strengths. We have to get stops, of course, but I think when we do that, I think that's when our scoring droughts will end, and we'll be overall a better team once we get on transition and play."
The Hoosiers were just 16-of-40 on two-point shots as they struggled to finish through, over and around Illinois big man Kofi Cockburn.
IU had another respectable day from three-point range (7-of-18), but everyone not named Armaan Franklin was 2-of-12 from distance.
Indiana abandoned the offensive glass, grabbing just three offensive rebounds as they were intent on not allowing Illinois to run the other way.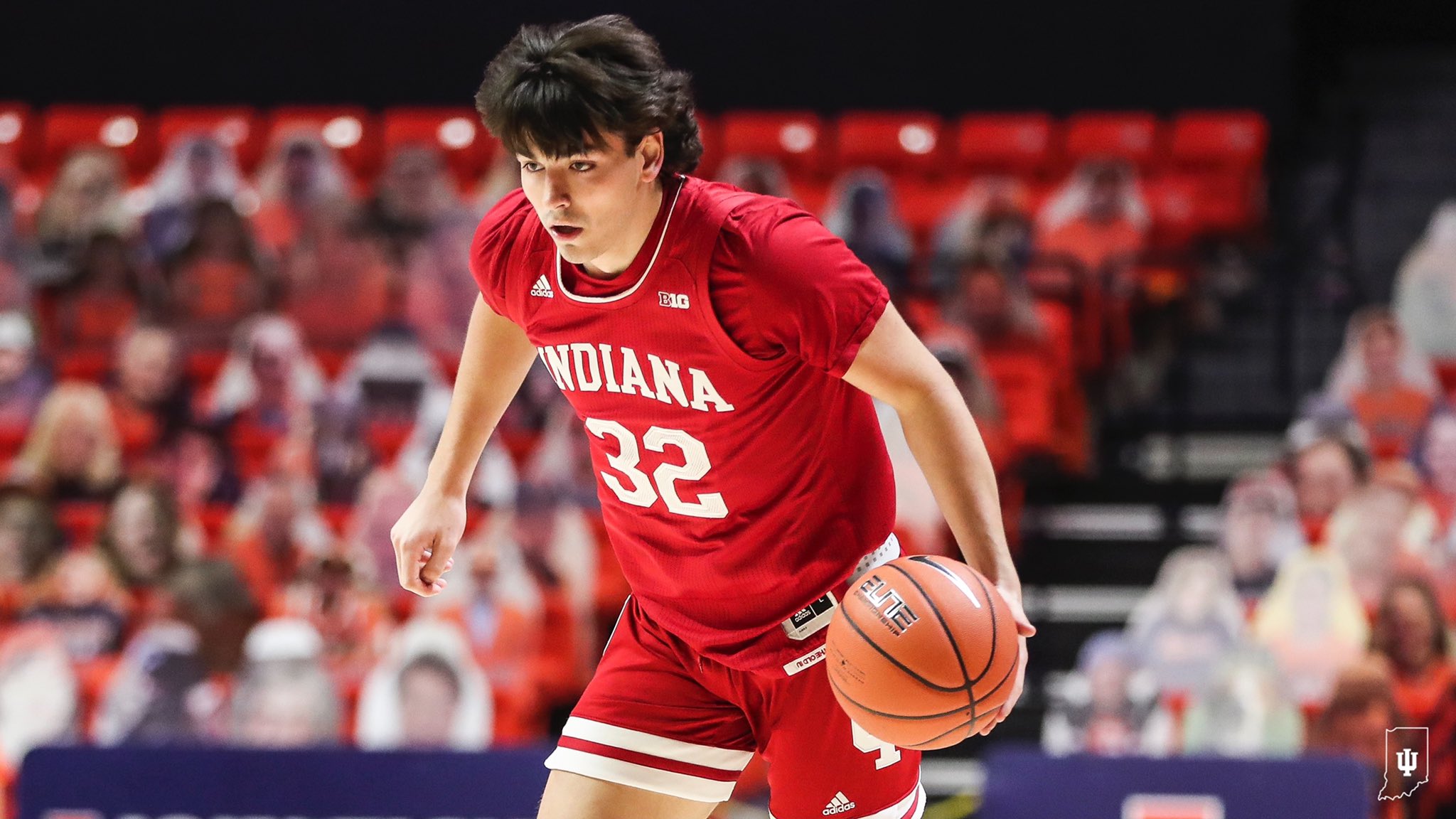 DEFENSE (B)
Illinois came into the game averaging 90 points per contest.
When the Hoosiers had that 49-44 lead the Illini were on pace for only about 60.
A big reason why things went so well for the first 30 minutes was how well IU took care of the ball on the offensive end.
Illinois has built a reputation for playing fast and scoring on the break, but IU was able to shut that down for most of the day.
"So the eight (IU) turnovers, I thought played a role in our transition defense," Miller said.  A couple times late, we broke down. But our ability to not turn it over was a huge point coming into this game. And not giving them the two-point steals or the pick-sixes — a big reason why we didn't beat Northwestern at home, the transition defense, we just got to keep working at it."
Illinois shot just 44.4 percent from the floor for the game, and their 69 points ties for the fewest they have scored has scored this season
But Dosunmu and Cockburn were too much down the stretch.
"We were doing pretty good there for a minute and the next thing you know, they were able to strike quick six points off of a couple broken plays or turnovers," Miller said.
---
OTHER GAME COVERAGE
---

THE PLAYERS
Trayce Jackson-Davis (C) Jackson-Davis' effort was at a high level, but he couldn't finish around the basket.  His 3-of-13 performance was a result of trying to go over Cockburn rather than through.  Jackson-Davis took several challenged shots and got into foul trouble trying to stop Cockburn.
Race Thompson (C) Indiana needed more production from Thompson to take advantage of mismatches when Illinois was playing four guards.  Just four points and five rebounds wasn't enough, and he let Da'Monte Williams hit a couple catch-and-shoot threes.
Al Durham (C+) Durham is down to 25.8 percent from three-point range on the season.  He has always been a streak shooter and Durham will need to pick it up for IU as he is missing good looks right now.  His 3 assists and no turnovers was a positive, and continues a season that has Durham at better than 3-to-1 assists to turnovers
Armaan Franklin (B / Player of the game) The extent of Franklin's emergence continues to be a surprise.  He is up to 50 percent on the season from three-point range and set a new career scoring high for the third time in four games.  Franklin continues to turn the ball over, but as a percentage of possessions it isn't a major factor.
Rob Phinisee (C) Phinisee showed promise off the bench with a couple attacking baskets in the second half.  But he faded for much of the game too and was on the floor throughout Illinois' decisive 14-0 run.
Trey Galloway (B) Galloway earned his first career start and played well.  He was an excellent passer in the half court and managed to play 32 minutes without a turnover.  He will have to become a bigger threat to score. Galloway also played a key role in the defensive effort as he held down Illinois star freshman Adam Miller.
Jerome Hunter (D) Hunter missed several makeable two-point shots and was unable to get off a three-point attempt.  He was active on the glass with 4 rebounds in 16 minutes.
Khristian Lander, Anthony Leal and Jordan Geronimo each appeared in the game too.
Player of the game tracker:  Jackson-Davis (4), Thompson (2), Franklin (2), Durham (1).
Note:  Brunk was not in uniform as he continues to deal with a back issue.  Brunk has missed every game this season.
---
Find us on Facebook:  thedailyhoosier
The Daily Hoosier –"Where Indiana fans assemble when they're not at Assembly"
Seven ways to support completely free IU coverage at no additional cost to you.