Indiana has struggled as a program to build on big wins and establish momentum under head coach Archie Miller.
On Tuesday night, the Hoosiers managed to play a game that perfectly illustrated their overarching shortcomings as a team under their fourth-year leader.  IU played an excellent first half, and had the look of a team well on its way to a second major statement win in three games.  Instead, the wheels came off in the second half against Illinois.
Now losers of three straight on its home court, IU once again has the look of a team that just might crash and burn down the home stretch.  But because they play in a loaded conference, and the Hoosiers are the enigma that they are, the next game will be yet another opportunity to redefine what has become another topsy-turvy season in Bloomington.
Indiana (9-8, 4-6) will host No. 8 Iowa in a rematch on Sunday.  That game will tip at noon ET and will be televised on Fox.
OVERALL (C+)
Basketball is a game of talent, schemes and execution, but it is also a test of mental fortitude and desire.  Indiana played hard in this game, but when it came down to fighting and scrapping in what became a foul-happy Big Ten rock fight, Illinois had a little more.
"Our guys competed but we are not tough enough to finish games yet," IU coach Archie Miller said after the game.  "We are not tough enough in little ways, loose balls, and hits your hands but cannot grab it so they get it. There are just too many of those plays right now that we are not able to finish off."
Indiana started strong and claimed a 24-19 edge in the first half.  They had an answer for an 8-0 Illini run, and closed the first half with a 13-3 run of their own.
It was clear that IU not only came to play, but was capable of knocking off No. 12 Illinois.
"I think our team was here to play tonight," Miller said. "We started better than we have started in the past. We had a terrific first half with only four turnovers and scored 41 points."
But when push came to shove, Illinois played harder after halftime.  The Illini ramped up their pressure on the ball defensively and made it more difficult for Indiana to run its offense with pressure in passing lanes.  But more than anything, Illinois just had a little more killer instinct.
"Tonight, was one that really stings because this one didn't come down to couldn't make a shot or whatever, this one came down to at the end of the day probably five or 10 balls that just hit us in the hands or we didn't dive on," Miller said, as his team finds itself at yet another crossroads.
"We have to stick with it as frustrating or as angry as it may be, we have stick with what we are doing because we are getting better."
OFFENSE (D+)
Indiana's best possession of the game might have been its first.  Al Durham ran off a pair of pin-down screens to the top of the key and drained a 3-pointer in rhythm to open the game.
It was the start of what was a good first half on the offensive end.  IU shot 48.3 percent from the field and had eight assists against just four turnovers while scoring 1.24 points per possession.
Illinois head coach Brad Underwood, who was not happy with his team's first half effort, talked about his halftime adjustments.
"Well we made a nice adjustment at halftime," Underwood said.  "We were a little bit beat in our ball screens. We moved Kofi up a little bit to try to take the short roll away. And to be quite honest we just played harder."
That harder effort by Illinois grounded Indiana's offensive to a halt.
Unable to adjust to the adjustments and increased intensity, the Hoosiers had 11 turnovers in the second half plus overtime, and shot just 8-of-25 after halftime.
"For our team we cannot turn the ball over and in the second half we did not take care of the ball well enough. We had some reluctant shooters at times who felt they wanted to drive it and had a couple charges," Miller said of the second half play.  "I thought they were tough calls but at the end of the day you cannot turn it over 11 times and that really hurt us in the second half."
In a game that was similar to the loss to Rutgers, IU made just 18-of-46 2-pointers with Cockburn contesting everything in the lane.  Indiana attempted only eight 3-pointers for the game as the Illini tried to draw Indiana into challenged 2s.  It worked, but IU still could have come away with a win if they converted from the charity stripe.
In a game where one more point could have avoided overtime, Indiana had 11 misses at the free throw line, including nine by Race Thompson and Trayce Jackson-Davis.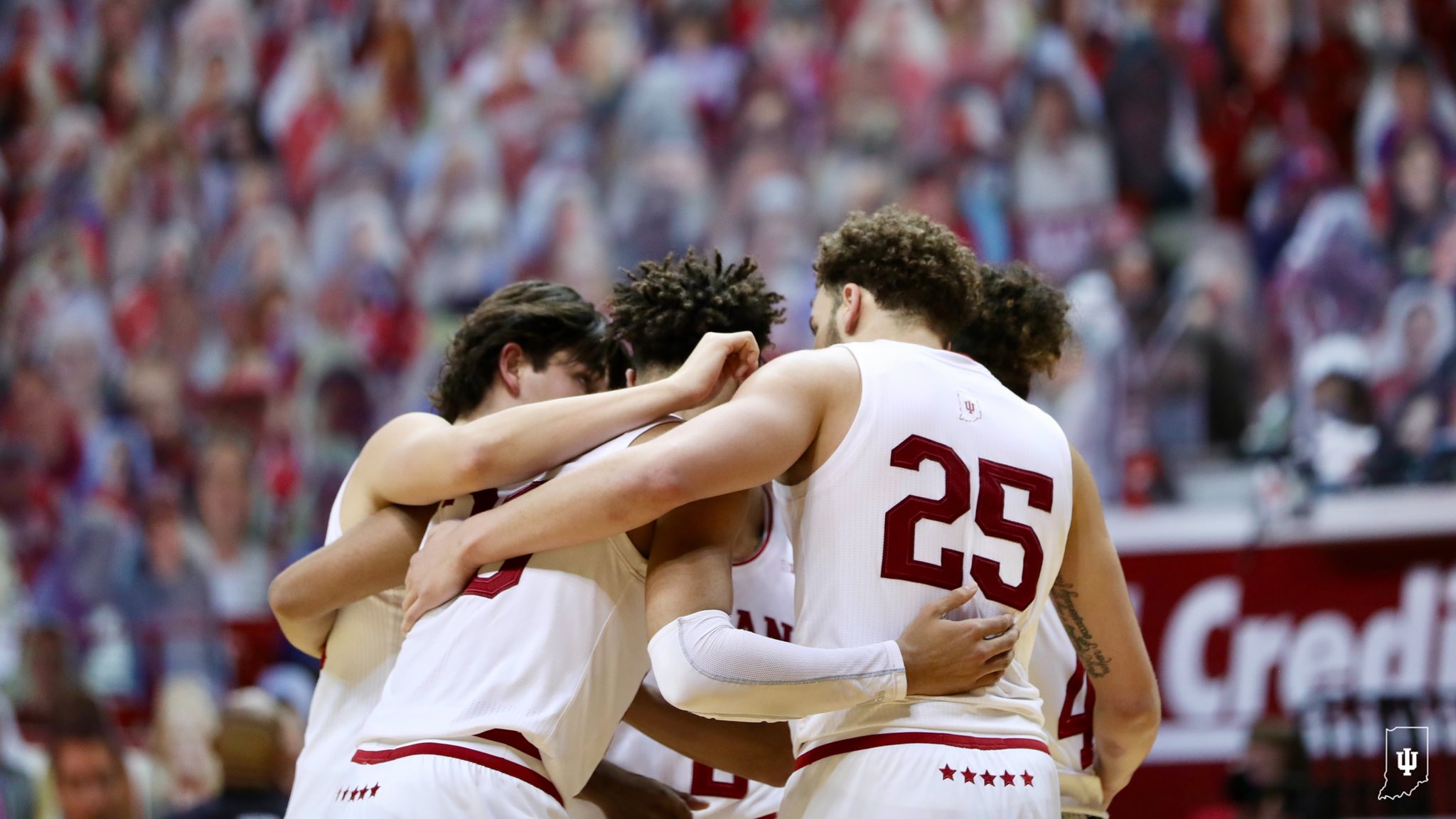 DEFENSE (B+)
Indiana did enough on the defensive end to win this game against a high-end Illinois offense.
The Hoosiers slowed down Illinois, allowing only eight fast break points, most if not all of which came from IU miscues on the other end.  They held All-American Ayo Dosunmu to 10 points after he scored 30 in the game played at Illinois in December.  Combined Dosunmu and Cockburn shot 9-for-26, and the Illini as a team made just 38.6 percent of their shots despite arriving in Bloomington as one of the most efficient offensive teams in the country.  Illinois' 1.032 points per possession were its fifth lowest mark in 17 games, and below its 1.12 average.
But with their offense producing next to nothing in the final 12 minutes of the game, it only took one bad stretch to give it all away.  With IU leading 64-58 with five minutes remaining, the Hoosiers lost hot-shooting Illinois guard Trent Frazier.  And then they lost him again.  And then they fouled him on a third 3-point attempt.  In the course of two minutes of game time, Illinois had surged to a 66-64 lead, and nearly an entire game of high caliber defense was thrown away.
"Trent Frazier made two big shots and his ball screen defense was great there at the end," Miller said. "Your last eight minutes, we talked about it all week, it was going to come down to guarding the hot ball, being able to defend out of the ball screen."
To their credit, IU continued to play good defense after Frazier's outburst, limiting Illinois to just one field goal over the last 9:12 of game time including overtime.
Highlighting the effort that wasn't always there late however, seven of Illinois' 11 offensive rebounds came in the second half, and IU gave away nine second chance points after the break as a result.
---
OTHER GAME COVERAGE
---
THE PLAYERS
Trayce Jackson-Davis (B-) Jackson-Davis continues to allow big bodies like Cockburn to force him into a more retreat style offensive mode which led to another inefficient day.  When Jackson-Davis is dialed in and giving max-effort, he produces big numbers like his 14 rebounds.  But that isn't a constant throughout the game.
Armaan Franklin (A-) Was the central part of the defensive effort against Dosunmu.  That ultimately caused Franklin to foul out, and he still is trying to find an offensive rhythm with a bad ankle, but Franklin is giving everything he has right now.
Race Thompson (A- / player of the game)  Thompson is doing everything asked of him on both ends, making shots, nifty passes and playing with physicality and grit.  But after drawing nine fouls, six misses at the free-throw line were back-breaking in an overtime game.
Al Durham (C) Durham started the game hot, but faded away in part due to foul trouble and also had two costly second half bad passes.  His on the ball defense became a problem in the second half, especially after his backcourt mates fouled out.
Rob Phinisee (D) Phinisee was effective at times on defense, including his contributions to the Dosunmu assignment and helping in the post.  Fouls were part of the story, but a game with zero points, assists or rebounds is difficult to comprehend, and a familiar lack of an attacking mindset was part of the story.
Jordan Geronimo (B-)  Was strong rebounding the ball, but Geronimo looked a bit anxious at times and was in the game during some of Illinois' better offensive runs.
Trey Galloway (B-) Galloway is best in attack mode, and he had some great passes while playing downhill in his first game action since Purdue after dealing with a sore back.  Galloway was generally strong defensively, but he also had some mental lapses with ball security.
Anthony Leal (D) This was probably Leal's most freshman-like game for a guy that has generally played above expectations.  He looked sped up on offense and there weren't a lot of good matchups for him on the other end.
Khristian Lander (C)  The life of a reclassified freshman. Made several good passes and that led to a rhythm shooting the ball in Lander's most extensive minutes of his career.  But then that led to a disastrous defensive stretch in the second half that allowed Illinois to take the lead.
Player of the game tracker:  Jackson-Davis (6), Thompson (4), Phinisee (3), Franklin (3), Durham (1).
Player Notes:  Jerome Hunter was not in uniform due to a coach's decision.  Joey Brunk had back surgery and continues to be on an uncertain timeline.  Parker Stewart was at the game but on an uncertain timeline.
---
Find us on Facebook:  thedailyhoosier
The Daily Hoosier –"Where Indiana fans assemble when they're not at Assembly"
Seven ways to support completely free IU coverage at no additional cost to you.