Indiana is looking to extend to a season best three-game winning streak on Saturday afternoon.
Standing in their way are the No. 4 ranked Ohio State Buckeyes, who represent a daunting challenge and a great opportunity for IU.
With the Hoosiers squarely on the NCAA Tournament bubble, Ohio State presents the opportunity for a Quad 1 win and a third win over a top-10 team in its last six contests.  To get that done, IU will need to win in Columbus for the first time in the Archie Miller era.  But the Buckeyes have only lost at home once all season.
It is the Hoosiers and Buckeyes as Indiana looks to get the good times rolling.
---
GAME DAY ESSENTIALS
Indiana (11-8, 6-6) at No. 4 Ohio State (16-4, 10-4)
Tip time:  Saturday, 12:00 p.m. ET
Location: Value City Arena, Columbus, Ohio
Television:  ESPN (Dan Shulman and Jay Bilas)
IU Radio Network (Don Fischer, Errek Suhr, Joe Smith)
Series:  Indiana leads 108-86 (Ohio State won last meeting 68-59 in 2020)
Point Spread:  Ohio State is a 6.5-point favorite
KenPom has No. 7 Ohio State by 6 points over No. 27 Indiana
Ohio State is led by Chris Holtmann who is in his 4th year in Columbus and is 82-38.
See also:  
---
GET TO KNOW THE BUCKEYES
Ohio State is not a big team, with no one on the roster that plays meaningful minutes above 6-foot-8.  Instead, the Buckeyes play several similarly sized and versatile players that have to this point produced one of the country's best offenses.
While head coach Chris Holtmann is known as a defensive coach, this is a Buckeye squad that is better on the other end of the floor.  Ohio State ranks No. 4 nationally in adjusted offensive efficiency.  Several factors contribute to the Buckeyes scoring around 1.21 points per possession, including a 15.2 percent turnover rate that is good for No. 10 in the country, and an effective field goal rate of 52.8 percent, good for No. 66 nationally.
Ohio State also gets to the free throw line at a high rate and their 76.5 percent conversion rate at the stripe is the second best in the Big Ten.  C.J. Walker (56 of 58; 96.6%) and Duane Washington Jr. (55 of 64; 88%) are combining to make 91.8% of their free throw attempts this season.  Their presence on the floor together in late game situations makes Ohio State difficult to defeat.  Overall Ohio State ranks No. 1 nationally in free throws made with 348 and No. 9 in attempts (454).
OSU is only No. 63 in adjusted defensive efficiency, down from No. 19 in 2019-20.  From last season's team, the Buckeyes lost their best wing defender (Andre Wesson), their best post defender (Kaleb Wesson) and their best on-ball defender (Luther Muhammad).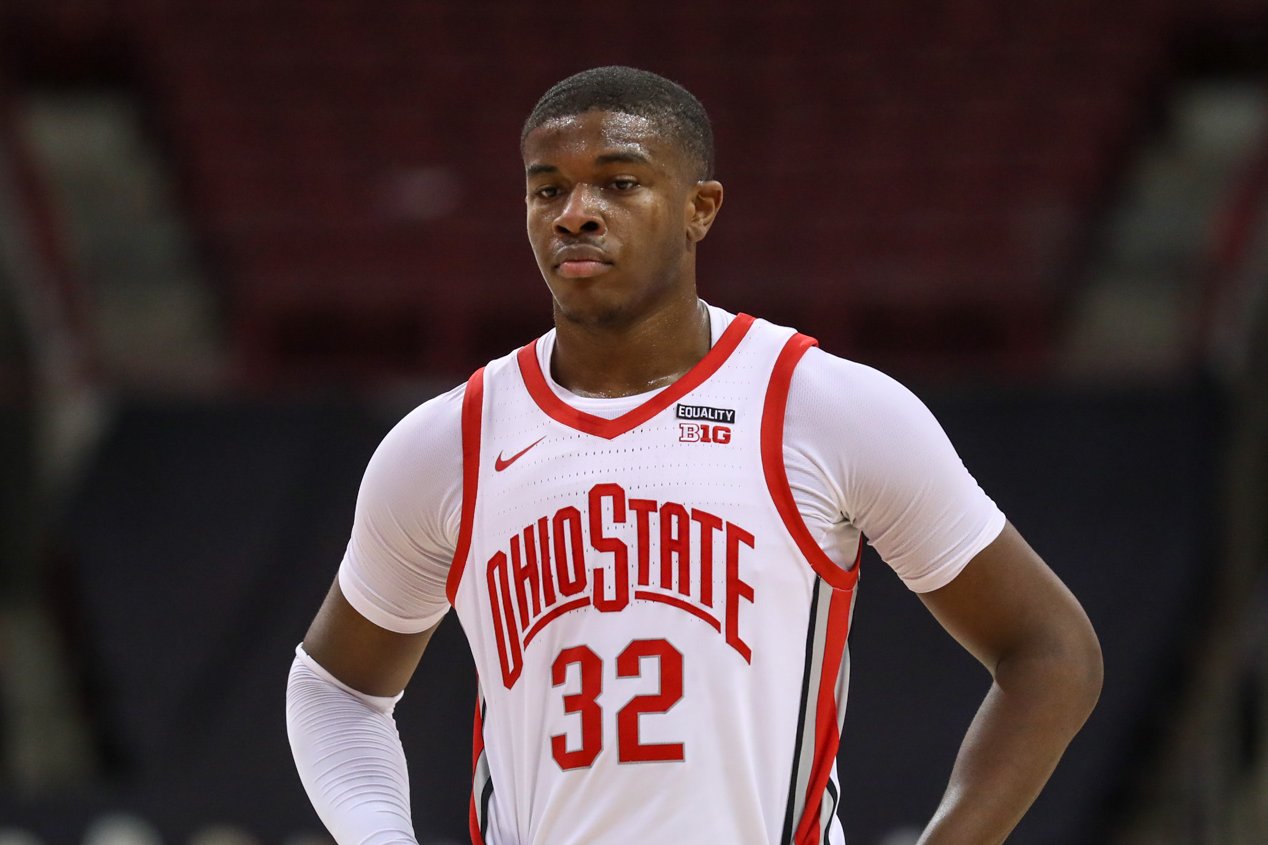 Similar to the strategy that Indiana has struggled with recently, Ohio State looks to run teams off the 3-point line and force them into tough, contested 2-pointers.  That's the highlight of their defensive profile, as opposing teams are making just 46.5 percent of 2-point shots, good for No. 71 in the country.
By design, Ohio State doesn't turn teams over, focusing more on principles and positioning than aggressive defense.  The Buckeyes defense is delivering just a 15.6 turnover rate which comes in at No. 326 nationally.
6-foot-7 forward E.J. Liddell was Named to Naismith Trophy Midseason Team for Men's Player of the Year.  With a sturdy frame, he is excellent at drawing fouls and doesn't turn the ball over.  The Ohio State offense runs through Liddell more than any other player, and he is also strong on the defensive end, especially as a shot blocker.
6-foot-3 guard Duane Washington can be a high volume scorer.  He has five games this season with 20 or more points.  He also takes the most shots and most 3-pointers of anyone on the team
6-foot-8 forward Kyle Young has been on a role of late.  He posted career-high 18 points at Maryland, following a 16-point game at Iowa.  The 34 points combined are the highest consecutive games scoring total of career.  He has one of the lowest turnover rates in the country, is efficient offensively, and can be a problem on the offensive glass.
6-foot-6 guard Justin Ahrens one of the best 3-point shooters in the country.  He has connected on 48% from 3-point range this season (45-94). He rates No. 3 in the Big Ten in 3-pointers made (45) and has 13 games with multiple makes, which includes two or more in each of the last eight contests.
6-foot-7 guard Justice Sueing is a versatile two-way player who can be inconsistent but impacts the game in a number of ways including scoring rebounding and defense.  Sueing takes on much of the primary ball handling duties.
Seth Towns (6-foot-8), C.J. Walker (6-foot-1), Musa Jallow (6-foot-5) and Zed Key (6-foot-8) should all also see significant time coming off the bench.  Walker is an Indianapolis native and former starting point guard.  His season has been somewhat derailed by hand surgery but he should play a significant role as a reserve.
---
Find us on Facebook:  thedailyhoosier
The Daily Hoosier –"Where Indiana fans assemble when they're not at Assembly"
Seven ways to support completely free IU coverage at no additional cost to you.