It's graduation weekend in Bloomington, and six IU basketball players have earned degrees the program announced on Saturday.
The following players are now graduates according to IU:
Trayce Jackson-Davis (Sports Marketing)
Xavier Johnson (Liberal Studies)
Miller Kopp (Liberal Studies)
Anthony Leal (Entrepreneurship)
Nate Childress (Management)
Michael Shipp (Business)
Majors are as described in the program's media guide.
Johnson and Leal are both expected back with the program next season.
The IU women's basketball program announced on Saturday that Grace Berger, Mackenzie Holmes and Arielle Wisne have all graduated as well.
Meanwhile, the IU football program also announced 20 spring and summer graduates on Saturday, many of who will be back with the program for the 2023 season: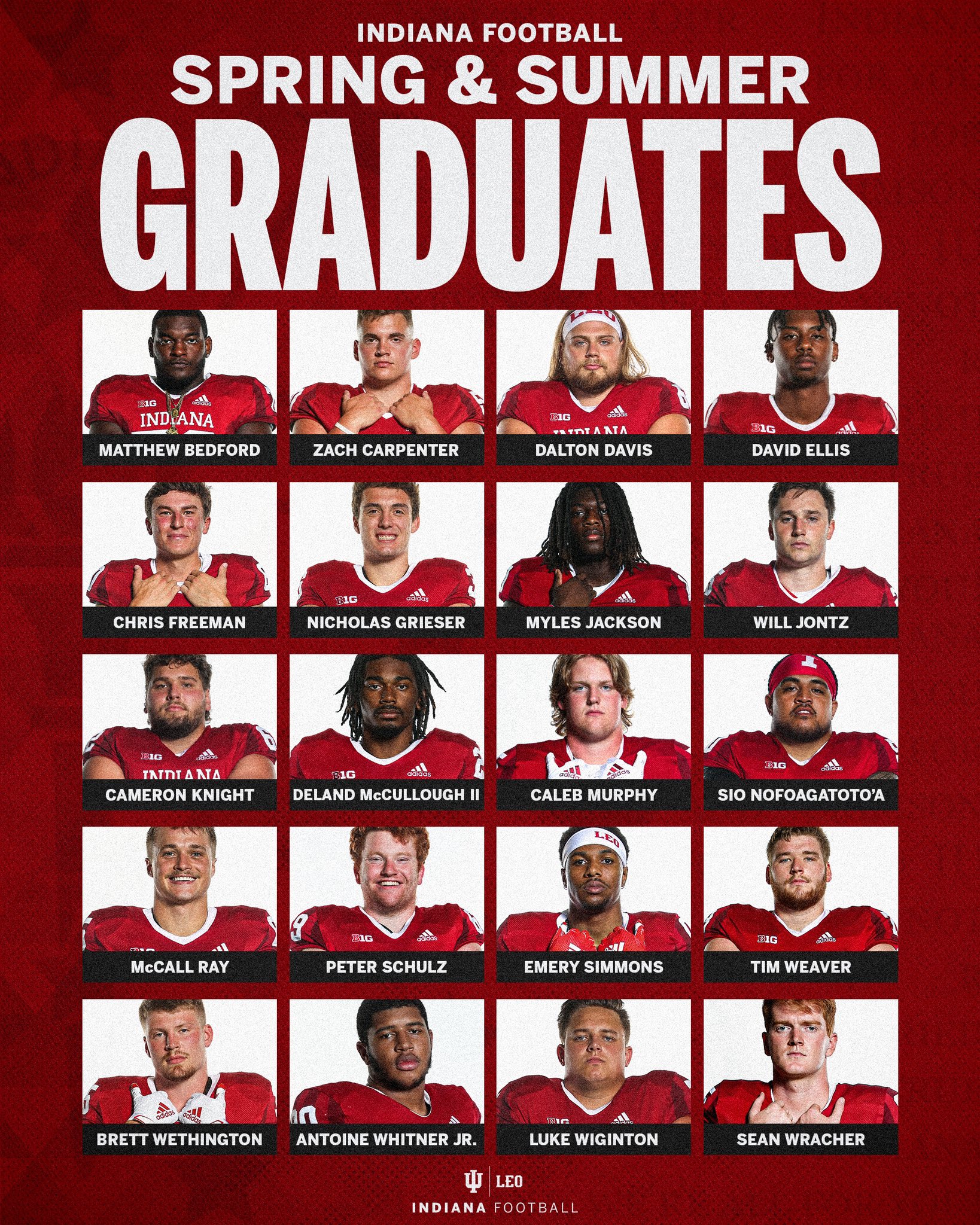 Indiana Athletics Celebrates Spring Commencement
BLOOMINGTON, Ind. — The Indiana Department of Athletics honored 118 graduates on Saturday, May 6, upon commencement from Indiana University.
"Congratulations to our graduating Class of 2023," said Indiana University Vice President and Director of Intercollegiate Athletics Scott Dolson. "This group has fulfilled our department's ultimate goal for each of our students – to earn an Indiana University degree. I'm excited for each of them that this day has arrived, and equally thrilled for their families and loved ones who have been parts of their journeys."
Indiana Student-Athletes Eligible for Graduation in Spring/Summer 2023
Baseball
Alec Bolanowksi
Ty Bothwell
Wes Burton
Blayne Deaton
Matthew Ellis
Hunter Jessee
Alexander Ogg
Tucker Schank
Ethan Vecrumba
Bobby Whalen
Craig Yoho
Field Hockey
Madison Guyer
Football
Matthew Bedford
Zach Carpenter
Dalton Davis
Davis Ellis
Chris Freeman
Nicholas Grieser
Myles Jackson
Will Jontz
Cameron Knight
Deland McCullough II
Caleb Murphy
Sio Nofoagatoto'a
McCall Ray
Peter Schulz
Emery Simmons
Tim Weaver
Brett Wethington
Antoine Whitner, Jr.
Luke Wiginton
Sean Wracher
Men's Basketball
Nathan Childress
Trayce Jackson-Davis
Xavier Johnson
Miller Kopp
Anthony Leal
Michael Shipp
Men's Golf
Mitch Davis
Andrew Giacchetto
Harry Reynolds
Men's Soccer
Luke Boha
Karsen Henderlong
Alex McGill
Men's Swimming and Diving
Mikey Calvillo
Andrew Capobianco
Jacob Destrampe
Jack Franzman
Van Mathias
Men's Tennis
Patrick Fletchall
Kenneth Rogers
Luka Vukovic
Men's Track and Field/Cross Country
Micah Camble
Nicholas Couyoumjian
Tristan Forsythe
Jacob Gebhardt
Dustin Horter
Reece Proctor
Nathan Stone
Shaton Vaughn
Rowing
Sophie Carmosino
Rachael Galet
Erin Heapy
Nicole Killeen
Olivia Seifert
Softball 
Tatum Hayes
Abigail Meeks
Grayson Radcliffe
Kate Rehberg
Lindsey Warick
Volleyball
Haley Armstrong
Paula Cerame
Emily Fitzner
Emily Rammelsberg
Ashley Zulauf
Water Polo
Zoe Crouch
Lanna DeBow
Robyn Greenslade
Katherine Hawkins
Women's Basketball
Grace Berger
Mackenzie Holmes
Arielle Wisne
Women's Golf
Valerie Clancy
Hanna Tanaka
Women's Soccer
Jen Blitchok
Alaina Kalin
Karlee Luker
Megan Wampler
Women's Swimming and Diving
Kristen Hayden
Carmen Hernandez
Mackenzie Looze
Samantha Muma
Grace Pangburn
Noelle Peplowski
Margaret Rogers
Zain Smith
Maggie Wallace
Women's Tennis
Rose Hu
Lauren Lemonds
Mila Mejic
Alexandra Staiculescu
Women's Track and Field/Cross Country
Maria Anderson
Jenna Barker
Nile Imani Brown
Madelyn Dalton
Shynae Deas
Kaylee Lane
Hope Purcell
Mikaela Ramirez
Alyssa Robinson
Sarah Schmitt
Alyssa Skorge
Elizabeth Stanhope
Lauren Thomas
Wrestling
Luke Baughman
Cayden Rooks
Graham Rooks
Nicholas Willham
The Daily Hoosier –"Where Indiana fans assemble when they're not at Assembly"