Indiana class of 2021 signee Tamar Bates was named to the Jordan Brand Classic roster that was released on Saturday.
The 6-foot-5 Bates recently became a 5-star recruit according to the 247Sports Composite after several rating services bumped him up in the rankings.
IU formally announced the addition of Bates to the roster in April.
"Tamar is a tremendous young man who will bring so much to our program," said head coach Mike Woodson at the time he signed his Big Ten tender. "I think the first thing that stands out to me is that he is a winner. He brings a high level of energy on the court and is regarded as an unselfish teammate. He is an outstanding defender who makes 3-pointers at a high percentage, can attack the rim, has great vision and the awareness to make plays for others."
Bates played his senior year at IMG Academy (Bradenton, Fla.) under coach Sean McAloon and averaged 11.4 points and shot 40.0% from long distance.
A two-time All-State honoree at Piper High School in Kansas City Kansas under Coach David Birch, Bates averaged 22.1 points, 5.0 rebounds, 4.1 assists and 2.0 steals per game as a junior while leading them to a 21-1 mark and a spot in the Class 4A state semifinals. The tournament was canceled due to the COVID-19 pandemic. He converted 58.0% from the floor, including a 44.1% mark from 3-point range, and 88.0 % from the free throw line that season.
He was named the Kansas All-Classes Player of the Year in 2020 and also was the winner of the prestigious DiRenna Award, which is presented to the top high school male and female basketball player in the Kansas City metro area.
The Jordan Brand game will not be played this season due to the COVID pandemic.
See also:  Bates video interview with Aaron Torres | Bates: "Woodson promised to make me better man" | Coaches' takes on Bates | Bates highlight reel
Here is more from the Jordan Brand release:
---
Beaverton, Ore. – The Jordan Brand Classic (JBC), now in its 20th year, announced today its 2021 rosters of elite level girls and boys high school senior basketball players. JBC is a celebration of the next generation of basketball stars and features the top high school talent in the country annually. While no game will be played in 2021 due to the global pandemic, Jordan Brand still recognizes the high school athletes who have remained dedicated to the game and deserve recognition for their talent.
Jordan Brand Classic superstar alumni include Carmelo Anthony, Anthony Davis, Kevin Durant, Blake Griffin, LeBron James, Chris Paul, Jayson Tatum and Zion Williamson, as well as DiJonai Carrington, Charli Collier, Napheesa Collier, Sophie Cunningham, Asia Durr, Sabrina Ionescu, and Satou Sabally. The Girls Game was established in 2015 and has been hosted by Jordan Brand family member Maya Moore.
Below is the complete 2021 Jordan Brand roster: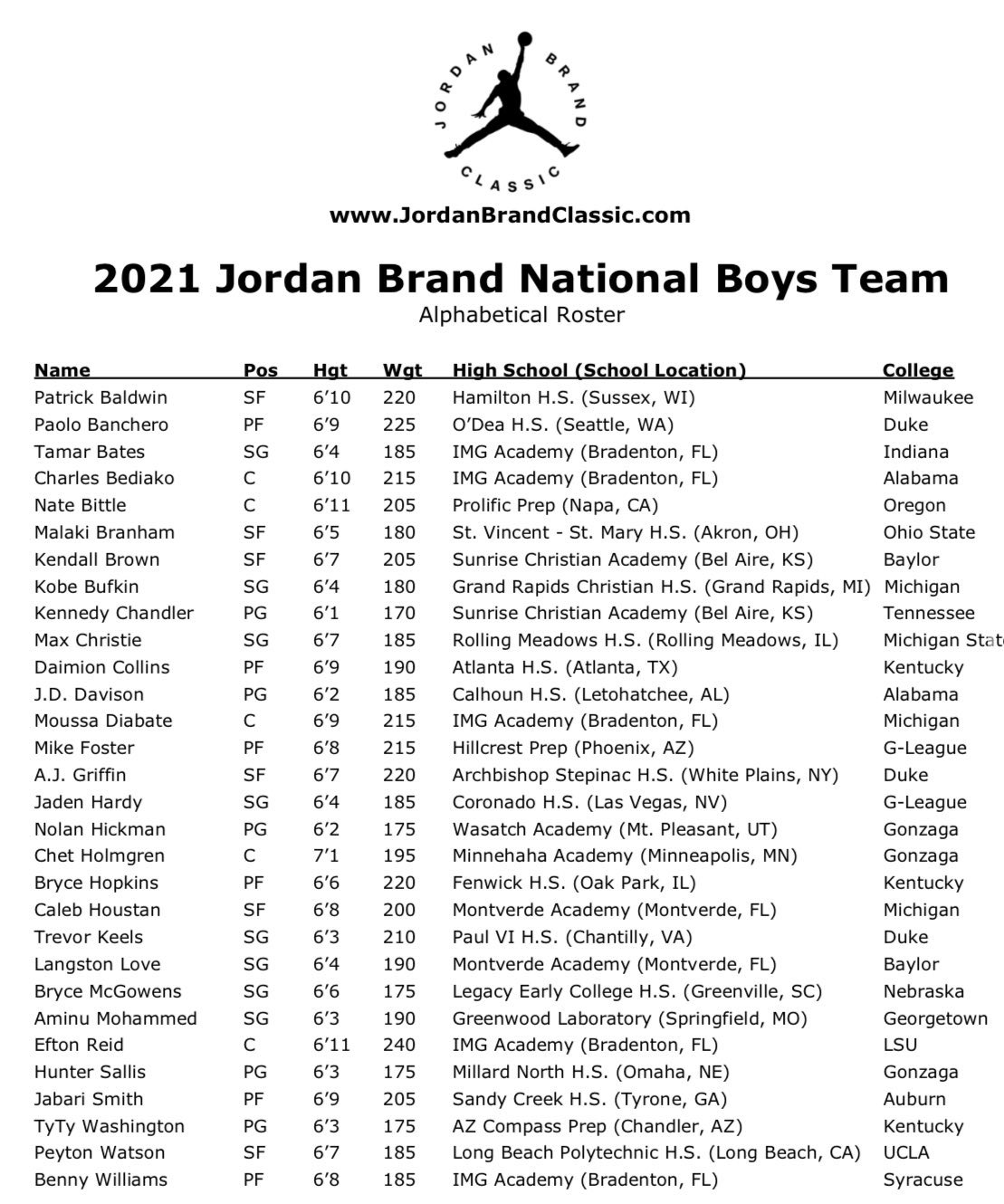 ---
Find us on Facebook:  thedailyhoosier
The Daily Hoosier –"Where Indiana fans assemble when they're not at Assembly"
Seven ways to support completely free IU coverage at no additional cost to you.