The talking points go back to August and the fall camp quarterback competition in Bloomington.
Sure Peyton Ramsey is efficient.  Sure he makes the least mistakes.  But can he throw the deep ball?
We were assured that his arm strength had improved, and he could, in fact stretch defenses vertically.  But the questions persisted — and they persisted because, well, Indiana was not even attempting vertical passes.
When quizzed on the topic, IU offensive coordinator Mike DeBord's response was generally along the lines of that Indiana was, to paraphrase, "taking what the defense is giving us."  With defenses stacking the box and keying on IU's short passes and running game, that answer didn't really resonate.
Something changed in that too little too late 4th quarter up in Minnesota.  Apparently Tom Allen had seen enough.
The second year Hoosier head coach said this after Saturday's win over Maryland —
"They are probably tired of hearing me say it.  THROW THE BALL DOWN THE FIELD.  We've got big receivers.  I live in that world, DB's aren't as big as the receivers and it's hard to cover them.  So you get interference calls and we got a bunch of those.  It's hard.  So I know you can't do it on every snap obviously, but that to me is an objective for sure and I just know how hard it is on us and I don't like having to go against those kind of receivers.  It was very effective for us today, and it won us the game."
It wasn't soon enough against Minnesota, but with sustained aggressiveness over four quarters against Maryland — it "won us the game."
After scoring just 53 points in the 11 quarters prior to that 4th quarter in Minneapolis, IU has put up 54 in the last five — and vertical passing is the only thing that has meaningfully changed.
Where have you been deep ball?  Because one thing is now undeniably clear — Ramsey can make the throws.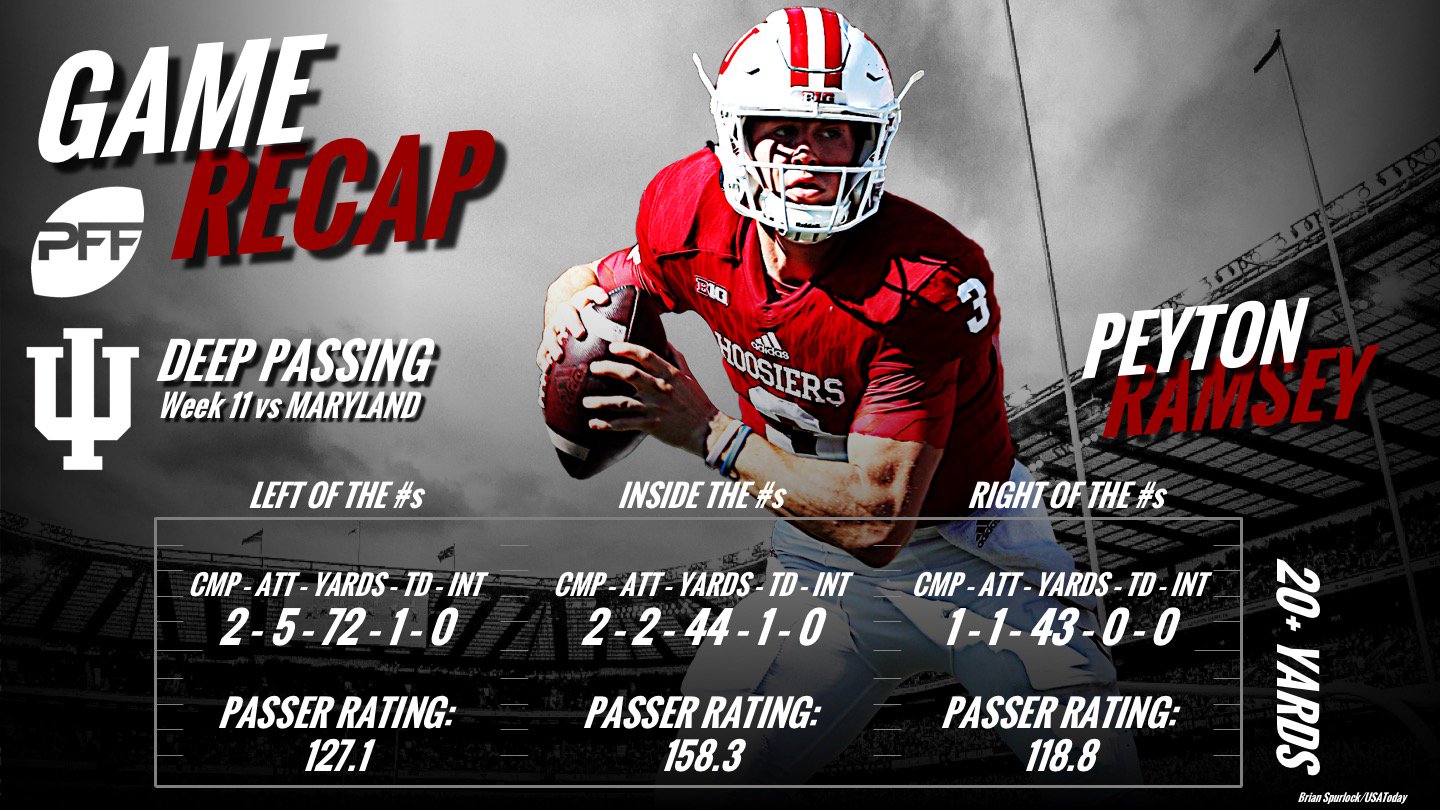 Against Minnesota, Ramsey completed fourth quarter bombs to Donavan Hale (43 yards) and Ty Fryfogle (37 yards) to bring the Hoosiers back from a 22 point deficit.  Both of those balls were thrown in stride on a cold rainy night.
Once again we were told those deep shots were simply about taking what the defense is giving you.  Maybe Minnesota's coaching staff defied all convention and decided to give up the deep ball when they got up by 22 in the 4th quarter.  They did, after all, fire their defensive coordinator a week later.
On Saturday we learned what really happened.  Tom Allen couldn't take it anymore.
Offensive efficiency is nice.  High completion percentages are great.  But against teams that are your equal or even superior athletically, chunk plays are hard to come with short, predictable calls.
Allen decided that there was only one thing to do.
THROW THE BALL DOWN THE FIELD.
This @IndianaFootball TD pass is fist-pump worthy, pic.twitter.com/Uq4HdHaArx

— Indiana On BTN (@IndianaOnBTN) November 10, 2018
Ty Fryfogle is 6-foot-2, 212 pounds.
Nick Westbrook is 6-foot-3, 215 pounds.
Donavan Hale is 6-foot-4, 229 pounds.
THROW THE BALL DOWN THE FIELD.  Let your big, athletic playmakers, well, MAKE PLAYS.
There is more to this story.  What is interesting is that when defenses start to respect you vertically, other things open up.  Ramsey has had runs of 29 and 35 yards in those last five quarters.
Running back Stevie Scott had critical fourth quarter runs against Maryland of 27 and 22 yards.
As Allen alluded to, the deep ball puts stress on a defense.   The Terrapins were flagged for five pass interference penalties on Saturday.
Allen insisted that the ball be thrown vertically because it changes the complexion of games.  IU had literally put out no tape suggesting that the were going throw the ball deep — and then they didn't.  Guess what?  That's pretty easy to defend.
Now IU is heading to Ann Arbor to face one of the best defenses in the country.  Should we expect a 400 yard aerial assault from Ramsey?  Of course not.  That isn't going to happen.  It is going to be tough sledding for sure.
But the tape is out there now.  Michigan at least has to respect the vertical passing game.  That should open up the rest of the offense a bit.  A Ramsey pump fake on a vertical route just might get an overly aggressive Wolverine safety to bite and open up the middle for IU's talented slot receivers.
One thing seems certain — Indiana isn't going to be able to move the ball with short passes and predictable running plays against Michigan's front seven.
No, two things seem certain when it comes to that kind of approach this Saturday.  It isn't going to work, and Tom Allen isn't going to stand for it.
---
More coverage:  Allen met with the media on Monday to look back at the Maryland game and forward to Michigan.
---
You can follow us on Twitter:  @daily_hoosier
Want to receive all of our content via one e-mail in your inbox every day?  It's free.  Join our daily mailing list 
here
.