There has only been one kind of game at Memorial Stadium in 2019 — blowouts.
On Saturday against Rutgers, a familiar tone was set on the game's first play from scrimmage.
Indiana defensive tackle Demarcus Elliott sacked Scarlet Knight quarterback Johnny Langan and forced a fumble that was scooped up by linebacker Reakwon Jones who cruised into the end zone for a stunningly quick Hoosier score.
In fact, with 14:50 left on the first quarter clock, it was the fastest IU score ever at Memorial Stadium.
"I thought it was very important to start fast, and obviously we did," head coach Tom Allen said after the game.  "First play with the sack, caused fumble, scoop and the score for the defense which was awesome."
Elliott saw a point of emphasis in practice translate quickly to the game.
"We work all week on takeaways, takeaways, takeaways," Elliott said.  "That's something that we strive to do.  So coming in the first play of the game to get a takeaway and get a score off of that, it's just an amazing feeling."
For Jones, it was the fifth year senior's first touchdown since a "Hail Mary" reception during his senior year of high school.
"I just used my techniques, scooped it up by the points and tried to get outside to the sidelines to score," Jones said.
The early fireworks continued.
After a quick three and out by the Scarlet Knights, IU quarterback Michael Penix hit Whop Philyor for a 56 yard completion on the Hoosiers first offensive play from scrimmage.
Penix hit tight end Peyton Hendershot for a 14-yard touchdown on the very next play.
Indiana led 14-0 less than three minutes into the contest.
By the time Philyor was done on Saturday he would corral the most receptions over a two game stretch in school history.  After 14 snags against Michigan State two weeks ago, Philyor caught 10 more passes for 182 yards on Saturday.
Philyor deflected all praise.
"It's good, but if our offensive line wasn't blocking the way they were, it wouldn't have happened," Philyor said.
For all practical intents and purposes it was game over just a few minutes into the game against a Rutgers team that was averaging an FBS worst 14 points per contest.
But for the Scarlet Knights, the punishment continued.
Just seven minutes into the first quarter it was 21-0 as the Hoosiers enjoyed a 114 to -1 total yards advantage.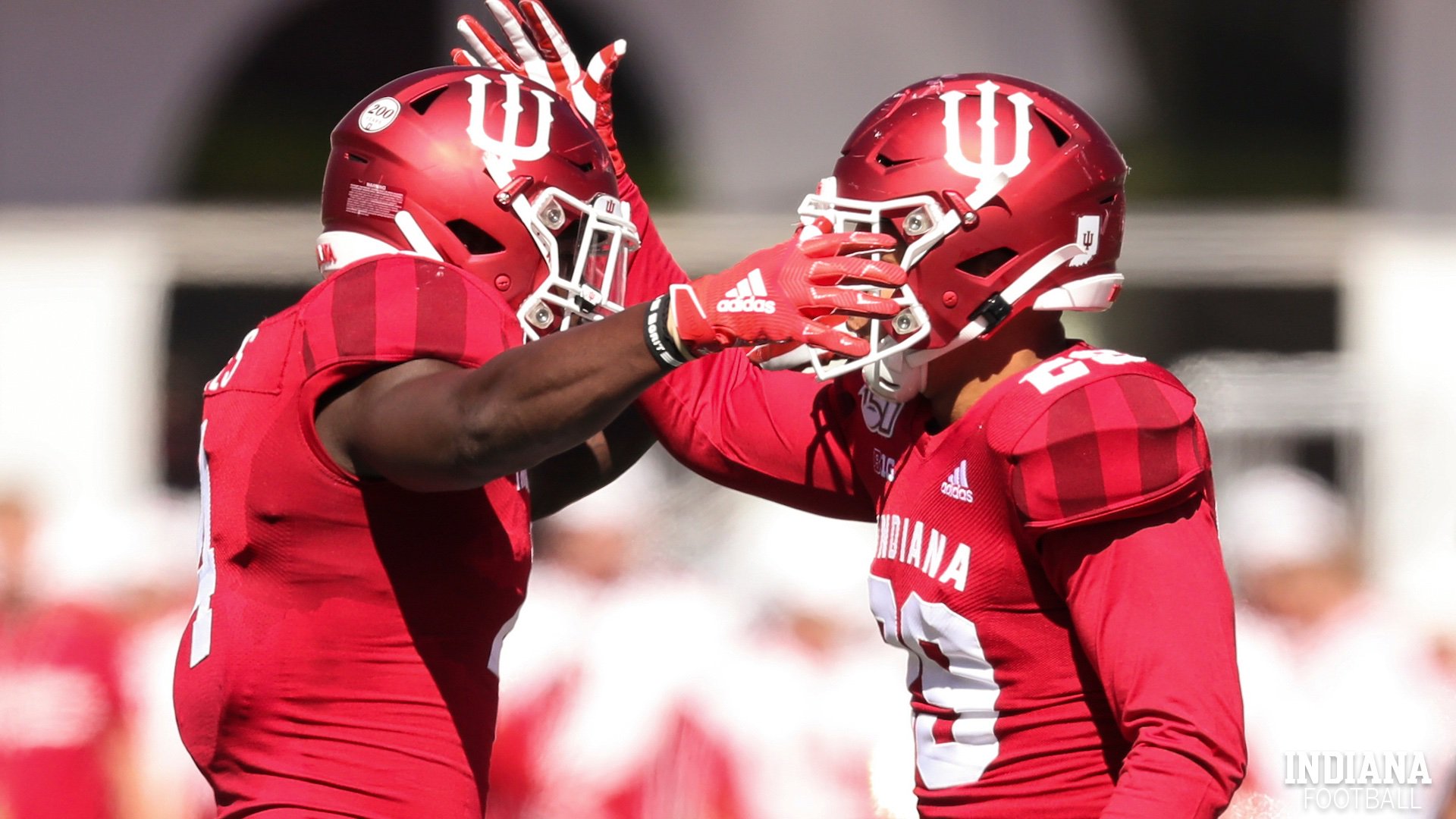 Wide receiver Nick Westbrook scored IU's third touchdown of the first quarter, lowering his shoulder as he plunged into the end zone for a 19 yard reception.
Before the late arriving homecoming crowd could make it to their seats for a noon kickoff contest, the game had seemingly already been decided.
Both teams played like they knew the eventual outcome the rest of the first half, with the 21-0 margin holding up into the break.
"I thought we had a little bit of a lull offensively in the second quarter with our execution," Allen said.  "It was 21-0 before you could blink, but you just have to keep playing."
"We weren't executing the small things that (offensive coordinator) Coach DeBoer always stresses," quarterback Michael Penix said.  "That was something that we talked about at halftime."
It worked, as IU emerged from the locker rooms with renewed vigor.
The Hoosiers scored on a four-play, 71 yard drive to open the second half as Penix found Ty Fryfogle in the corner of the end zone for a 10 yard score.  Fryfogle made a nifty grab as he fought off a defender and corralled the ball as he fell on his back.
After a quick Rutgers thee and out, Indiana erased all doubt with a 13 play 98 yard scoring drive that consumed more than seven minutes of the third quarter.  Freshman running back Sampson James ran in the final score of the game from one yard out.
"Those are demoralizing drives for the opposing team," Allen said.
From there, it was back to going through the motions, but from the first play on, the one constant throughout the game was the Hoosier defense.
"I thought our defense was excellent from start to finish," Allen said.  "Just looking at the numbers, it's pretty staggering.  To give up one yard passing in a Big Ten game and 75 total yards is hard to do."
The Hoosiers pitched their second shutout of the season and held an opponent without a touchdown for the third time in six games.
Indiana has now won three home game by at least 35 points this year, with a 52-10 loss to Ohio State the lone blemish at Memorial Stadium.
The Hoosiers will travel to Maryland next weekend.
GAME NOTES:
Starting center Hunter Littlejohn left the game with an injury.  Allen indicated after the game that he "thinks he's gonna be fine."
Jones' scoop-and-score touchdown on the first play of the game was the first opening-play TD for the Hoosiers since Jahkeen Gilmore caught an 80-yard touchdown from Matt LoVecchio on Nov. 6, 2004 at Illinois.
Sophomore running back Stevie Scott III registered 12 carries for 164 yards (13.7 average). The rushing total marked the seventh time in Scott's career in which he has rushed for 100-plus yards and his first time this season.
The game marked IU's Bicentennial homecoming.  The Hoosiers are 45-56-6 in 107 homecoming games.
(See also:  final stats and highlights | Allen discusses the game | IU players discuss the game
---
You can follow us on Twitter:  @daily_hoosier
Find us on Facebook:  thedailyhoosier
The Daily Hoosier –"Where Indiana fans assemble when they're not at Assembly"
Seven ways to support completely free IU coverage at no additional cost to you.