Indiana is keeping most of its offensive line for 2021, but the group is losing its most experienced member.
Senior center Harry Crider announced on his Twitter account Sunday that he will forego the extra year of eligibility granted to all athletes due to COVID-19 and enter the NFL Draft in the spring. Crider has been the Hoosiers starting center for each of the last two seasons and appeared in multiple games in each of the past four. He had already earned his degree in criminal justice in Dec. 2019 and spent the past year working on a master's degree.
"I have decided I am ready for the next step in my life and have chosen to declare for the NFL Draft," Crider said in a graphic posted on his account.
"I would not be in position if not for the help of my family, coach (Tom) Allen, (offensive line coach Darren) Hiller, (offensive coordinator Nick) Sheridan my teammates, the strength staff, the athletic training staff, and everyone in the IU family."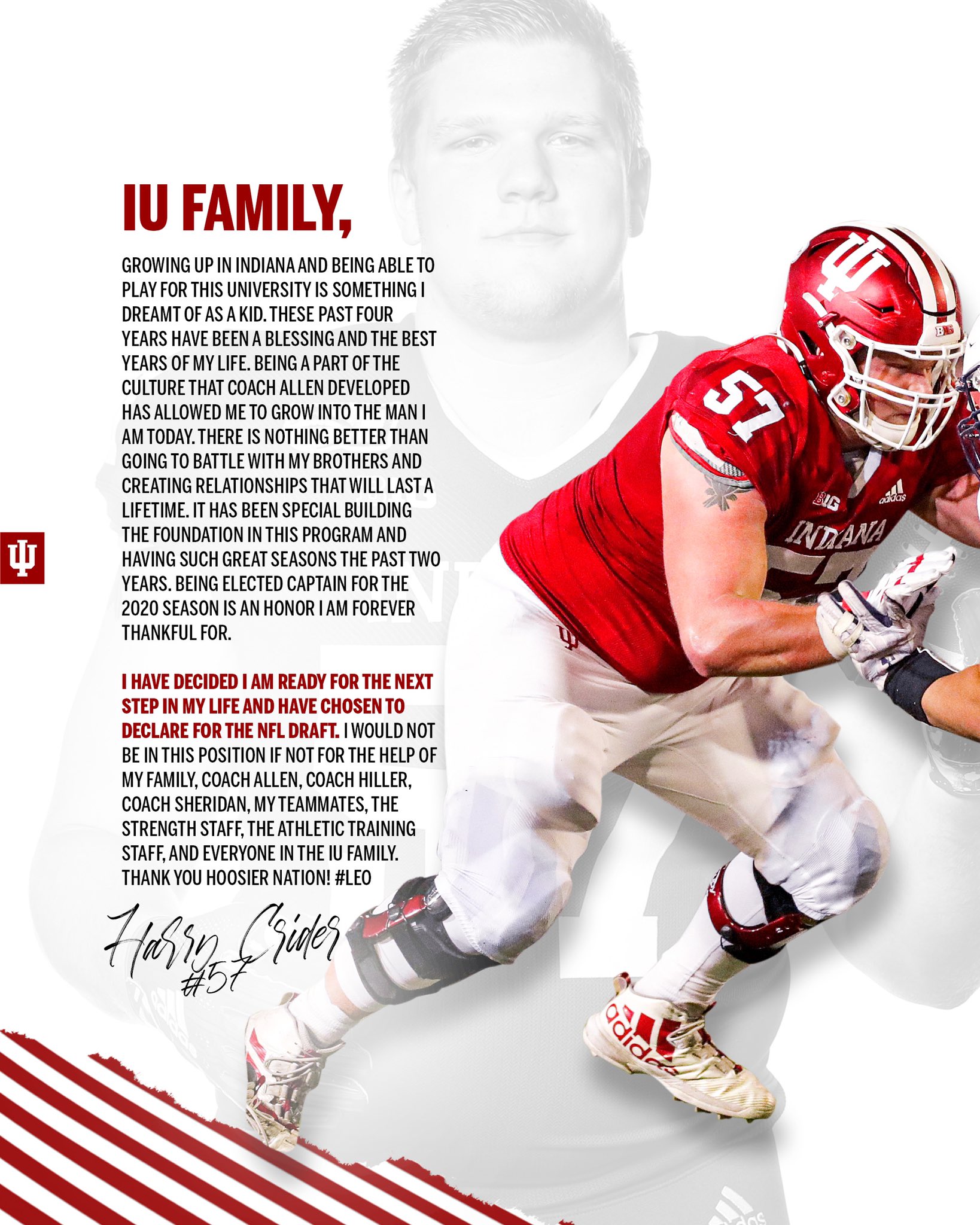 "So excited for you to Chase your dream of playing in the NFL! Thank you for all your hard work, leadership and sacrifice over the last 4 years. Love you!" coach Tom Allen said in response to Crider's post.
The Hoosiers have already brought in a replacement for Crider in Michigan transfer Zach Carpenter, who started in two games for the Wolverines before deciding to transfer.
Indiana will bring back most of the roster that went 6-2 this season with wins over Penn State, Michigan and Wisconsin and a loss to Ole Miss in the Outback Bowl. Crider joins wide receiver Whop Philyor as the two players who have decided to declare for the NFL draft.
Wide receiver Jordan Jakes will also depart, having announced his decision to enter the transfer portal.  The 6-foot-5 Jakes was Indiana's tallest receiver.  He did not register statistics in two seasons at IU.  Jakes was a 3-star recruit in the class of 2019, and the second IU wideout to enter the transfer portal in the last month, following freshman Rashawn Williams.
You can follow Dustin Dopirak on Twitter HERE
---
Find us on Facebook:  thedailyhoosier
The Daily Hoosier –"Where Indiana fans assemble when they're not at Assembly"
Seven ways to support completely free IU coverage at no additional cost to you.