BIG TEN TOURNAMENT SEMINFINALS
 No. 3 Indiana (22-10, 12-8) vs.  No. 10 Penn State (21-12, 10-10)
Tip Time: Saturday at approximately 3:30 p.m. Eastern
Location: United Center, Chicago, Ill. (20,917)
Television: CBS (Jim Nantz, Bill Raftery, Grant Hill, and Tracy Wolfson)
Stream: CBS Sports
IU Radio Network: IU Radio Network
Point Spread: Indiana is a 3-point favorite
KenPom Projected Score:  No. 27 Indiana 74  No. 47 Penn State 71
Series: Indiana leads 42-14.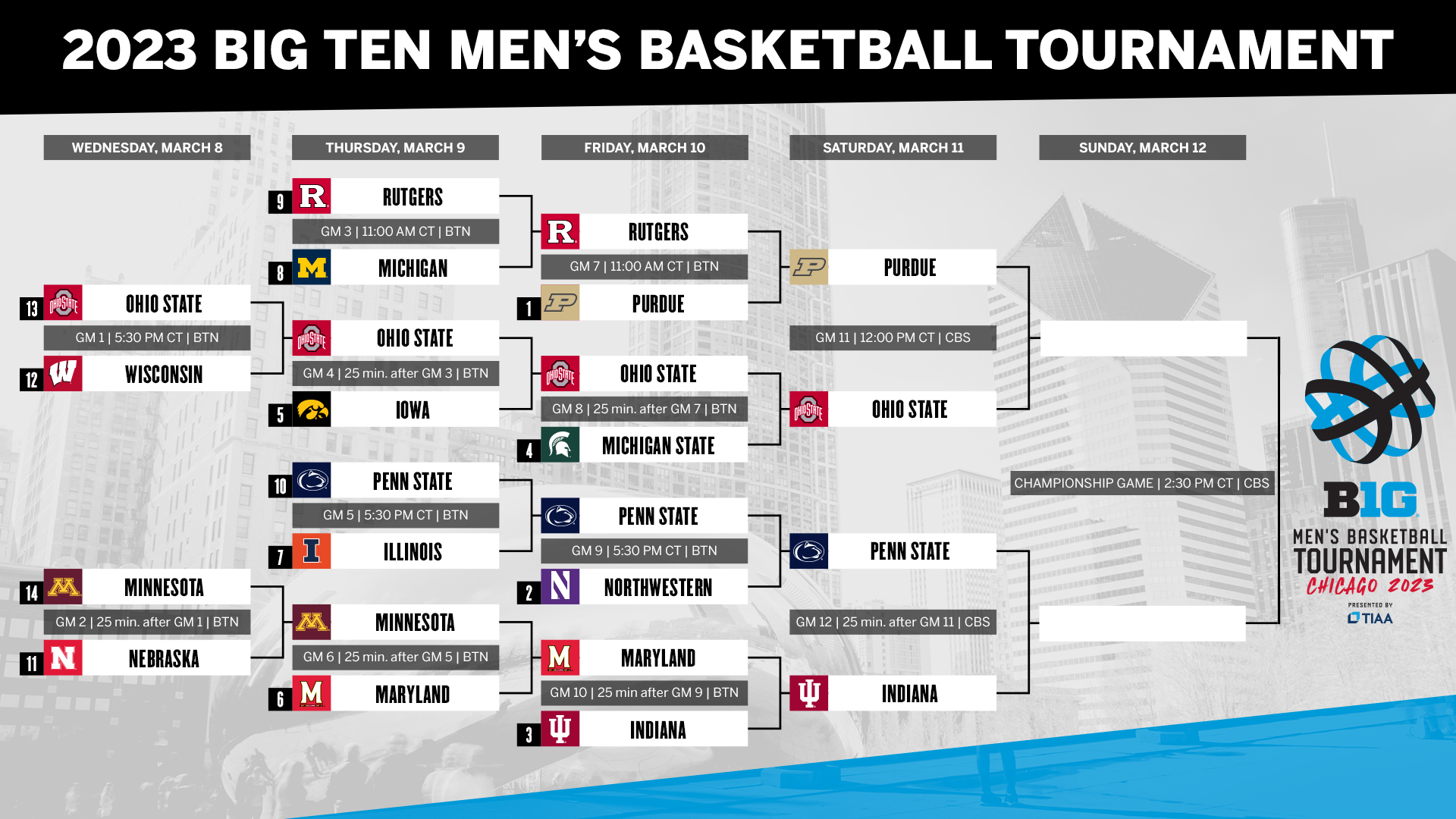 PENN STATE NOTES
Penn State has won seven of its last eight games and advanced to the semifinals by way of wins over Northwestern (67-65 OT) and Illinois (79-76).
Consensus first-team All-Big Ten selection Jalen Pickett leads PSU in scoring (17.8 ppg), rebounds (7.4 rpg) and assists (6.8 apg) and is the only player in the country averaging 17/7/6. Honorable mention All-Big Ten picks Seth Lundy (14.2 ppg) and Andrew Funk (12.3 ppg) are also averaging double-digit points.
Andrew Funk is averaging 17.0 points per game through the two tournament contests, while shooting 53.3% (8-15) from 3-point range and 50.0% (9-18) from the field. Seth Lundy is averaging 16.5 ppg and 8.5 rebounds per game in Chicago, while Jalen Pickett has tallied 13.5 ppg, 8.5 rpg and 5.0 apg.
The Nittany Lion defense has stepped up through its tournament run, holding its opponents to a 38.5 FG% and 26.7 3FG%.
THREE KEYS FROM THE FIRST MEETING WITH PENN STATE
Penn State defeated Indiana 85-66 in January, handing the Hoosiers their third straight loss at the time and what ended up being their third worst loss of the season by margin.  It was the most points per possession anyone scored on IU all season.
Here were our three keys to that game:
1. Hoosiers can't guard the perimeter.  This might have been the only key to the game.  Penn State torched IU from beyond the 3-point arc with 18 makes on 31 attempts.  Seth Lundy and Andrew Funk were both 7-of-12 for Penn State to lead the way.  The Nittany Lions routinely got to the paint via dribble penetration and kicked it out to open shooters.
2. Threes and frees a problem once again.  Indiana made just 4-of-14 from behind the 3-point arc, and just 10-of-18 at the free throw line.  Obviously Penn State was able to make more threes than IU even attempted, and the Nittany Lions outscored the Hoosiers 54-12 from beyond the arc.  IU got 14 more free throw attempts than PSU, but the Hoosiers couldn't capitalize.
3. Indiana's defense shredded.  It was more than just 3-point shooting, as PSU shot 54 percent from the field overall and had 19 assists on 32 field goals, and only turned it over seven times.  It was the fifth straight high major opponent that scored 84 or more against IU — all losses.
IU has gone 12-4 since that contest.
---
The Daily Hoosier –"Where Indiana fans assemble when they're not at Assembly"